It's the crispy rice noodles for me.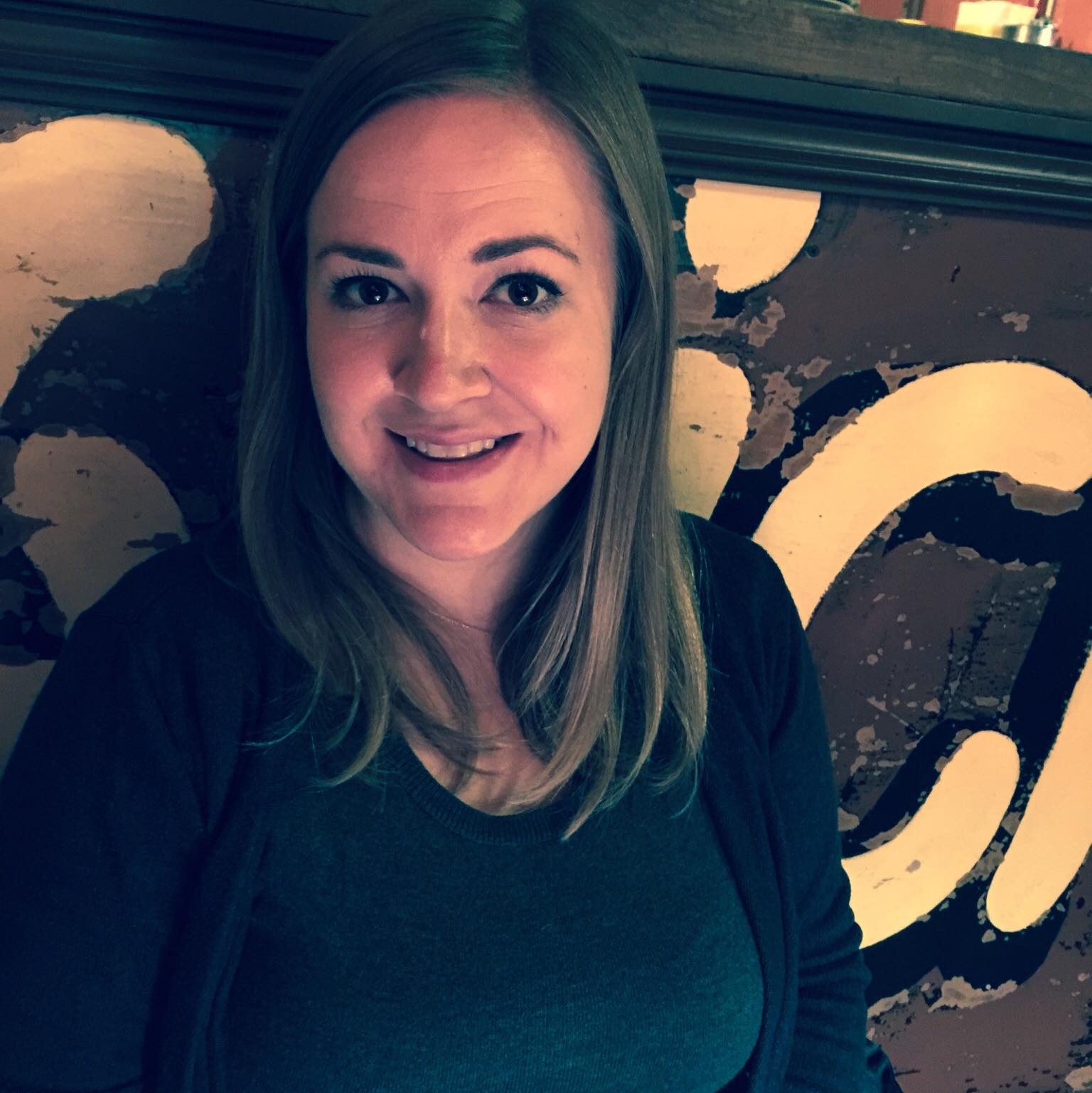 Kristy Norrell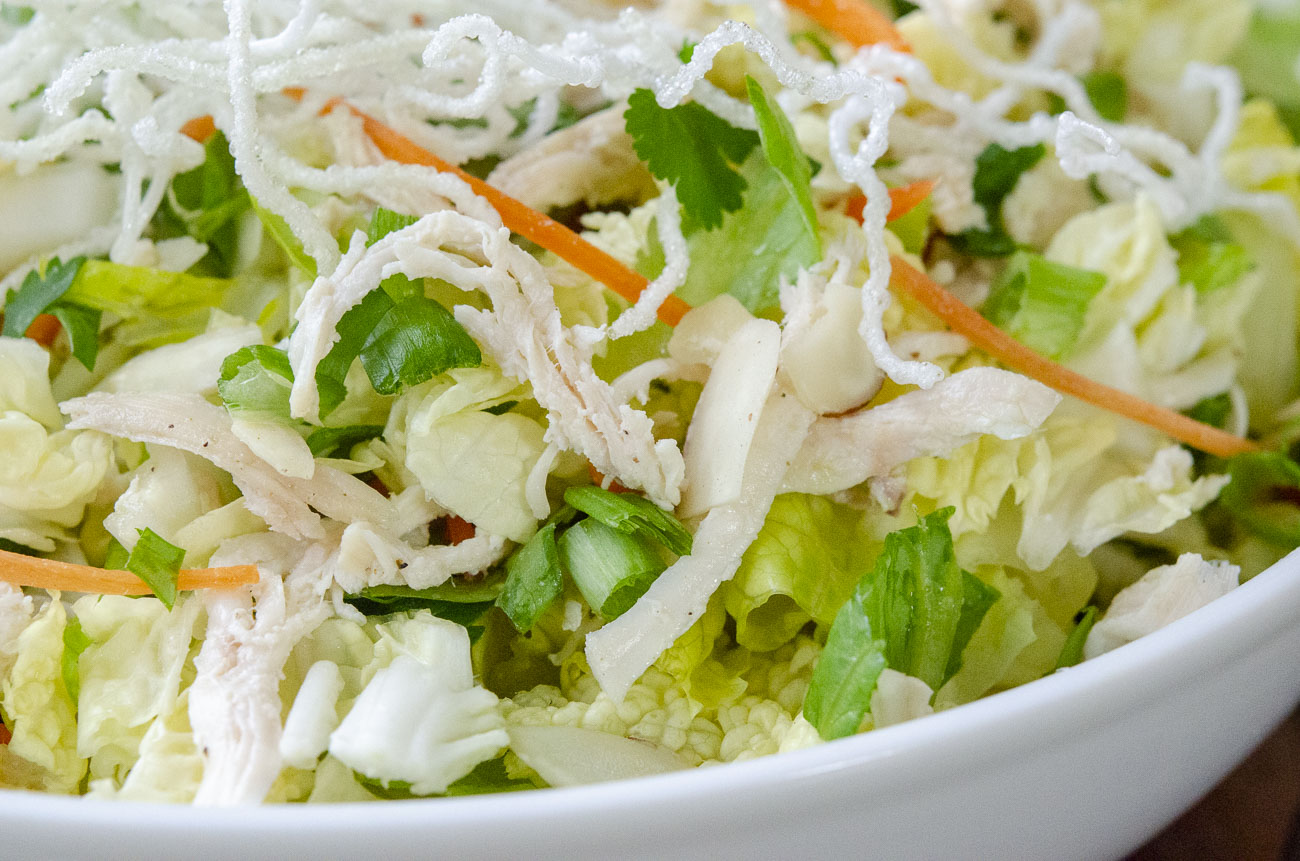 Chinese Chicken Salad always makes me think of a day out with my mom. Whether we were stopping at a local cafe or a diner or a chain restaurant after our afternoon of errands, if there was Chinese Chicken Salad on the menu, she was ordering it. And I pretty much have always followed suit. After all, it's a salad that's easy to love thanks to a crisp and crunchy texture and a ton of flavor from green onions, cilantro, almonds, those irresistible crispy rice noodles, and a sweet and salty sesame dressing, but for whatever reason, it wasn't until recently that I thought to make it at home. Silly me. But great news, it's not just for lunches out – it's easy to make yourself whether you want something fitting for meal prep or are just looking for an extra special afternoon in.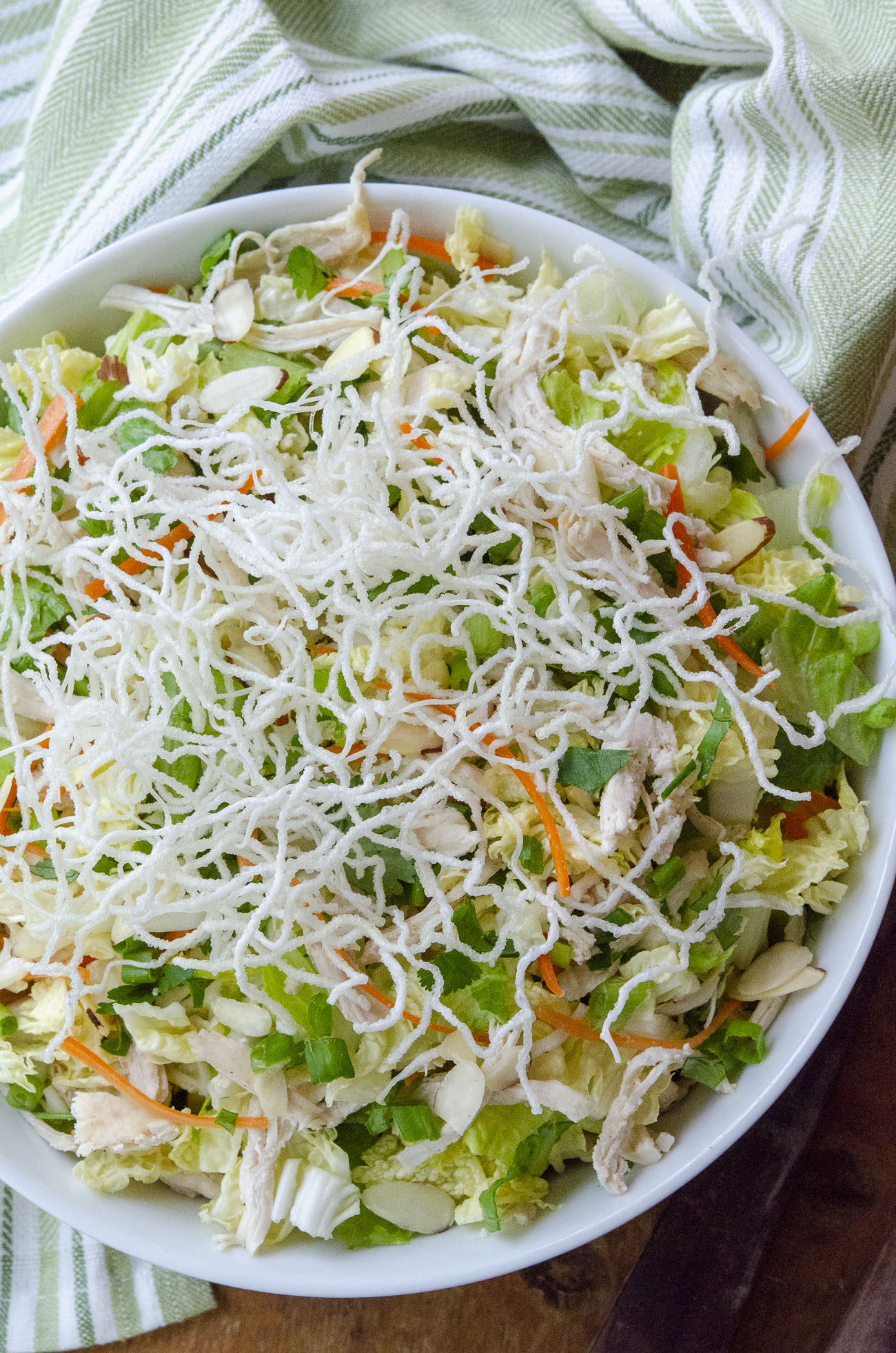 I am partial to a combination of chopped romaine and Napa cabbage so that's what forms the base here. I think it's the ideal balance in crunch and flavor and it goes so well with all of the other additions that go into this salad. There's shredded chicken (of course), along with carrots, green onion, cilantro, sliced almonds, and the thing I could never forget – crispy rice noodles.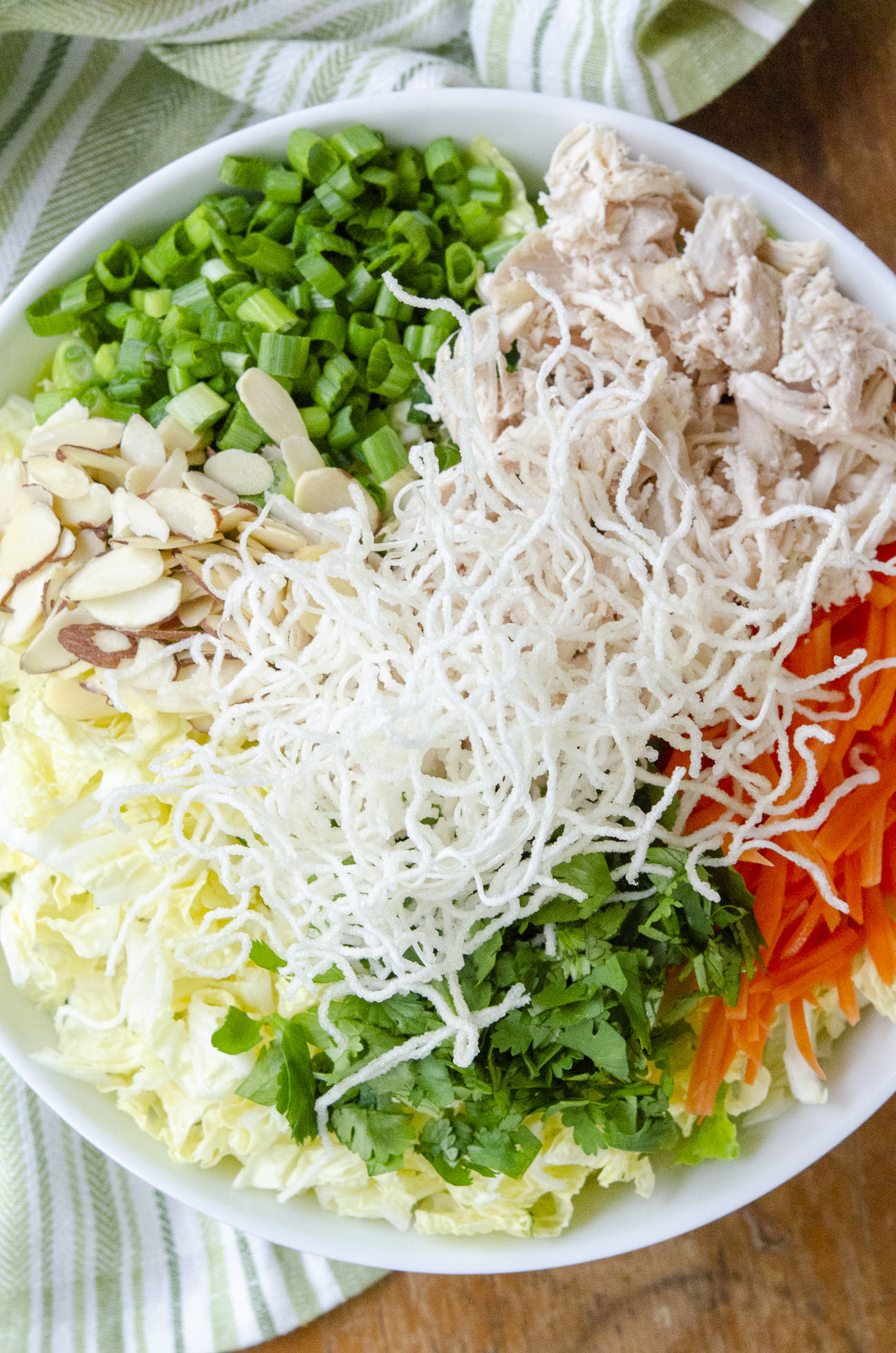 To me, those rice noodles make the salad and they've always been something I looked forward to. If you can't find a pre-made package of them, they're actually super easy to make yourself. Just buy a package of thin rice noodles, heat up some oil in a skillet on the stovetop, and toss the uncooked noodles in for a few seconds. They bubble and crisp up in moments and store in an airtight container for a few days so you can use them for much more than a single salad.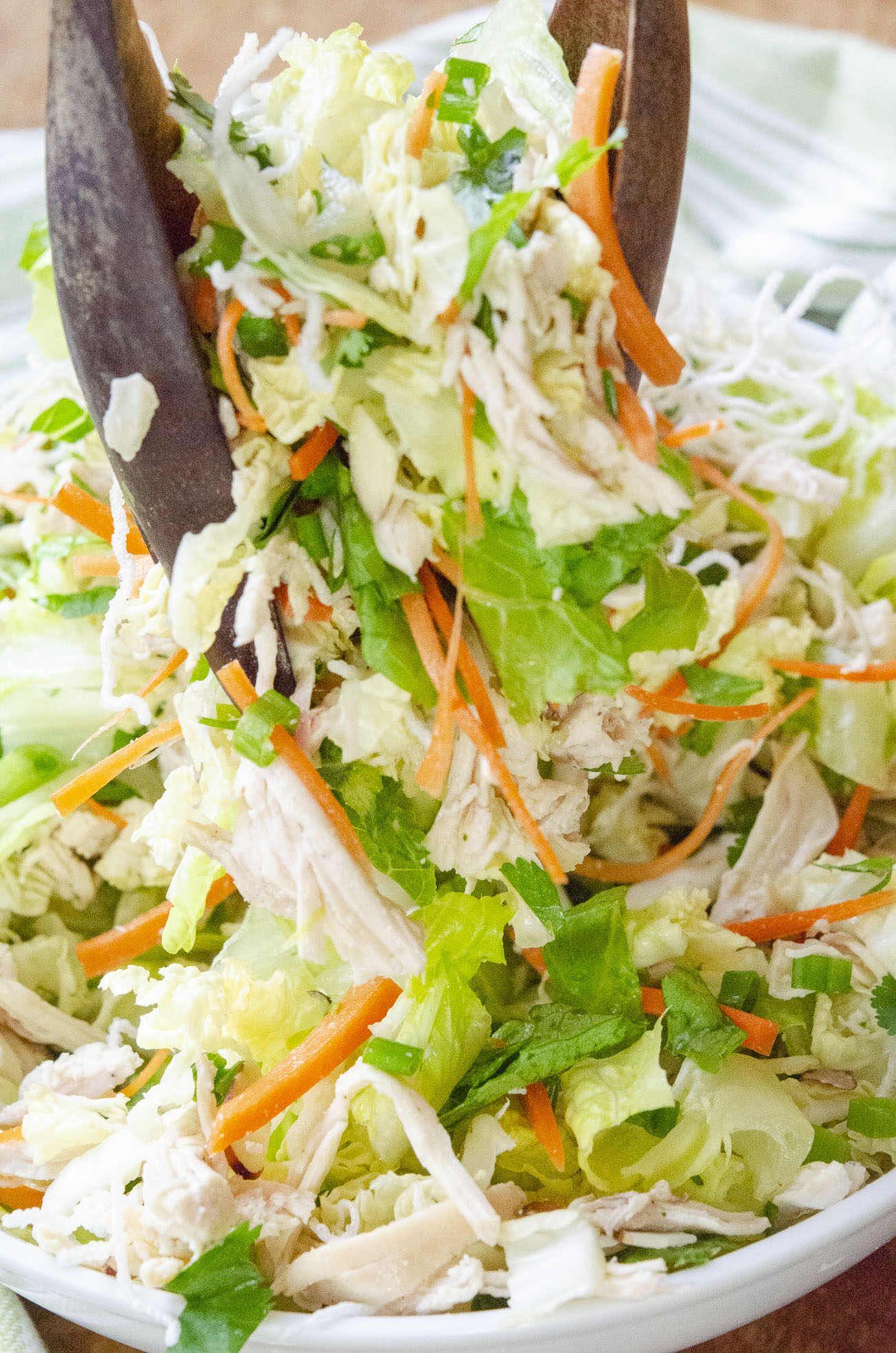 I'm fond of the rice noodles, sure, but this wouldn't be Chinese Chicken Salad without the dressing. It's a sweet and salty sesame affair and it comes together with a few things that aren't too exotic and are easy to keep in your pantry. (You've got some soy sauce hanging around, right?)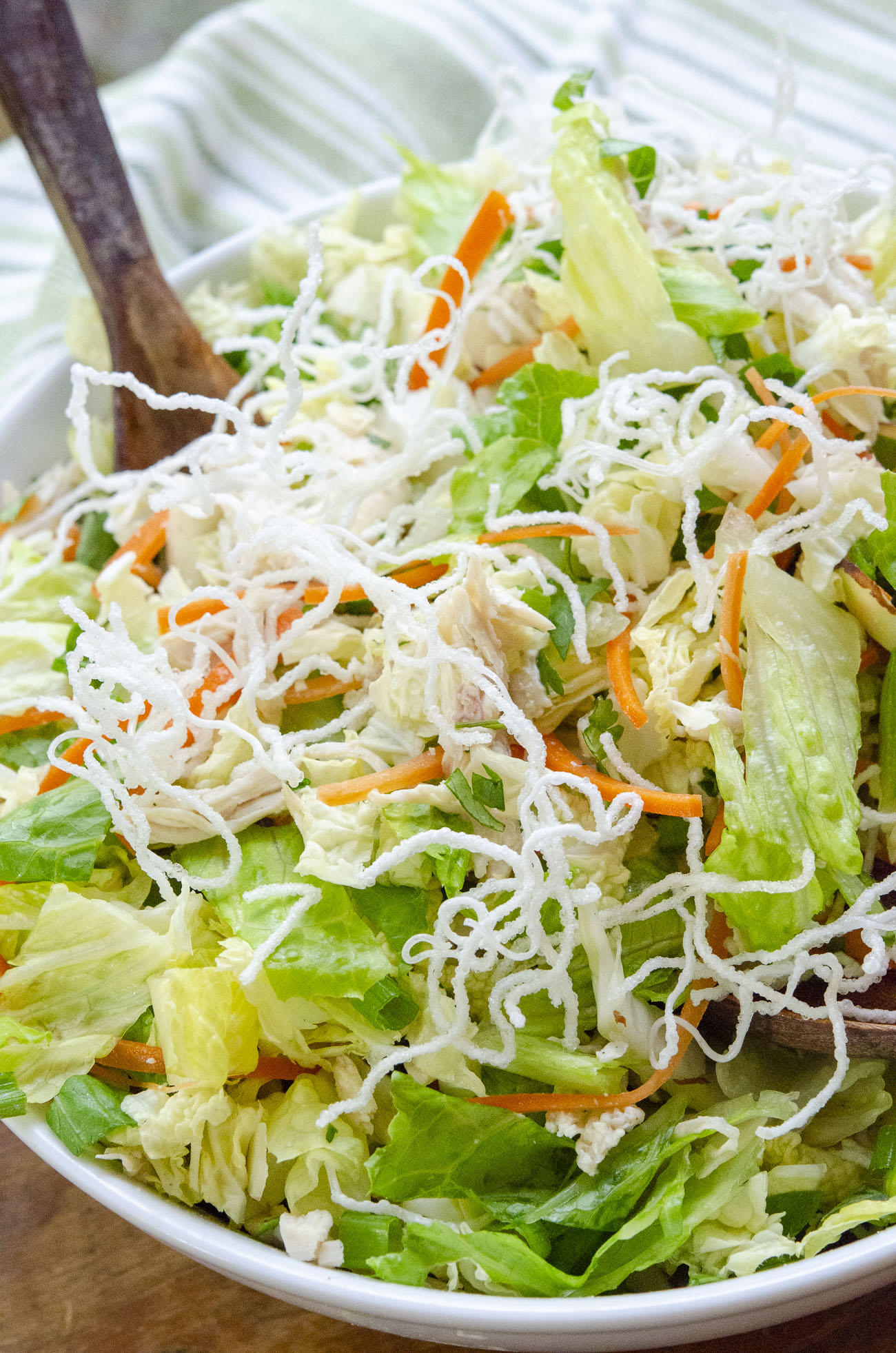 I've learned my lesson that we shouldn't save our favorite dishes solely for occasions when we're eating out. So many of them are easy to make at home with equally delicious results and this easy salad is a shining example of that.
Chinese Chicken Salad
Ingredients
1 head romaine lettuce, chopped
1/2 head Napa cabbage, cored and chopped
1 cup carrots, cut into matchsticks
1/2 cup slivered almonds
2 cups shredded, cooked chicken
3/4 cup green onion, thinly sliced
1/4 cup cilantro, chopped
1 package crispy rice noodles
For the dressing:
1/4 cup soy sauce
6 tablespoons rice wine vinegar
2 tablespoons toasted sesame oil
4 tablespoons neutral-flavored oil
2 teaspoons granulated sugar
2 teaspoons fresh ginger, grated
2 garlic cloves, minced
1/2 teaspoon black pepper
2 teaspoons sesame seeds
Preparation
In a large bowl, mix together lettuce, cabbage, carrots, almonds, chicken, green onion, and cilantro. Set aside.
In a small bowl, whisk together the soy sauce, rice wine vinegar, sesame oil, oil, sugar, ginger, garlic, black pepper, and sesame seeds.
Pour dressing over salad, toss to combine, and garnish with crispy rice noodles. Enjoy!
Note: If you can't find crispy rice noodles, you can make your own by frying uncooked rice noodles in hot oil for a few seconds.
Recipe adapted from Simply Scratch.
SKM: below-content placeholder
Whizzco for 12T