Amazing flavor you might not expect from a pot pie.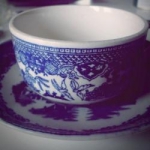 Rose Heichelbech

When you share or print a 12 Tomatoes recipe,
you're making mealtime meaningful.
100%
of the Share to Care sponsor fees fund meals for families in need.
Learn More
CLICK ANY LINK BELOW TO JOIN OUR CAUSE!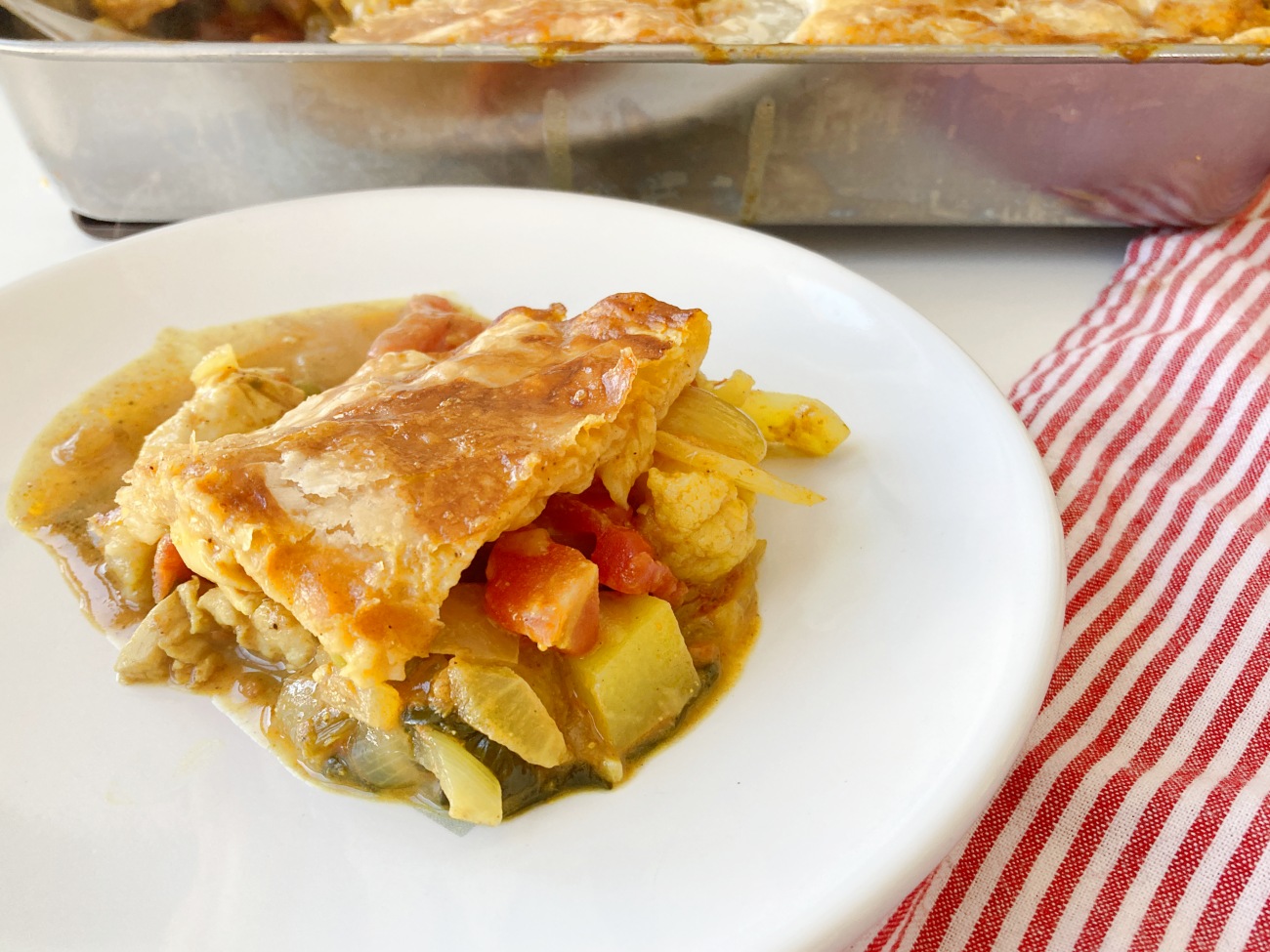 Some of my earliest dinner memories are of eating chicken pot pie. It was one of my mom's go-to recipes and we of course also loved it when should get the frozen kind, too, with their magical little foil pie tins. But, as a grown up I don't always take the time to make pot pies. I guess I got out of the habit of eating them. But, this flavorful chicken curry pot pie is not only easy, but it's got the curry flavor I love so much. If you really enjoy each of these dishes separately, you will almost certainly love them together in this recipe.
To begin with you're essentially making a quick curry. Once your onions are tender then bloom the spices in ghee (if you have it or butter if you don't). I find that ghee gives a really mellow and round flavor to anything you add it to, and it takes heat really well without smoking or turning dark like regular butter.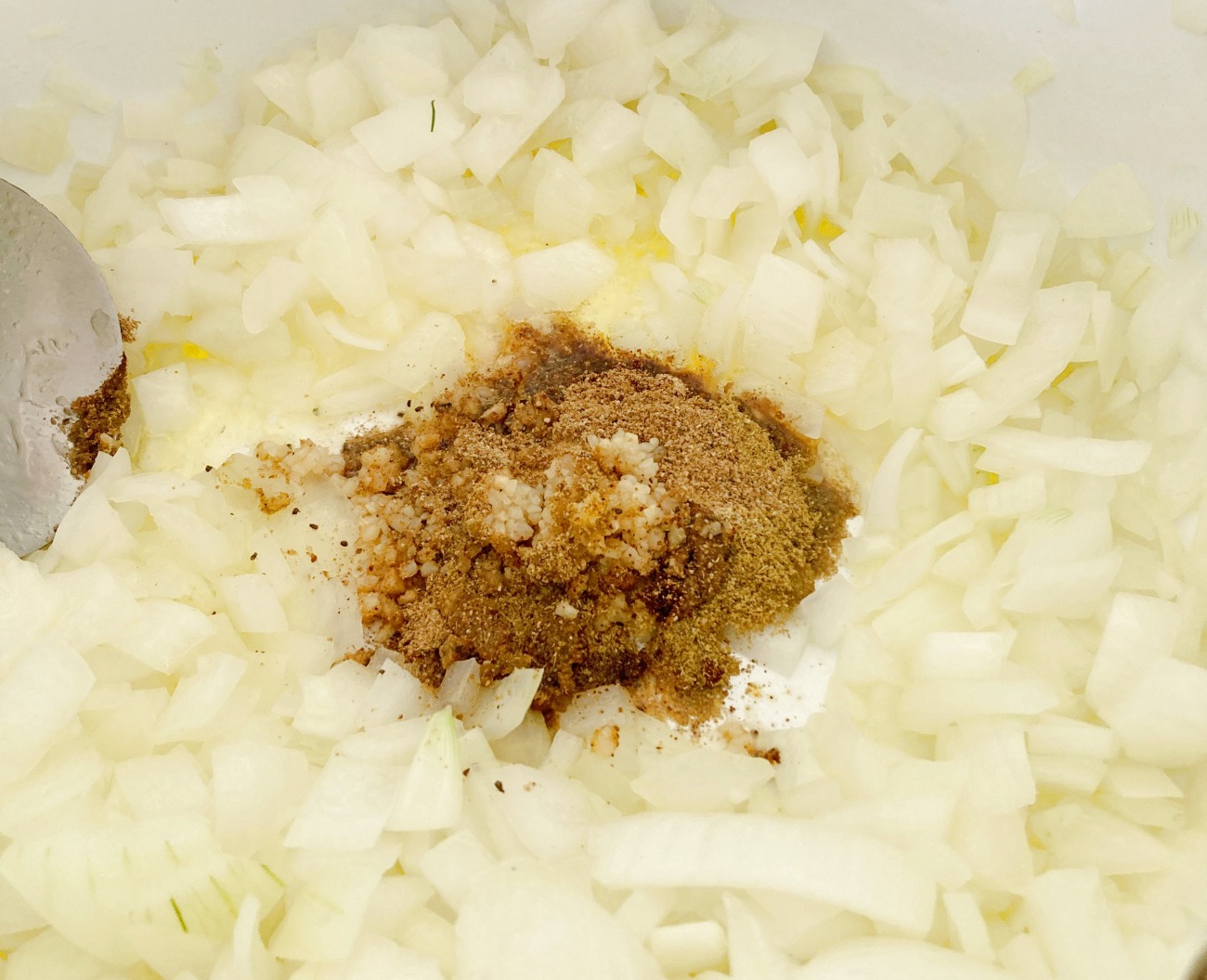 Once the base is done then add in canned, diced tomatoes, potatoes, and water. Cook this covered for 25 minutes or so then add in the rest of the filling ingredients.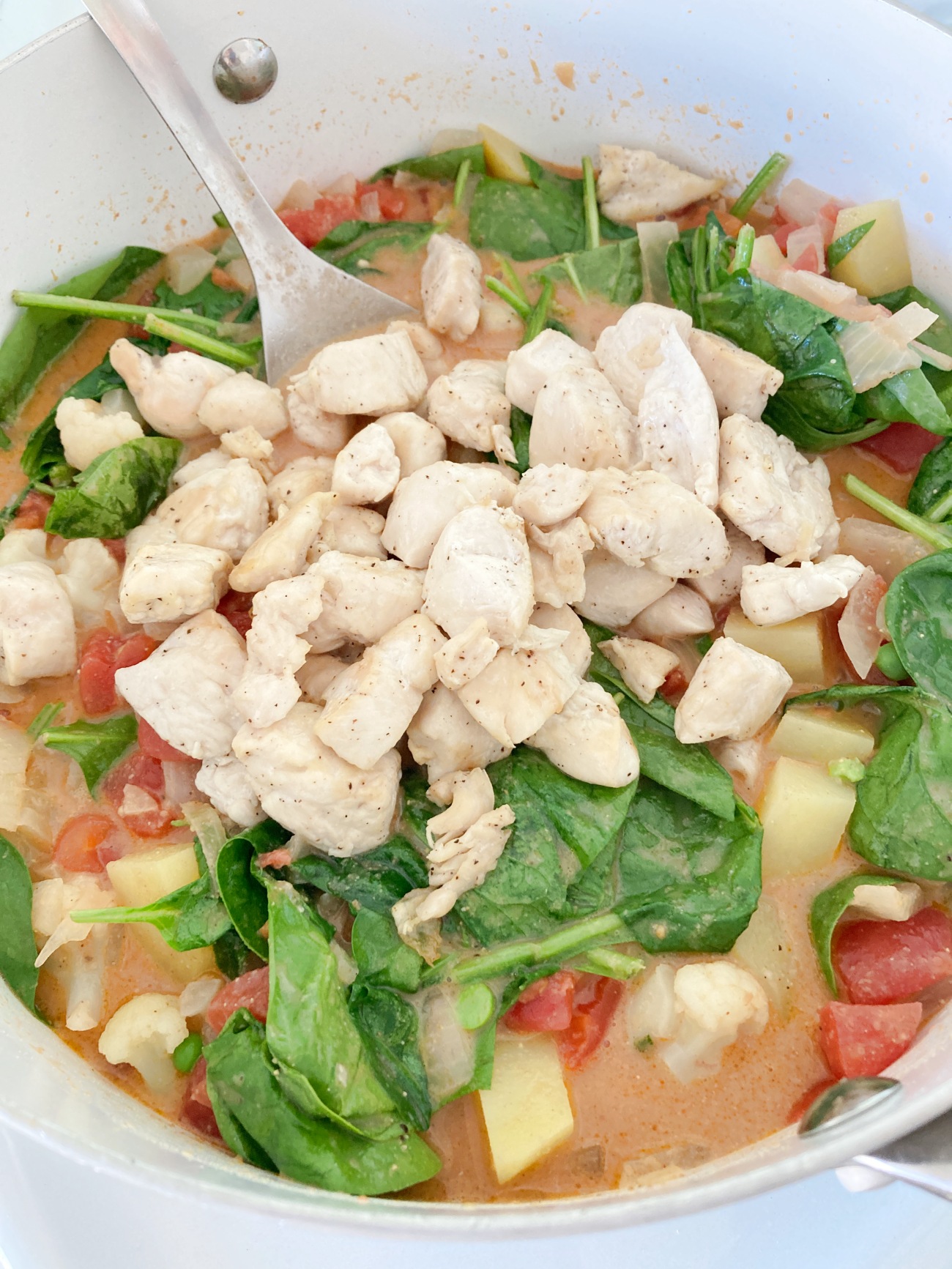 I used chicken breast for this one that I cooked especially for this dish, but this recipe is a wonderful way to use up leftover chicken pieces as well. Just make sure that all the pieces or cubes are uniform in size.
The shortcut on this recipe is that you only need 1 package of puff pastry for the top. It saves so much time to do it this way. But, if you want to make a traditional pot pie crust instead then you can use this recipe to make your crust from scratch.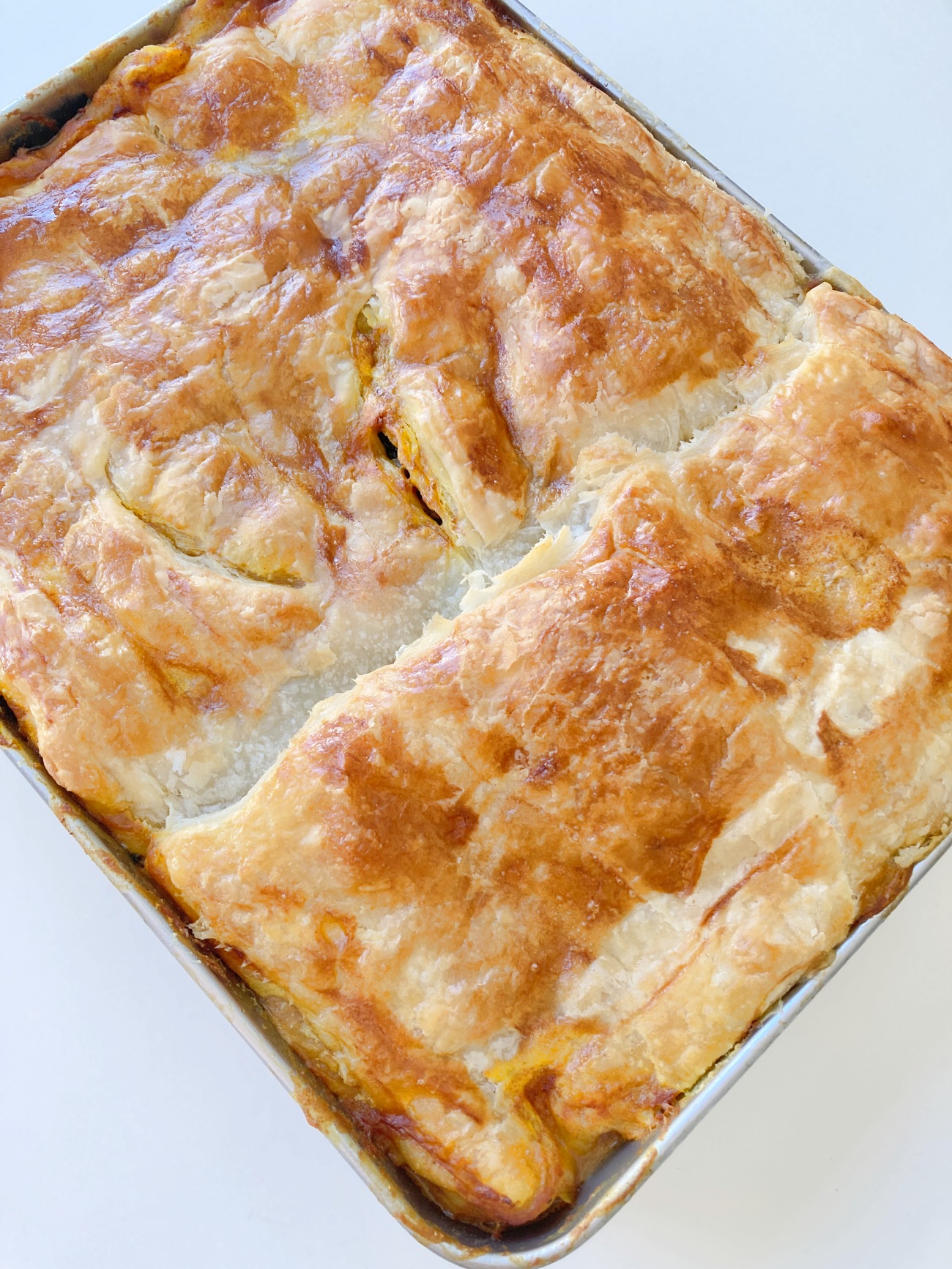 I used a 9″x13″ stainless steel baking pan for this pot pie and because of that there is a seam through it where I used 1 1/2 puff pastry sheets. If you use a deep stockpot instead you might be able to use one sheet to cover the entire pot. This will result in less of the puff pastry per serving but looks neater on top.
The top gets perfectly golden thanks to an egg wash before baking.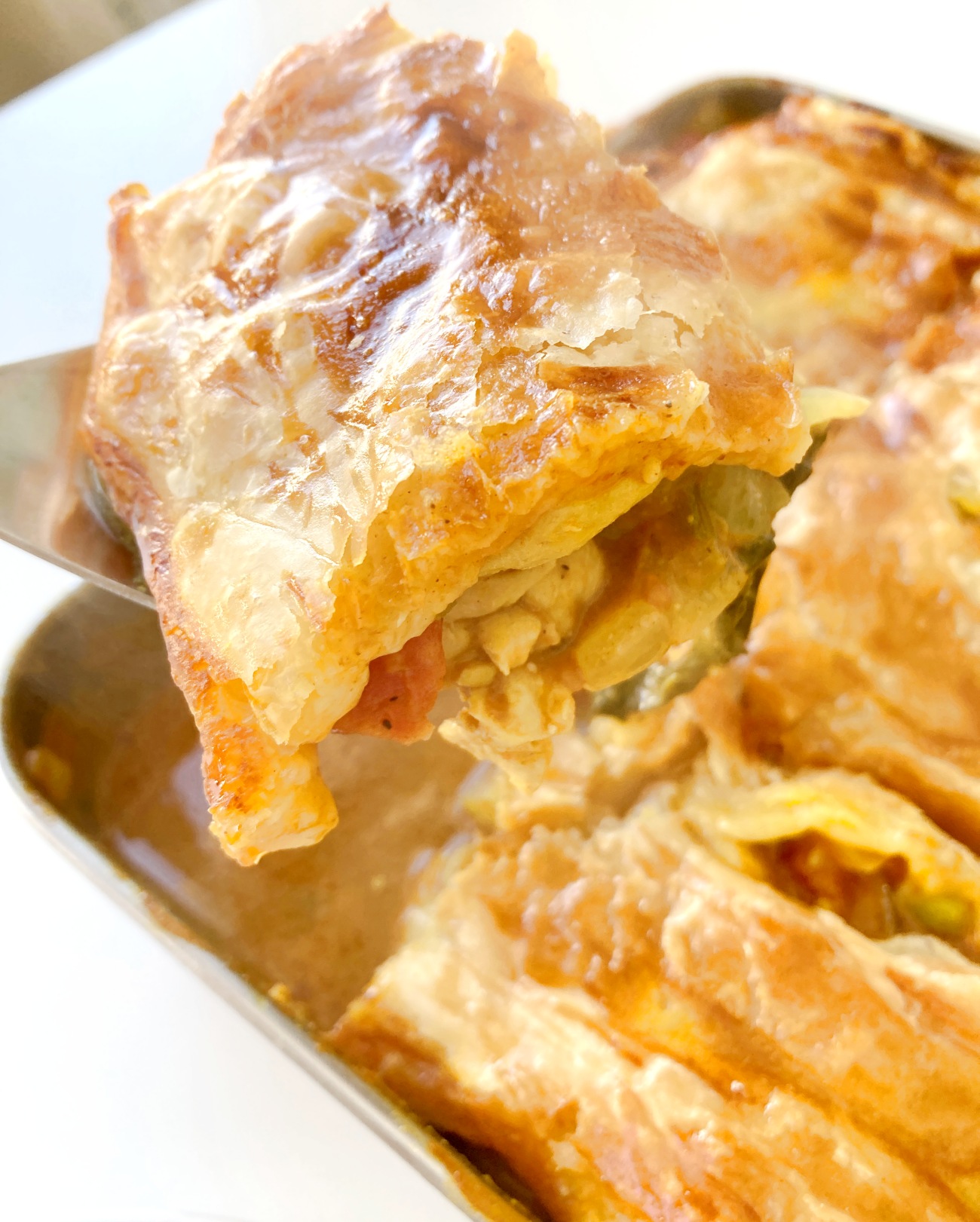 The filling has lots of veggies and chicken to satisfy your hunger which makes it a great meal for cold night or after a long, hard day when your need something hearty for dinner.
Chicken Curry Pot Pie
Makes 9 servings
45m prep time
1h 15m cook time
459 calories

When you share or print a 12 Tomatoes recipe,
you're making mealtime meaningful.
100%
of the Share to Care sponsor fees fund meals for families in need.
Learn More
CLICK ANY LINK BELOW TO JOIN OUR CAUSE!
Ingredients
4 tablespoons ghee or butter
2 large onions, diced
2 large garlic cloves, crushed
1/8 teaspoon ground ginger
1/4 teaspoon chili powder
2 teaspoons ground cumin
1 1/2 teaspoons ground fenugreek seeds
1 1/2 tablespoons garam masala
1 1/2 teaspoons curry powder
1/4 teaspoon turmeric
2 (14 oz) cans chopped tomatoes
1 1/2 cups water
1 tablespoon honey
2 medium Yukon gold potatoes, peeled and cubed
4 oz fresh spinach (or equivalent thawed frozen spinach)
3 oz frozen cauliflower
2 oz frozen peas
1/3 cup heavy cream
1 tablespoon peanut butter
1 lb cooked chicken, cut into 1/ 2" cubes, seasoned with salt and pepper
1-2 sheets frozen puff pastry, thawed
1 egg, beaten
Preparation
Melt 3 tablespoons ghee in a stockpot over medium heat. Add onions and fry until just beginning to soften, about 10 minutes. Clear a space in the center of the pan and add remaining ghee along with garlic, ginger, chili powder, cumin, fenugreek, and garam masala. Cook for 2 minutes then add diced tomatoes, water, honey, and potato. Reduce to simmer and cover. Cook for 20-25 minutes or until potatoes are tender.
Remove from heat and stir in remaining vegetables, cream, and peanut butter. Stir until peanut butter is completely incorporated. Add more salt and pepper if needed. Allow to cool for 15 minutes.
Preheat oven to 425˚F. Stir chicken into filling and transfer to a 9"x13" baking deep dish or over safe cast iron Dutch oven. Top with puff pastry and fold edges under to form a thick edge. Brush with egg and bake for 30-35 minutes. Cover with foil halfway through baking. Allow to cool for 25 minutes before serving.
Recipe adapted from BBC Good Food
SKM: below-content placeholder
Whizzco for 12T