A classic baking ingredient (and tasty snack).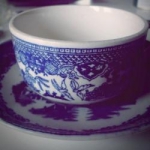 Rose Heichelbech
Around the holidays when I was a kid we always had lots of extra oranges around. As per the old tradition at Christmas we'd all get oranges in our stockings. But, Mom would also use the oranges in lots of her holiday baking, including making homemade fruitcake sometimes and always lots of different kinds of cookies.
Since she had all these extra oranges around she would often make candied orange peel, which she would then bake into her wonderful cakes and cookies. But, she'd also save some back and dip them in chocolate for a rich treat that required nothing else. Here we'll go over how to make this treat. There are a few steps, but none of them are particularly difficult and many of them you can have going in the background while you do other things.
To start with you'll need to cut the rind from 3 oranges. Remove as much of the white pith as you can. The more you remove the less bitter and the softer each piece will be.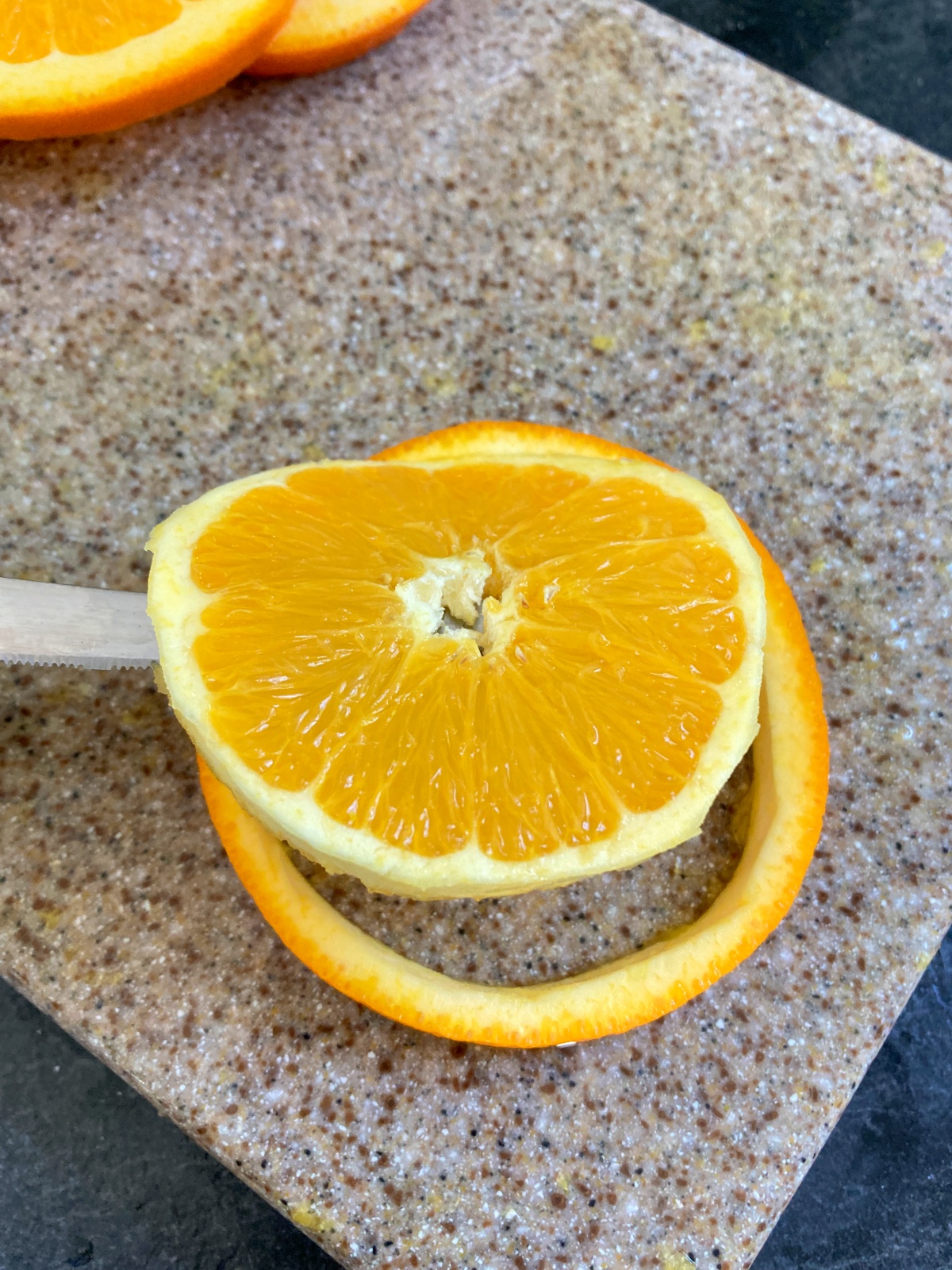 I found it was easiest to cut each orange into slices then cut the rind off with a filet knife. Then that circle of peel I cut into 2 equal pieces. This method leaves you with strips that are about 1/4″wide and 3 inches long. These will shrink up in the cooking process to become the perfect snacking size.
If you happen to have some orange peel leftover from eating oranges and they aren't in great shapes, you can still make this recipe. But, these pieces with still need to be cut down to be uniform in size. If you do this and end up with a lot of small pieces then this is ideal for baking with. And, at least where I live, candied orange and lemon peel is no longer to be found in most grocery stores. So using your leftovers is a great way to make this staple baking ingredient at home.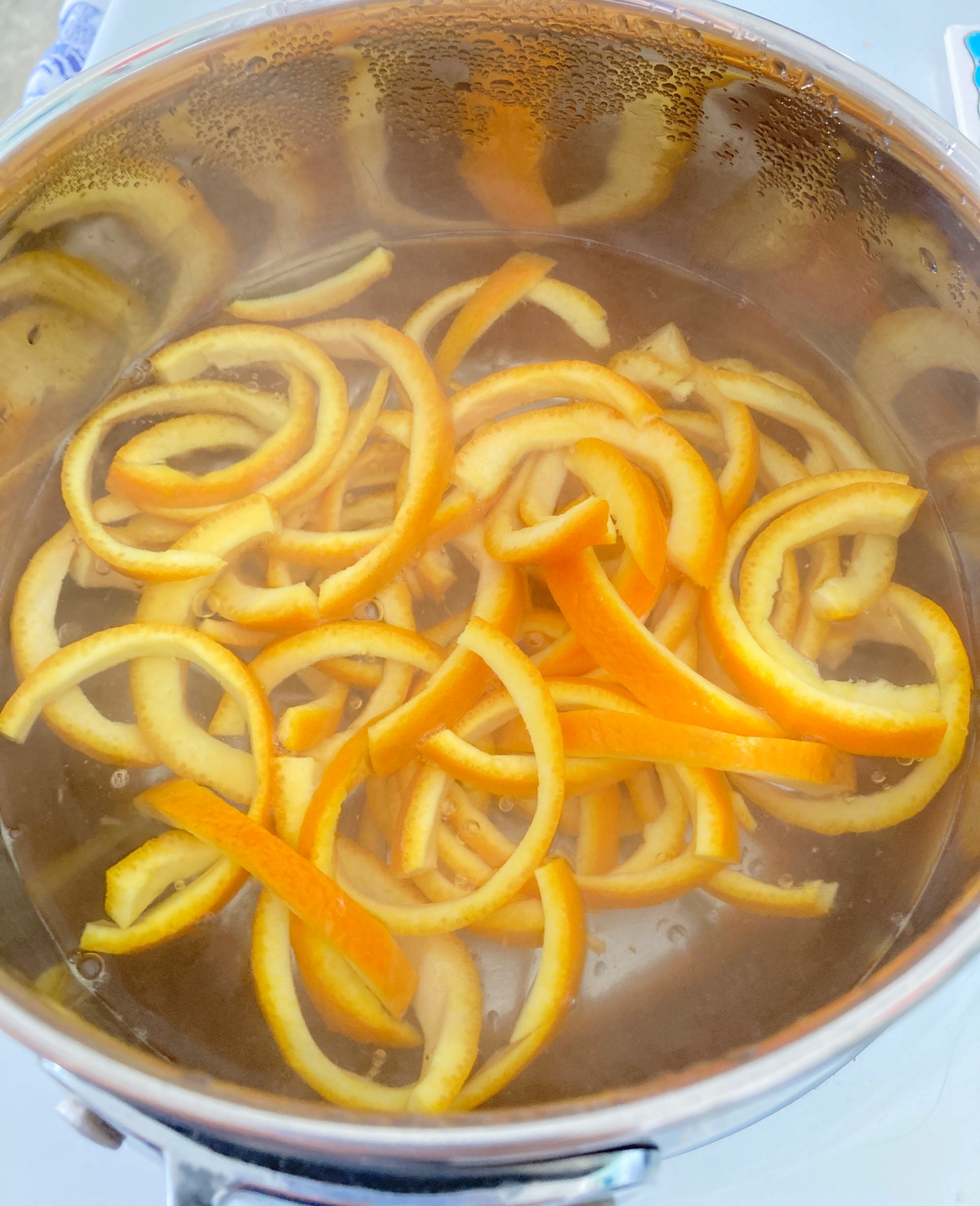 You'll need to boil the rind once and then drain and rinse it to remove any bitterness. Then boil a second time along with some sugar to candy the peel.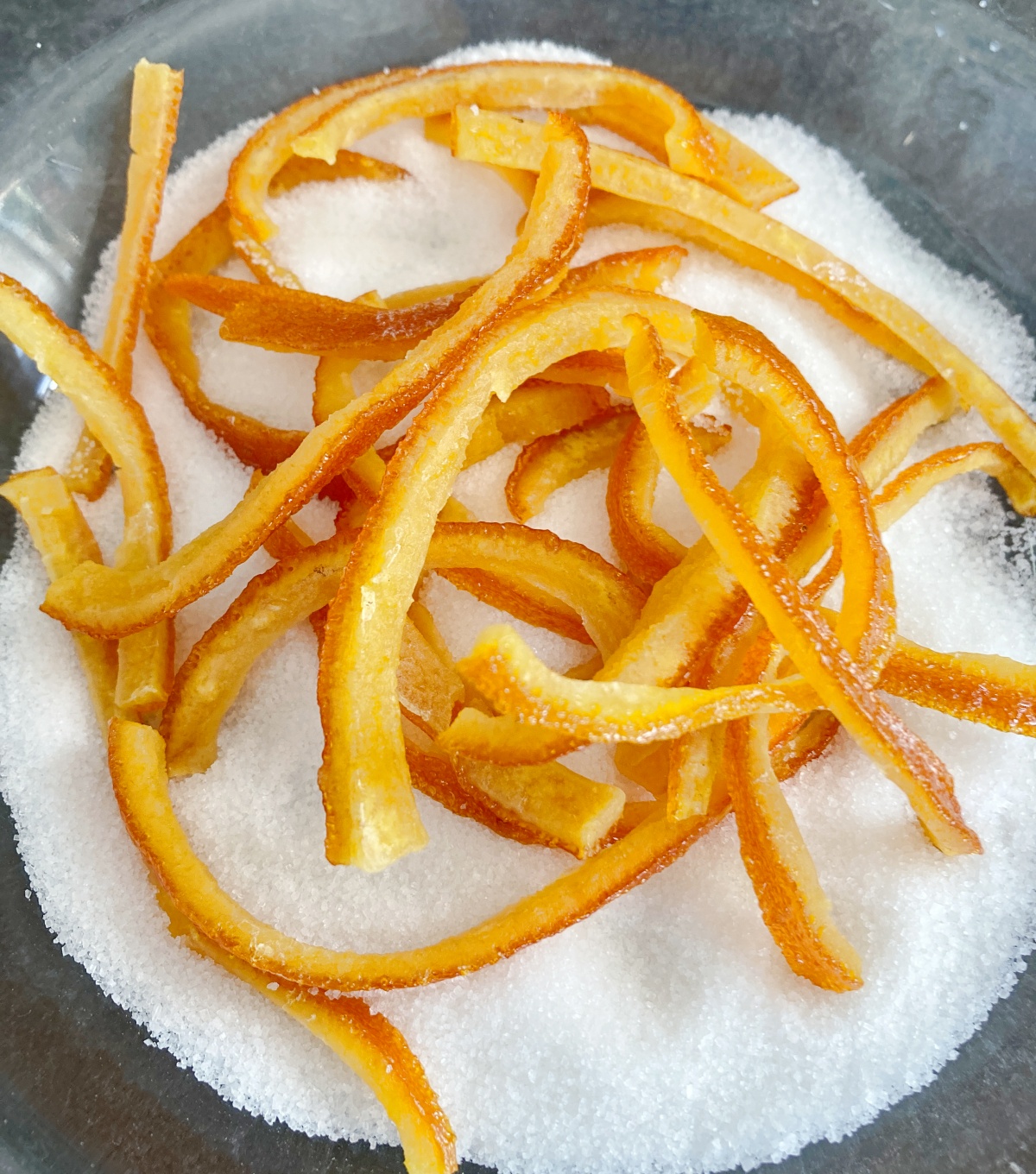 The next step is to bake them to remove the excess moisture and then let them cool off in the turned-off oven for 2-3 hours. At that point dip them in sugar and you're ready to store them if you only want them for baking or don't want to dip them into chocolate.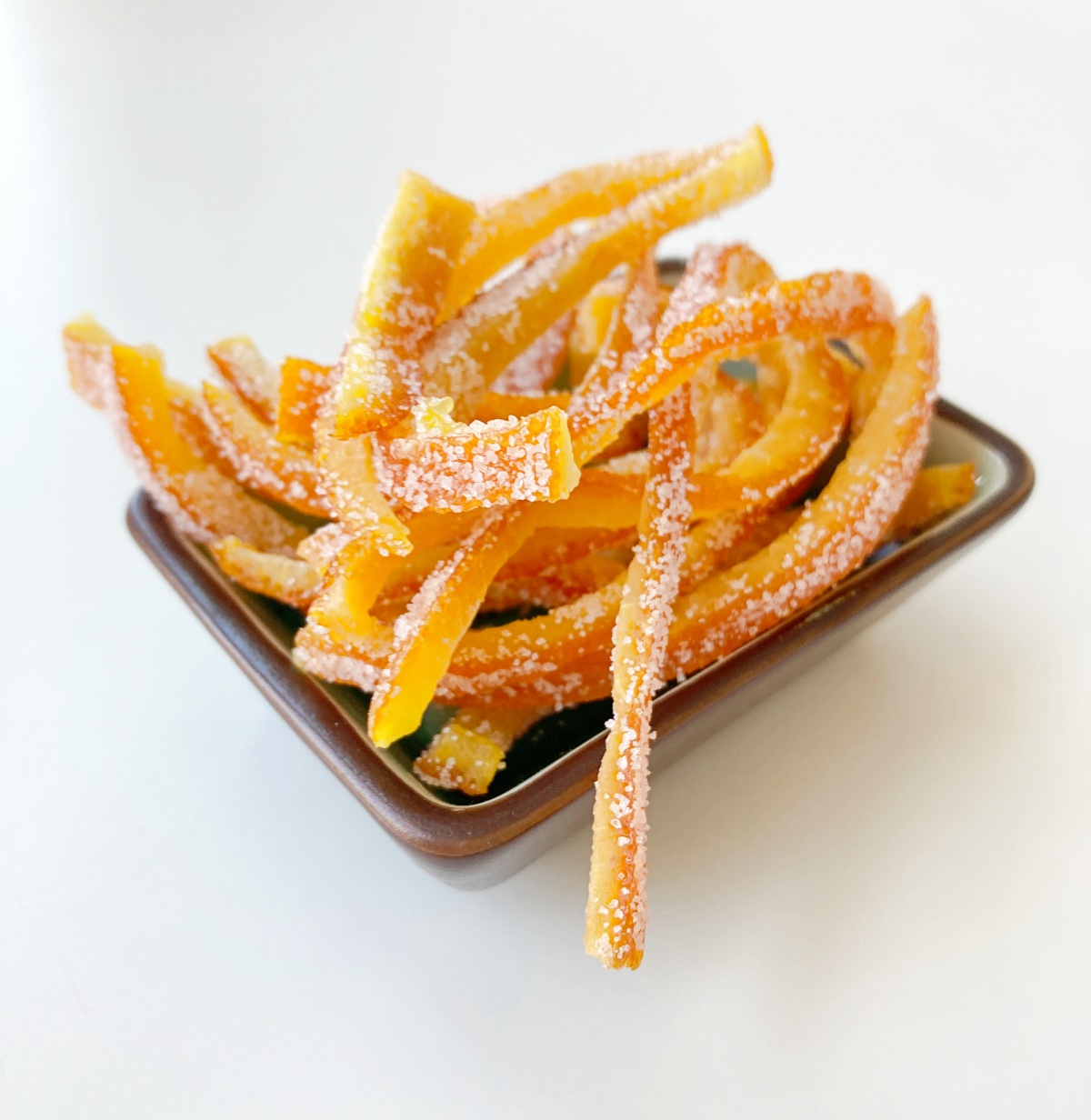 If you do want a chocolate coating simply melt your favorite chocolate chips in the microwave and coat each peel piece about 3/4 of the way up in the chocolate. Allow them to set fully in the fridge before storing.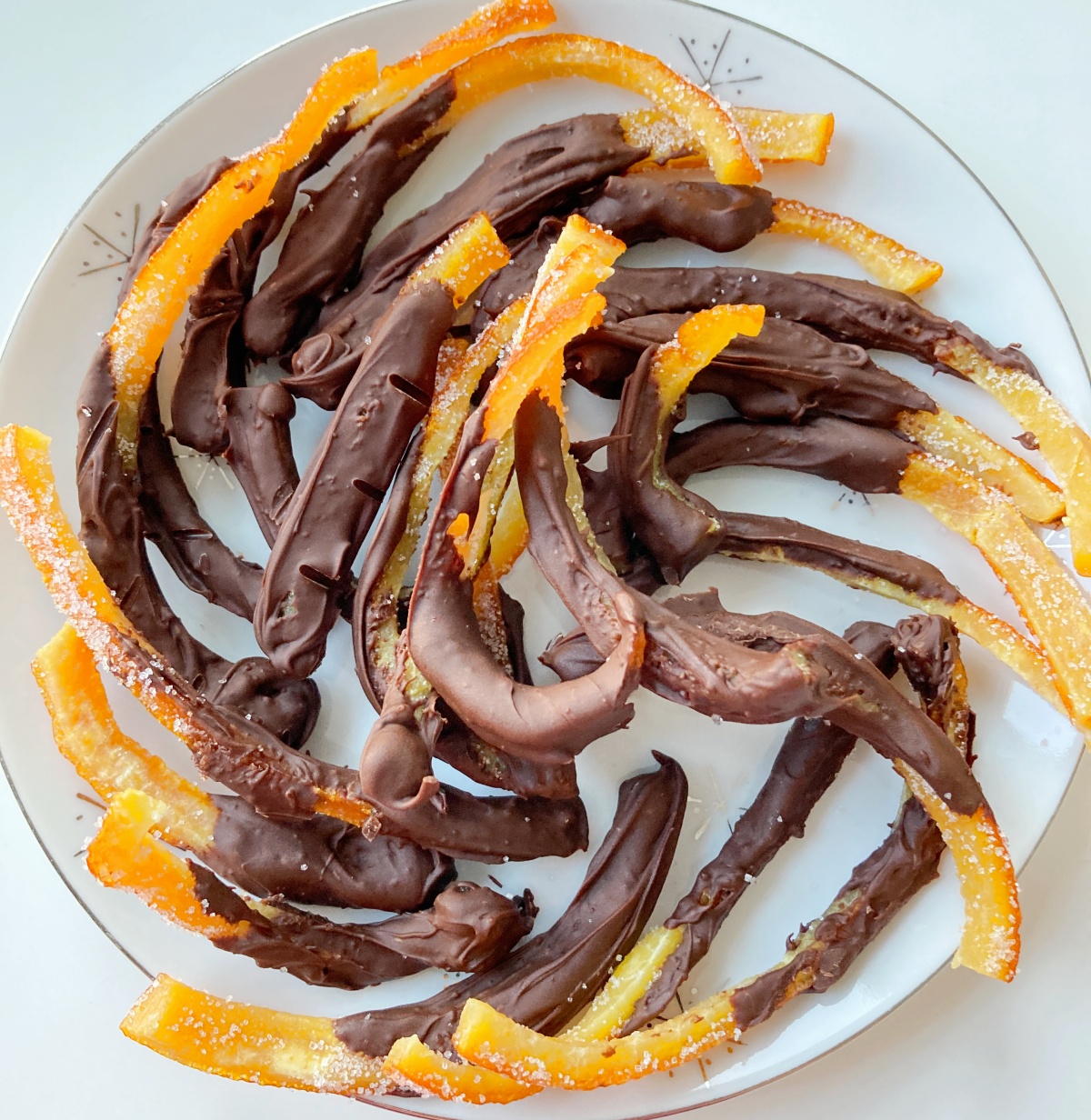 You can make these any time of year for a fun treat using what would otherwise be thrown away as scraps. But, for me they bring up fond memories of Christmas so I often make them in December.
Candied Orange Peel
2-3 cups candied orange peel
1h prep time
1h 35m cook time
Ingredients
6 cups water, divided
peel of 3 oranges, cut into 1/4" strips, pith removed
4 cups granulated sugar, divided
3/4 cup chocolate chips
Preparation
Bring 3 cups water to boil in medium saucepan. Add orange peel pieces and boil for 15 minutes. Rinse and drain, then rinse and drain again.
Add remaining water to pan along with 3 cups of sugar. Bring to a low boil and stir until sugar is dissolved. Then add orange peel and simmer 50 minutes.
Preheat oven to 200˚F. Carefully drain then add orange peel pieces to baking sheet, taking care that they do not touch each other. Bake for 20-30 minutes or until pieces are dry and just beginning to curl up from dehydration.
Allow to cool for 2 hours after removing from oven. Pour remaining sugar in shallow bowl and toss orange peel pieces in sugar to coat.
Heat chocolate chips in bowl in microwave using 30-second intervals. Stir then return to microwave to repeat until chips are just beginning to melt. Dip each piece most of the way up into the melted chocolate. Place on wire rack to cool and harden, about 30 minutes.
Store in airtight container in a cool place for up to 4 weeks, longer in the fridge or freezer. Best served at room temperature.
Recipe adapted from Epicurious.
SKM: below-content placeholder
Whizzco for 12T