The perfect pot roast every time.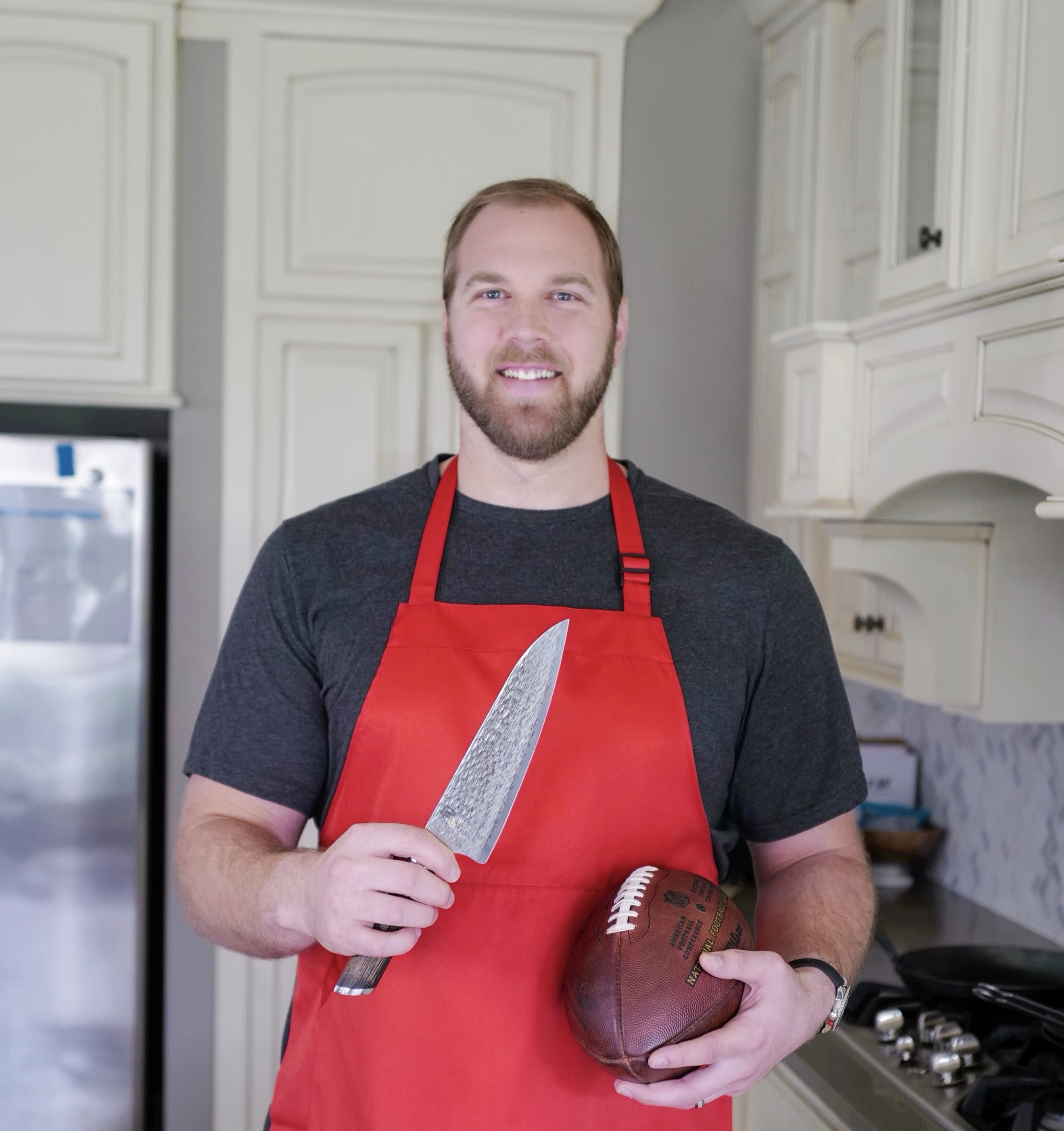 Mitch Schwartz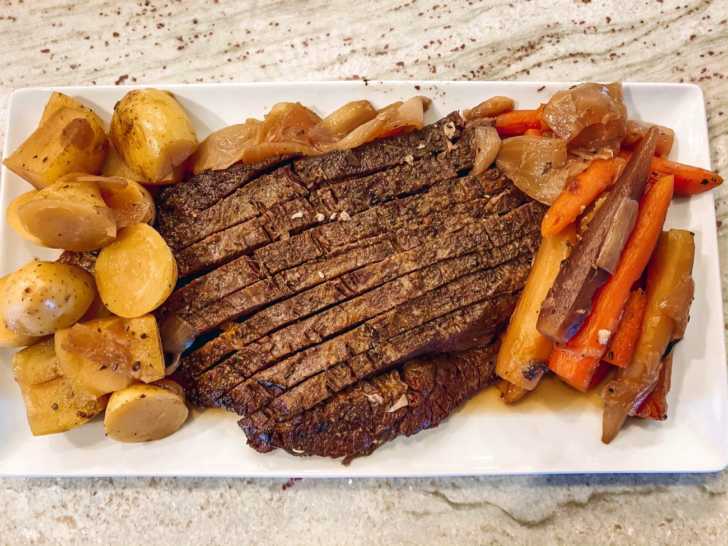 While there are quite a few different cuts that make a great pot roast, I like to use a nice brisket for a tender yet fairly lean result. Here, I show you how to make a pot roast with great flavor and reliable results – my recipe is packed with garlic, onion, carrots, fresh herbs and a rich gravy and it turns out fall-apart beef every time.
The brisket I'm using here is about two and a half pounds, but the process is the same for larger or smaller cuts of meat. While I've used onion, carrot, and potatoes here, you can definitely play around with the amount and type of veggies you're using. I love onion so I used two of them; I also love garlic which is why I used a whole head. By the end of the dish they are so soft and tender and delicious. But if you prefer more carrots or even another root veggie like a turnip, go for it.
You're going to start by seasoning your beef with salt and pepper and searing it well on both sides. After that's done, you'll remove it from the pot and set it aside while you brown the veggies.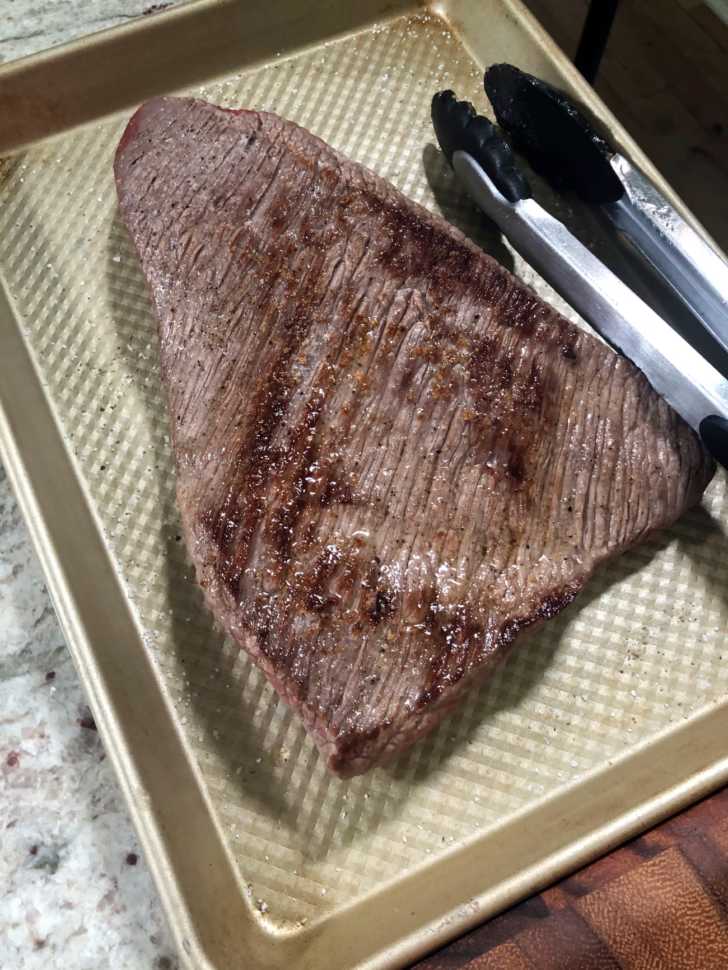 It helps to use the largest Dutch Oven you own. This way you have maximum surface area for the browning process. More contact with the pot will lead to more browning, and more flavor in the long run. Once the veggies have some nice color, you'll deglaze the pot with red wine. It's going to get very bubbly and steamy but stick with it. Scrape as much of that brown stuff off the bottom as you can, that's called the fond and it's all great flavor.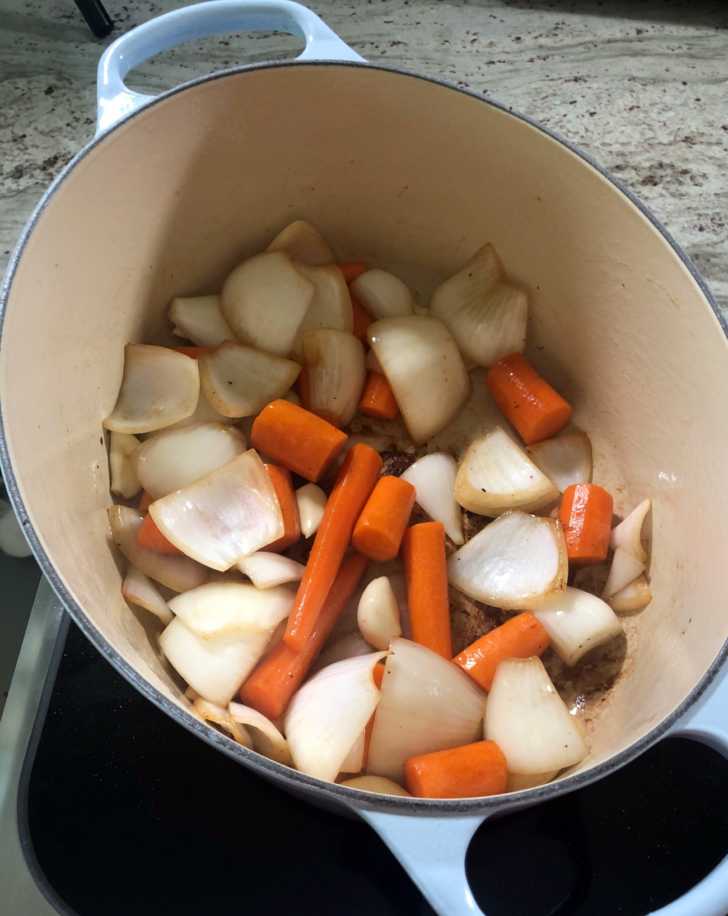 Once the beef broth and red wine are bubbling, you can add the meat back to the pot and then the oven does the rest of the work for you. Though the meat will be falling apart pretty much on its own once it's done, you want to cut against the grain.
I like to serve the juice in a gravy boat so everyone can decide how much to use on their own plate. You can leave it as is or you can thicken it up into a gravy. On that step, when you whisk your flour into the melted butter, make sure to give it a minute to cook. It's all about cooking out that raw flour flavor, and allowing all the flour to soak up some butter. Don't skip this part as if all the flour isn't hydrated by fat, it won't properly thicken the gravy later.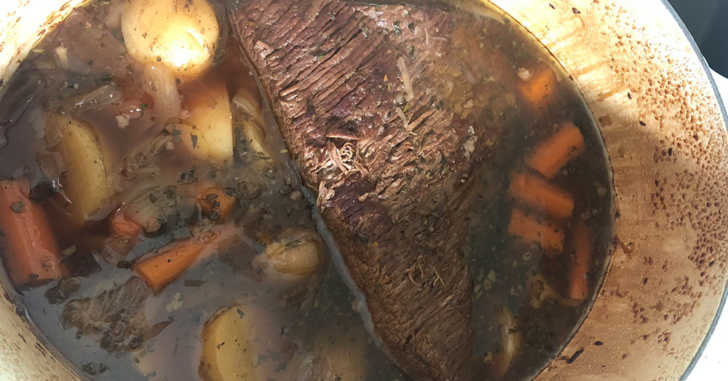 If you know you want a very thick gravy, either add a cup and half of broth, or up the butter/flour amounts to three tablespoons each. The gravy gets thicker once it comes to a boil and cooks a little. It'll also thicken up on the table once it's poured and sitting there.
One more thing, this dish leads to very soft carrots. If you'd like them to be firmer and not have that texture, then add them to the dish when you add the potatoes. Enjoy!
Brisket Pot Roast
Serves 6
20m prep time
3h cook time
Ingredients
1 brisket flat, trimmed
1 cup red wine
3 cups beef stock, broth or bone broth
1-2 white onions, cut into wedges
1 head garlic, peeled and lightly smashed
8 oz Yukon Gold potatoes, chopped into 1-inch pieces
1 lb carrots, chopped into 2-inch pieces
1 tablespoon fresh rosemary, chopped
1 tablespoon fresh thyme
2 tablespoons butter
2 tablespoons all-purpose flour
Kosher salt and freshly ground black pepper, to taste
Olive oil, as needed
For the brisket:
Preheat oven to 275°F.
Trim brisket to desired fat content and season well with salt and pepper.
Heat some olive oil in a large Dutch oven over medium-high heat. Add onions and carrots. Cook until beginning to brown around some edges.

Add garlic, cook 1-2 minutes to lightly brown the exterior. Remove all veggies to a plate or bowl.
Add the brisket, fat side down. Sear for about 1 minute per side, building a nice dark crust, then remove.

De-glaze the Dutch Oven with wine, scraping all the brown bits off the bottom as you do so.
Once wine is reduced by at least half and the bottom is scraped clean, add carrots and onions back to pot. Place the brisket on top, then add the beef stock.

Bring the liquid to a boil, then add the chopped herbs. Cover and place in the oven.
Begin checking brisket at the 2-hour mark for tenderness. When you think the brisket has less than an hour left, add potatoes.
When brisket is tender, typically 3-4 hours total, turn off heat. If you'd like to turn some of the juice into gravy, see recipe below.
Slice the brisket against the grain, serve with veggies and potatoes. Enjoy!
For the gravy:
Melt butter into a small pot on medium heat. Once butter is melted, add flour. Whisk strongly to fully combine, then keep whisking for 1 minute.
Add the 2 cups of reserved beef broth and whisk strongly to combine, avoiding lumps. Bring to boil, and continue to whisk until you reach your desired thickness.
Pour into gravy boat or small bowl and enjoy with your meal.
SKM: below-content placeholder
Whizzco for 12T