The sauce gets baked onto the cake, plus it gets drizzled on later too…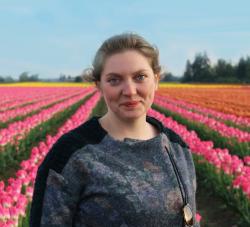 Decatur Macpherson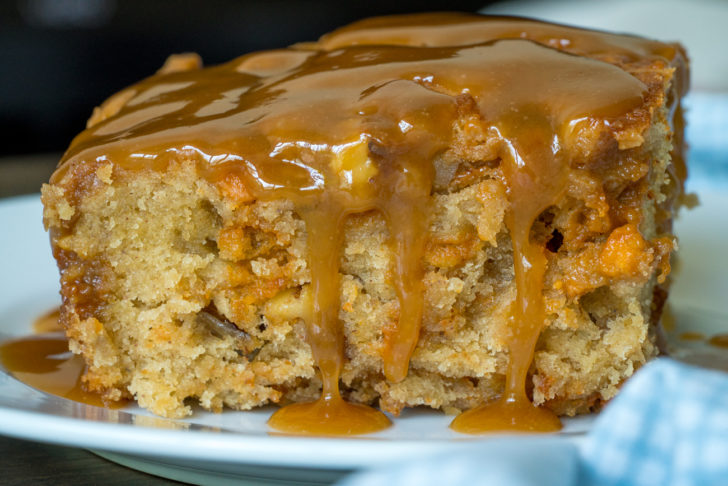 We've thought about it a fair amount and we think we've honed in on what is one of the hardest parts about making a great dessert; apart from trying to be sure you've cooked it to perfection, it's finding the right balance of flavors and making sure your dish, which is sure to be sweet to begin with, isn't too sweet or cloying. Which is what is so impressively wonderful about this recipe.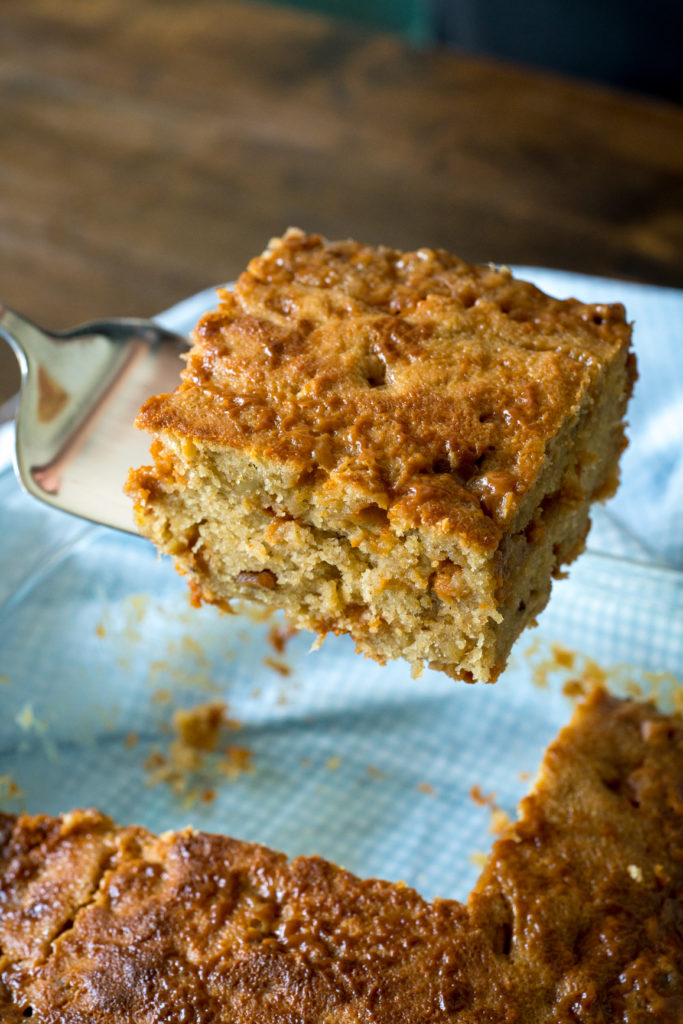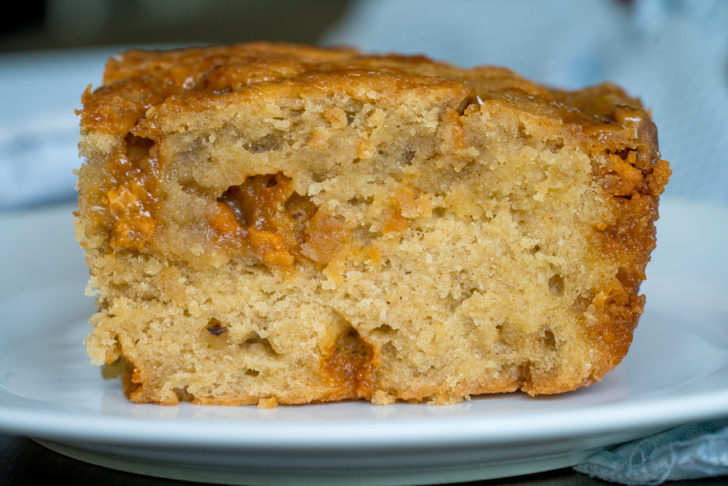 A rich cake that's rich and dense in flavor and consistency, and which is made even better by pouring a homemade toffee sauce on top, then broiling it until it's sticky and amazing. And, because we're already being gluttonous, save some more of that sauce to drizzle it over the whole thing as you're serving it…you'll think you've died and gone to heaven!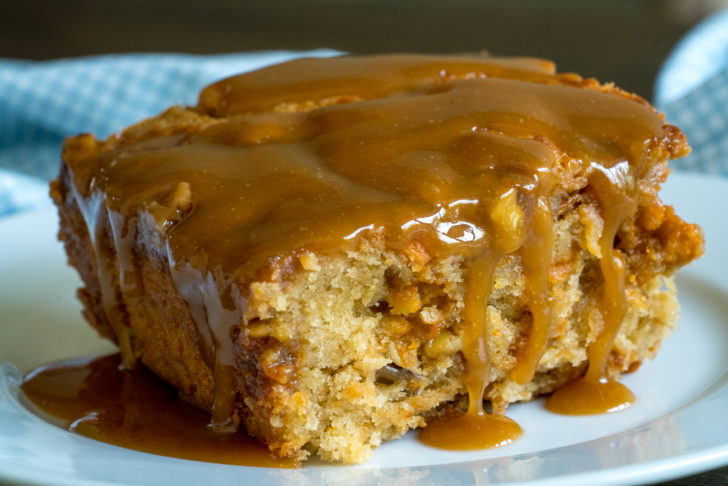 Now, if you've made the cake and are wondering whether you can muster the energy to also make the sauce – which does take a little finessing over the stove – please, if you've got the time and patience to make the cake, you've got the ability to make this sauce. It is goooooood. Broiling it on the cake gets an A+ from us, plus you can spoon it on to ice cream or any other sweet treat you like, and we would also totally support eating it in spoonfuls from the saucepan or storage container of your choosing. It's that good.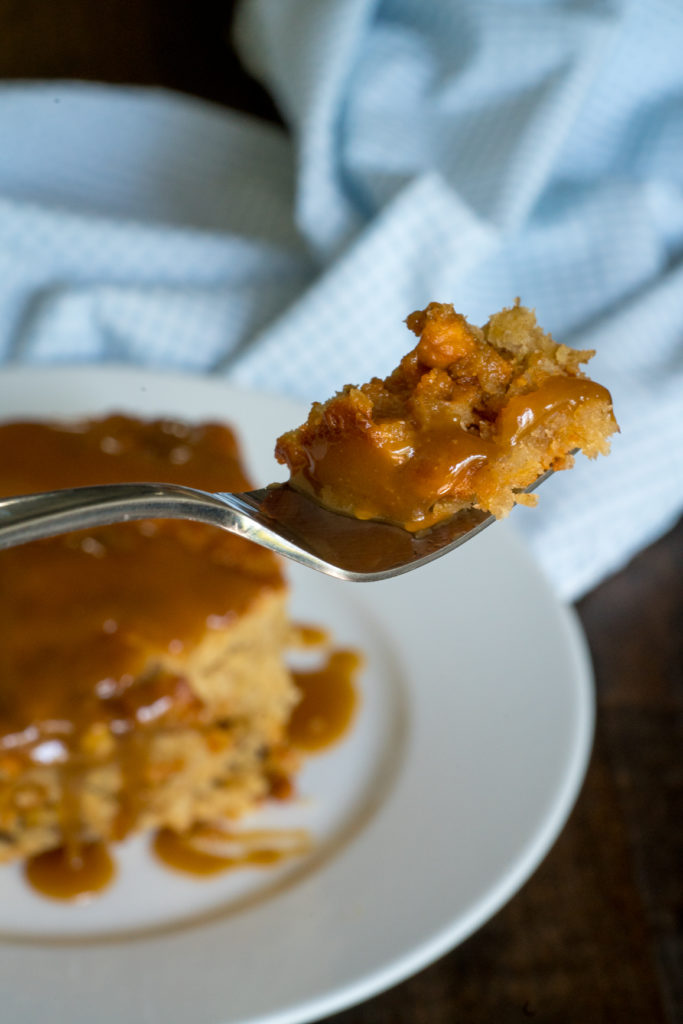 We added walnuts and butterscotch chips to our sticky banoffee pudding cake, along with the mashed banana, and we loved the outcome, but if you want to choose either walnuts or butterscotch chips, it would still be great. Just don't skip the banana. It adds great flavor and texture, plus, it keeps the cake super moist and almost fudgy in consistency, so it's an integral part of the recipe. If you end up making one thing this week, this sticky pudding cake should be at the top of your recipe list. Everyone will love it and you'll be so glad you put in the time.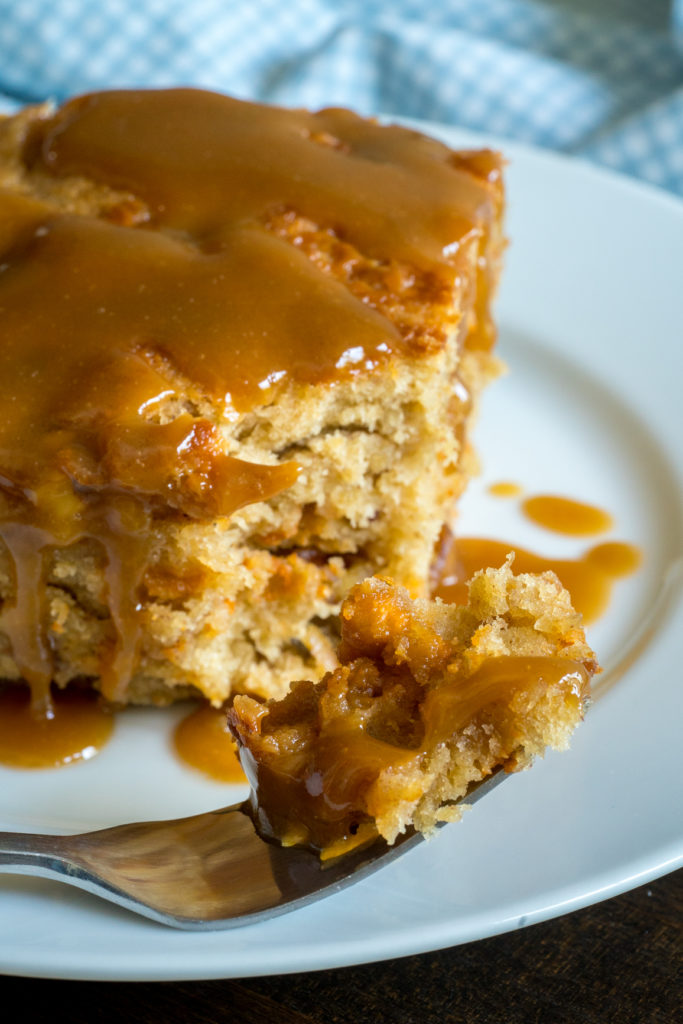 Banana Toffee Cake
Serves 9-12
1 hour 15 minutes
Ingredients
Cake:
1 3/4 cups all-purpose flour
1/2 tablespoon baking powder
1/2 teaspoon cinnamon
1/4 teaspoon salt
3/4 cup (1 1/2 sticks) unsalted butter, room temperature
2/3 cup brown sugar
2 large eggs
1 cup banana, mashed
1 teaspoon vanilla extract
2/3 cup butterscotch chips
1/2 cup walnuts, finely chopped
Toffee sauce:
1/2 cup (1 stick) unsalted butter
1 1/2 cups heavy cream
1 cup brown sugar
1 teaspoon vanilla extract
1/2 teaspoon salt
sliced bananas, optional, garnish
whipped cream/cool whip, garnish
Preparation
Preheat oven to 350º F and line an 8x8-inch baking dish with parchment paper or aluminum foil.
In a medium bowl, whisk together flour, baking powder, cinnamon and salt, then set aside.
In a large bowl or mixer, cream together butter and brown sugar for 2-3 minutes, or until fluffy and lightened in color.
Beat in eggs, then add mashed bananas and vanilla extract until combined.
Gradually add in flour mixture until incorporated, then fold in butterscotch chips and walnuts.
Transfer batter to lined baking dish and place in oven. Bake for 25-35 minutes, or until toothpick inserted in center comes out clean.
Remove from oven and set aside. Turn on oven broiler.
While cake bakes, prepare toffee sauce by whisking together heavy cream and brown sugar in a medium saucepan over over medium heat. Add butter and bring to a boil, making sure to stir continuously.
Reduce heat to medium-low and continue boiling for 6-8 minutes, or until mixture is thickened.
Remove from heat and whisk in salt and vanilla extract.
Pour 1/2 cup toffee sauce over baked pudding, then place in oven and broil for 1-2 minutes, or until bubbly.
Remove from oven, top with more sauce or sliced bananas, if desired, and serve with whipped cream. Enjoy!
Recipe adapted from The Recipe Critic
SKM: below-content placeholder
Whizzco for 12T