Summer is almost here! That means long days at the beach, poolside parties, grill outs, potlucks, and every kind of get together imaginable. If you're tired of bringing (and eating) the same kinds of side dishes, why not switch it up this year? Now, we're definitely not complaining about a classic pasta salad. There's nothing we love more than a bowl full of carbs, no matter how they are dressed up. However, it's fun to try out new recipes! Who knows, maybe you'll find a new favorite on this list.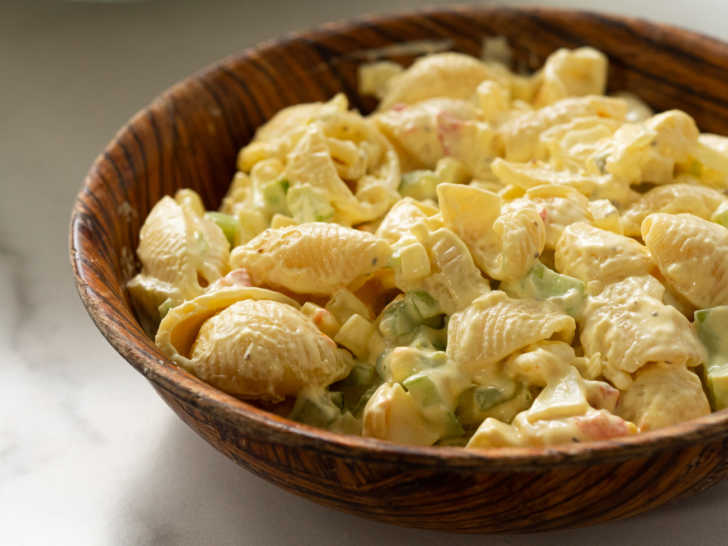 If you like most of your foods on the sweet side, then Amish Pasta Salad is the pasta salad for you. While there are many of the same ingredients you might find in a classic creamy pasta salad – mayo, celery, and the like – there are also a few others to make it extra special. It's creamy, it's crunchy, and it's classically delicious. While the main ingredient is pasta, there's also hard-boiled eggs, celery, sweet onion, pimentos, and bell pepper so there's plenty of crunch and plenty of flavor. Get the recipe here!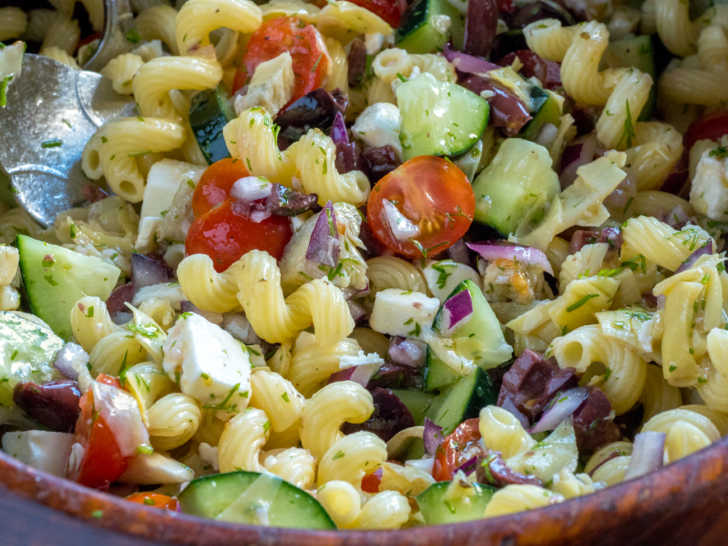 There's nothing wrong with the classic macaroni salad when you need a potluck or picnic side, but in the same amount of time you can make this pasta salad, which (thanks to a bunch of Mediterranean-inspired add-ins) is a whole lot more interesting. There's seriously so much flavor here – there's salty olives and feta, cool cucumbers and juicy tomatoes and a bright lemony dressing that is a far cry from the gloppy mayo-laden ones you might find on the average picnic table. I love this particular pasta salad because there's so much texture involved – the pasta has a chewy bite, while the red onion and cucumber lend crunch, the feta gives a bit of creaminess, and the dressing coats everything in a velvety lemon and herb glaze. Get the recipe here!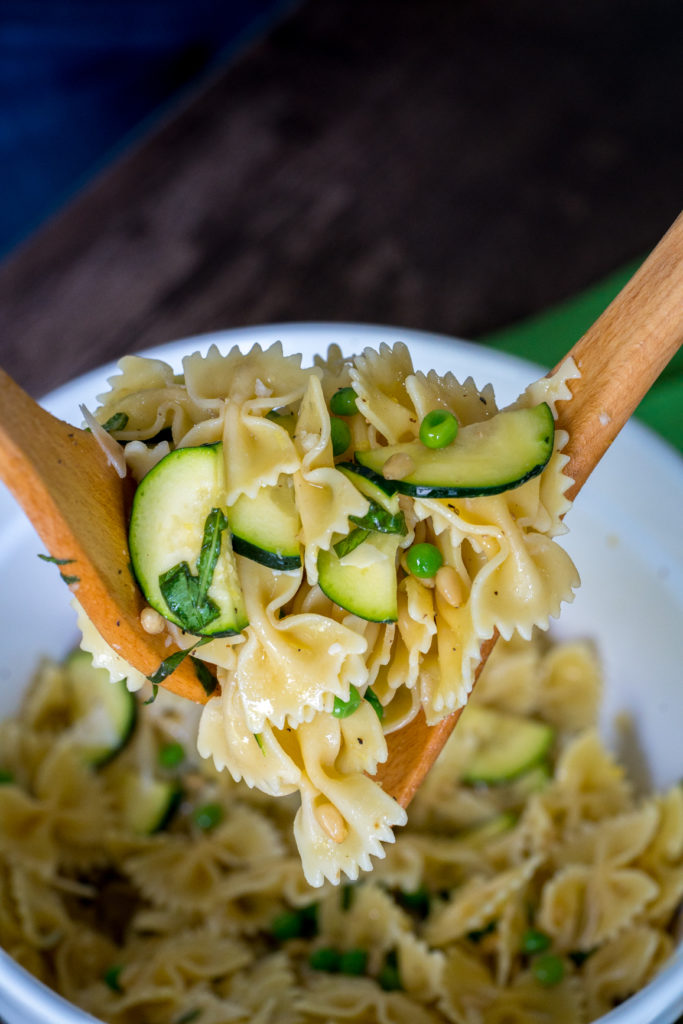 As the weather warms up, mayo-laden picnic salads become an all too common sight. This summer salad, though, is a horse of an entirely different color. It's a bright and cheery pasta salad, tossed in a vibrant lemon-based dressing and studded with thin summer zucchini, sweet peas, and fresh basil. A far cry from the standard macaroni salad, this Lemon Basil Summer Pasta Salad feels sunshiney in and of itself. It's a pasta salad that'll never weigh you down. Get the recipe here!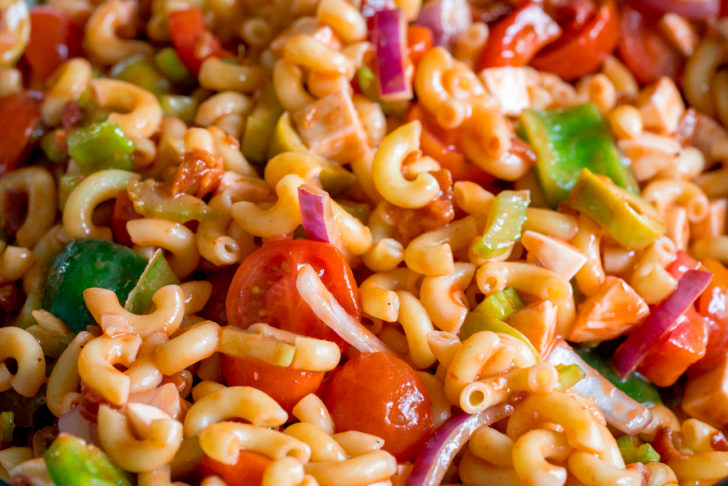 Okay, before the name spooks you, hang on a second. This bloody mary pasta salad is nothing to be intimidated by and not to be shied away from – it's chock-full of delicious add-ins, so it's got tons of flavor and is sure to be the most interesting dish at the party! To rewind a bit, bloody mary cocktails are rather an acquired taste, what with tomato juice being the base with splashes of worcestershire sauce, horseradish and hot sauce thrown in for good measure. Assertive, yet totally delicious, we took the classic brunch staple as our inspiration and turned the famous beverage into a full meal! Get the recipe here!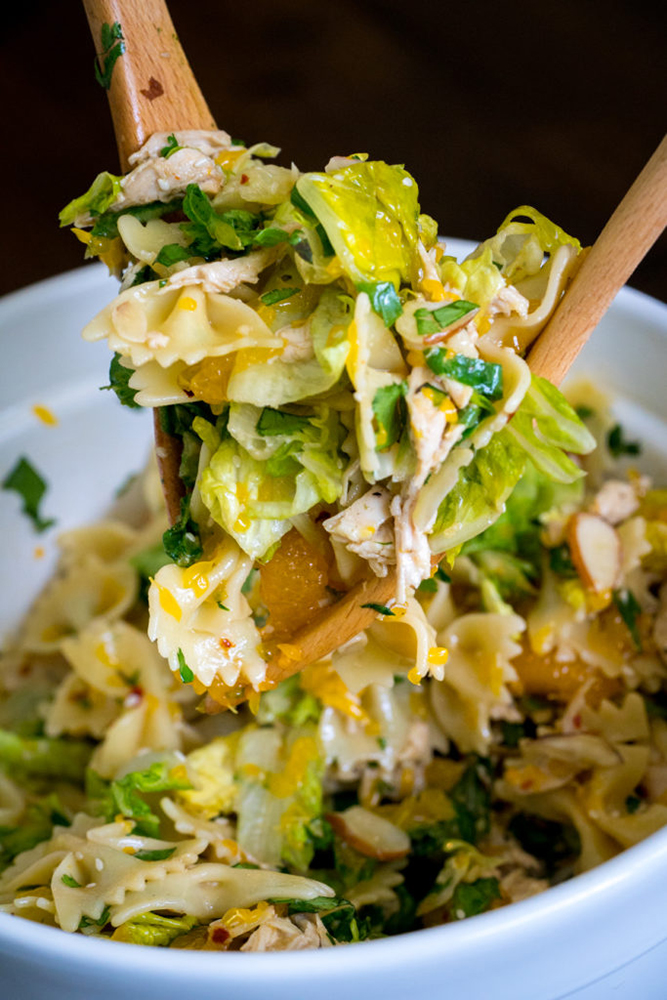 Pasta salad is one of those dishes that always catches our attention anytime we come across it. We think it has to do with how many different ways it can be made, so there's always something unexpected about it, intriguing us from the get-go and ensuring we scoop a generous helping onto our plate. If you had pasta salad a lot growing up and mainly associate it with a heavy coating of mayonnaise, let us assure you things have changed; pasta salads aren't what they used to be, so don't get hung up thinking you're only getting a one-note scoop of blandness…that couldn't be further from the truth, especially with this tasty dish. Get the recipe here!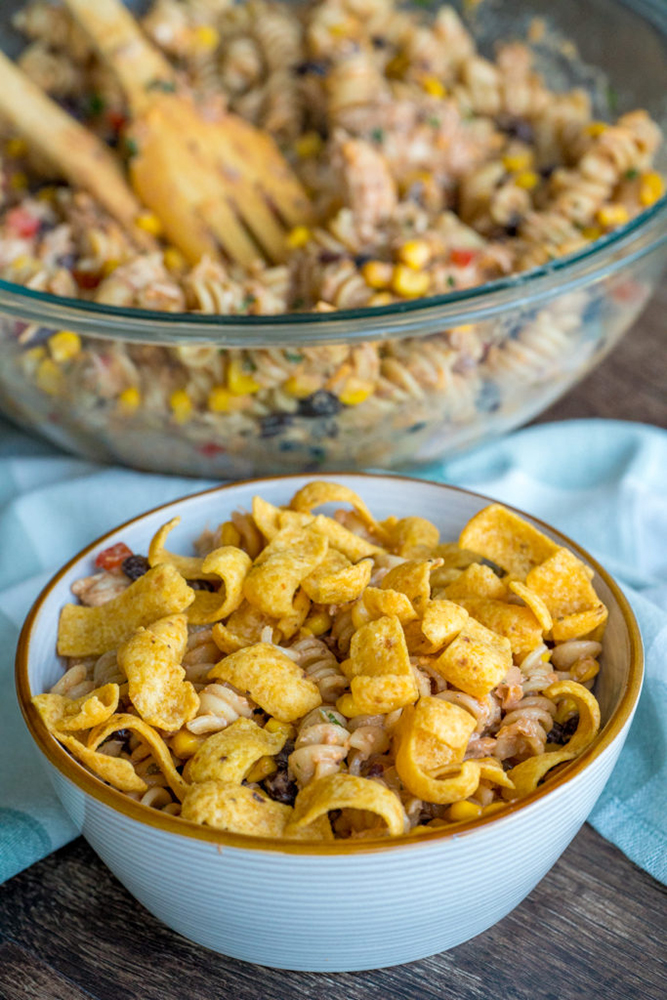 Looking for yet another pasta salad to keep your side dish game strong over the summer? We've got you covered, what with our seemingly-endless amount of the dish that just keeps on giving. Gone are the days of throwing pasta and mayonnaise together and calling it good, we like our pasta salads jam-packed with ingredients and flavor, filling us up and keeping us full long after we've left the pool party or backyard BBQ. Not only does a good pasta salad require lots of flavor and yummy components, we also like some good texture and consistency to be happening as well – why not have something a little crunchy in there to make it interesting? Here, we've got a barbeque ranch vibe going on, to which we added extra-crunchy corn chips for that extra oomph that really takes things over the top (in the best way possible). Get the recipe here!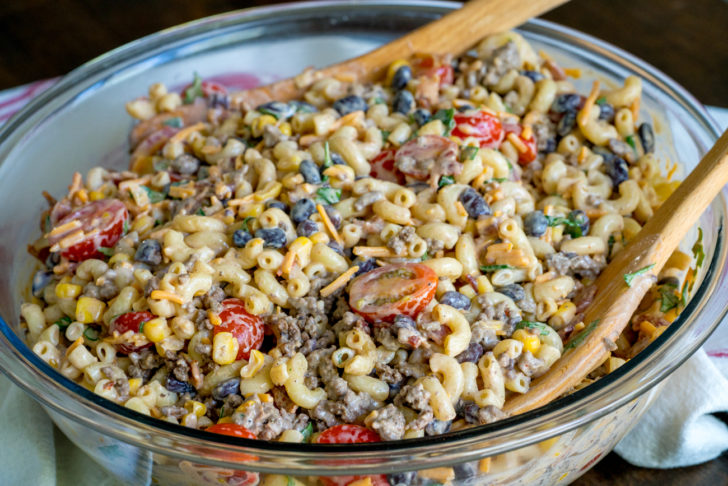 Assuming you haven't made some variation of this dish already, you'll just have to trust us when we say that it is GOOD. Definitely not your typical pasta salad, this cowboy version's got a lot of unusual flavors that don't typically come to the salad party, including (but not limited to): smokiness from the barbecue sauce and cumin, heat from the red pepper flakes, worcestershire and hot sauces, and brown mustard to really open up those nasal passages. This is not your average macaroni salad. Instead, it's got some great Tex-Mex elements that beef it up, pun intended, and turn this into a full meal, if that's what you're looking for. Get the recipe here!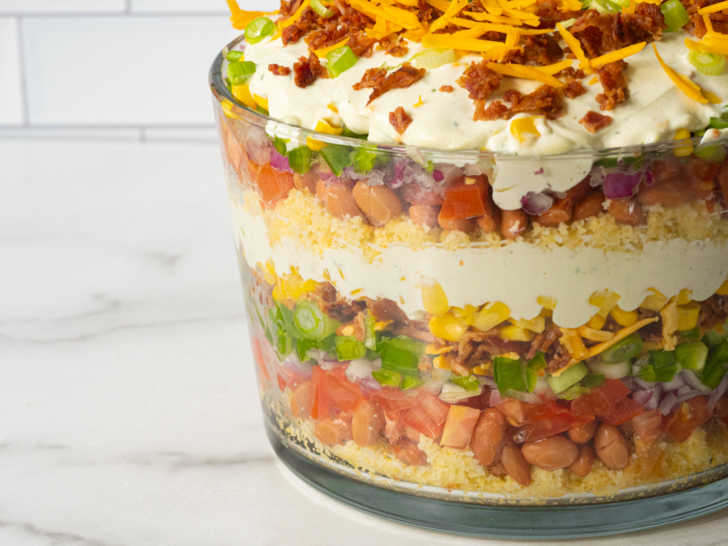 One thing I've always appreciated is just how broad the definition of salad is. Lots of leafy lettuce? That's definitely a salad. A jiggly jello creation? Sure, that too. Pasta, potato, broccoli, wedge, fruit, bean… there are countless options. While so many of them are great when you're entertaining or attending a potluck, this Southern Cornbread Salad tops the list for me when I need to bring a side somewhere. Its layers make it seem elegant, but it's easy to make and entirely delicious. Get the recipe here!
SKM: below-content placeholder
Whizzco for 12T