Pasta is a go-to around my house when it comes to easy, filling meals. Even better than quick and easy prep is quick and easy clean-up! One-Pot meals are just that – easy to make and easy to clean up. I've gathered up some of my favorite one-pot pasta dishes we've done over the years so you can try out a few new ones this week! Who knows, maybe you'll find a new favorite!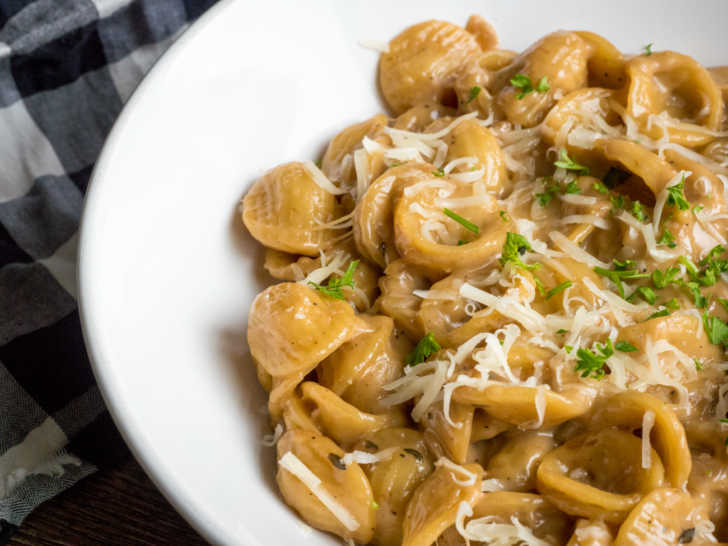 I've already told you how much I love one-pot pasta and I'm sure I'll have the occasion to tell you again. Well, this one is certainly no exception. While it takes a little longer than other one-pot pastas (because caramelized onions, which there's just no substitute for), it still comes together entirely in one pot, and yes, that means you don't even have to boil the noodles separately. It has all the rich nuanced flavor of French onion soup with the added comfort of pasta, and yes, that means it's every bit as good as it sounds. Get the recipe here!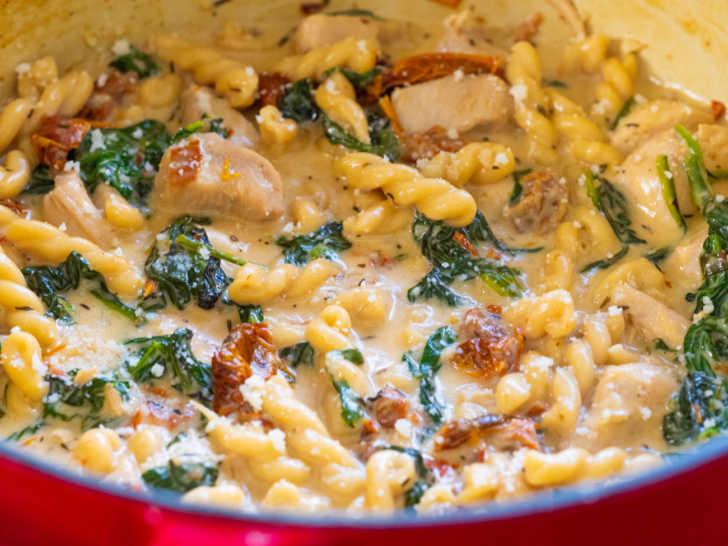 Pasta is often a multi-phased process – you might cook a protein, you boil the noodles, you build the sauce. Here, you still get all those layers of flavor, it's just done all in the same pot as you build upon each phase. You start by browning the chicken with some sun-dried tomatoes and garlic. What makes a dish "florentine" is, of course, the spinach but that doesn't get stirred in until the final minutes so it has just enough time to wilt. It adds that irony earthiness that only spinach can, but it's not overwhelming, it's perfectly balanced with the creaminess and the subtle sweetness from the sun-dried tomatoes. Get the full recipe here!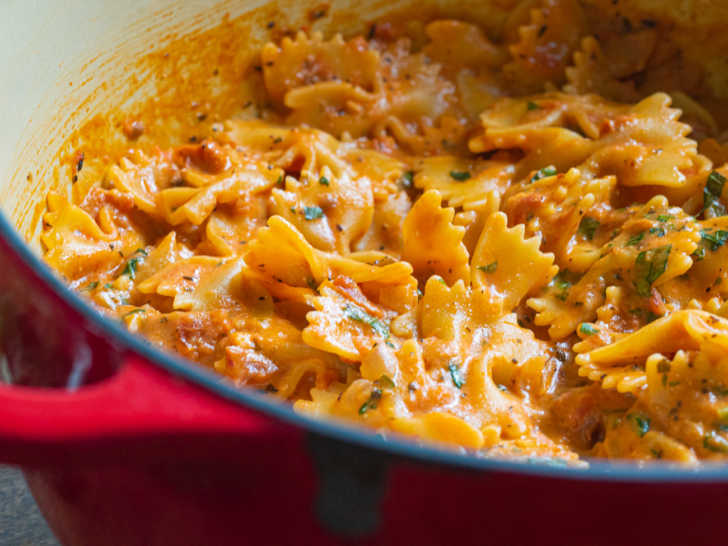 When it comes to whipping up dinner on the fly, one-pot pasta is a little bit of a miracle worker. Since the pasta cooks in its own sauce, every bite is permeated with flavor, and this One Pot Creamy Tomato Pasta proves what a winning method it is once again. Chewy pasta in a tomato sauce accented by classic Italian herbs and made creamy with a few special additions, it's an ideal twenty-minute meal. Get the recipe here!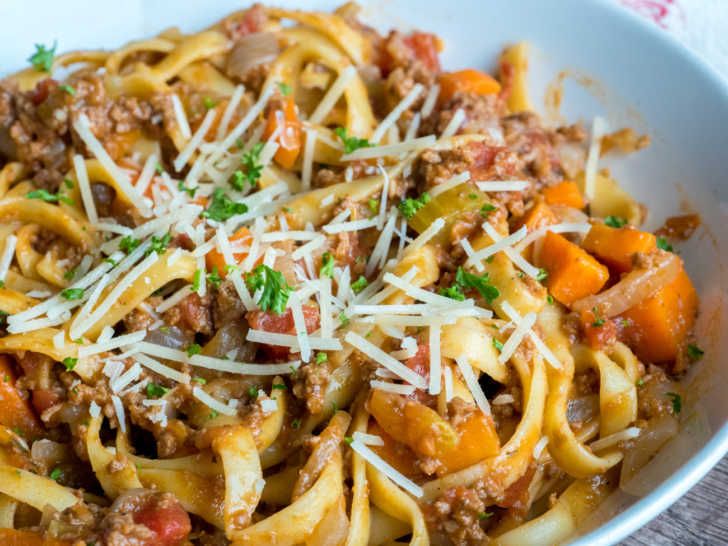 There's no denying that when it comes to meat sauces, a good bolognese is matchless, but it is a sauce that many a Nonna can spend the better part of a day creating. I'm not going to sit here and tell you that it's not worth that time and patience – it most certainly is and the results are often mindblowing – I'm just going to tell you that you can still get a great bolognese in a much quicker fashion. Like this One-Pot Pasta Bolognese, for instance. This is our quick-fix answer to bolognese and it happens to be absolutely delicious even though it comes together in one pot (as in you don't even need to boil the pasta separately) in just under thirty minutes. Get the recipe here!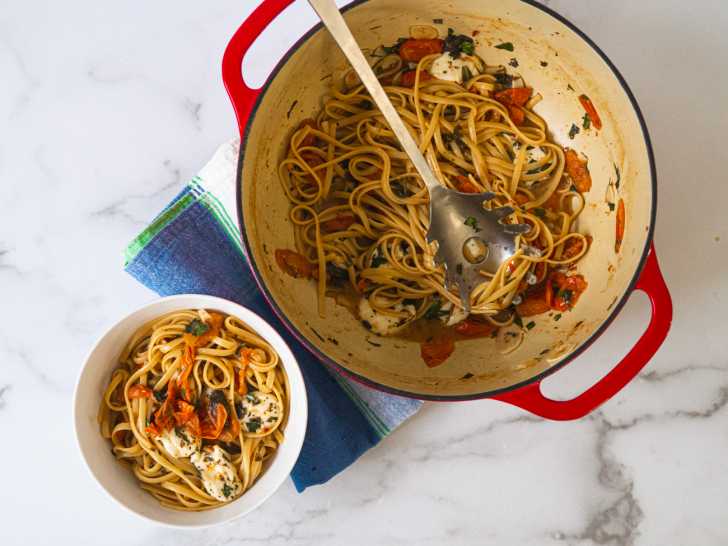 How does dinner in fifteen minutes sound? How about if it's a delicious pasta with layers of flavor that's made entirely in one pot? Even better! Our One Pot Caprese Pasta is all of those things and more. With tender linguine, fresh mozzarella, basil, and a touch of balsamic, it's like a comforting carby version of a great caprese salad. But it has a few other tricks up its sleeve (and it couldn't be easier to make). Get the recipe here!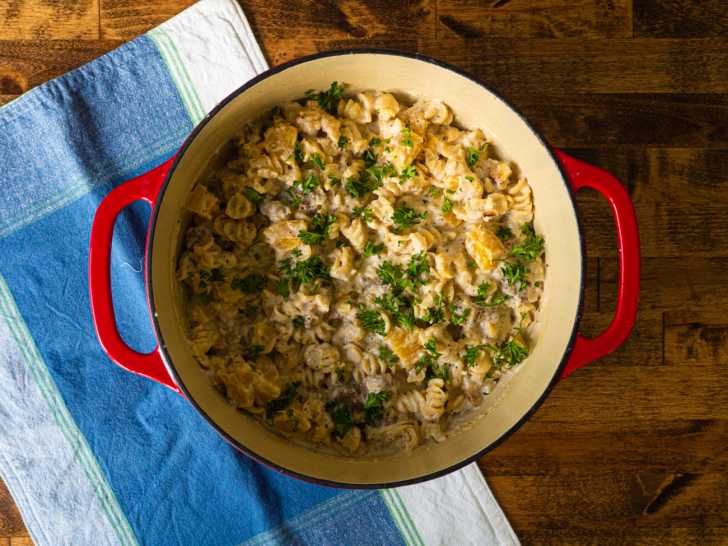 This pasta dish has everything you could ever hope for in a hearty, one-pot meal. Sausage, pasta, and creamy sauce. Add in squash, sage, and nutmeg for some depth of flavor and texture, and there you have it. An earthy, cheesy, warm pot of deliciousness that the whole family will love. Let's talk about the creamy sauce that holds everything together. Heavy cream is added to a roux made with sausage grease and flour. It might sound odd, but trust me on this one, this is the start of a beautiful creamy sauce. Sprinkle in parmesan cheese until melted, and then stir in your spices, pasta, and squash. Get the recipe here!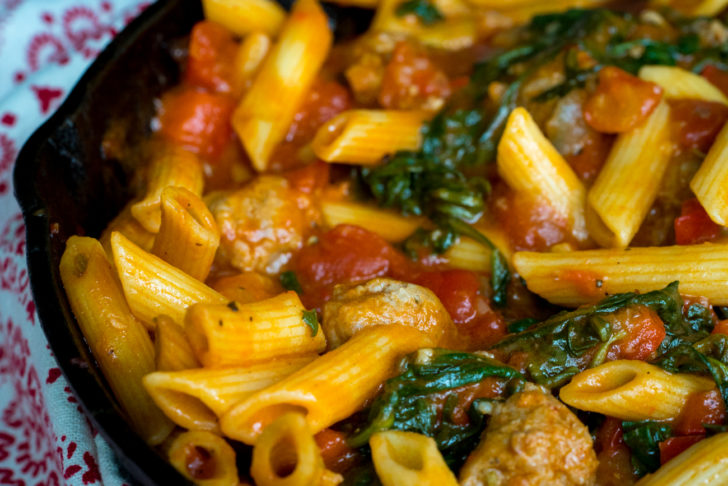 With plenty of Italian sausage, peppery arugula, bright tomatoes, and a little extra help from herbaceous fennel seeds, I feel like this particular one-pot pasta is the holy grail of one-pot meals. Flavorful enough that it tastes like it's been slow cooking all day long, it really only takes you twenty minutes to put on the table. Get the recipe here!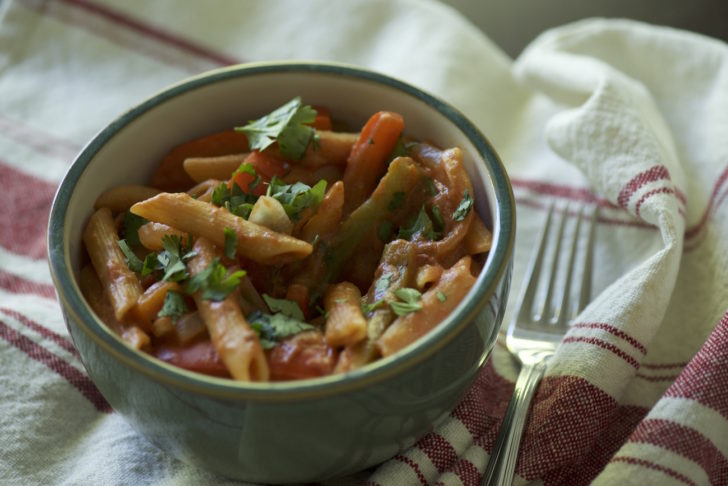 It's true, while you may have thought that pre-cooking your pasta was the only way to go here, thankfully, that's not the case. The veggies cook up to be nice and soft, flavoring the water as they go, along with the other seasoning that goes in (hot sauce, lime juice, chili powder, cumin, etc), and then you spoon in a hearty dollop of Greek yogurt that adds creaminess and balances out the whole dish. This stuff is seriously good; make sure you check it out! Get the recipe here!
SKM: below-content placeholder
Whizzco for 12T