When it comes to salad, we typically picture lettuce, maybe some chopped-up veggies, a sprinkling of cheese, and dressing. Back in the 60s and 70s, however, "salad" was used to describe anything from Jell-O to marshmallow fluff. Those are some salads I can get behind! Let's take a look at some of the most beloved vintage "salad" recipes. Maybe you'll find a new favorite!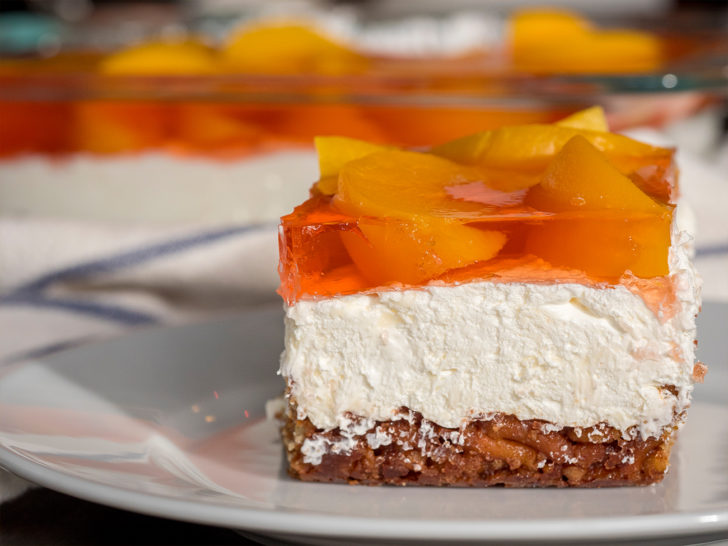 Not only does this dish look amazing – hello, gem-like, fruit jello layer – but it's also insanely yummy. The pretzel crust still has the perfect touch of saltiness, but the cinnamon adds an unexpected flavor that balances everything out. Add to that a smooth, sweetened cream cheese layer, and the refreshing fruit top layer. We used peach jello with canned peaches (although feel free to use fresh peaches when they're in season!) and LOVED the final product. Everything balances each other out perfectly and we're left with a dessert that checks all of our boxes: crunchy, sweet and salty, creamy, fruity…it's got all we could want! Get the recipe here!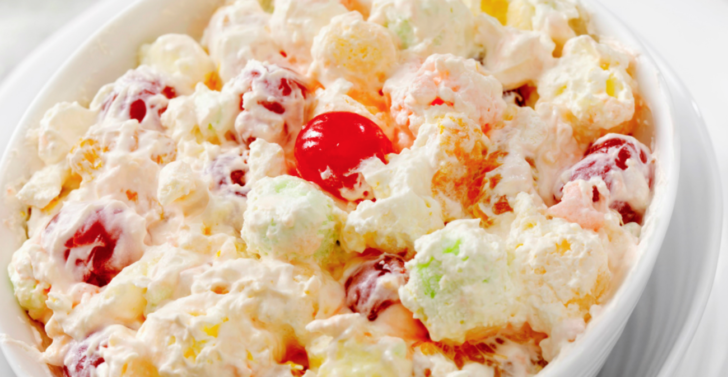 Our grandma always made ambrosia for special occasions, and we like to make it because it reminds us of her. It's a simple dish with a fancy name with great "retro" personality. The best thing about this recipe is that we can easily change it based on our tastes. We like to change things up by using different nuts, like pecans, more pineapple, clementine oranges, or any of our favorite berries. Ambrosia is a quick dish to throw together before a brunch or potluck, or when we need something sweet at the end of a long day. It's perfect for the lazy days of summer, but we don't need to wait until summer to enjoy it; we think ambrosia is a great way to bring in spring color and sweetness! Get the recipe here!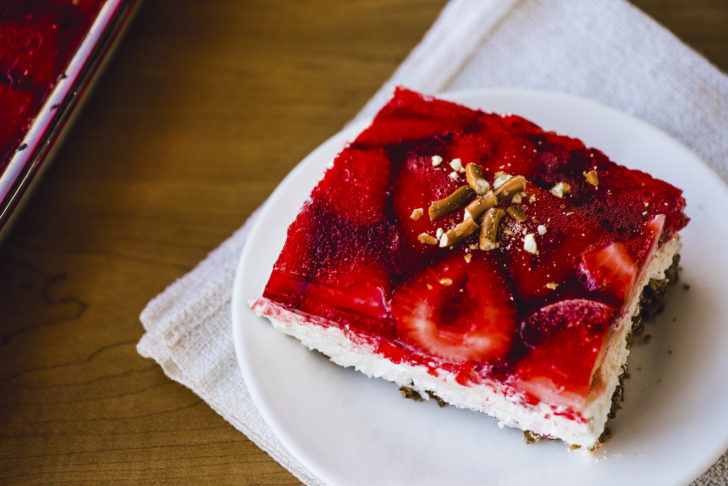 The name may sound weird… but hear us out on this one, because this stuff is amazing! Pretzel jello salad is a bit of an homage to those iconic (and often bizarre) 1960s recipes involving various types of gelatin. For this 'salad' we used strawberry jello and fresh strawberries, a thick layer of sweet cream cheese, and a pretzel crust, for just a little salty crunch that pairs perfectly with the creamy and fruity layers above. Get the recipe here!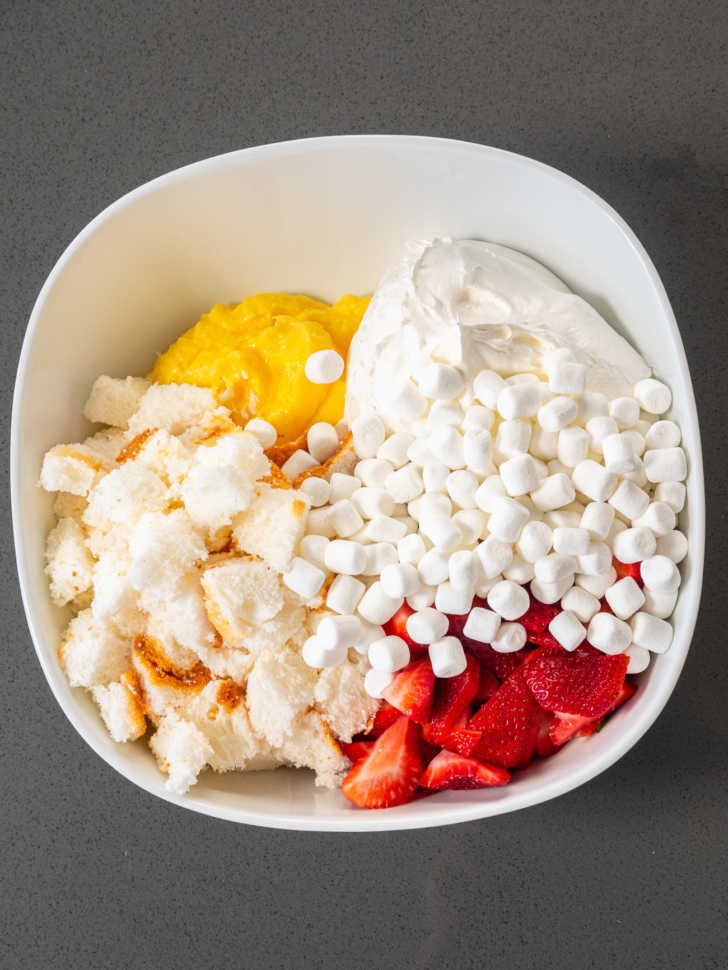 Our Strawberry Shortcake Fluff Salad is one of those retro gems where the sum of the ingredients is infinitely greater than its parts. It's just six simple ingredients, but together they make for a cool and creamy dessert that's not really a salad in any traditional sense of the word but instead something that's full of sweet and nostalgic flavor. It has the classic combination of fresh strawberries and cream that you know and love from strawberry shortcake and the vintage vibe of a fluff salad – so you might say it's the best of both worlds! Get the recipe here!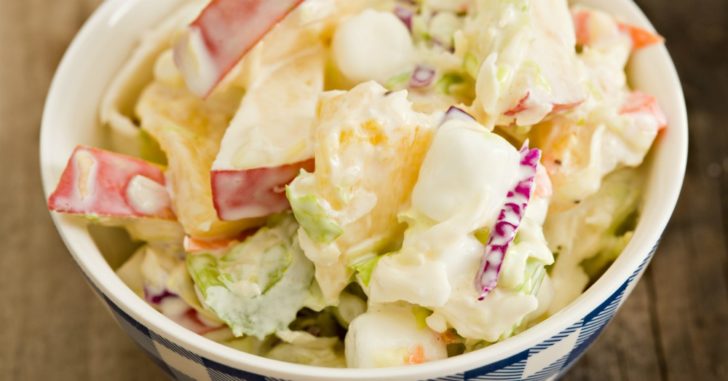 We like to serve this delightful side with simple meats like grilled chicken or baked ham so the flavors really shine. It only takes five minutes to whip this up, but the real "work" is done in the refrigerator. Give this salad a little time to really build up its flavor by chilling in the refrigerator before serving. Try out this sweet and savory coleslaw that both kids and adults love, and don't be afraid to add extra marshmallows – we won't tell. Get the recipe here!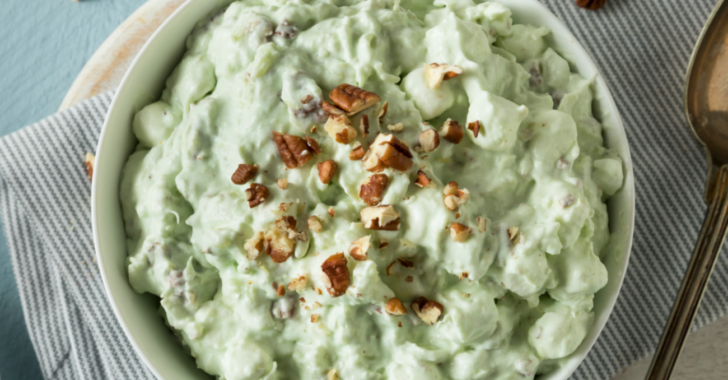 This old-school recipe is a throwback to the past; it's so easy to make, and uses just a few ingredients. We make our pistachio fluff with crushed pineapple and marshmallows, and sometimes will top it with maraschino cherries. The bright green color of this dessert looks so refreshing and inviting, our family can't wait to dig right in. We love to surprise guests with this unexpectedly retro, super cool and bright dessert! Get the recipe here!
SKM: below-content placeholder
Whizzco for 12T