Snack mix has come a long way since the first time the Chex Mix recipe was placed on the side of the cereal box during the early 1950s. There are many different recipes and combinations that you can put together for a stomach filling and/or healthy snack mix to feed your family or put on the table for your next party.
Check out these snack mix combinations from 12 Tomatoes that can help you take your snack time to another level.
1. S'mores Popcorn Snack Mix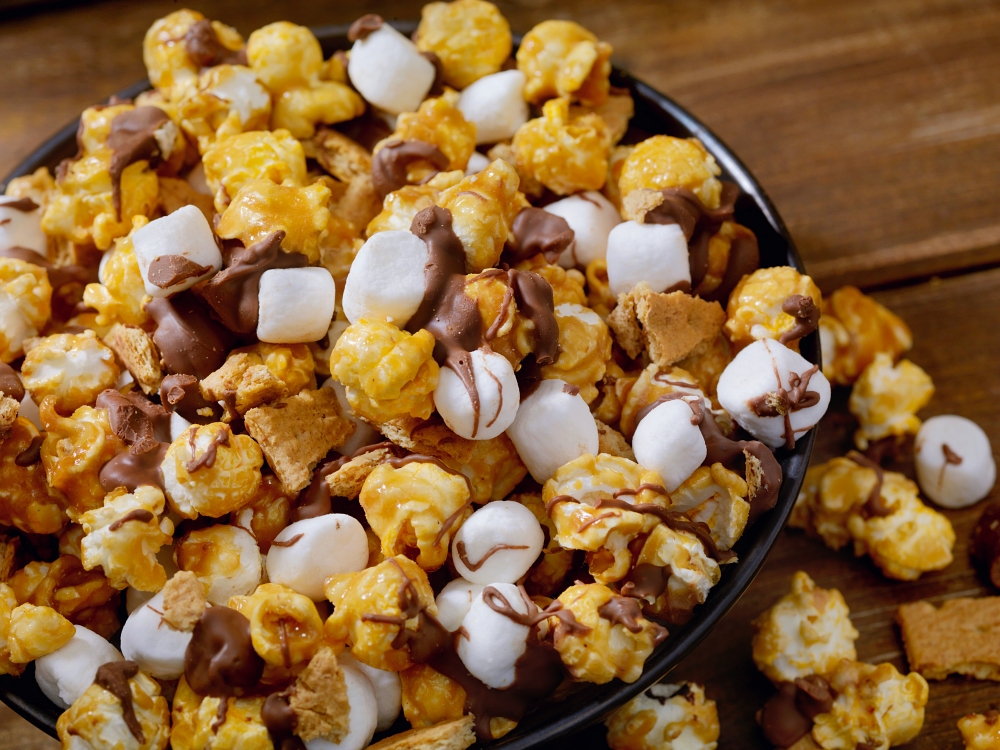 Contains: Graham crackers, caramel popcorn, mini marshmallows, milk chocolate chips
While you're more than welcome to put out the healthiest trail mix when planning a party, I'm always going to go for the yummiest, most decadent food at the table.
Even with the outlandish range of popcorn packet flavors out there, matching caramel kernels with marshmallows and chocolate pieces makes for a can't miss snack mix for all ages. It's sweet, crunchy, and oh so tasty!
Get the S'mores Popcorn snack mix recipe.
2. Texas Trash Snack Mix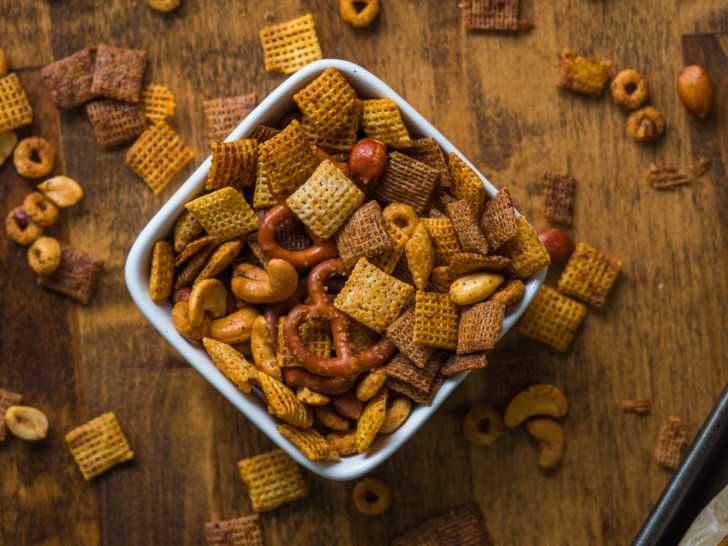 Contains: Cheerios, wheat, rice and corn Chex mix, mini pretzels, salted mixed nuts, herbs, spices (esp. Cayenne pepper), Worcestershire, and Tabasco
If you want to spice up your party mix, this is the recipe to do it with. Cayenne pepper, tabasco, and chili powder are all part of the disparate elements that come together in a tasty, crunchy mix of snack favorites with heady herbs and spices. Texas trash is the type of party food made for enjoying with the crispest of cold drinks!
Check out the Texas Trash Snack mix recipe.
3. Reindeer Chow Snack Mix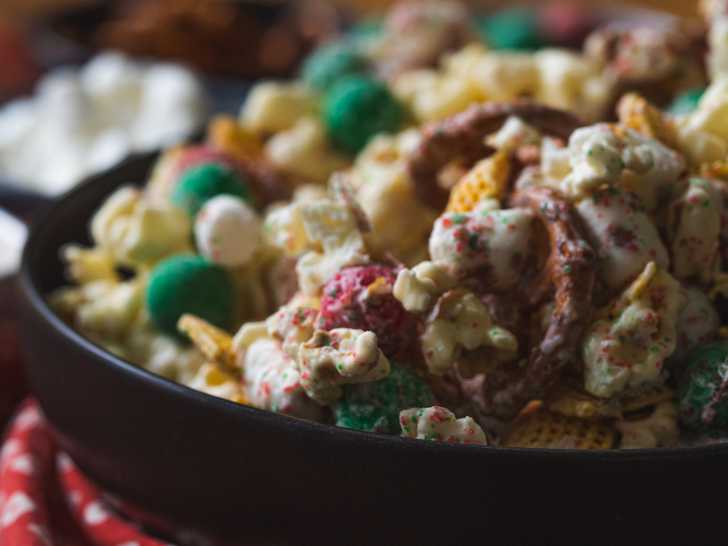 Contains: Popped popcorn, candy coating, miniature pretzels, rice chex cereal, red and green chocolate candies, sprinkles, miniature marshmallows.
Sure, it's a seasonal snack mix made to help Santa's reindeer keep their energy up, but this colorful mix tastes brilliant all year round.
Reindeer chow is a great snack mix for family get-togethers, movie nights, or birthday parties. It's simple to put together, doesn't go overboard on the candy, and layers flavors nicely so that you can enjoy all the elements.
Click here for the Reindeer Chow recipe.
4. Homemade Easy Chex Mix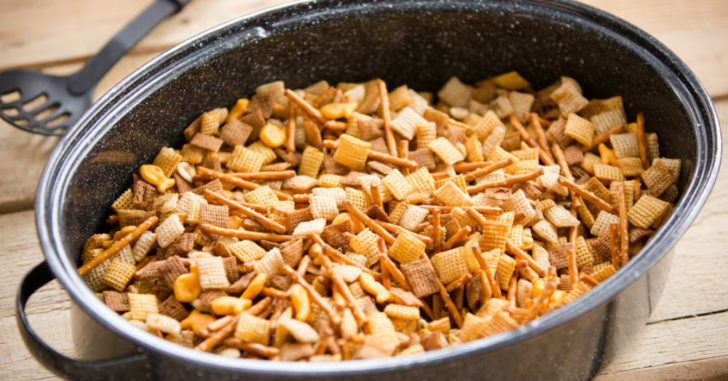 Contains: Wheat, rice and corn Chex cereals, mixed cheese-flavored snack crackers, crunchy pretzel sticks, peanuts, herbs, spices, and Worcestershire sauce.
There's a reason why Chex Mix has been an essential part of American house parties for more than 70 years. It tastes delicious, and better yet, doesn't alienate anyone. If you'd rather make your own Chex Mix at home, it's pretty easy to do and is certain to impress guests at your next get-together.
Click here for the Homemade Easy Chex Mix recipe.
5. Praline Crunch Party Mix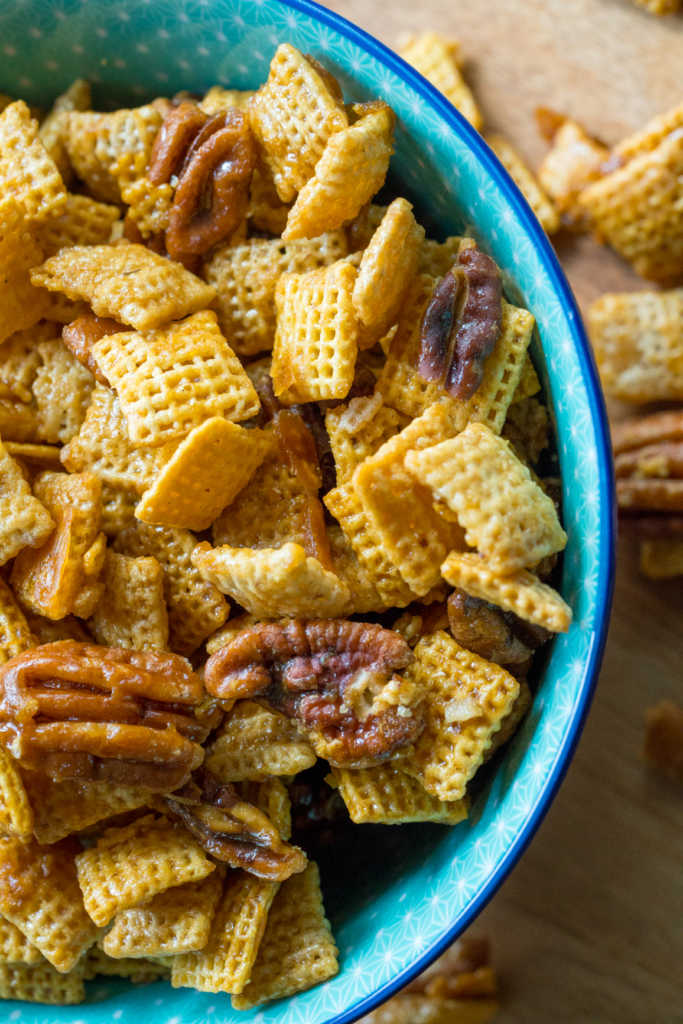 Contains: Rice and corn Chex, pecan halves, brown sugar, corn syrup
Another entry working off the contrast between sweet and crunchy, if you love praline then this snack mix is certain to appeal. Chex mix – but the addition of pecans and praline is a delicious little step away from the ordinary. Praline crunch mix may give your teeth a few tough moments, but it tastes irresistibly yummy!
Click Praline Crunch Party Mix.
Dill Pickle Chex Mix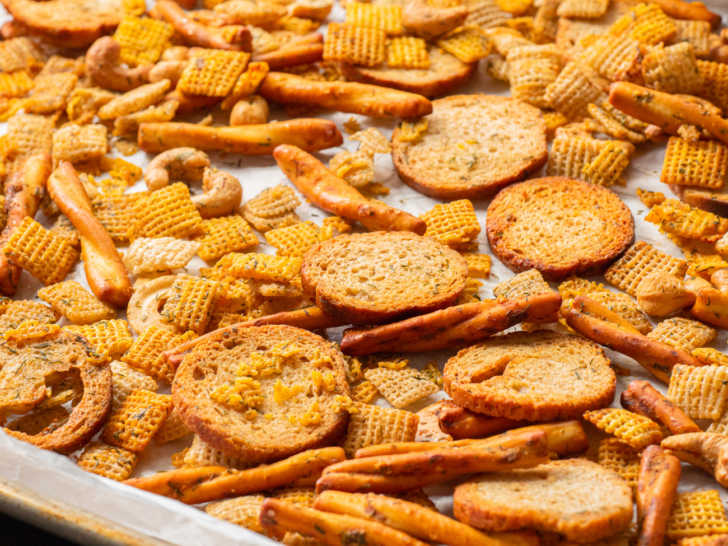 Contains: 4 cups corn and rice Chex cereal, mini pretzel twists, bagel chips, cashew pieces, dried dill, dill pickle juice, ranch seasoning, herbs, and spices
Adding a salty element to your regular Chex mix is risky because it can overpower everything and send guests straight to the drinks cooler, never to return. But this dill pickle mix is just the right amount of saltiness, complimenting the crunch of the other ingredients (especially the brilliant bagel chips). It's not going to be right for everyone, but Dill Pickle Chex Mix will leave an impression on your guests.
Get the Dill Pickle Chex Mix recipe.
Conclusion
In theory, it's not hard to make a party mix. But making a good one for your friends and family takes a bit of alchemy – finding the right balance of crunchy bits, saltiness, and (if that's what you're looking) for sweetness.
What's your tried and true method of getting your party snacks perfect?
SKM: below-content placeholder
Whizzco for 12T