It's been a long time since I ate my way through the southern United States on the road trip of a lifetime. I think about it all the time. The sites, long car rides and plane trips, cold beer, great music and the amazing people I met along the way.
Looking back, I often think about southern food more than I do Graceland, Bourbon Street, or the Keys. It was central to the identity of many people I met, the stories they told, and the lives they lead. Being willing to try every food I could along the way made a huge impact on my experience for the better.
With my access to southern food severely limited (as is my cooking expertise with many dishes) I have decided to put together a list of the best southern dishes. I'm sure it will draw mixed reactions, but I hope the list conveys how much I miss the South, and how much I'd love to visit again.
1. Jambalaya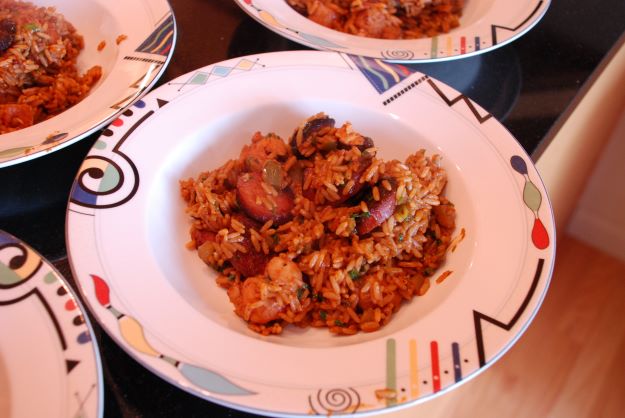 When I zoomed through the south many moons ago as part of a long-planned vacation, I ate Jambalaya nearly every day – at diners, restaurants, and even the occasional roadside stall. It's a delicious recipe that's truly synonymous with southern comfort food. Even now, just reading the word Jambalaya or typing it makes me salivate. These days I work my own Jambalaya (it's improving but still needs work), by following this 5 star Slow Cooker Jambalaya recipe to hone my skills.
2. Southern Barbecue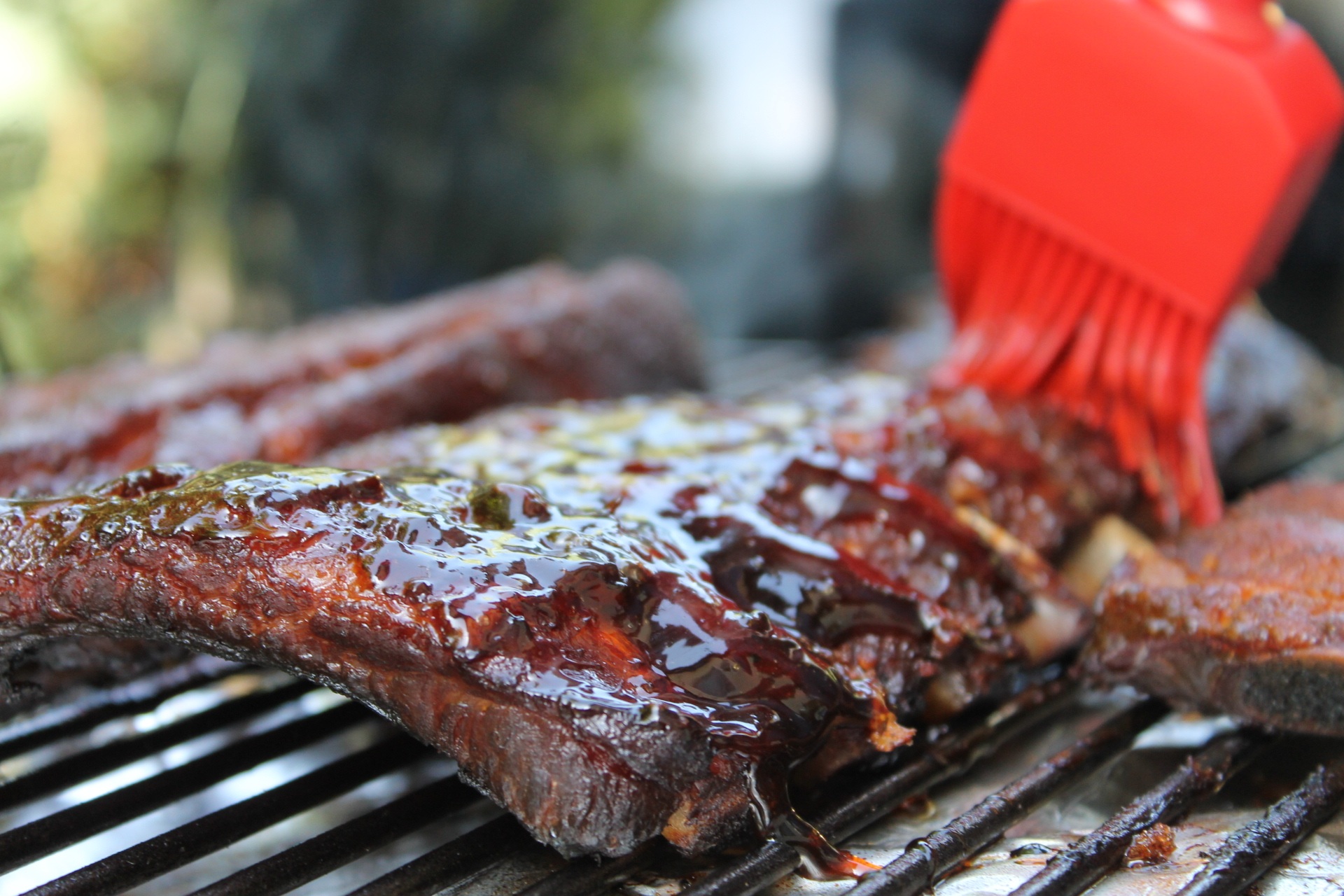 I've travelled the world (twice) enjoying different varieties of barbecue on every continent. I love Southern barbecue for the depth of different flavors – from sweet and smokey to fiery heat – and the succulent softness that pit masters create in the meat. I have taken to the maxim of 'low and slow' for much of my own grilling.
I also spent a lot of time writing about how awesome barbecue is in this piece about the best joints in the South. Keeping the list to just ten places was nearly impossible.
3. Brunswick Stew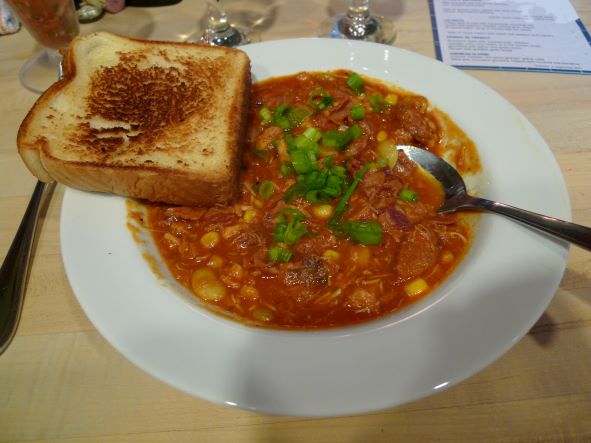 I didn't realise that a traditional Brunswick Stew was a southern thing, or that North Carolina and Virginia fight over it's bragging rights. I just knew that I liked it.
The stew was hearty, gamey (no squirrel, thankfully), and something a little bit different at the end of a long day's sightseeing, and a meal that I could enjoy with a large mug of beer.
Being a parent I opt against cooking with rabbit – my kids wouldn't speak to me if I ate bunnies – but this Brunswick Stew is a great winter warmer.
4. Fried Chicken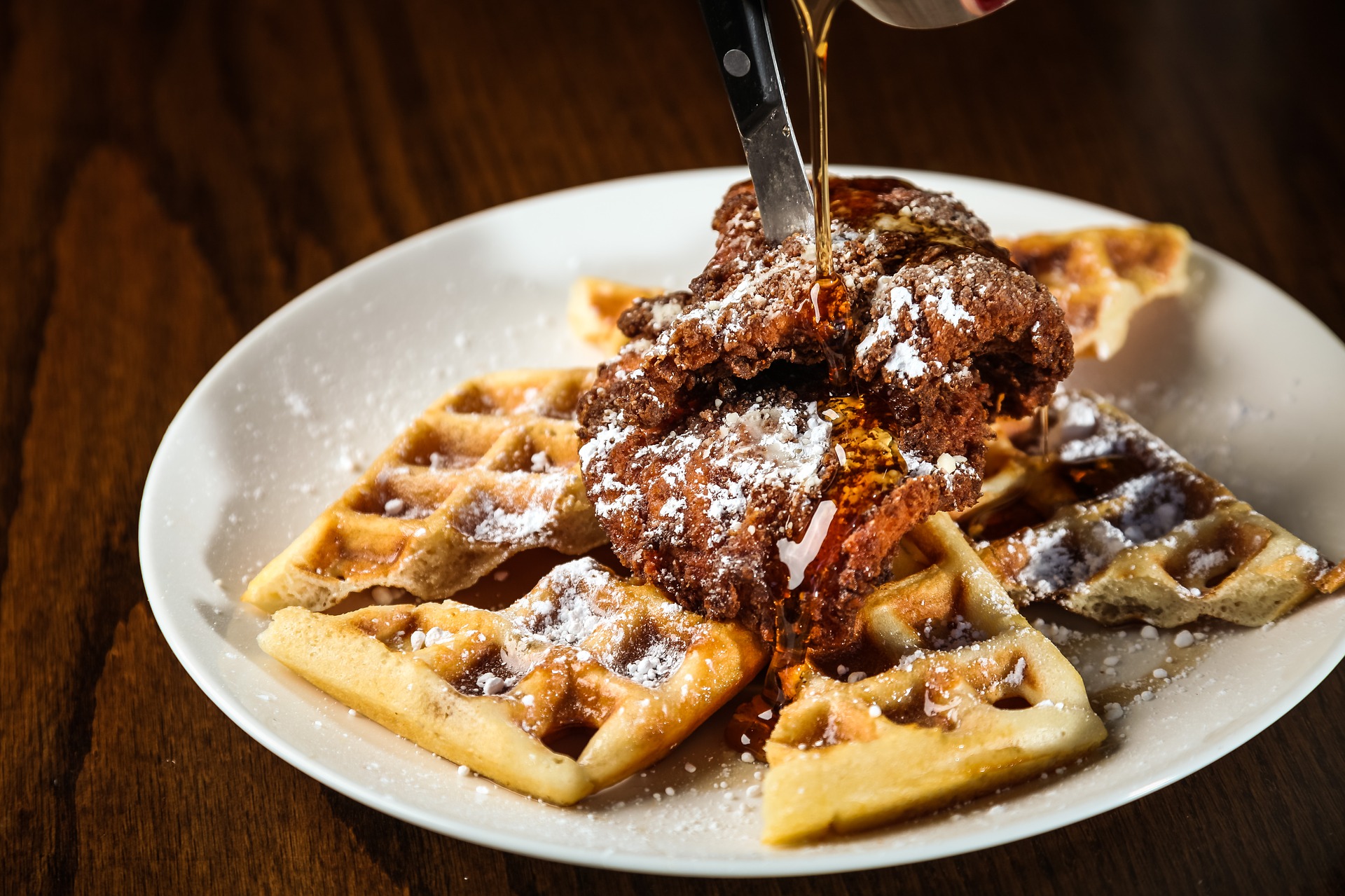 Somehow, creating delicious fried chicken is easy, yet difficult! It takes experience, innovation, and a whole lot of practice. You need to learn how to match a flavorsome and crispy exterior – a balance of breading and chicken skin – with juicy meat and just the right amount of grease, to get the very best pieces.
I wrote my magnum opus earlier about the best fried chicken in all 50 states, however if you like to cook at home I also recommend this brilliantly I also recommend this brilliantly fun Sweet Tea Fried Chicken that combines another staple of the South, sweet tea.
Whether it's Nashville spicy Hot Chicken in Tennessee, or the deliciously velvet chicken and waffles at Willie Mae's Scotch House in New Orleans, the South would dominate if I had to cut the fried chicken list to just a top ten!
5. Crawfish Boil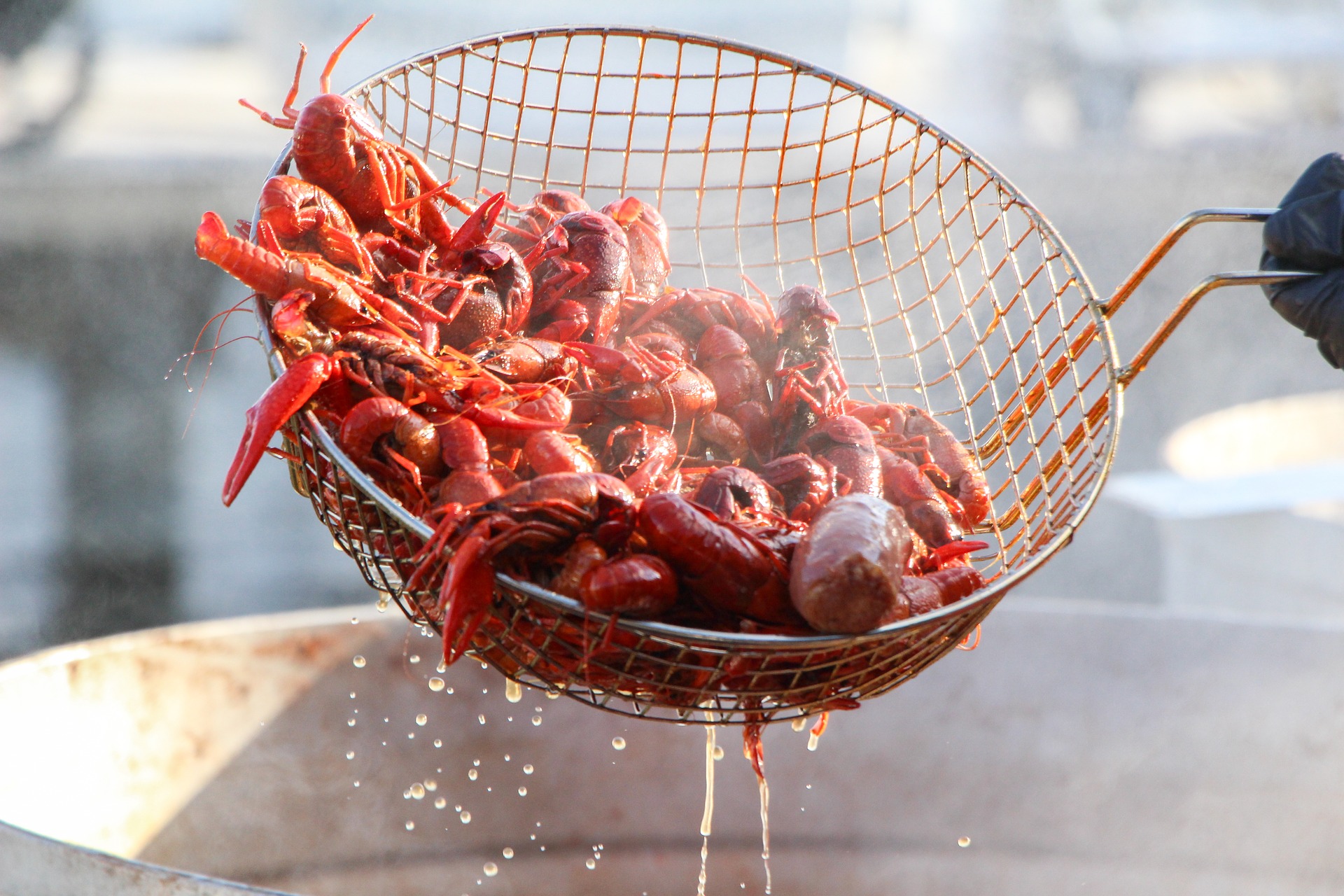 Seafood tastes best when it is fresh and cooked the local way. A larger than life pot of Louisiana crawfish is some of the tastiest, most colorful eating that i've ever had the pleasure to experience.
I could listen to this fella talk for hours while boiling crawfish. I love that magical seasoning that gets thrown in when it's cooked up with bright, hearty vegetables to create a wonderful umami flavor amidst the bits and pieces of tasty crustacean and smokey sausage.
6. Biscuits and Sausage Gravy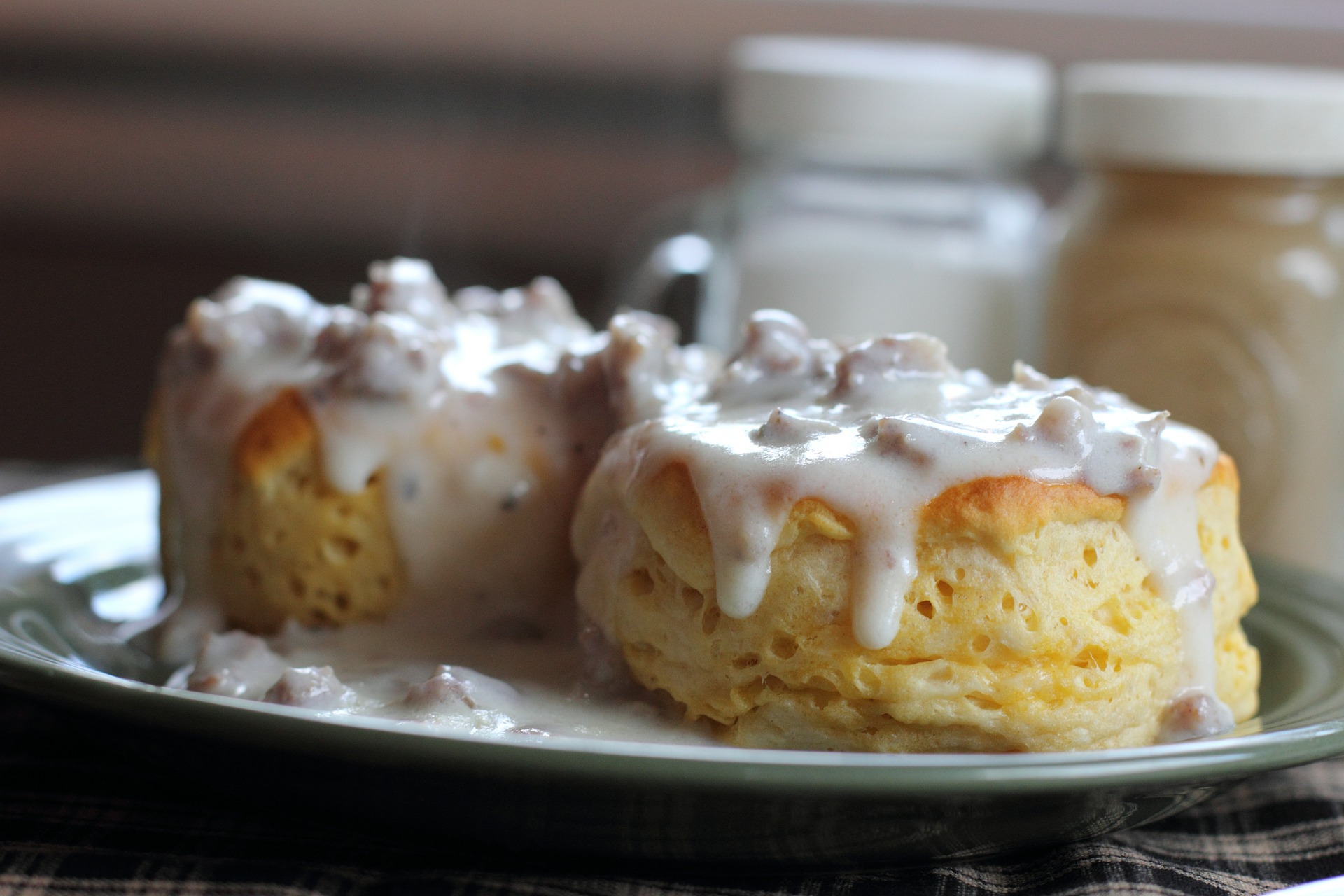 A friend I met while traveling once told me to skip pancakes and bacon at breakfast, telling me to give biscuits and sausage gravy a try instead. I must have looked confused at the suggestion, because she went into great depth about how tasty they were, why they weren't the biscuits I was familiar with, and how they were some of the best southern food. My friend was right, the biscuits and gravy tasted delicious, meshing perfectly with strong coffee and a sore head. It wasn't the last plate I had while rolling through the south. Now, when I want to reminisce about my wandering days, I whip up my favorite 4-Ingredient 7-Up Biscuits.
7. Hoppin' John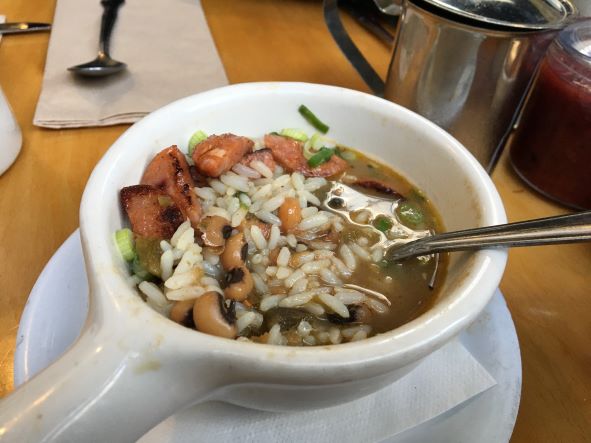 Also known as Carolina peas and rice, Hoppin' John is an enjoyably filling dish that meshes flavor and taste with long held southern traditions. Eating Hoppin' John on New Year's Day represents a chance for good luck and prosperity for the coming year. There are so many different versions of the dish but salt pork complements the black-eyed peas and broth, such as in this family style reipe. Add some collard greens and cornbread, and it's a top shelf taste of Southern soul food.
8. Burgoo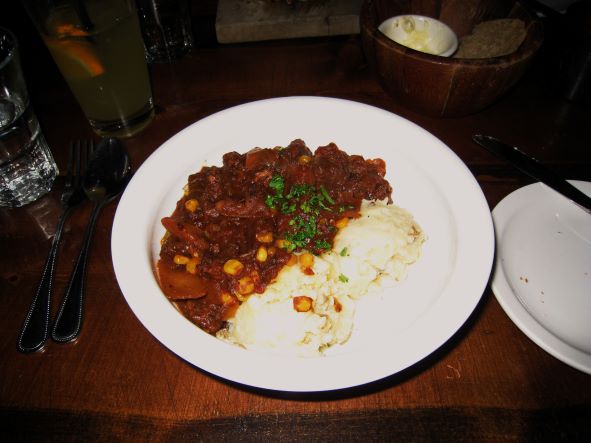 There's a few things about Kentucky that I absolutely love: Bourbon, lush paddocks filled with horses, college basketball, and burgoo.
That's right, burgoo. Check out this great post if you want a history lesson about it, I was fascinated!
It's a stew not too dissimilar from Brunswick stew (including the roadkill origins of the dish), filled with meat (pork, beef chuck, chicken) and veggies, swimming in a rich and hearty barbecue sauce broth.
9. Chicken Fried Steak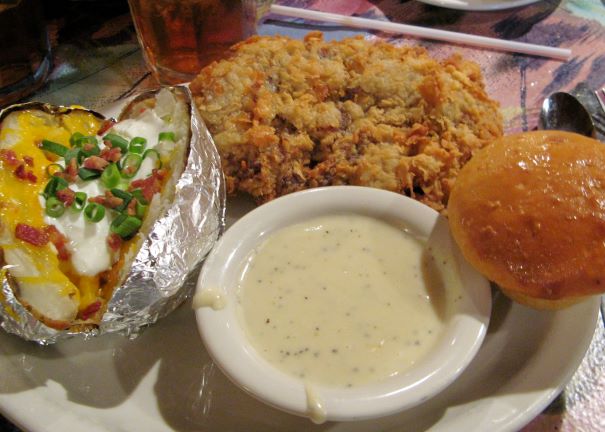 When I was young (back before the time of the internet) I used to get confused by the term chicken fried steak. I never knew whether it was chicken, steak, or both, what it looked like, or how it tasted. By the time I got over to the US, chicken fried steak was at the top of my food list, along with Philly cheesesteaks, street tacos, and Chicago deep dish pizza.
It turns out that chicken fried steak isn't anything that I hadn't had before (it's a beef schnitzel), with one exception; the amazing white gravy. Click here for an easy to enjoy recipe, It's brilliant and I love it!
10. Gumbo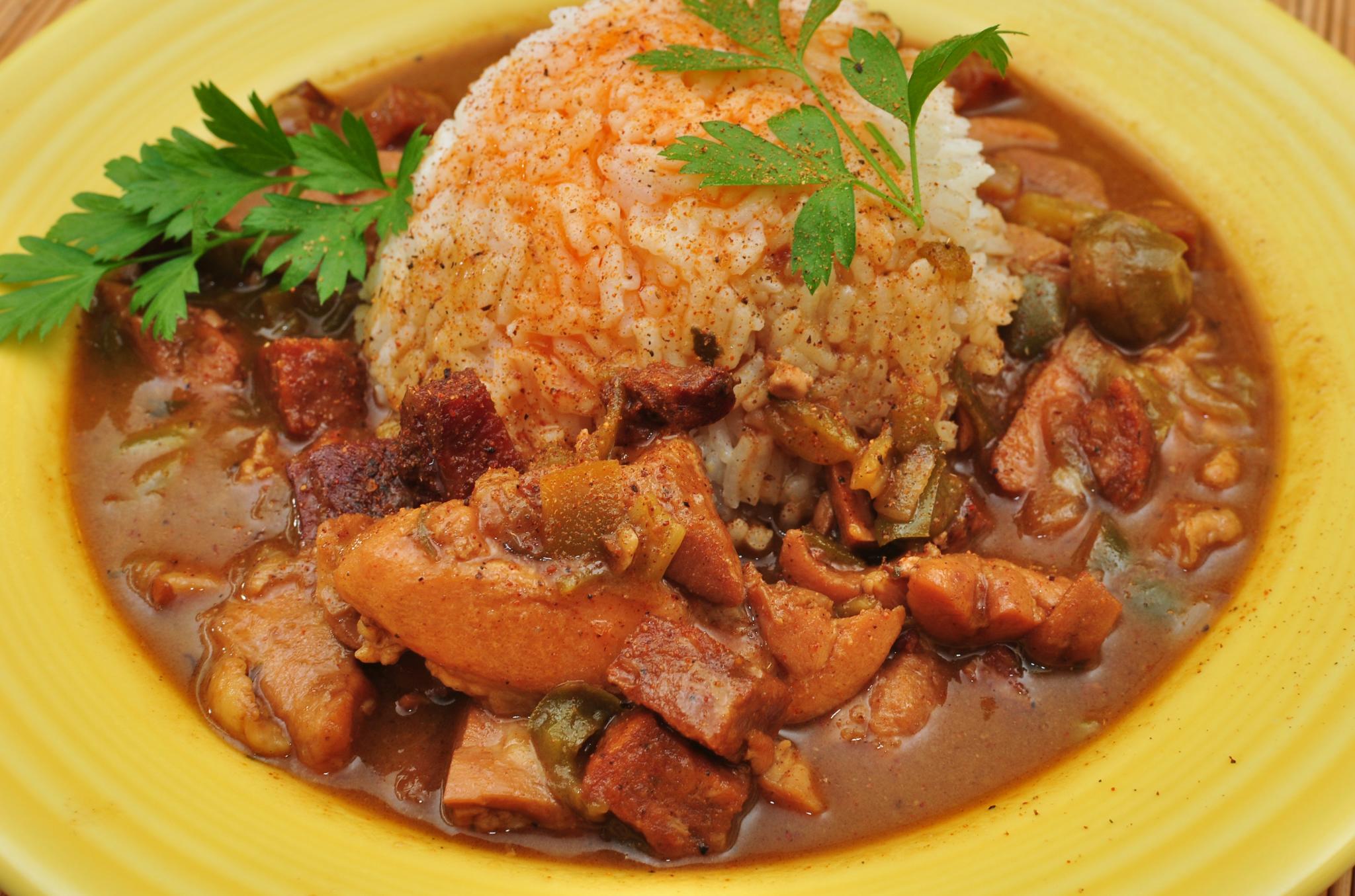 I love gumbo (almost as much as Jambalaya) although my waistline isn't a fan because my appetite is formidable, and the stew is hearty! I love how the dish combines the best meats, seafoods, and spices then ties them all together in a tasty pot. I also love how everyone and their grandmama has the best gumbo in the south.
Pots of gumbo back in the day must have been wild, given the crazy array of animals and fish you can find deep in the south! These days, if you're looking to innovate your gumbo game, this recipe may just do the trick, but may upset the old school family cooks!
11. Fried Shrimp and Catfish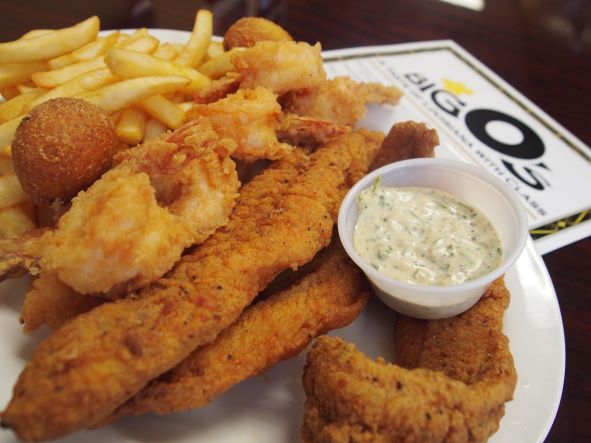 Here in Australia, we've got plenty of shrimp, and the big ones called prawns. But catfish in general, is not on our vast seafood menu. Luckily for me, I've gotten to eat it in stir fry and soups, tacos, and burgers. Nothing, however, comes remotely close to southern fried catfish for sheer (deep fried) pleasure.
Conclusion
This list just scratches the surface of all the tremendous food that comes from the American south. A list of just 11 dishes may not do it justice!
What are your favorite southern dishes?
SKM: below-content placeholder
Whizzco for 12T