This is fried chicken on a whole new level.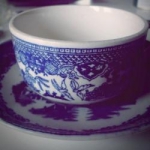 Rose Heichelbech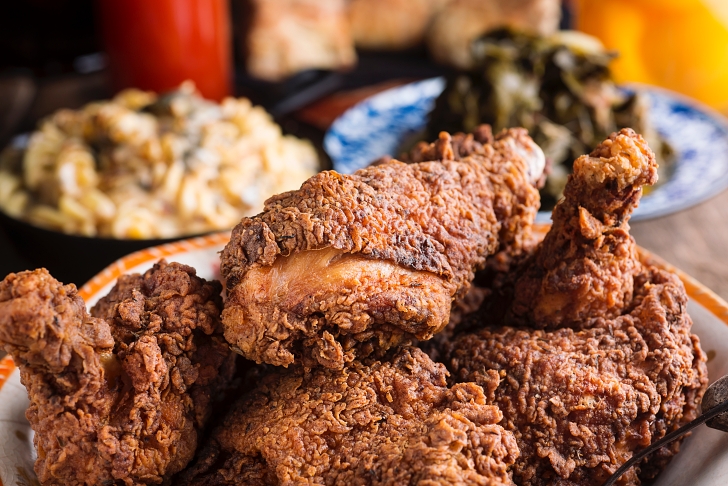 Ask anyone in the South and they'll tell you that fried chicken is one of the best ways to eat chicken. And one of the best things to have with that fried chicken has got to be sweet tea. But, have you ever tried combining the 2? The results far exceeded our expectations for flavor and tenderness, so I'd say this recipe is a definite keeper. It does add some time to the process, which is already laborious, but if you love homemade fried chicken like I do then it's worth it.
Not only do they add flavor, but both salt and sugar act on meat as tenderizers. In this case the marinade also gets a boost from the addition of strongly-brewed iced tea. For this recipe you'll want to make as is if you're making sweet tea- pre-dilution with water or ice cubes. The marinade also includes 2 large lemons cut into quarters and the zest of 1 lemon for added flavor.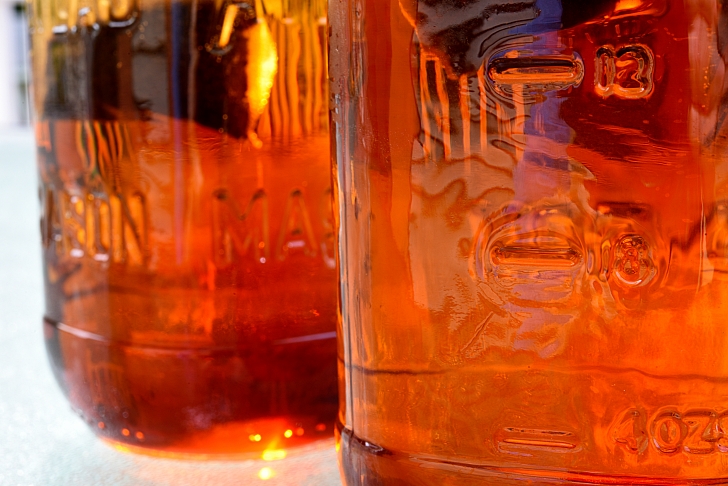 To make this marinade you'll simmer together the tea, salt, sugar, and lemon for 5 minutes. Add in ice water and then allow the mixture to cool before putting your chicken pieces in. For best results you'll want to leave this overnight in the fridge, but the chicken can marinade for up to 48 hours.
Once the chicken is marinated, remove from brine and pat dry. Then start on the breading, which has three parts. The first part is plain flour. The second part is a mixture of cornmeal flour, spices, and Old Bay seasoning. And, the third part is a mixture of buttermilk and eggs. If you don't have buttermilk on hand you can make your own by combining 1/2 tablespoon white vinegar to 1/2 cup milk. Allow to sit for 2 minutes once mixed, then add to beaten eggs.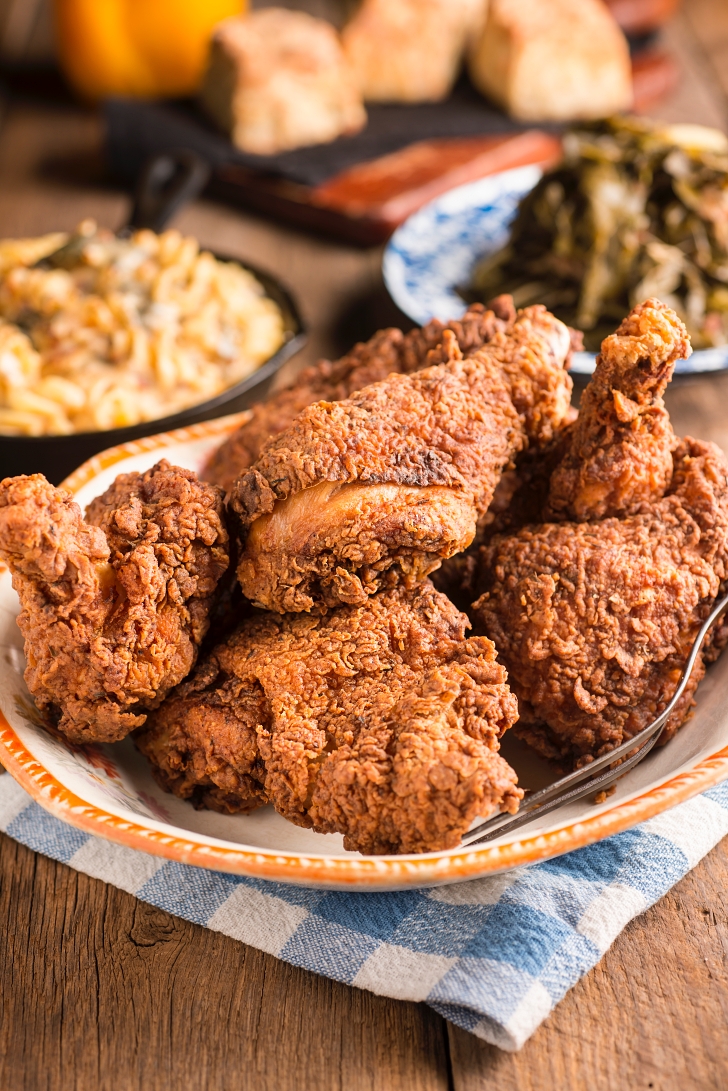 Dip each piece of chicken first in plain flour, then in egg mixture, then in spiced cornmeal flour mixture. Once breaded allow the chicken to rest for 30 minutes.
Then heat your oil to 300˚F and cook in batches for about 22-24 minutes each batch. The outside should be golden, the inner juices clear, and the internal temperature should reach 165˚F on your meat thermometer.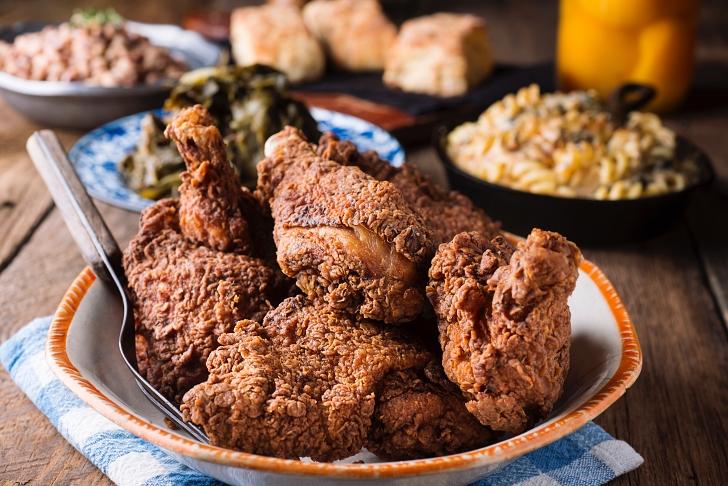 Serve this tasty version of fried chicken immediately to be enjoyed piping hot. We love that the chicken is perfectly spiced thanks to the lemon, the chili powder, the Old Bay seasoning, and of course that fabulous sweet tea. This is one chicken recipe that does not disappoint!
Sweet Tea Fried Chicken
Serves 4
9h 50m prep time
55m cook time
For the marinade:
1 quart very strong brewed orange Pekoe tea (like Lipton or Luzianne)
1 cup sugar
1/2 cup salt
2 large lemons, quartered
zest of 1 lemon
1 quart ice water
8 chicken legs and/and thighs (bone-in and skin-on)
For the breading:
4 cups all-purpose flour, divided
2 cups cornmeal flour
2 tablespoons Old Bay seasoning
1 tablespoon chili powder
1 teaspoon salt
1/4 teaspoon freshly ground black pepper
4 eggs
1/2 cup buttermilk (you can make your own from 1/2 Tbsp vinegar to 1/2 cup milk)
Vegetable oil for frying
Preparation
Over medium-high heat simmer together the tea, sugar, salt, lemon quarters, and lemon zest. In a large container add the ice water and then the tea mixture. Allow to cool for 20-30 minutes and then add the chicken pieces to mixture. Allow to marinate 8 or overnight. When ready remove from tea mix and pay dry.
In a large mixing bowl combine 2 cups all-purpose flour, cornmeal flour, Bay seasoning, chili powder, salt, and black pepper. In a separate bowl combine beaten eggs with buttermilk. In a 3rd bowl add the rest of the all-purpose flour. Allow to rest at room temp for 30 minutes.
Preheat a deep pan halfway full of oil to 300˚F. Dip chicken pieces one by one first in plain flour, then in egg mixture, then in spiced cornmeal mixture. Repeat until all chicken pieces are coated.
Fry chicken in batches for 22-24 minutes for each batch. When done the internal temperature should reach 165˚F , breading should be golden brown and juices of chicken should run clear. Serve immediately.
Recipe adapted from Mr. Food.
SKM: below-content placeholder
Whizzco for 12T