Naming the best fried chicken in every state is an almost impossible task.
I've pored through search engines, Yelp, You Tube, and a range of social media posts to find the best versions of fried chicken across the United States.
Southern Fried, Korean Fried, Wings, a classic chicken sandwich, or chicken and waffles, I'd like to go to every one of the restaurants listed below with a film crew and try each option.
Take a look at the list, there's not a national chain amongst them, and let us know which places do the best fried chicken in your part of the country.
Alabama
The Chicken Shack
665 Forest Ave, Luverne, AL 36049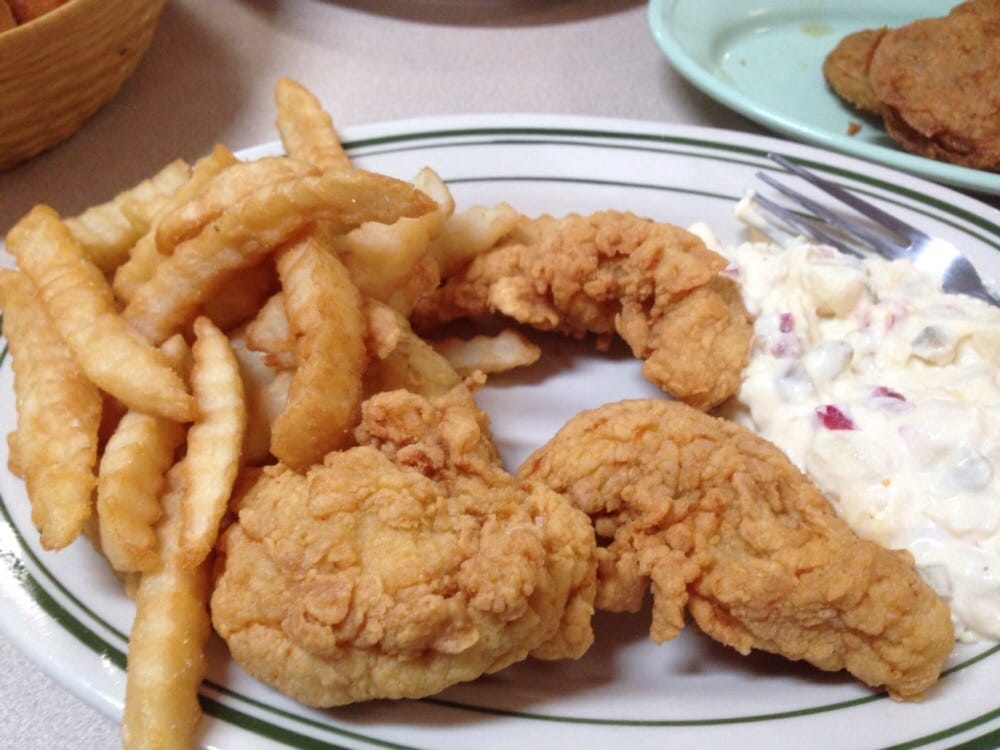 Ike and Lauren from Al.com did the hard yards, visiting the top rated outfits after in state readers narrowed their list down to five. They both agreed that The Chicken Shack has the best fried chicken in Alabama.
Alaska
The Lucky Wishbone
1033 E 5th Ave, Anchorage, AK 99501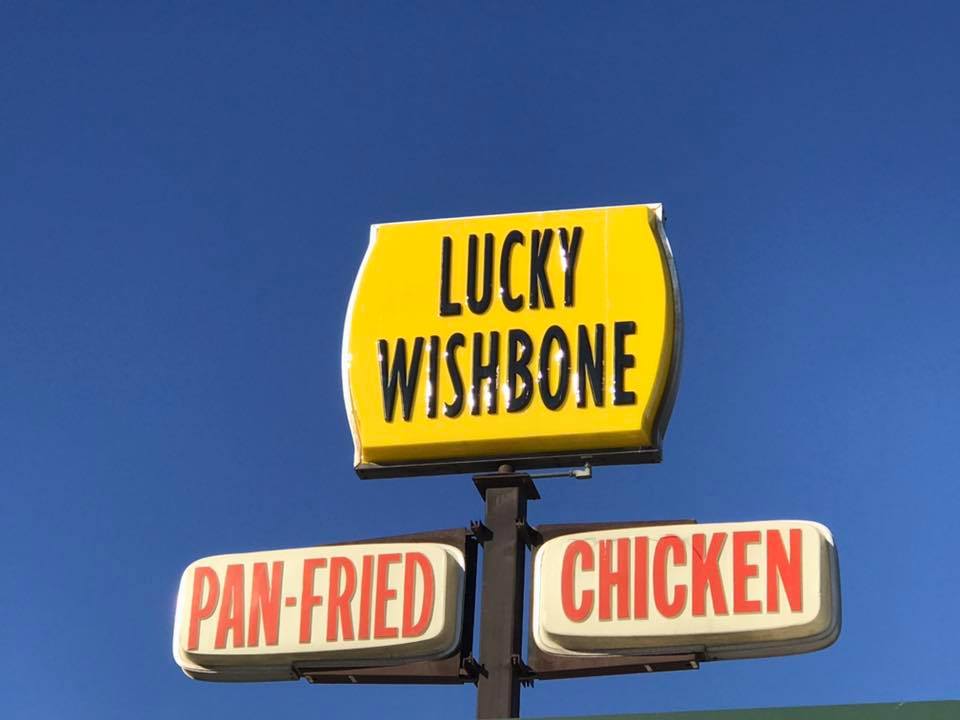 "Air fresh and pan fried," is the way they fry their chicken at the Lucky Wishbone, one of the most popular restaurants in Anchorage of any kind.
They also serve killer burgers and old school shakes. The decor is a nod to aviation history, with locals and tourists alike willing to wait for a seat in the Wishbone's booths.
Arizona
Mrs. White's Golden Rule Cafe
808 East Jefferson Street 808 E Jefferson St, Phoenix, AZ 85034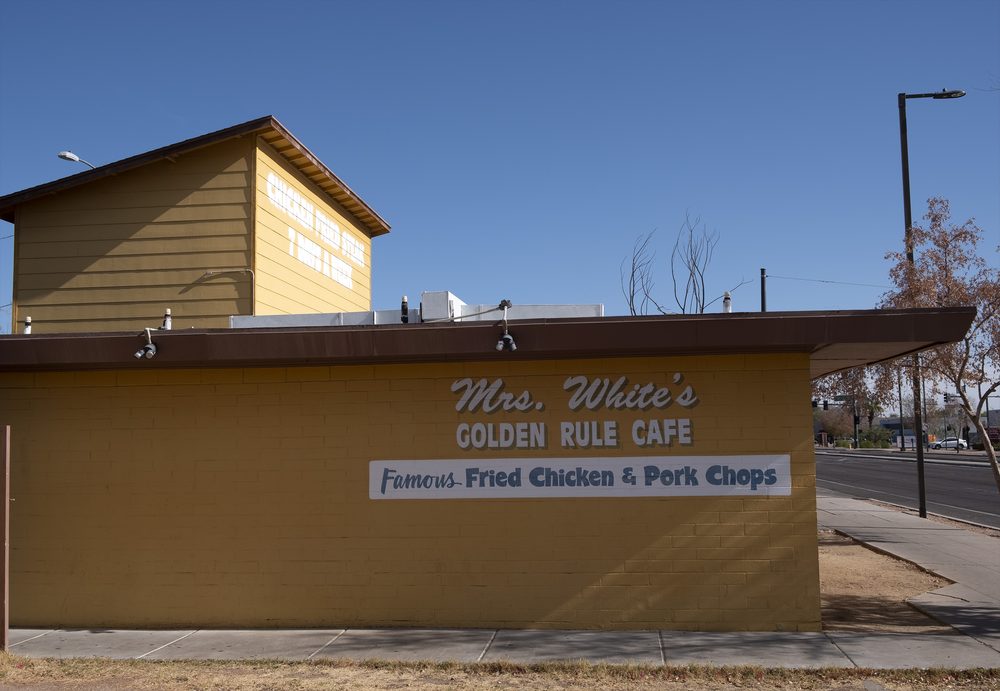 Mrs. White's Golden Rule Cafe is named after owner and founder Elizabeth White, who's family has been serving up soul food in Phoenix since 1964.

Having featured on Food Network's The Best Thing I Ever Ate, Mrs White's chicken and sides are the most famous in Arizona.

You'll get your choice of dark or white meat, served simply, with a lovely batter with a smattering of tasty seasoning. It's juicy, crisp, and succulent.

Check out the clip below to learn more about this Phoenix institution.
Arkansas
Monte Ne Inn Chicken
13843 E. Highway 94 Rogers, AR 72758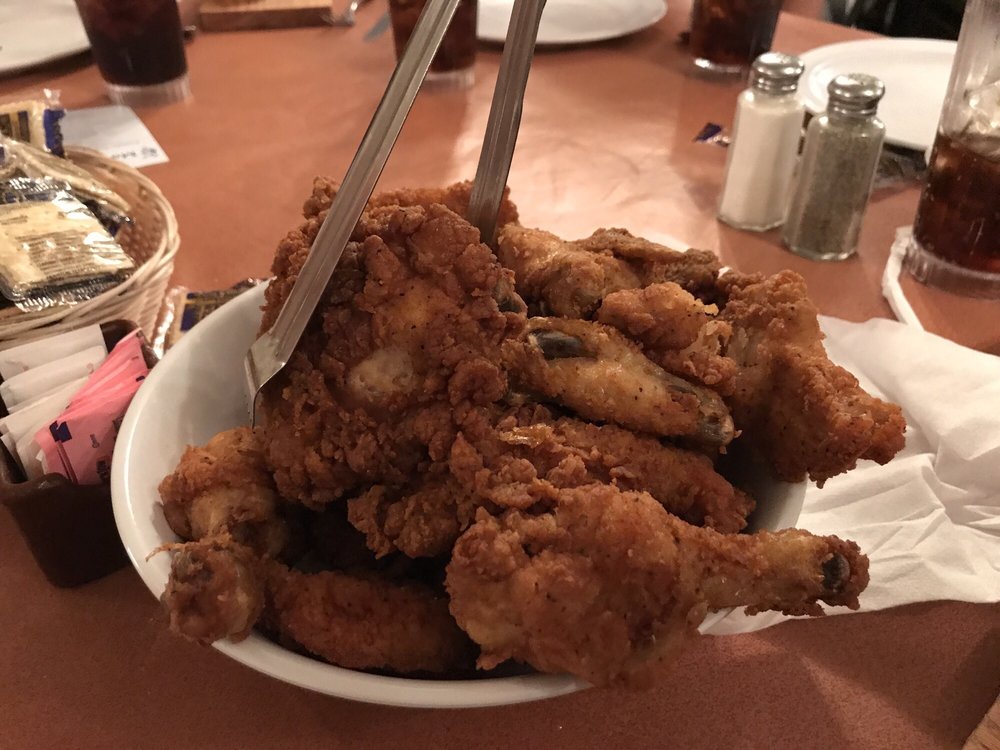 Monte Ne Inn Chicken has been serving Southern fried classics for nearly 50 years.
Make a reservation, pull up a chair and enjoy the food "family style," where everybody passes the food around the table to enjoy.
The Monte Ne Inn mission statement is "Bringing family and friends back to the table," by offering fantastic food where each diner pays one price per person for the entire meal (except for drinks and dessert).
California
Bonchon Korean Fried Chicken
Multiple Locations
California features an amazing array of fried chicken options, from Southern style fried chicken to popular dishes from Asia and Latin American. You could make a top 100 fried chicken list and not ever have a bad piece of bird.
The bone in Korean fried chicken from Bonchon is succulent and juicy, with large portion sizes and great simple sauces for dipping.
Bonchon is a tremendous example of simply executed but sumptuous wings that suit a variety of tastes and flavors. Checkout Rockstar Eater Steve Cha's comparison between Bonchon and fellow Korean Chicken restaurant Kyo Chon.
Colorado
Angry Chicken Bar and Grill
1930 S Havana St #13, Aurora, CO 80014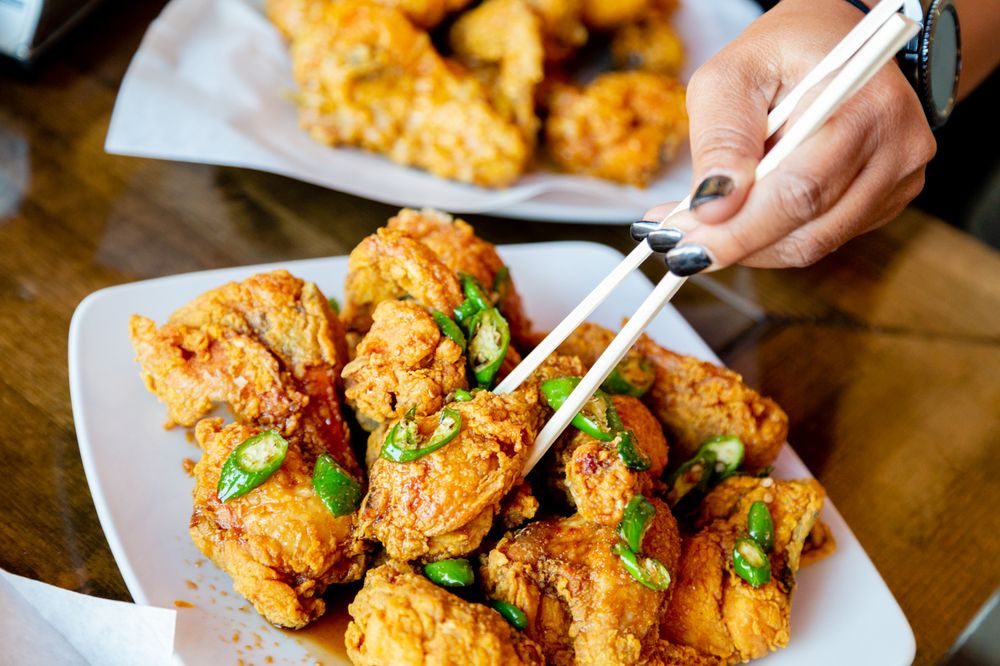 Angry Chicken Bar and Grill serves a range of tasty variations on gluten-free fried & roasted chicken with sauce & seasoning options.
Customers also enjoy it for the atmosphere – and the 20+ beers on tap – just as much as the great tasting food.
Angry Chicken's breading is a unique blend of gluten free rice flour that makes it crispy, light and moist, without a lot of heavy grease that can turn off some diners.
Connecticut
Hen House Bar-B-Q
192 Main St, Southington, CT 06489, United States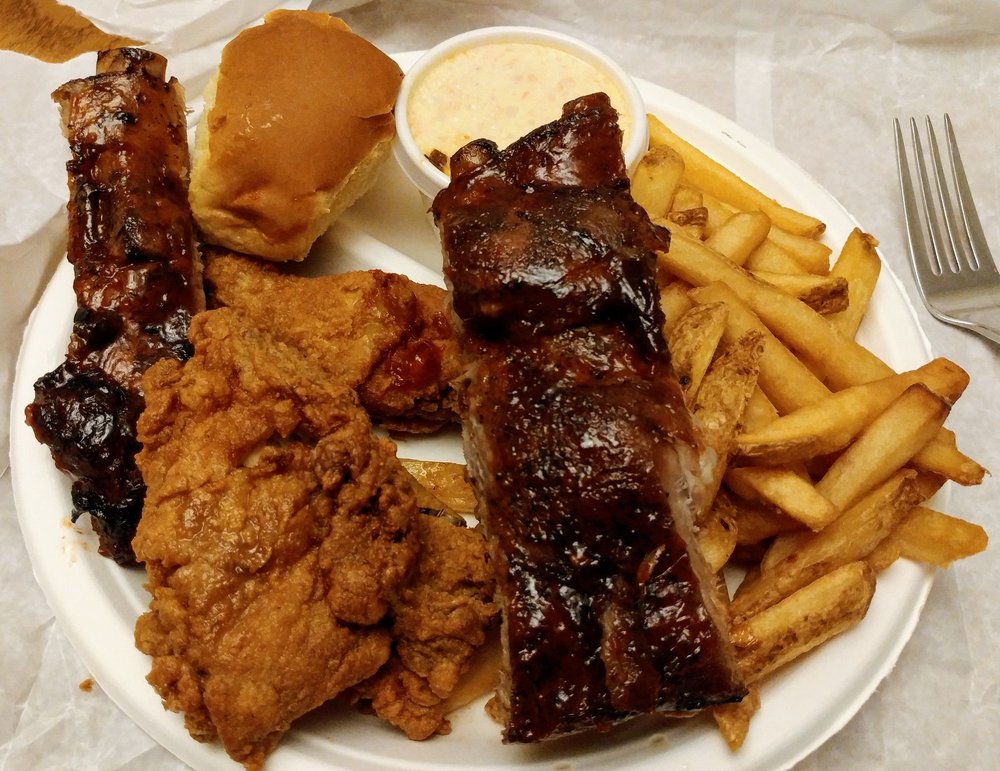 The most popular BBQ joint in Connecticut, Hen House has been serving chicken and ribs since 1988.
Their menu is simple, but it's a good one, with top drawer fried chicken possibly outstripped by the Hen House chicken nuggets, which sounds like a good problem to have as far as I'm concerned.
And while this article is based on chicken, if a whole bunch of people are getting rowdy about your brilliant BBQ ribs, Hen House Bar-B-Q is looking like a slam dunk choice for quality, Southern style food.
Delaware
Lettie's Kitchen
1318 Old Lancaster Pike, Hockessin, DE 19707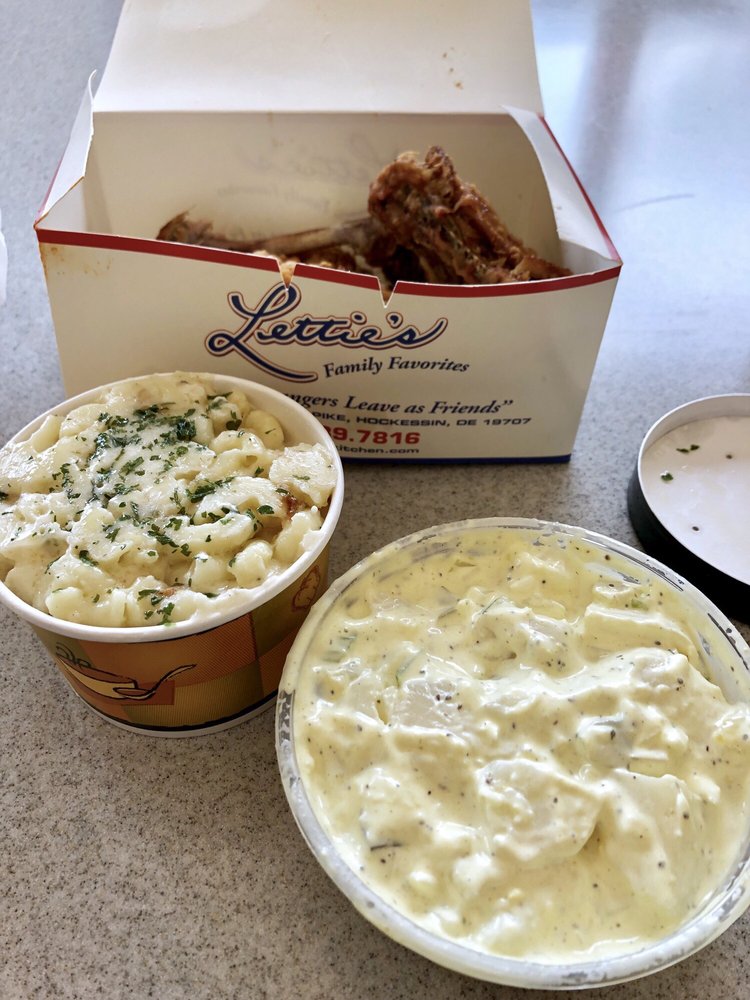 Mother-son duo Susan and Tom Alexander opened Lettie's in 2011, naming their family favorite restaurant after Susan's mother.
While some might not consider Delaware a hotbed of fried chicken action, places like Lettie's show that the state is serious about quality chicken options, and people will happily travel to get their hands on it.
The chicken is top drawer – nicely breaded, juicy and succulent – but it's Lettie's quality sides that take it to another level. If you can get your hands on some cornbread along with potato salad and mac and cheese, you literally can't have a bad time.
Florida
Fried Chicken Kitchen
Food Truck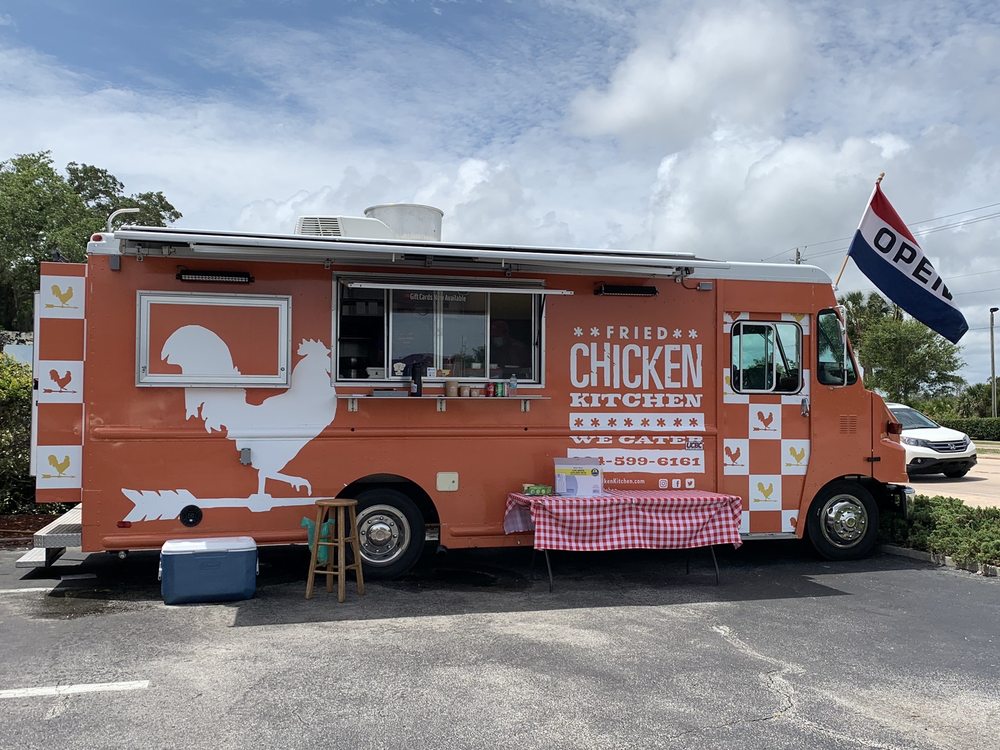 If you see this food truck in your neighbourhood, just pull up, or flag it down and get to work.
Fried Chicken Kitchen is a southern food truck & catering company with a focus on locally sourced ingredients & timeless family recipes. Owner Spencer Upchurch is a sixth gen Floridian that loves the area he grew up in, and wants everyone to enjoy his chicken.
Located in St Augustine, if you're looking for Florida's best sliders then you don't need to go any further – they have an accompanying datil pepper sauce that brings out the juicy flavor.
Georgia
Hattie B's Hot Chicken
Various Locations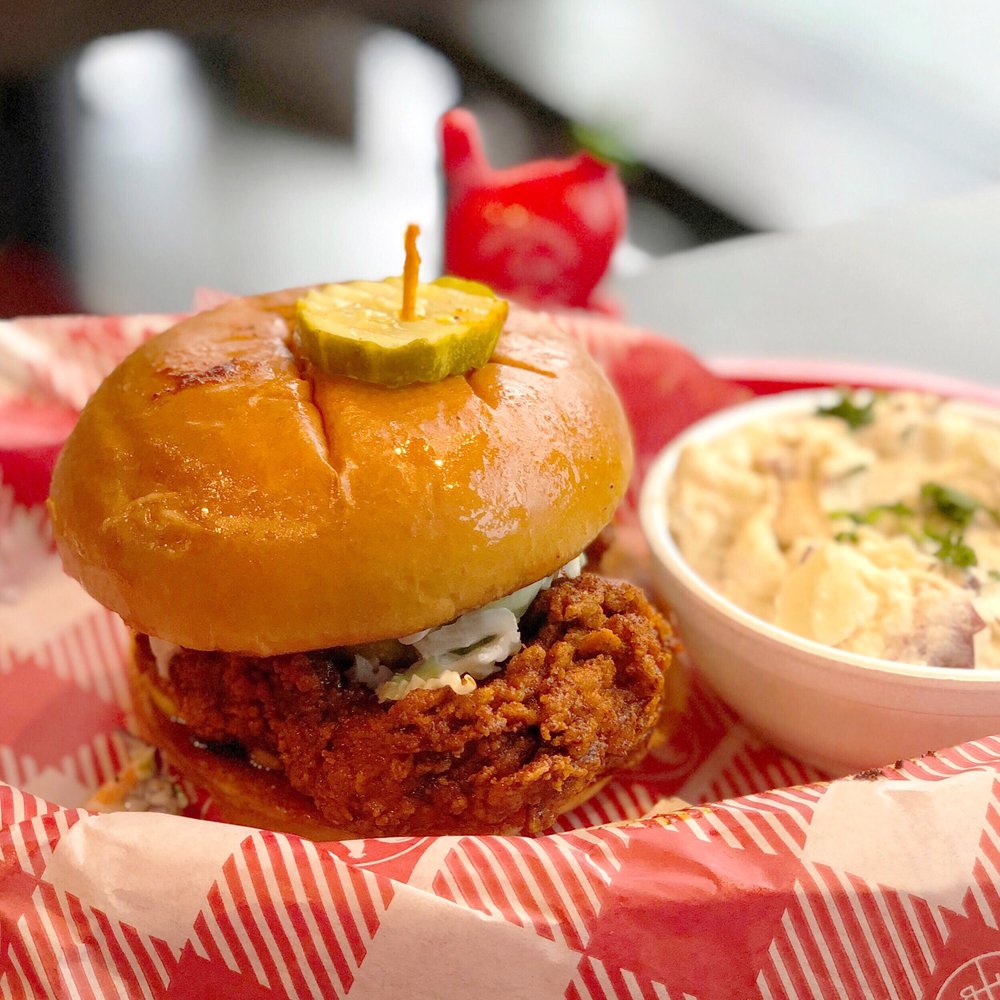 U.S states don't mind getting punchy when it comes to a good fried chicken sandwich (take the Popeyes' sandwich war as an example).
One could happily make the argument that you won't find a better hot chicken sandwich in the country then Georgia and Nashville's Hattie B's franchises.
With the hardcore version, the heat is intense, but if you can get through that you'll find a beautifully succulent fried chicken breast with a cheerful slaw and kosher pickle. When getting a side, it HAS to be the crisply underrated crinkle cut fries – you can't go wrong!
Hawaii
Itchy Butt Chicken
1229 Ke'eaumoku St, Honolulu, HI 96814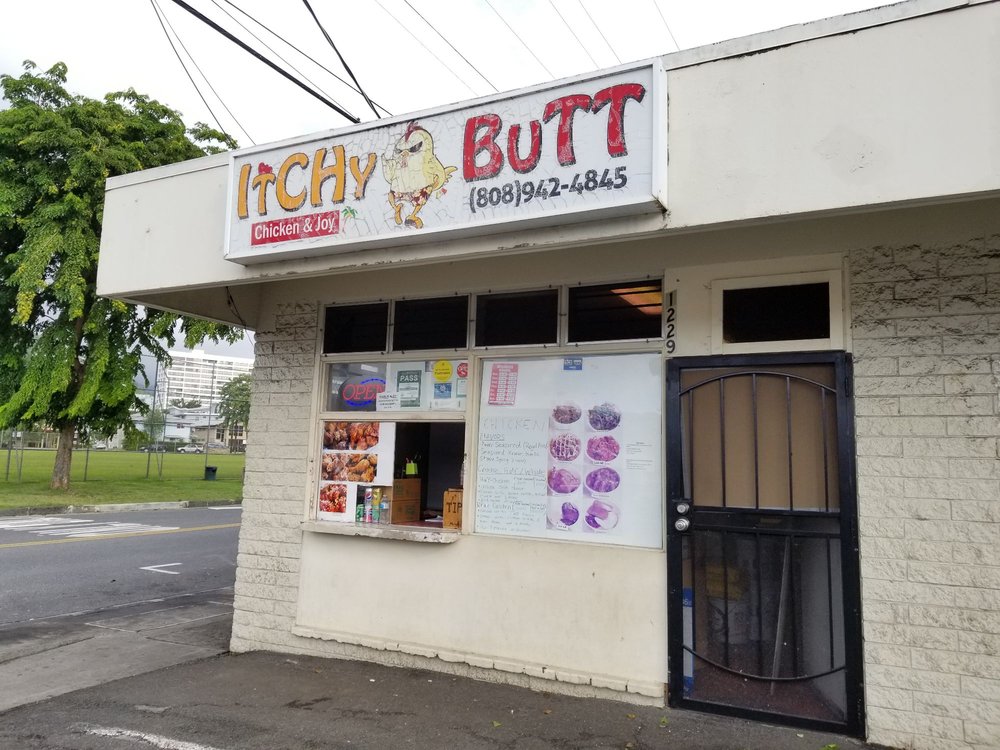 Another quick, easy, and no-frills Korean chicken takeout joint – Itchy Butt is a hole-in-the-wall operation with no seating, but a real can-do attitude.
The highlight of Itchy Butt is the chicken with rice (it's a large portion with great crisp that comes with a drink). The bowl works nicely when you go with a bit of garlic sauce as well as the spiciness.
I love a chicken place that doesn't mess about – it's all about the food and flavors!
Idaho
Champs Chicken
3607 N Yellowstone Hwy, Idaho Falls, ID 83401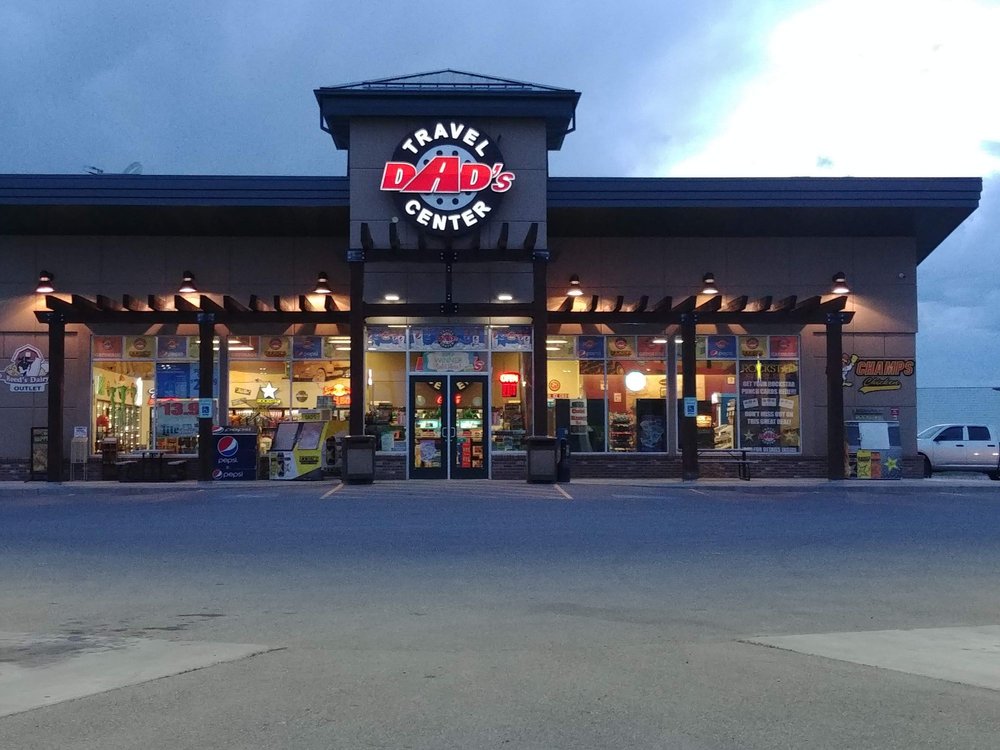 US gas station fried chicken is underrated across the entire country. There's a multitude of places you can roll into after filling up your vehicle and have a memorable bit of bird.
Champs is one such place; you'll find this cracking fried chicken option at Dad's Travel Center Idaho Falls. You can grab a couple pieces of succulent chicken and maybe dust them off by the time you get back to your car.
Illinois
Honey Butter Fried Chicken
3361 N. Elston Ave. Chicago, IL 60618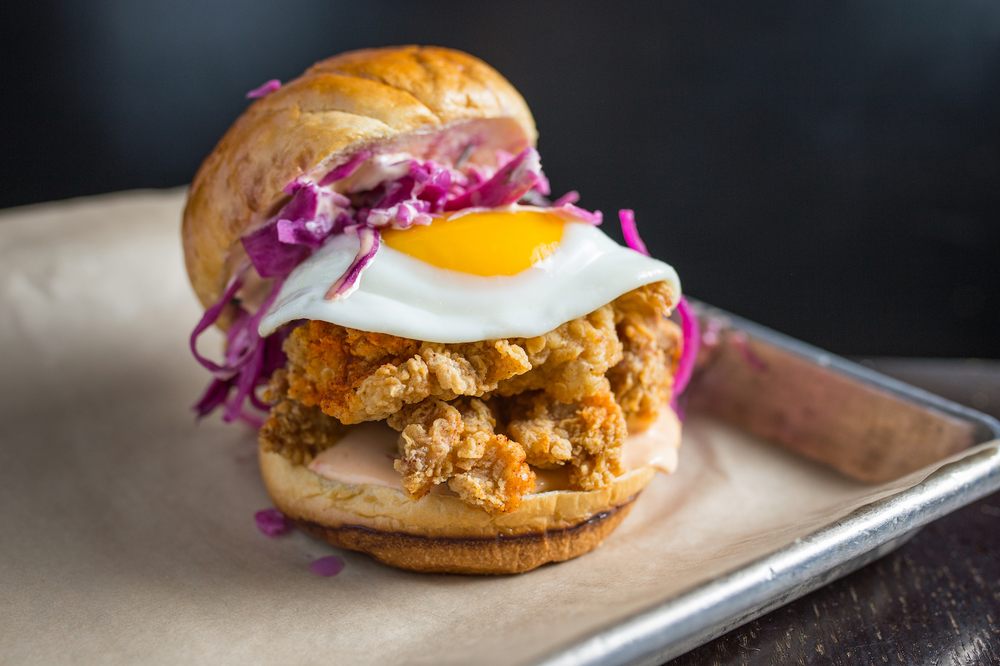 So, what you're telling me is that you "put the butter on the bird?"
Indiana
His Place Eatery – Chicken & Waffles, Ribs and Soul Food
6916 E 30th St, Indianapolis, IN 46219, United States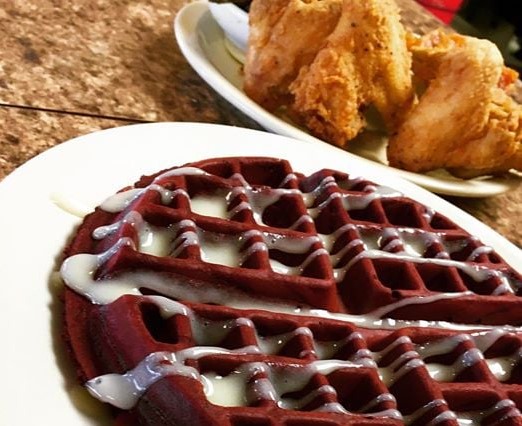 Red velvet chicken and waffles look and taste amazing. It's done beautifully at His Place Eatery, where the chicken is made to order.
The chicken and sides are fresh and delicious, and His Place does killer fried catfish that may be good enough to bump that bird off your plate! It's the type of good food joint you could come back to every night for something different.
If you want to make red velvet chicken and waffles at home, try out the delicious recipe below.
Iowa
Bubba
200 10th St, Des Moines, IA 50309, United States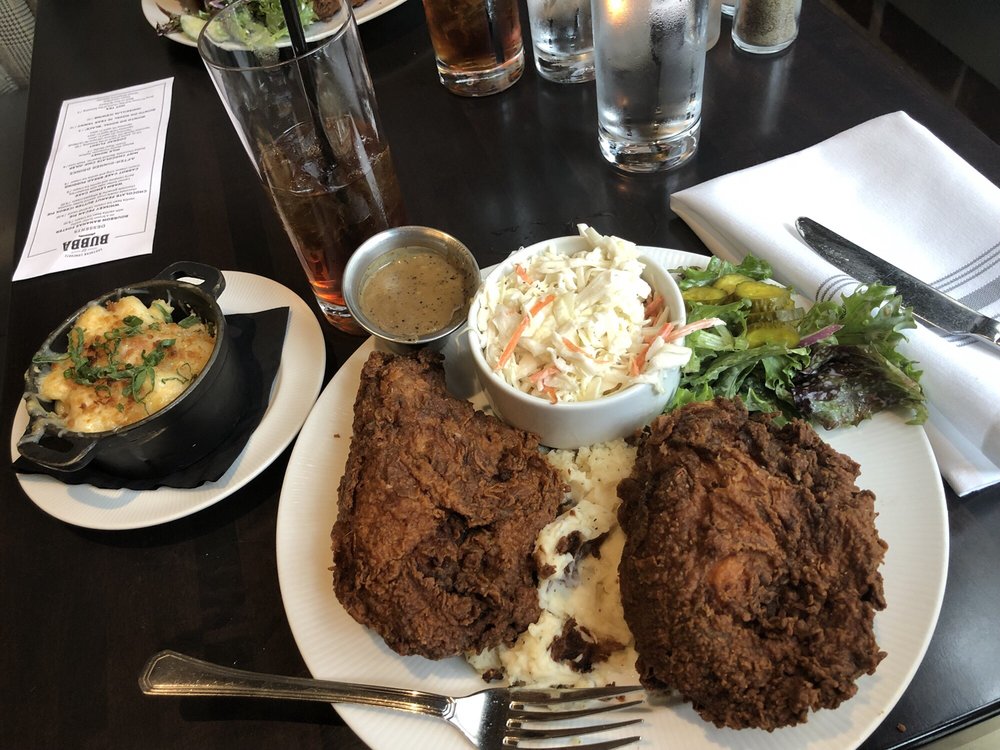 Des Moines has a lively fried chicken scene. Bubba is a classic supper and spirits place to head to when there's a birthday, or if you want to catch up with friends.
Bubba features buttermilk certified organic chicken that is brined, breaded, seasoned and fried to order with your choice of white or dark meat and two sides.
Sides such as the devilled eggs, the Southern Bread Basket, and SouthWest egg rolls help put Bubba over the top for Iowa bragging rights.
Kansas
Krispy's Chicken & Seafood
3009 S Hillside Ave, Wichita, KS 67216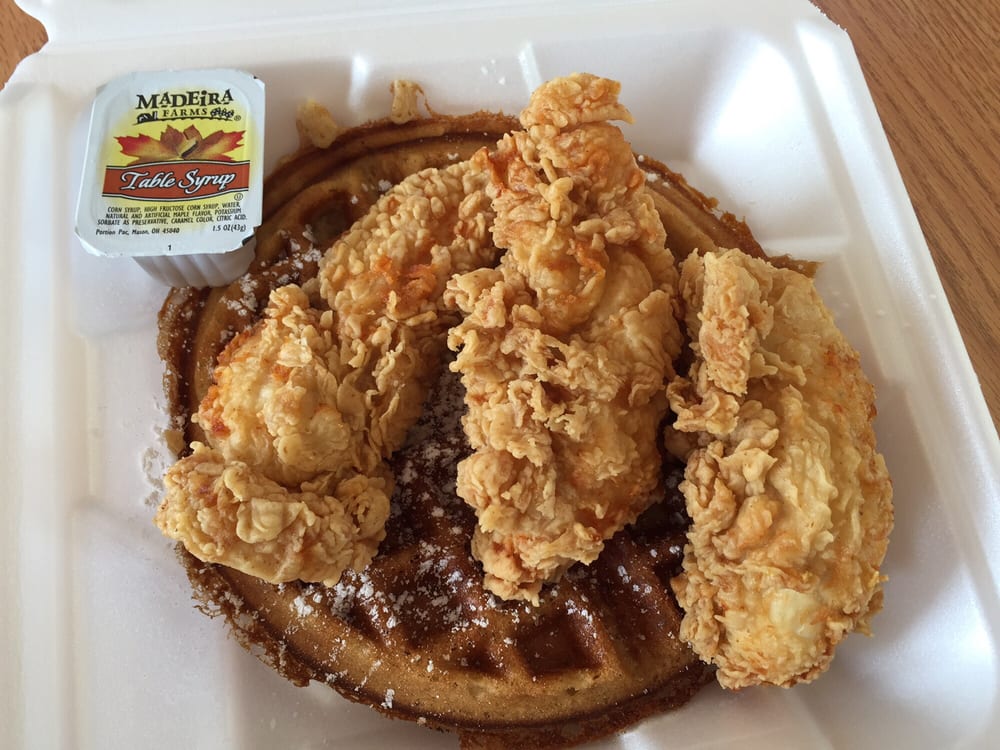 YouTube user DomDiggity was searching for southern fried food in Wichita until he found Krispy's, a counter service restaurant offering quality chicken, po' boys, shrimp, and catfish done right.
Kentucky
Royal's Hot Chicken
736 E. Market St. Louisville, KY 40202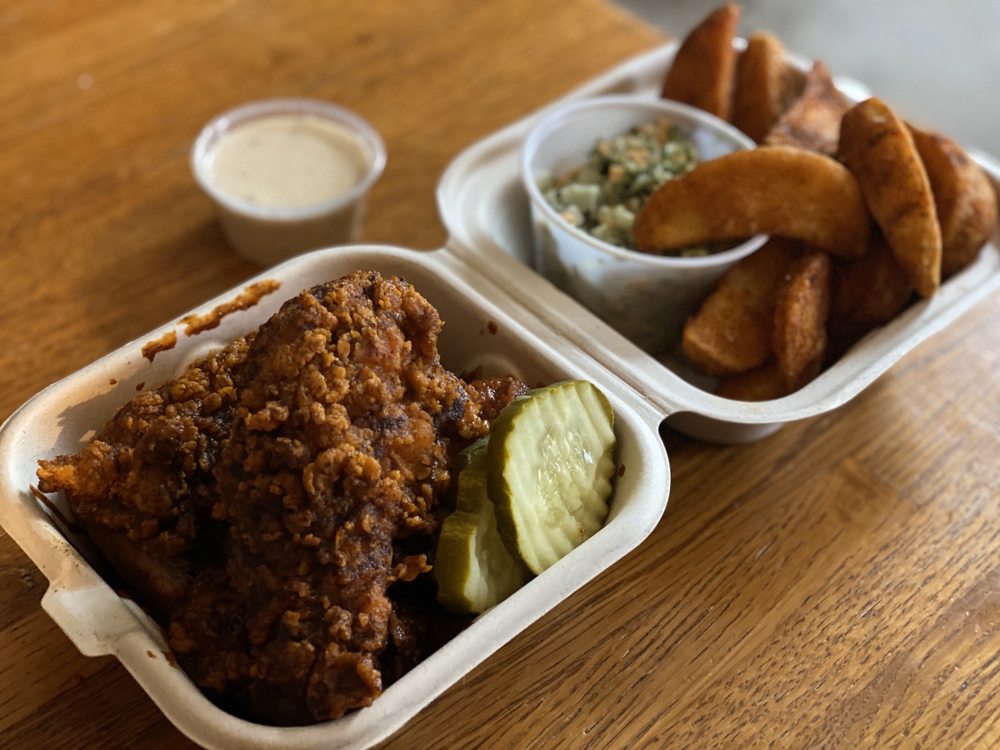 Whether Nashville-style hot, or classic fried, the chicken tenders from Royal's Hot Chicken is counter-style simplicity at its finest.
The chicken is well breaded and juicy with the right mix of dipping sauces, and there are even healthier options with salads available.
Royal's shakes are also tasty, and being Kentucky adults can add a little something extra to their shakes or coffee to help with spicy chicken.
Louisiana
Willie Mae's Scotch House
2401 St Ann St, New Orleans, LA 70119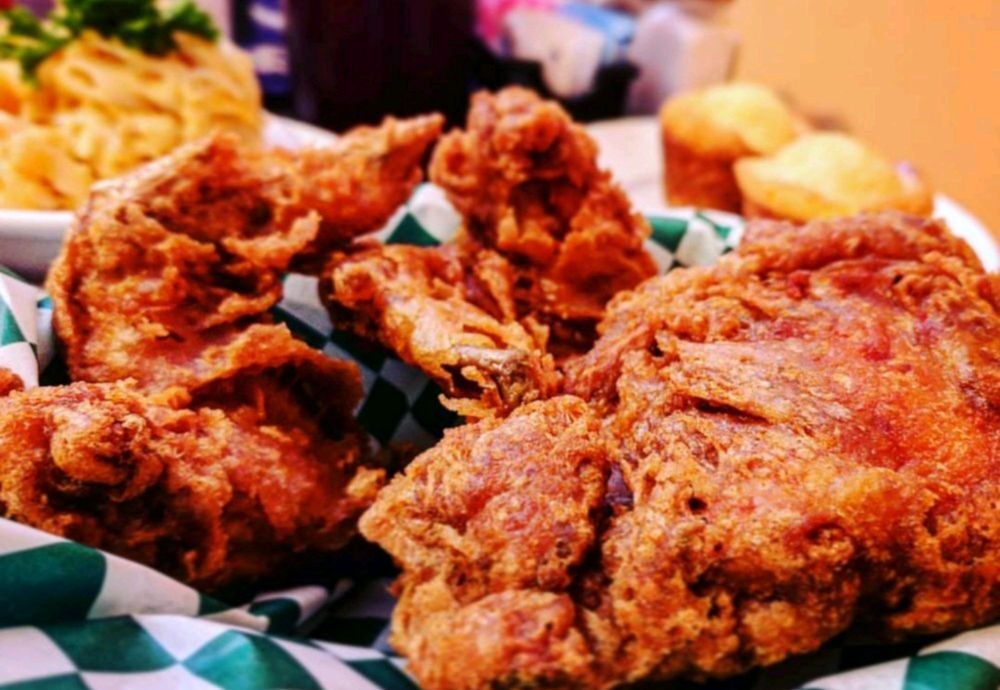 Picking the best fried chicken in Louisiana is like picking a favorite child. You have to do it quietly and feel bad about having to do it at all.
If you're ever in NOLA head out to Historic Treme and join the line, just like The Meat Show did. There's not a bad dish on the menu.
Maine
The Honey Paw
78 Middle St, Portland, ME 04101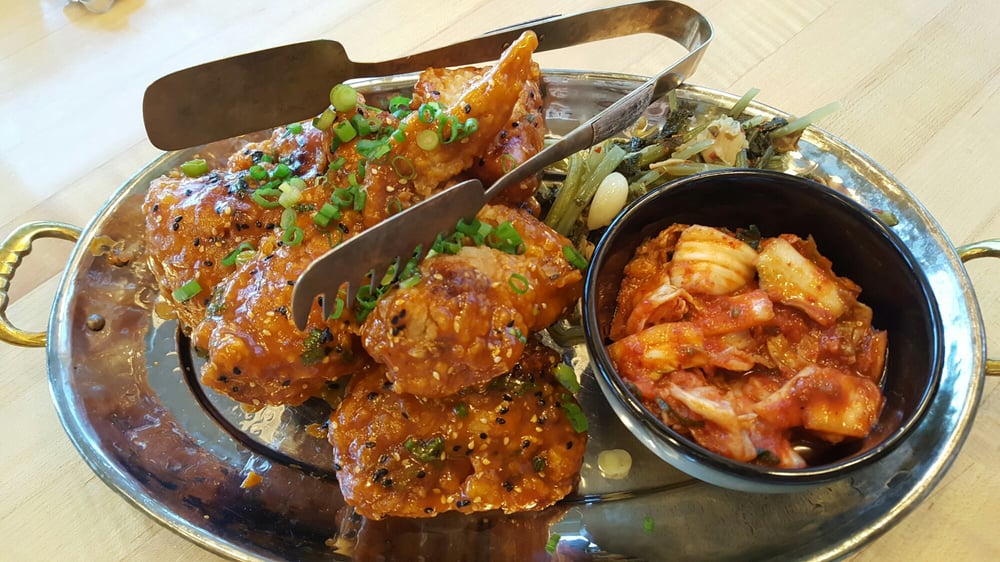 The Honey Paw offers Asian-inspired noodles & other bites, including chili, lime, and coconut wings, and a killer Asian-inspired chicken sandwich.
The half fried chicken is the scene-stealer though; juicy and flavorful, matched with coconut creamed greens, pickles, spicy garlic honey, and Korean barbecue sauce.
Maryland
Thelma Jeans Southern Style Cooking
6309 Sherwood Rd, Baltimore, MD 21239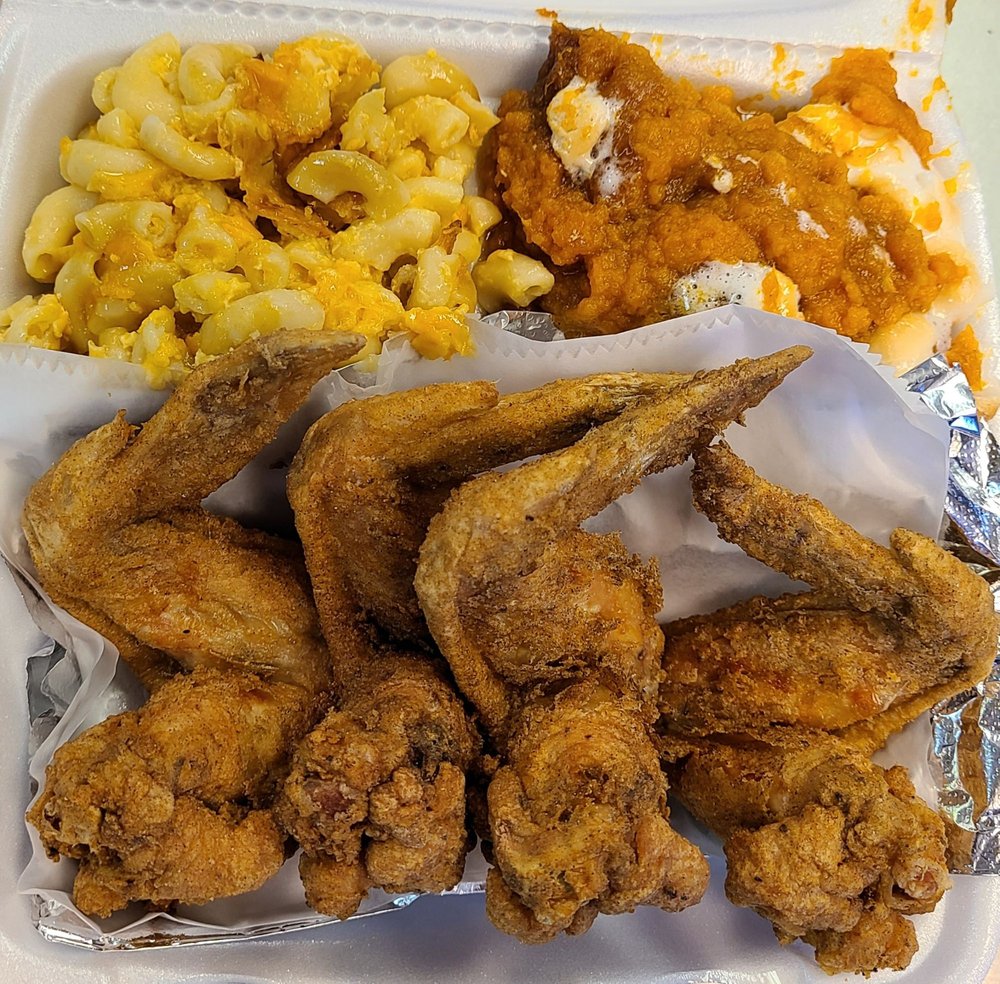 Simple soul food with the emphasis on soul is the order of the day at Thelma Jeans, where the food comes hot and tasty.
If you've got a hankering, there are some old-school southern classics like pig's feet you can enjoy, or simply delicious chicken and waffles.
You can also keep it simple; grab a 4 wing fried wing pack, add sweet potato and mac and cheese or home fries, then get stuck into it straight away (my favorite MO).
Massachusetts
Duguay's Fried Chicken & Seafood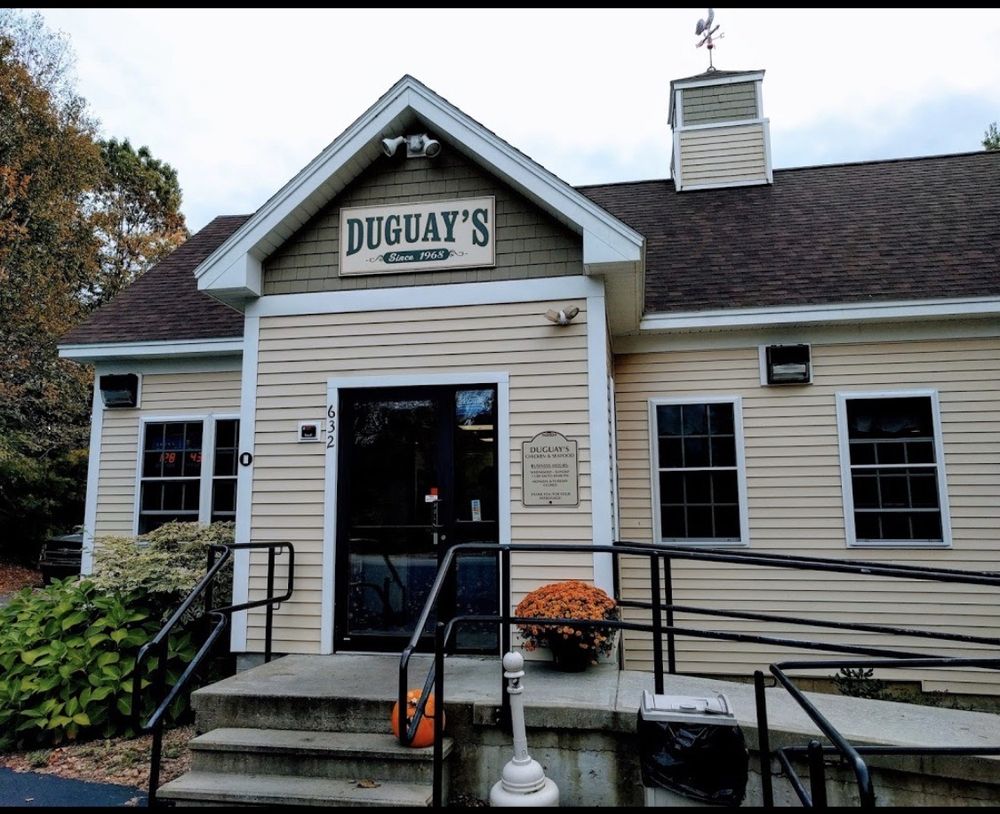 632 Parker St, Gardner, MA 01440
If you're fond of chicken fingers, Duguays is the place for you, because they are good enough to rival any of the big chains with beautiful breading and juicy tenderness.
Duguay's makes great buffalo and honey wings too, so grab a few of everything to mix and match. Don't forget the fried fish favorites and simple, tasty sides either, they're good sized portions done simply but well.
Michigan
Lula's Louisiana Cookhouse Owosso
113 S Washington St, Owosso, MI 48867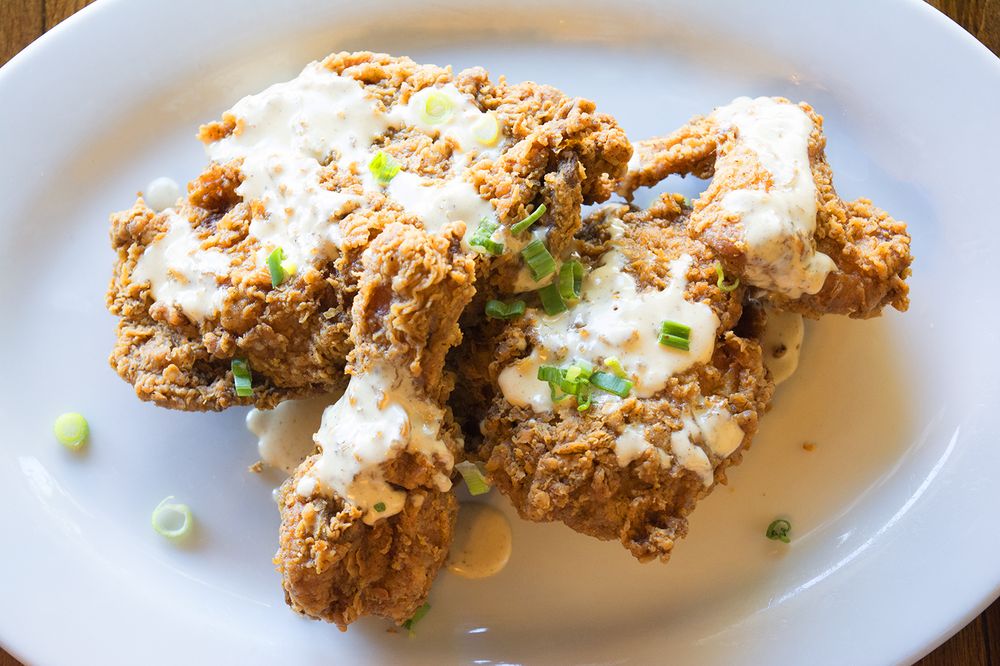 Mlive.com went in depth to find the best fried chicken in the state, with the bird from creole eatery Lula's Louisiana Cookhouse coming out on top.
Minnesota
Revival
4257 Nicollet Ave, Minneapolis, MN 55409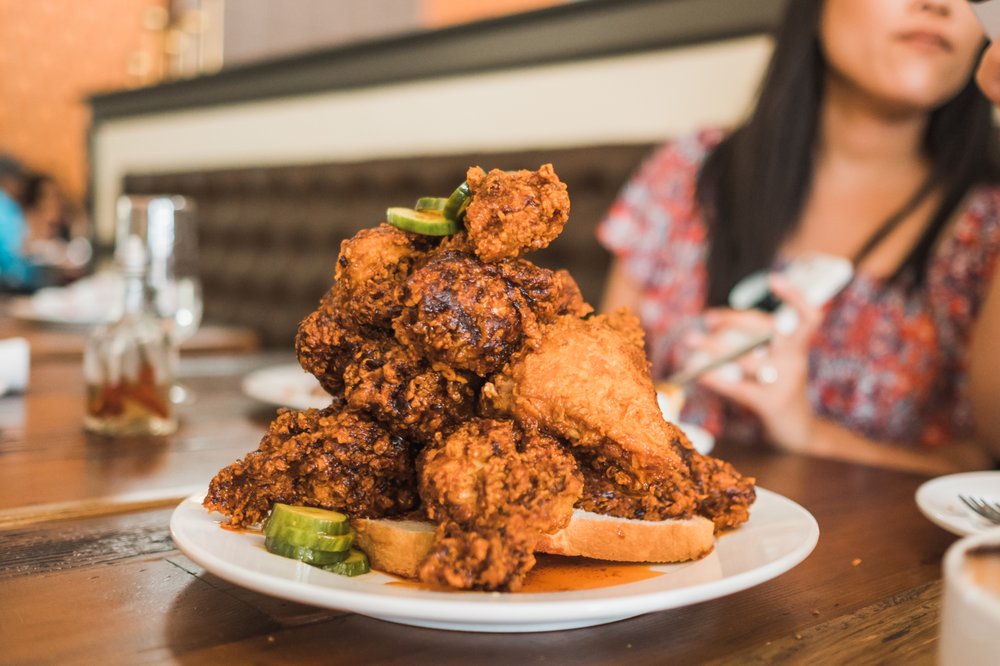 Southern soul food in the cold country? Yes, please.
Revival's menu is stacked with filling Southern staples, and the fried chicken (including a Tennessee-style hot chicken option that's perfect for the climate) stands out amongst a range of classics and sides.
Wait times are meaningless with quality comfort food like this made-to-order!
Mississippi
The Old Country Store
18801 Hwy 61 Lorman, MS 39096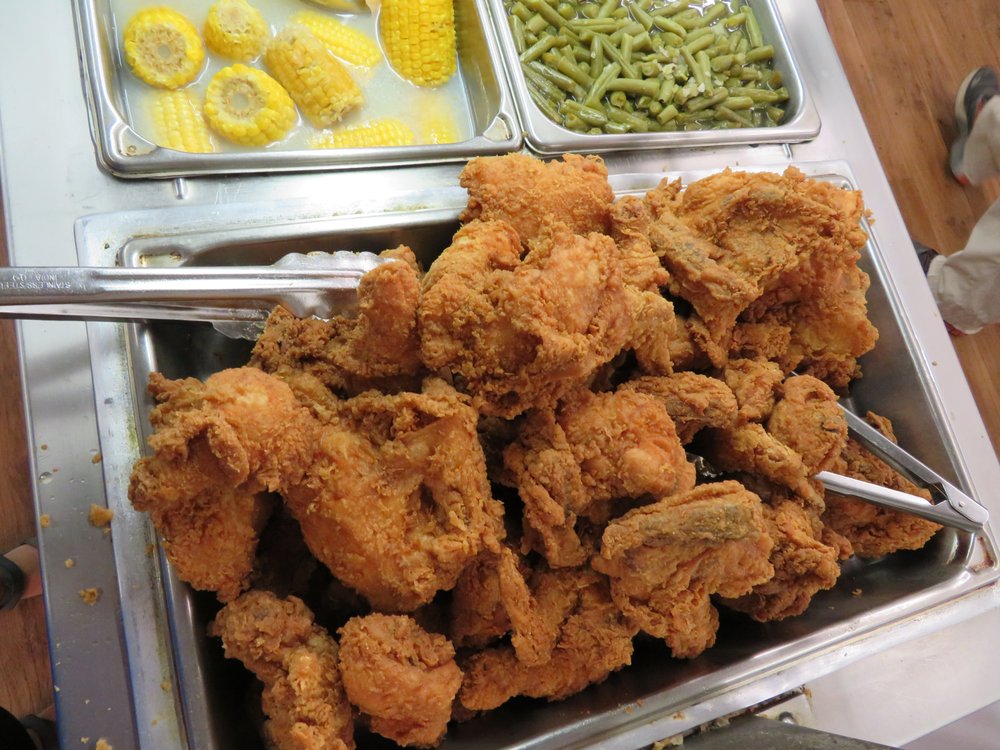 People come from all over the world to sample Mr D's fried chicken, such is its place in the pantheon of Southern hospitality and soul food.
Let Mr D. tell you about it himself! The clip is ten years old – but the quality of the food hasn't aged a day.
If you're ever in the neighbourhood of Lorman, do your taste buds a favor and visit the Old Country Store.
Missouri
Hodak's Restaurant & Bar
2100 Gravois Ave, St. Louis, MO 63104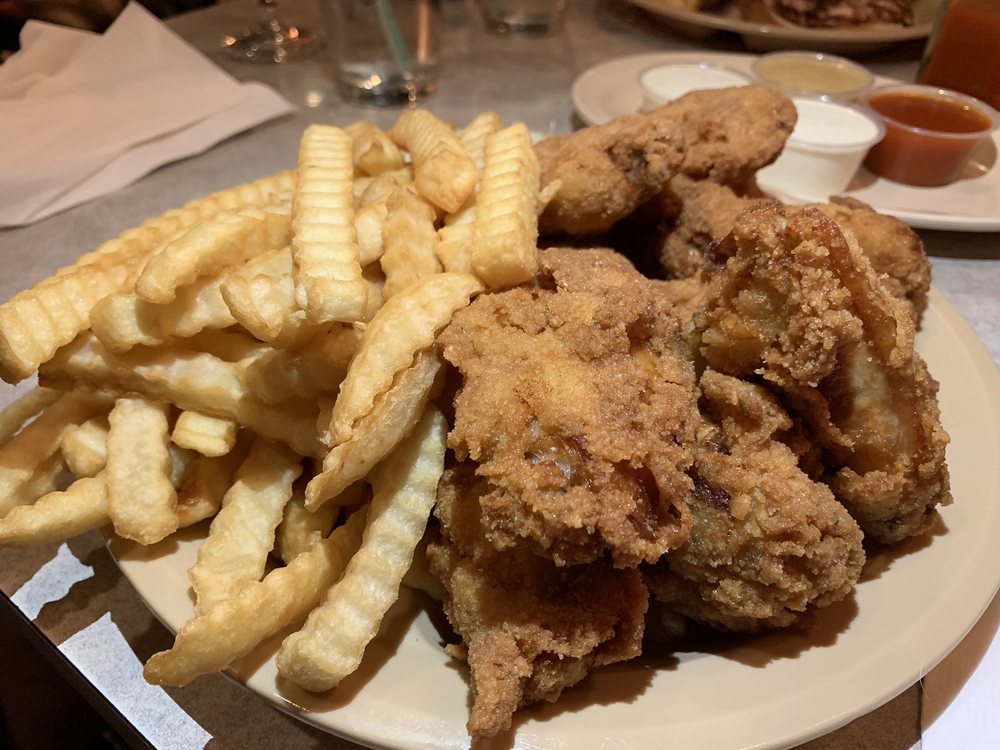 With the classic mix of fried chicken and good hospitality, if you're looking for simple and delicious chicken in St Louis, it's hard to go past Hodak's.
While their fried chicken is well breaded, full of flavor and juice, get sucked into the 3 or 5 wing dinners with crinkle fries and a side or two (if you've got the room). It's filling, finger-licking fun in a pleasant atmosphere.
Montana
Roost Fried Chicken
1520 W Main St, Bozeman, MT 59715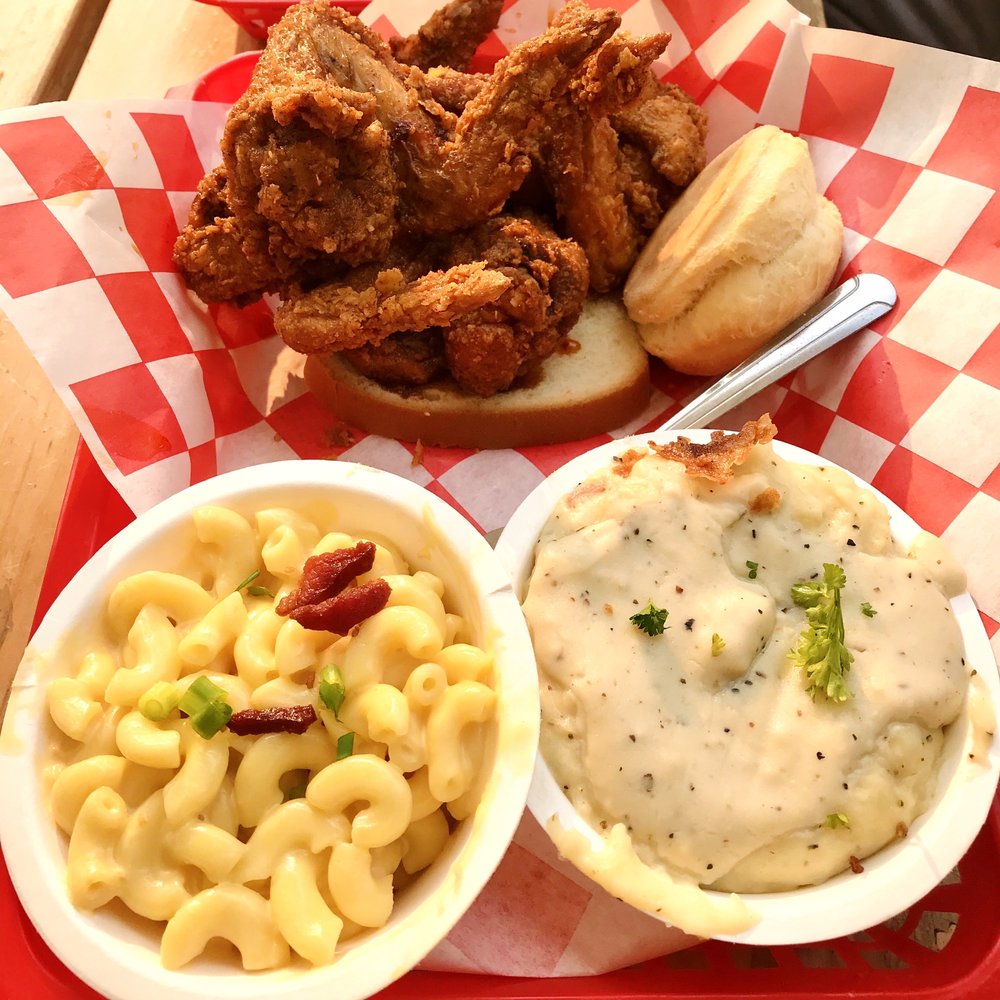 "Southern by birth, in Bozeman for the trout fishing."
Roost Fried Chicken's refrain is a good lure (pun intended), especially when you can get a crispy pressure fried bird and two simple sexy sides at reasonable pricing.
If you're looking for something a little different, the Alabama sandwich is a house specialty featuring rotisserie chicken, slaw, pickles, and Alabama white sauce.
Nebraska
Alpine Inn
10405 Calhoun Rd, Omaha, NE 68112


Come for the fried chicken, stay for the playful raccoons and views of the woods.
The freshly cooked fried chicken is great at Alpine Inn but is almost overshadowed by the friendly raccoons and local wildlife that have a great run of the outside.
If you are looking for great-tasting bird, serious sides, and a unique atmosphere, Alpine Inn is for you.
Nevada
Big Chicken
4480 Paradise Rd #1200, Las Vegas, NV 89169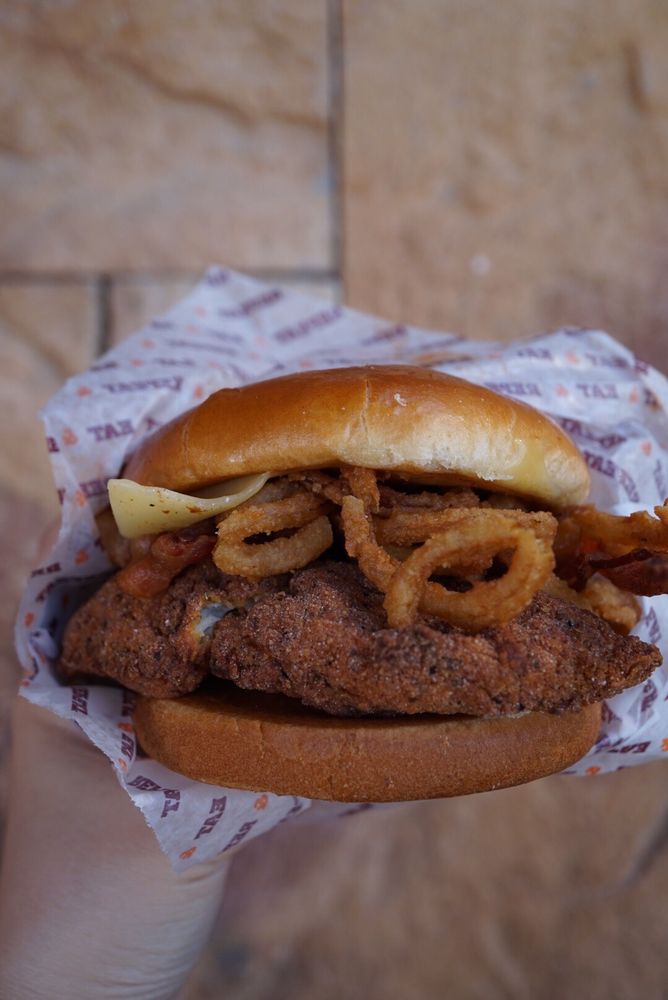 Chicken sandwiches with superhero and basketballer names? I'm all in.
You can get an Uncle Jerome, A Charles Barkley, A Superman, or A Shaq Attack.
Check the Big Aristotle out: organic muenster cheese, crispy fried onions, bacon, sweet & smokey Memphis BBQ sauce, and sweet tender fried chicken.
There are plenty of reasons to head to Vegas (there is a Big Chicken at Glendale), Big Chicken is another one!
New Hampshire
Puritan Backroom Restaurant
245 Hooksett Rd, Manchester, NH 03104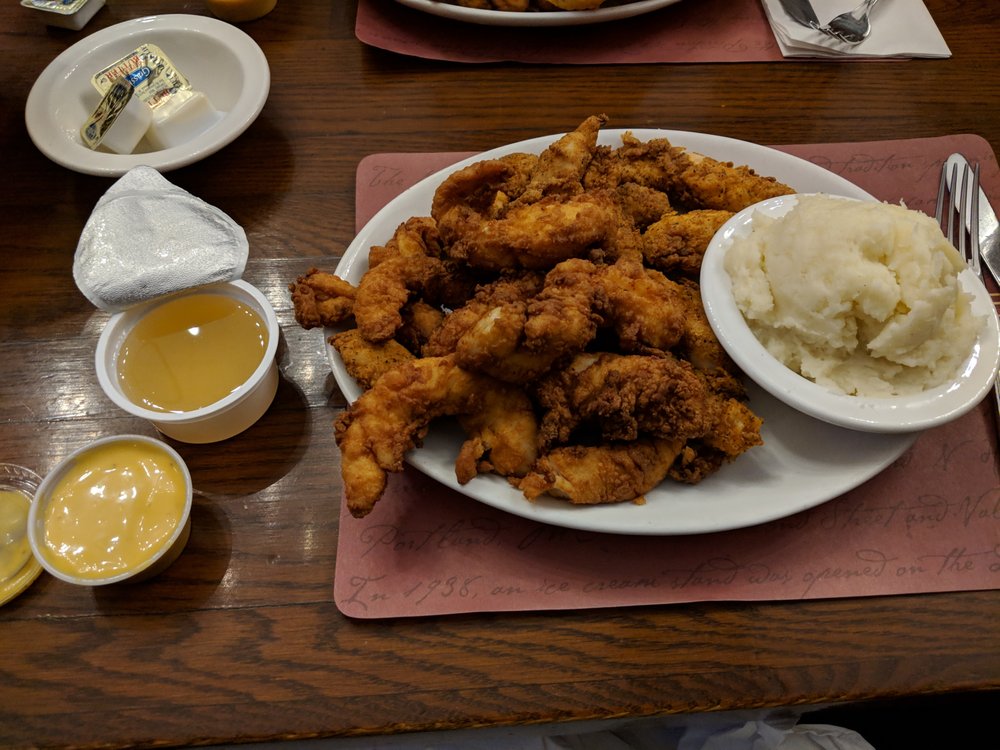 My eyes widened seeing a food joint called Puritan (forgive my Aussie-ness, it's got to be a pilgrim reference, yeah?), but I'm not betting against the people of New Hampshire knowing their fried food.
Puritan Backroom Restaurant offers a range of American favorites, however, their chicken tenders are the go-to prior to indulging in some excellent ice cream sundaes.
New Jersey
Galore Fried Chicken & Pizza
991 NJ-27, Somerset, NJ 08873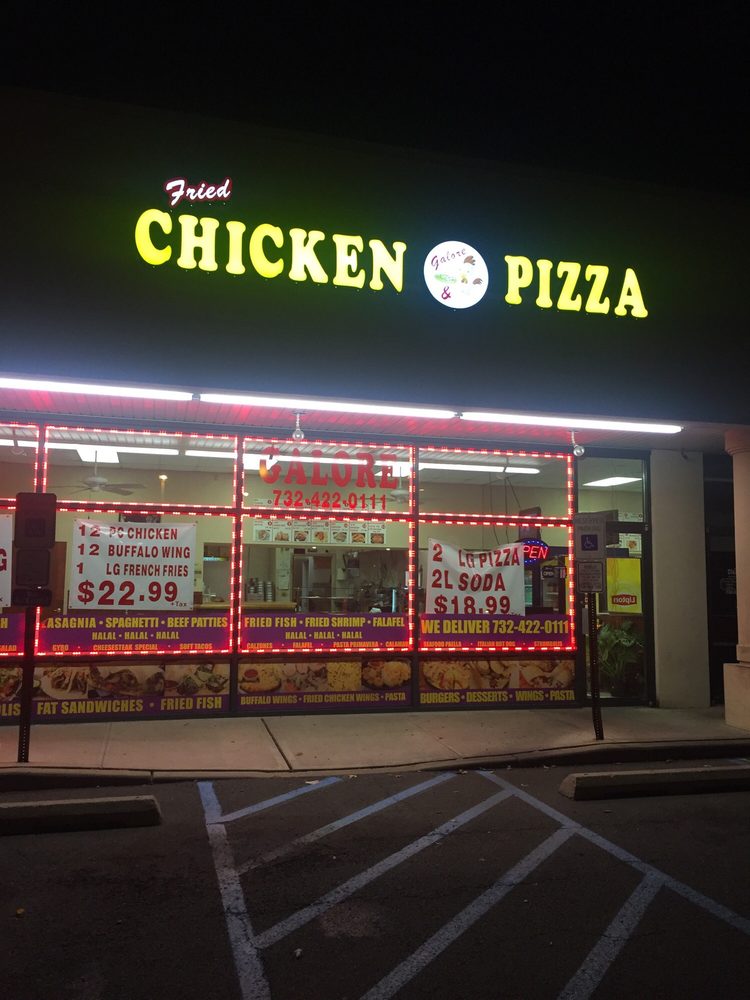 If I get to Jersey (for the Sopranos tour and a Jets game) any time soon I'm hitting up Galore – probably more than once!
Great pressure-fried chicken, killer hoagies and cheesesteaks, and pizzas too, all at reasonable pricing.
Hit up the menu before you get there, or you'll spend the entire evening trying to figure out what you want, although a full chicken, wings, and large fries is a good place to start if you're hungry.
New Mexico
Frank's Famous Chicken & Waffles
400 Washington St SE, Albuquerque, NM 87108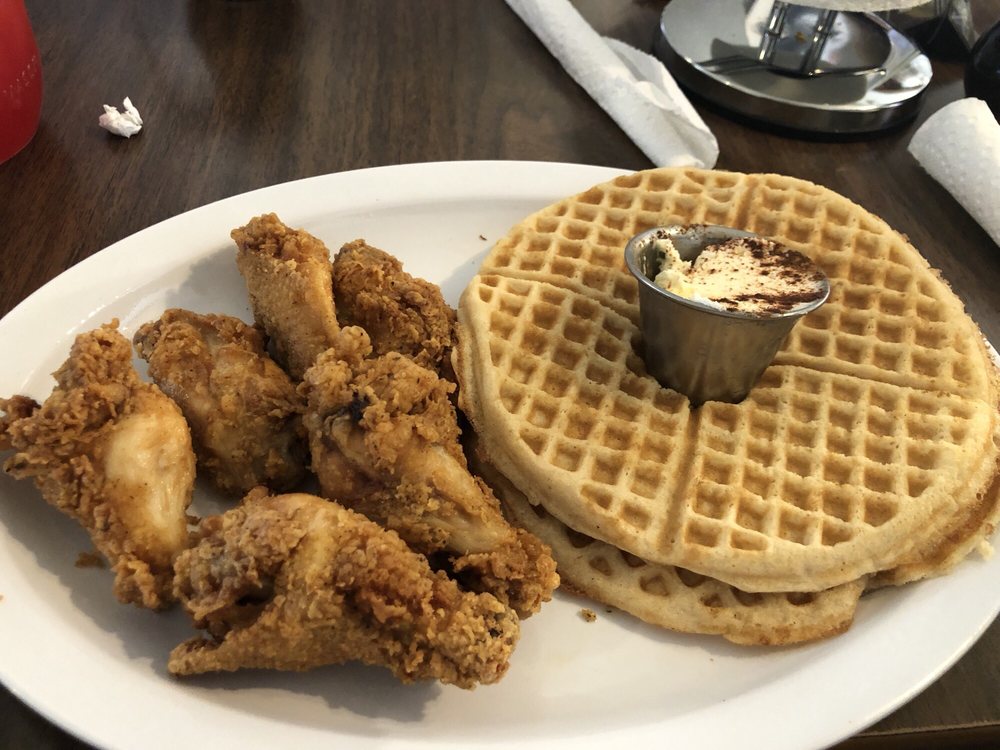 There's not much messing around at Frank's Chicken & Waffles. The menu is simple, and the headliner is, you guessed it, the chicken and waffles (Frank's fish and grits are popular too).
Beautifully breaded chicken with flavor and crispiness, and light, fluffy waffles accompanied by sensational cinnamon butter.
Adding decor of old soul albums on the walls and friendly staff makes Frank's a place you're happy to be.
New York
Unidentified Flying Chickens
Jackson Heights, 71-22 Roosevelt Avenue, Flushing, NY 11372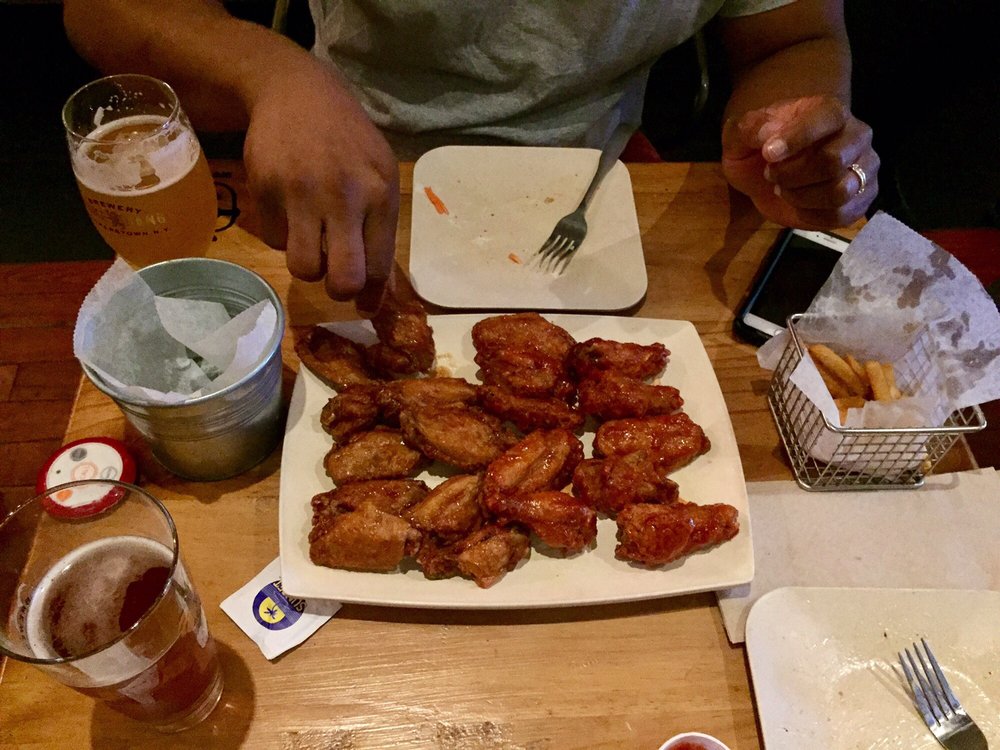 The best in NYC's Korean-style fried chicken, this joint knows how to fry up and fly (they have cracking craft beers on tap to help wash it down).
No matter how you like to eat fried wings, there's nothing quite like the crunch of quality Korean-style bird.
Jump in, grab a few different sauce options (don't miss out on the garlic sauce), and get down to the business of fried wings.
North Carolina
Beasley's Chicken + Honey
237 S Wilmington St Raleigh, NC 27601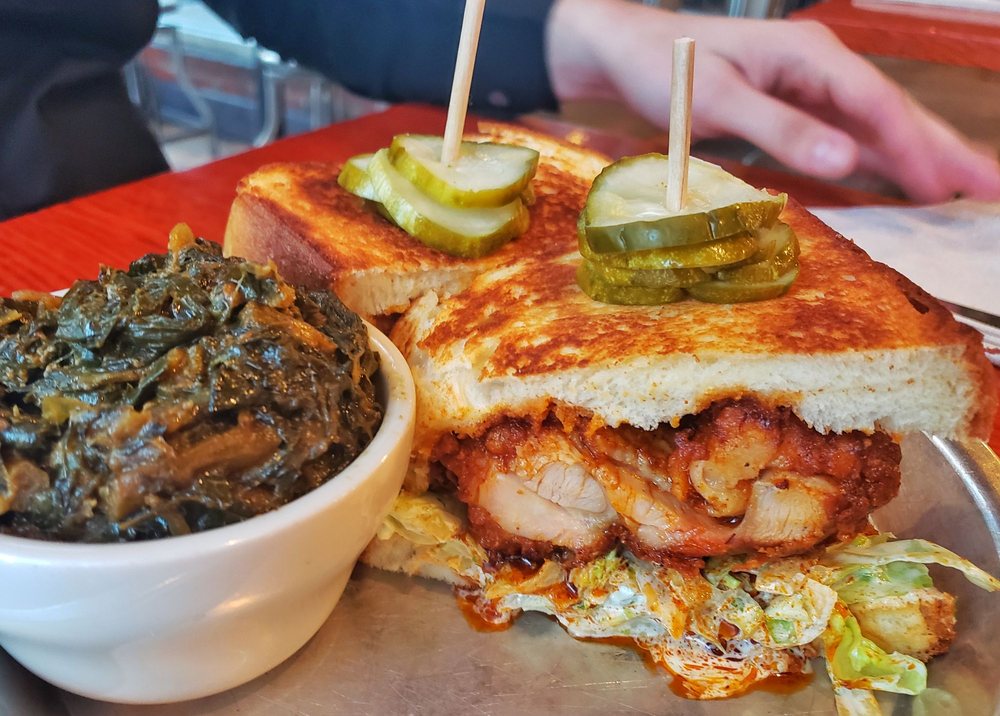 You have three awesome options at Chicken + Honey (and a whole lot of other good ones): go old school with some fluffy waffles and crispy, light fried chicken, or take a risk and go the Carolina Reaper Sandwich or basket of wings, which is certain to help you fireproof the roof of your mouth!
Beasley's is small, so there is a wait at peak times, but if you're happy to wait for quality fried chicken, simple sides, and a funky atmosphere, then you'll be happy to take a place in the queue.
North Dakota
Chicken Hut
608 Main Ave E, Rolla, ND 58367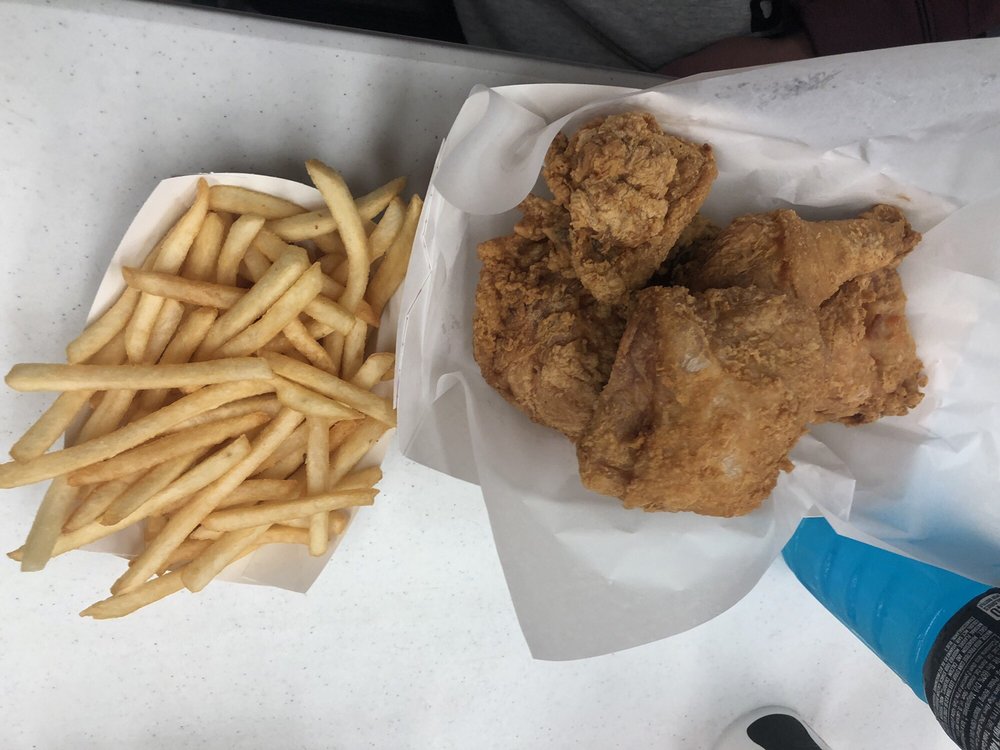 North Dakota, and Rolla itself, is not exactly a hotbed of fried chicken action like it would be in the South.
Chicken Hut knows what it's about though; simple high-quality fried chicken, well breaded, juicy, and moist.
If you find yourself in Rolla, there's not a huge range of options, but Chicken Hut won't let you down.
Ohio
Hot Chicken Takeover
Multiple Ohio locations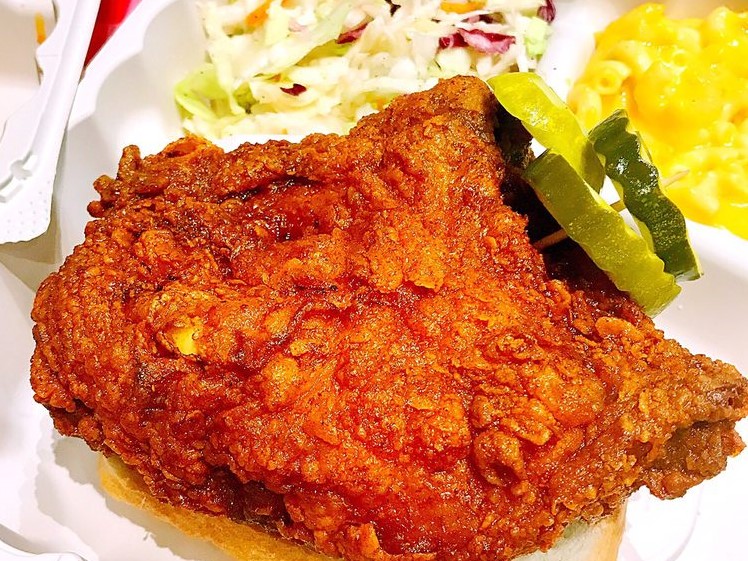 "We don't overcomplicate it with too many variations or too many side dishes, we serve simple food to share." – Joe DeLoss, Owner
HCT has picked up popularity for delivering simple fried chicken and sandwiches, just a few sides, and absolutely killer banana pudding.
They don't mess about with anything fancy, just a commitment to fresh fried fare and a great atmosphere.
Oklahoma
Cheever's Cafe
2409 N Hudson Ave, Oklahoma City, OK 73103, United States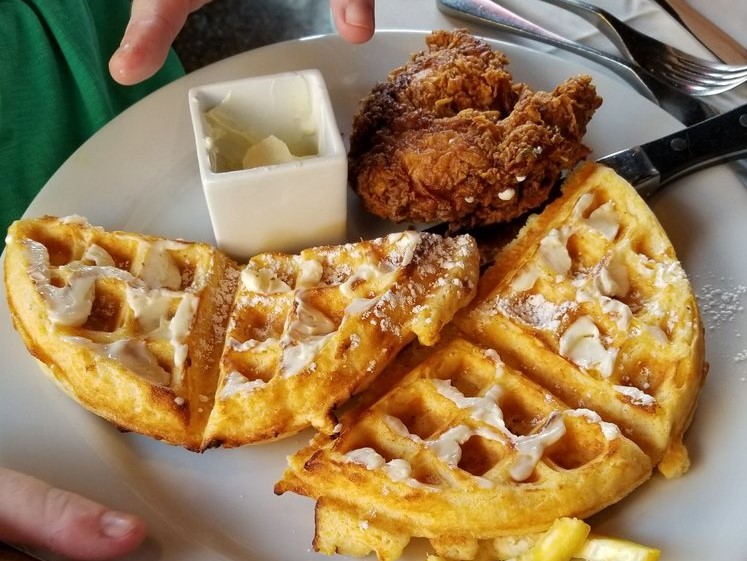 Cheever's Cafe menu is as long as HCT's in Ohio is short. There's so much to choose from here, I can spend a lot of time eating all manner of awesome choices!
The chicken is fried to order – crispy and fresh – and the butter melts so nicely into golden fluffy waffles. It's real comfort food.
Oregon
FOMO Chicken
113 SE 28th Ave, Portland, OR 97214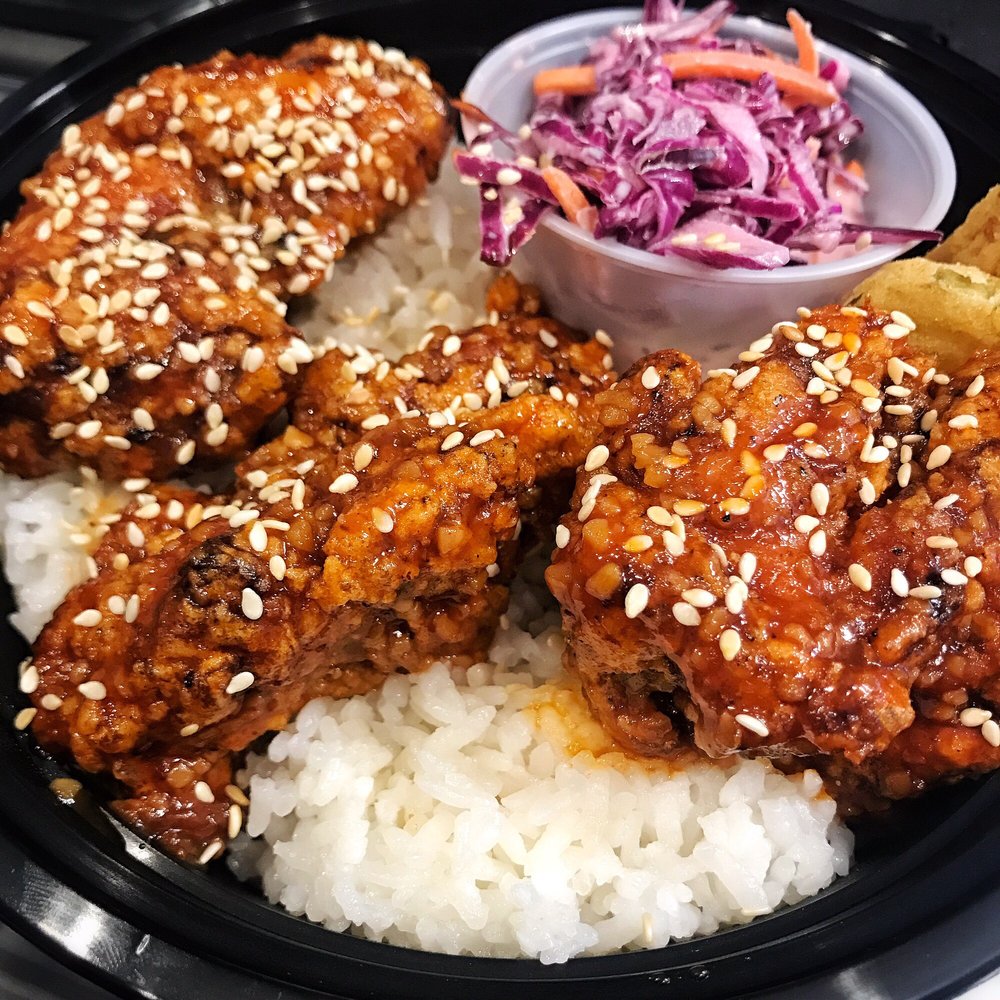 FOMO = Fear of Missing Out.
With the fusion of Korean fried chicken and sides, and Southern fried chicken and sides, you won't miss out on great chicken choices at this killer food cart.
FOMO Owner Sun Kim gets into the FOMO restaurant below. Their chicken is organically and locally sourced, with gluten-free options as well, so you have cart blanche (sorry) to enjoy the food.
Pennsylvania
Florida Fryed Chicken
17467 Rt 287 Tioga, PA 16946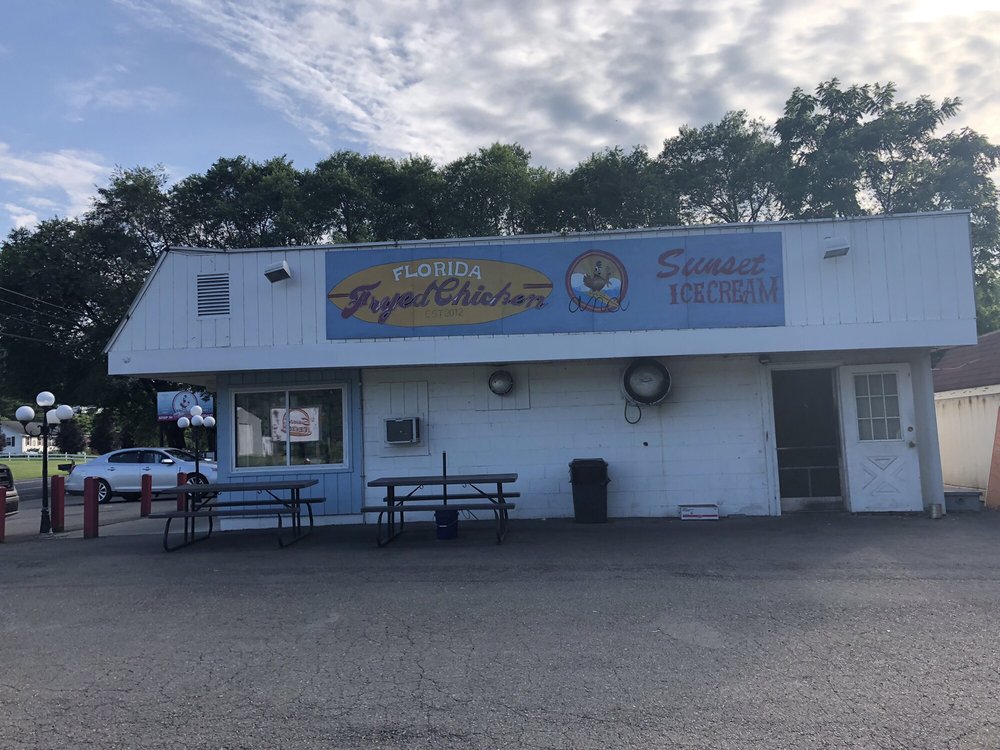 A Northern Pennsylvania staple for Southern Hospitality, Florida Fryed Chicken offers the classics with a uniquely salted breading that's tasty and moreish (a phrase that means food so good you want to eat more).
Great if you need a stop off the highway, this family-owned restaurant is friendly, with generous servings at reasonable prices, including wedges the size of a half-moon and genuinely exceptional buffalo and chicken tenders.
Rhode Island
Den Den Korean Fried Chicken
182 Angell St Providence, RI 02906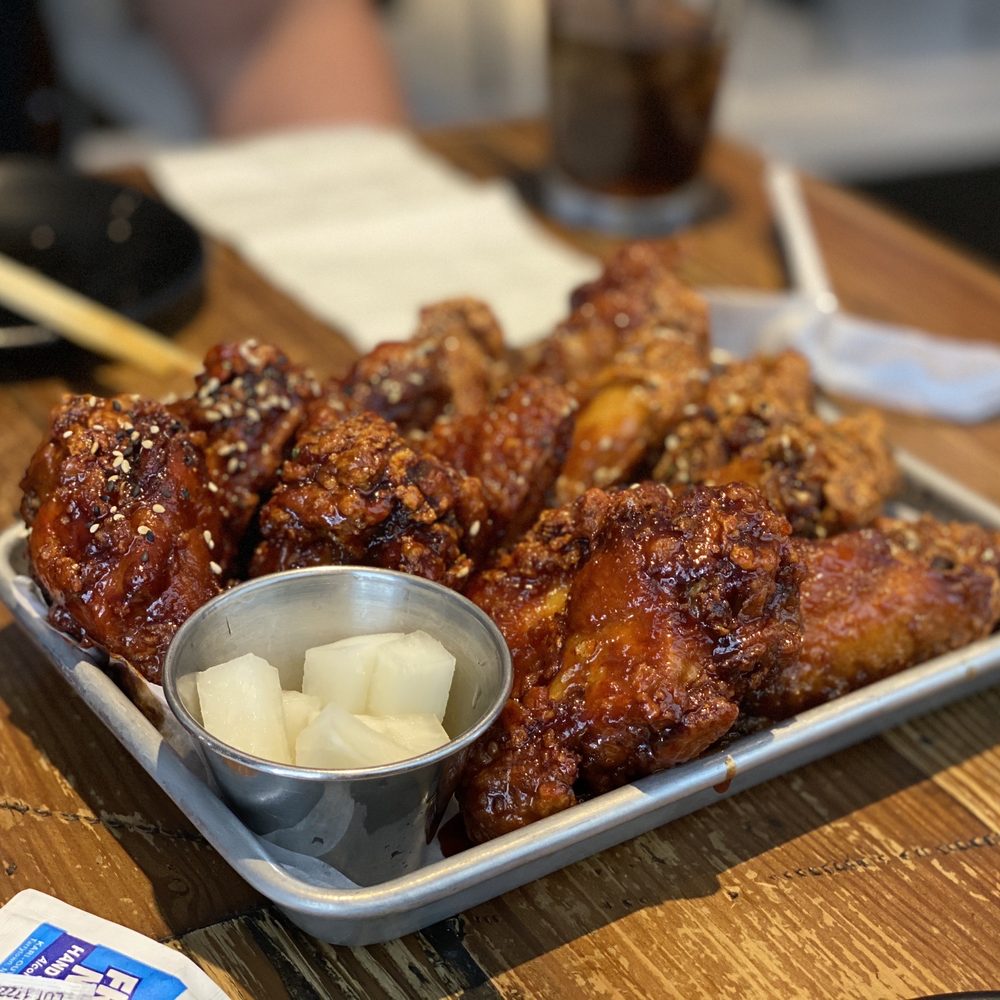 Den Den offers small plates like dumplings & kimbap – and those corkscrew peeled potatoes on a stick – but their signature double fried chicken wings are as good as you'll taste anywhere.
You can mix and match different styles and heat, there are plenty of sauce options, and everything is cooked to order in a pleasant, relaxed setting.
South Carolina
Bernie's Chicken
1311 Bluff Rd, Columbia, SC 29201, United States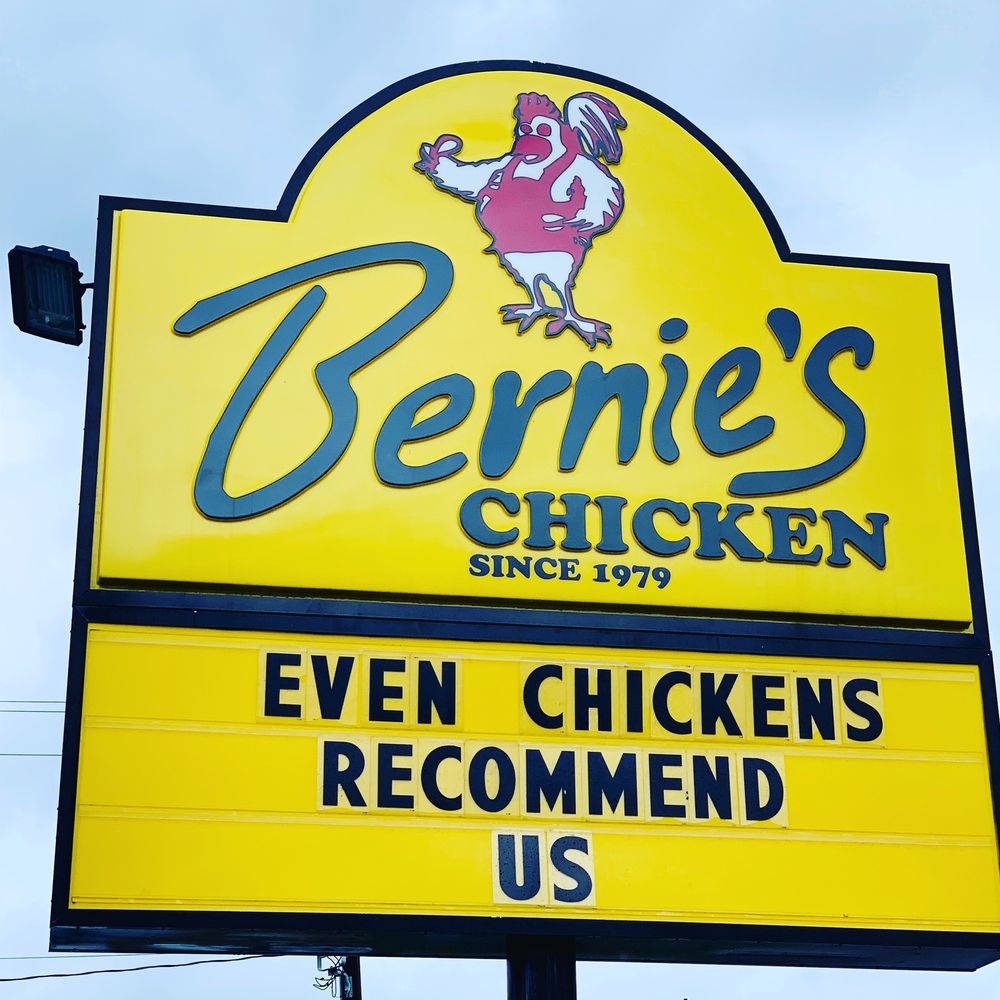 I loved Ryno's food review of Bernie's! I could listen to him talk for hours, and he sums up everything you want a fried chicken joint to be.
South Dakota
The Keg Chicken
4211 W 12th St, Sioux Falls, SD 57106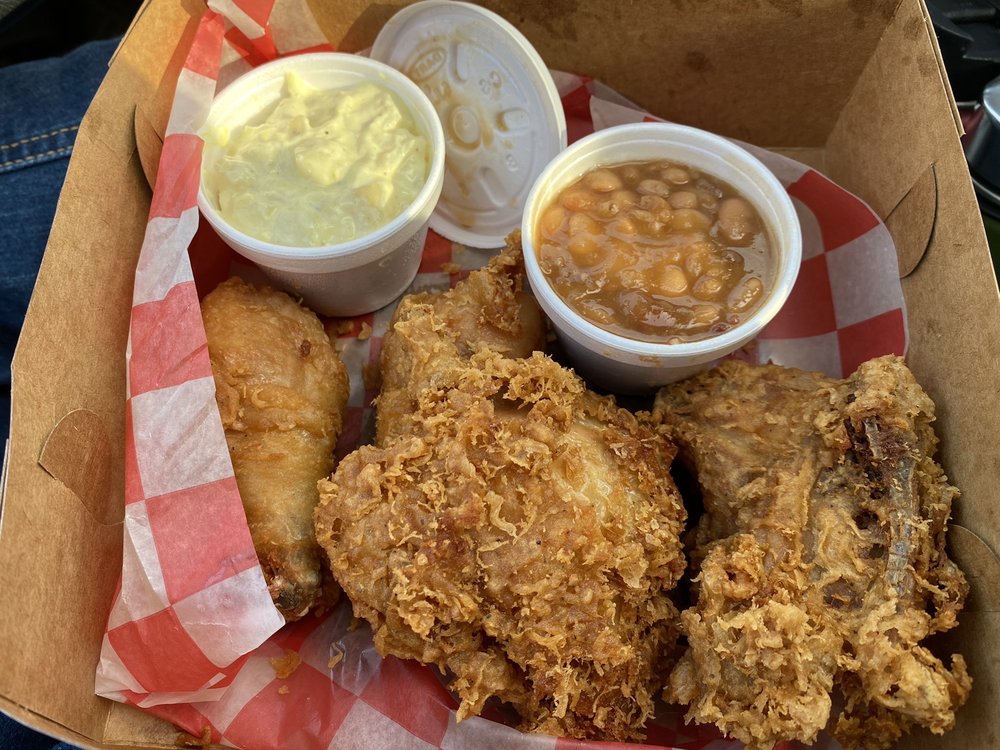 I've read a lot of people's reviews of fried chicken while putting this story together. This one is my favorite:
"Easily the best fried chicken I have ever had. Nothing comes close. Landslide, all votes for The Keg. I would give 10 stars, but Google only allows for 5." – Jonah B.
The Keg goes on the list!
Tennessee
The Loveless Cafe
8400 TN-100, Nashville, TN 3722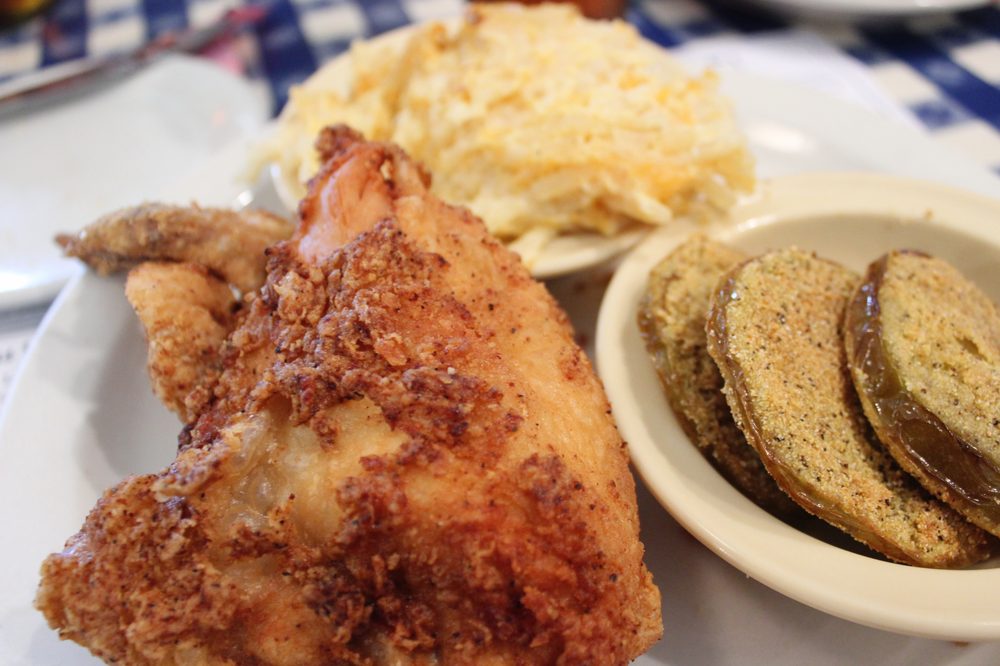 The Loveless Cafe cooks amazing Southern comfort food and has been doing so since 1951.
On Mondays, they do their amazing Nashville hot chicken, and people come from all over to get some (and their biscuits are award-winning too).
Chef Daniel Dillingham shows you how hot chicken is made at the Loveless Cafe.
Texas
Babe's Chicken Dinner House
Multiple Texas Locations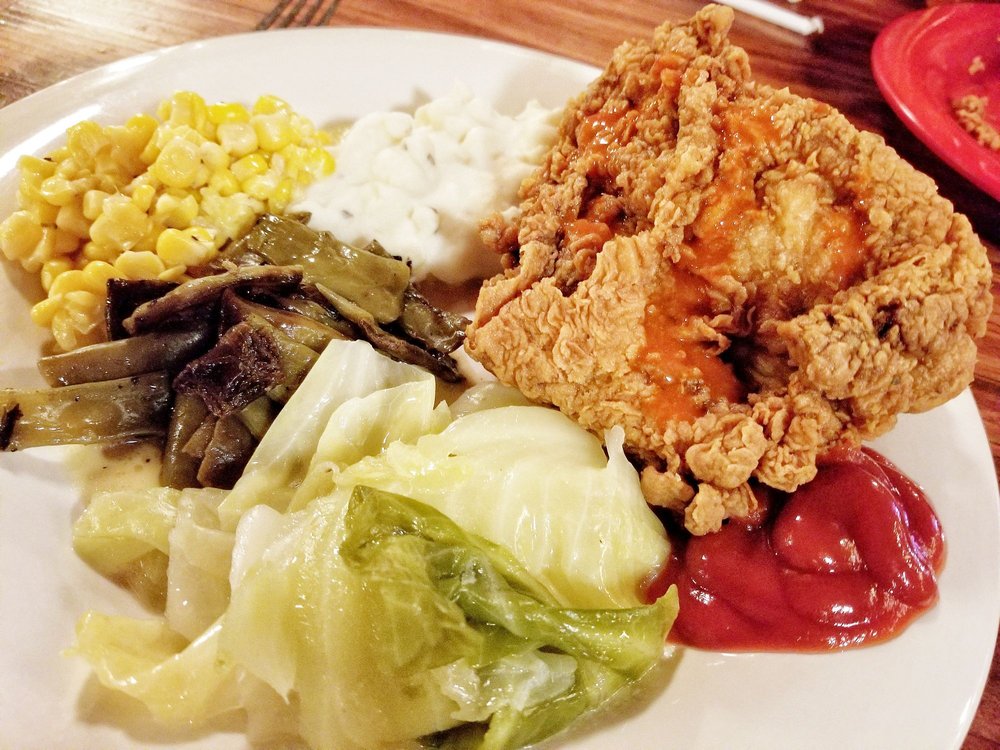 Babe's Chicken Dinner House is relaxed and rustic like a good Texan fried chicken joint should be. There are a few of these mini chains around the Longhorn state, and for good reason.
Pick your main meat – chicken fried steak, catfish, and ribs are also worthy options – the sides and vegetables are all you can eat served family-style.
Utah
Pretty Bird Chicken
146 Regent St, Salt Lake City, UT 84111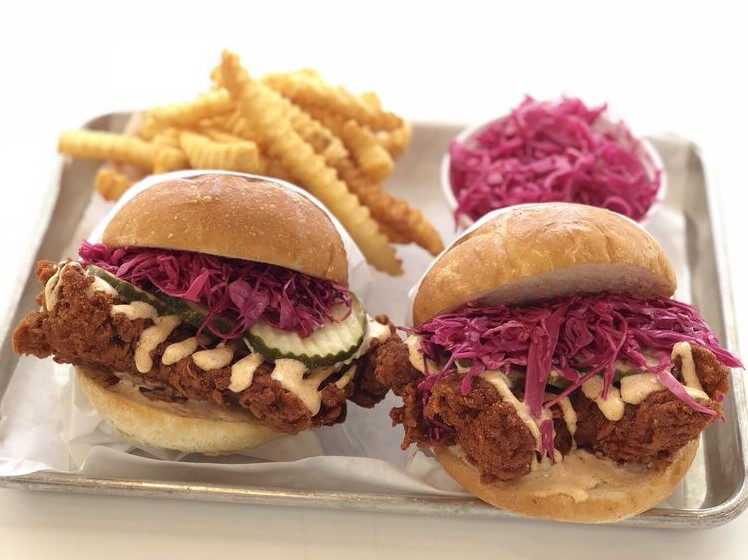 I've never seen a more appetizing chicken sandwich than the one at Pretty Bird Chicken.
The beautiful purple color, the right amount of sauce, and the spiciness of Nashville style hot chicken is more work of art than fast food meal.
Owner Viet Pham left the world of fine dining to open up the popular fried chicken joint with a fresh and funky atmosphere. It's hard to argue with his decision!
Vermont
Canteen Creemee Company
5123 Main St, Waitsfield, VT 05673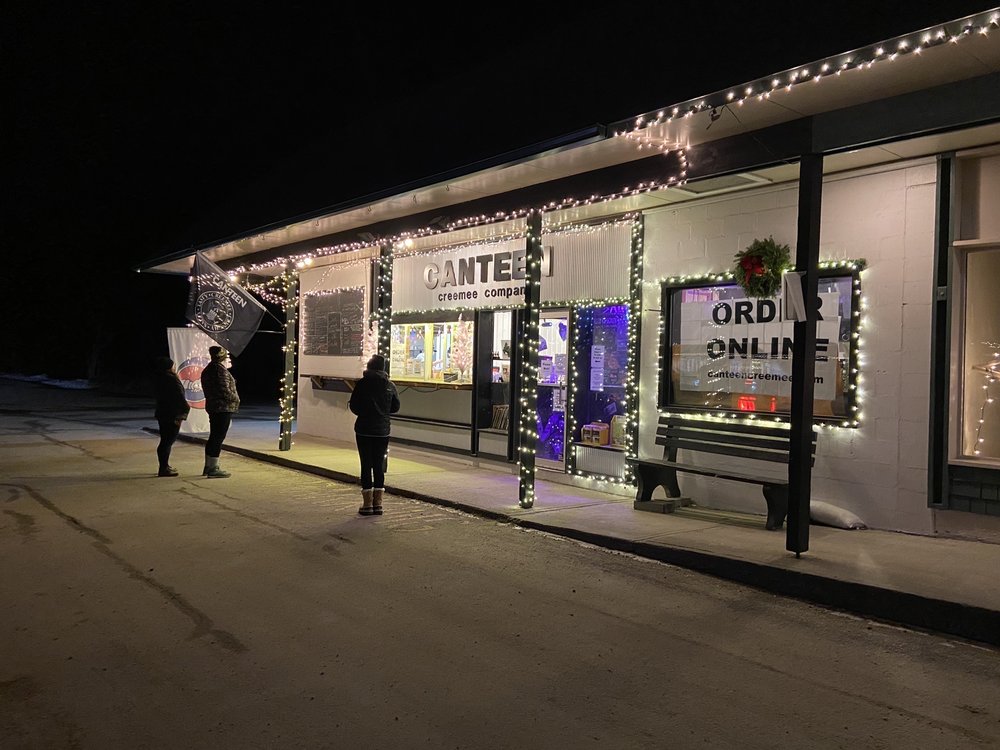 The fried chicken at Canteen Creemee Company comes with slaw and corn pudding and is a top quality option for a quick and easy meal.
Even if you are there for the delicious ice cream flavors, it's hard to go past at least a couple of pieces once you get to smell that tasty fried chicken.
Virginia
BoBo's Fine Chicken
3139 Shore Dr #1120, Virginia Beach, Virginia 23451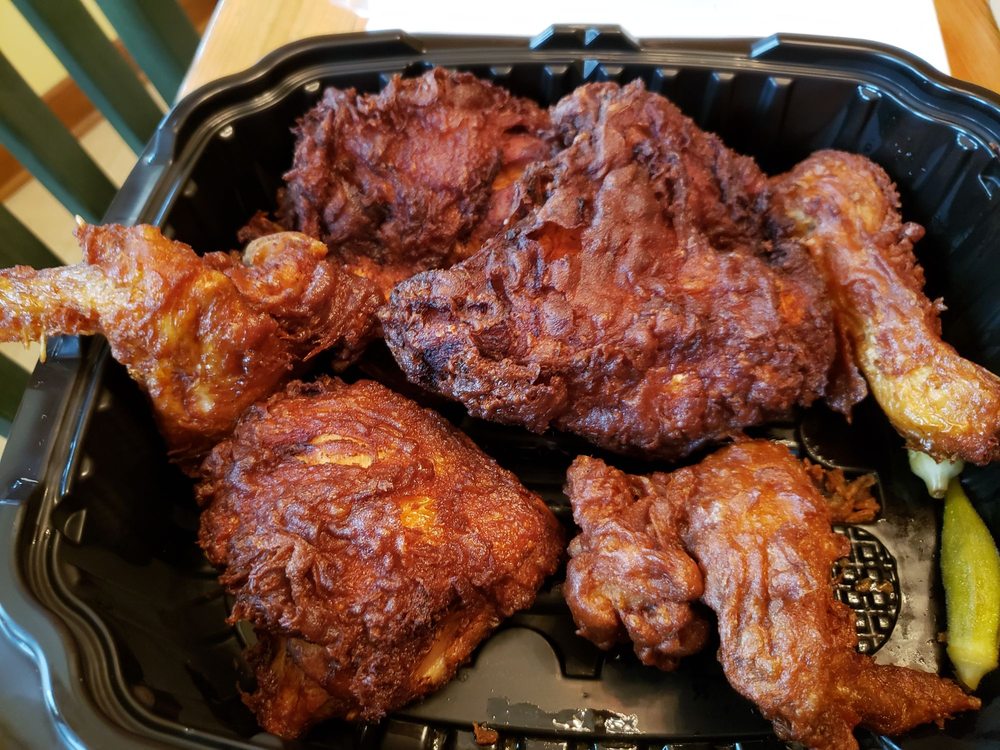 BoBo's is simple fried chicken that utilizes home recipes.
Biscuits in the morning, dinner meals, and tasty seasonal sides are what it's all about.
Fried chicken at its home-style, made to order best, crunchy yet juicy with flavorful breading.
Washington
Fat's Chicken and Waffles
2726 E Cherry St, Seattle, Washington 98122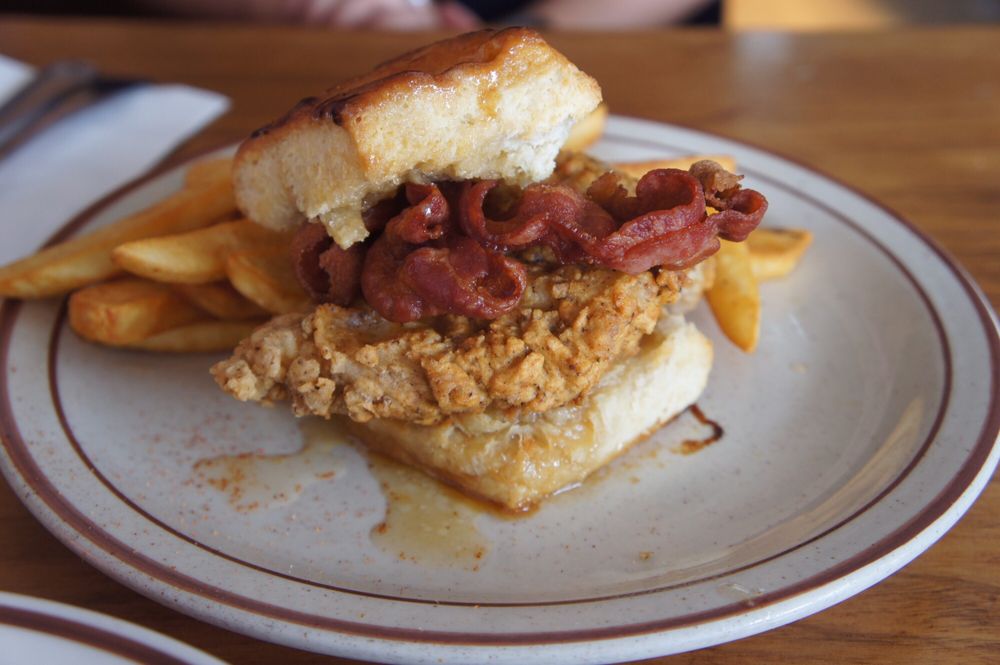 I'm confident that dining at any restaurant named Fat's is going to be a lot of tasty fun every time. This Seattle eatery is tremendous.
Whether it's the honey butter chicken biscuit sandwich, fluffy waffles, a mixed plate with classic sides, or just a couple of pieces of bird, there's a lot to love about Fat's and its friendly atmosphere.
You've got to love a bit of Louisiana soul food in the heart of the Pacific Northwest.
West Virginia
Bluegrass Kitchen
1600 Washington St E, Charleston, WV 25311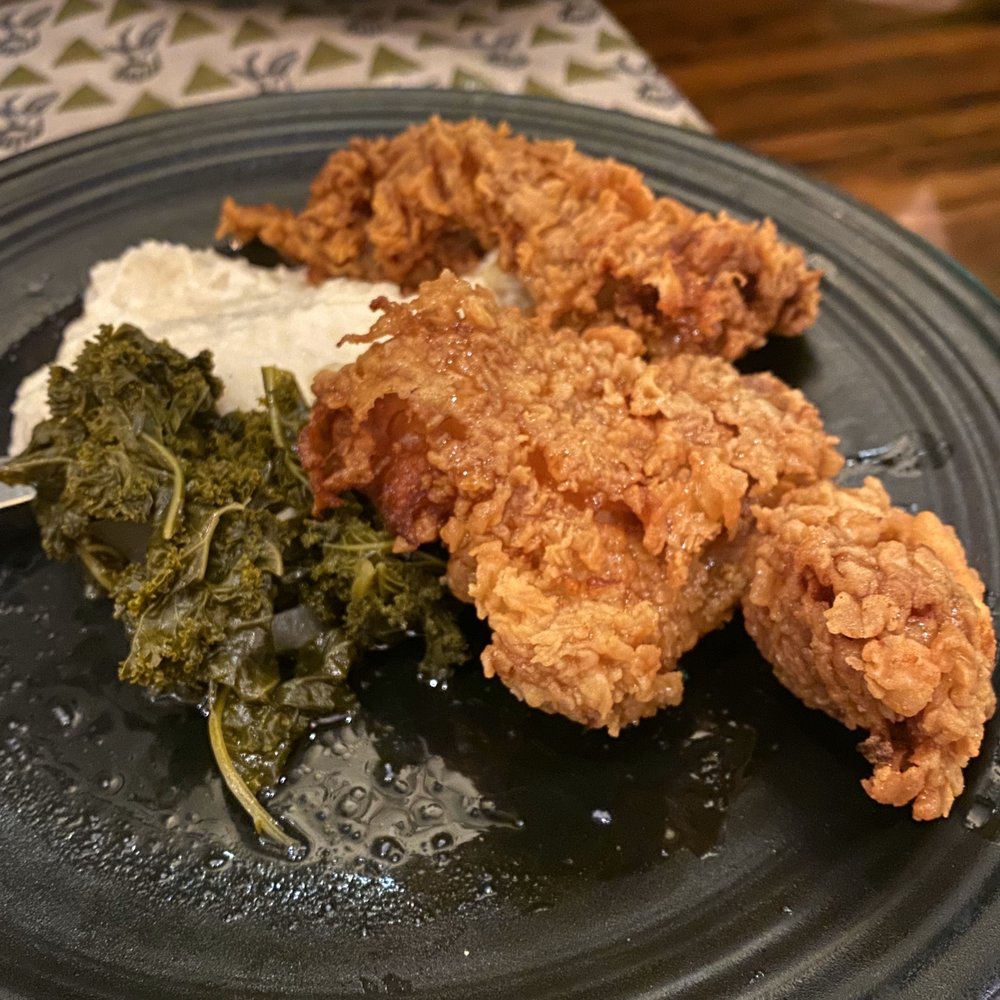 While It's not opening back up until July '21, I couldn't leave the Bluegrass pickle brine chicken off this type of list.
The other cool thing is that there are some great vegan and vegetarian options. You can bring a few disparate diners together and have a good time, you don't have to sit tight to a fried food menu.
Wisconsin
The Cozzy Corner
111 N Walnut St, Appleton, WI 54911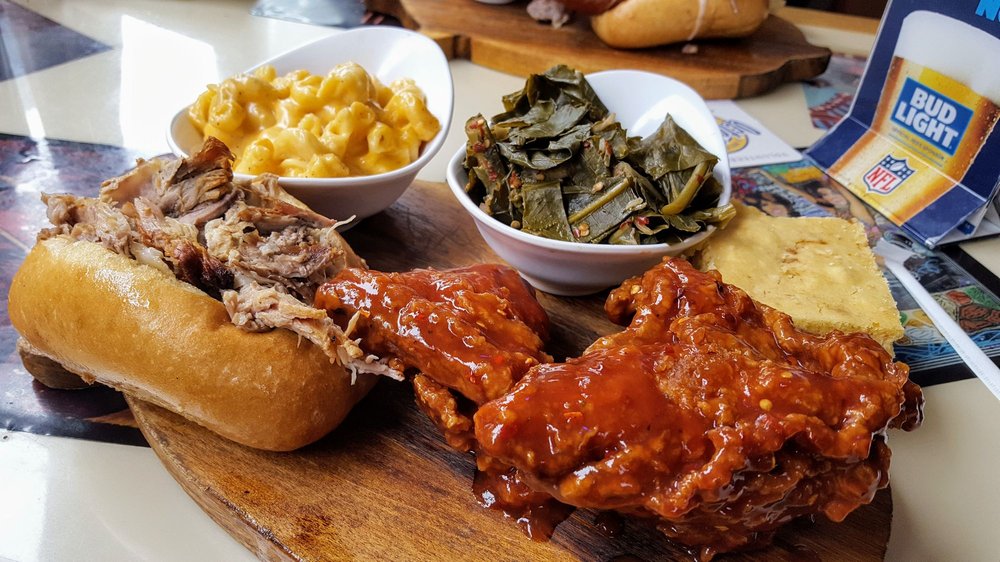 Cozzy offers Southern comfort food way up in the cold country. The menu is straight out of the SEC, there's not a chess curd in sight.
Their headliner sandwich is a fried chicken breast topped with mac n cheese & bbq sauce, sandwiched between two Cozzy Waffles, but getting a mixed meat plate with pulled pork and some bird looks like the way to go for me.
Wyoming
Born In A Barn
100 E Ivinson Ave, Laramie, WY 82070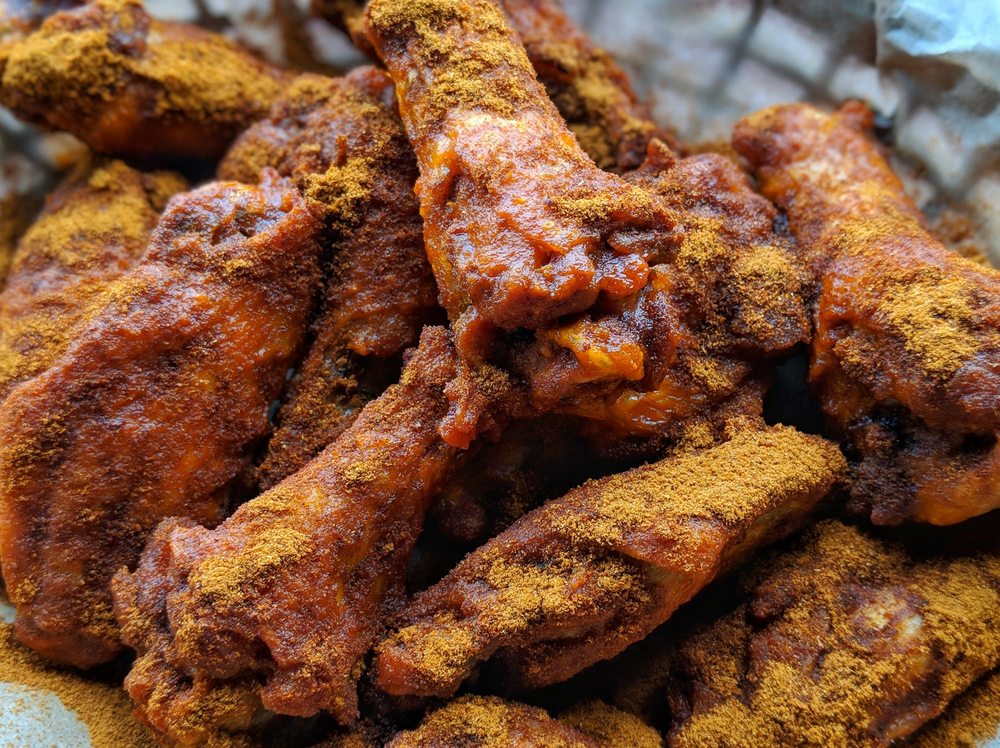 If wings are your thing, then you won't find a better choice than the old school sports bar Born in a Barn.
They first smoke the wings before breading and frying, turning them into a mix of smoky, salty, greasy goodness you can smash through while watching your team in a big game.
Get a whole bunch of different ones to try, hand cut fries and some suds to wash them down. That's a recipe for a good time.
SKM: below-content placeholder
Whizzco for 12T