I'm a huge fan of all things cheese. Mac and cheese, cheesy bread, cheesy casseroles, cheese pizza, and of course, grilled cheese! It doesn't get much more classic and simple as a grilled cheese sandwich. I used to devour grilled cheese sandwiches as a kid, and my love for them has never gone away. My tastes, however, have matured a bit. There are so many wonderful and delicious ways to prepare grilled cheese, and there are a few of my favorites! Go ahead and try one of these recipes out this week!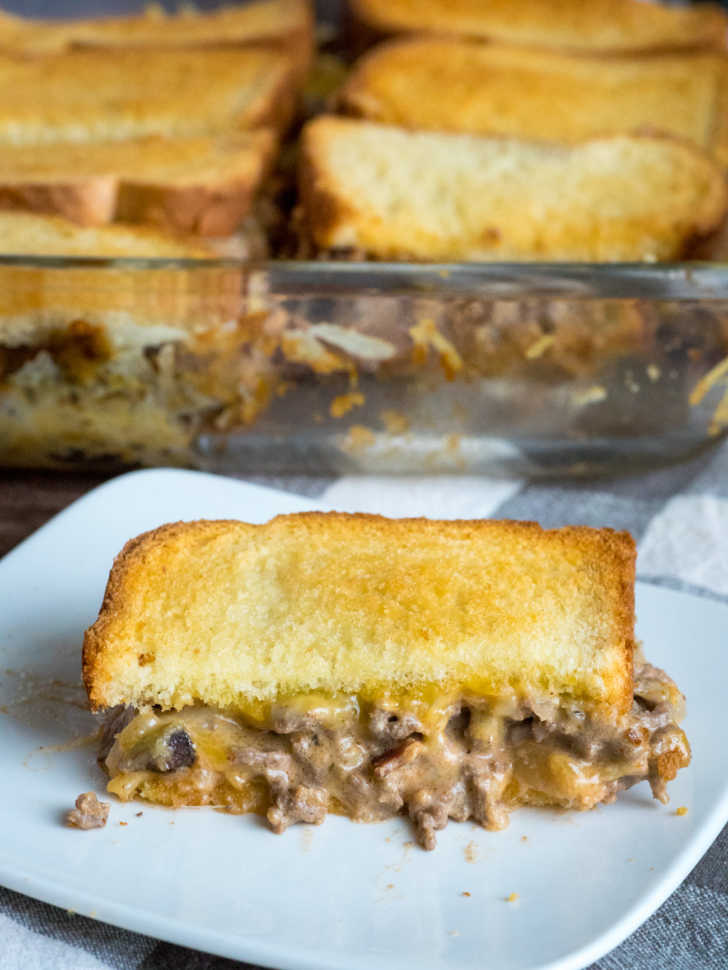 It's pretty easy to make a grilled cheese sandwich, sure. But we here at 12 Tomatoes firmly believe that most things can be improved when transformed into a casserole. And besides, this casserole isn't just a riff on a grilled cheese, it's a mashup of the toasty sandwich and a bacon cheeseburger. Which is to say, it's comfort food that's not in any way ashamed about its hearty cheesiness. Not even a little bit. Get the recipe here!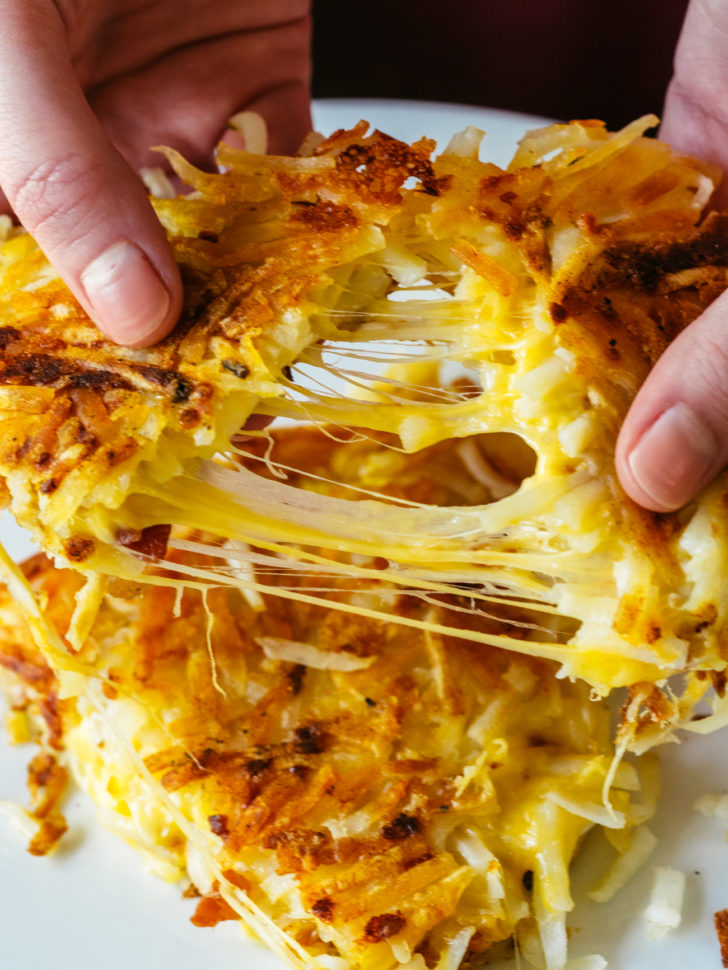 Just when you thought grilled cheese couldn't get any better…it just did. We've got a mic drop grilled cheese recipe that is gooey, cheesy, crispy and downright decadent. This isn't an everyday kind of grilled cheese, but one intended for a special occasion. So when we really want to impress our hungry bunch, this is the recipe. We love to play with our food, and experimenting with ingredients and unexpected combinations, a little of this here and a pinch of that there, helps keep us on our toes in the kitchen. This grilled cheese recipe was born out of a little breakfast classic meets lunch classic inspiration and boy-oh-boy, does it taste good! Get the recipe here!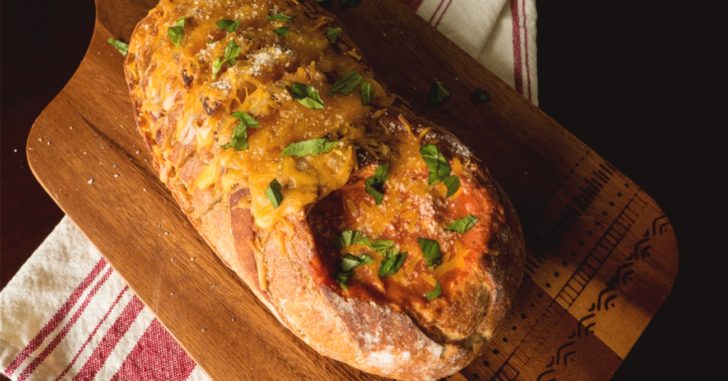 If you're like us, and love dipping your crispy, oozing grilled cheese sandwiches into a piping hot bowl of delicious tomato soup, then boy do we have a special treat for you! This bubbly bread-boat bake is a little bit of heaven and will totally satisfy your craving for this classic comfort-food combo, while giving you a brand new and totally mouthwatering way to enjoy it! Bust this out for lunch or dinner and you'll definitely paint some wide-eyed smiles on your family's faces. If our family's reactions are any indication, this is a sure-fire hit every time! Get the recipe here!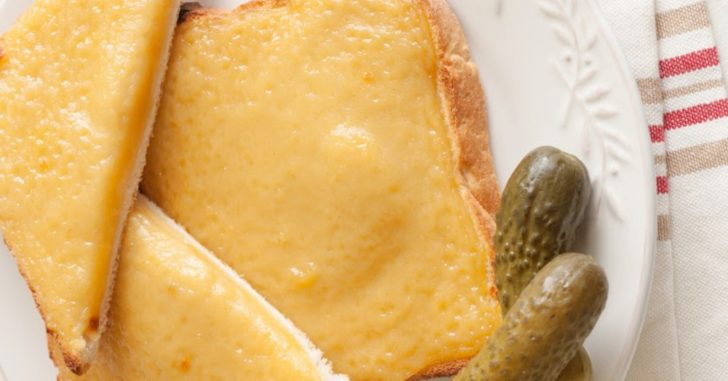 This dish is a British twist on the classic, open-faced grilled cheese sandwich, and it consists of toasted bread with a gooey cheese sauce poured over it. However, in addition to cheese, it features a bit of mustard, Worcestershire sauce and a pickle on the side for flavor. You can enjoy Welsh rarebit on its own or with a bowl of your favorite soup, but you can also pair it with eggs and tomatoes and have it for breakfast. Get the recipe here!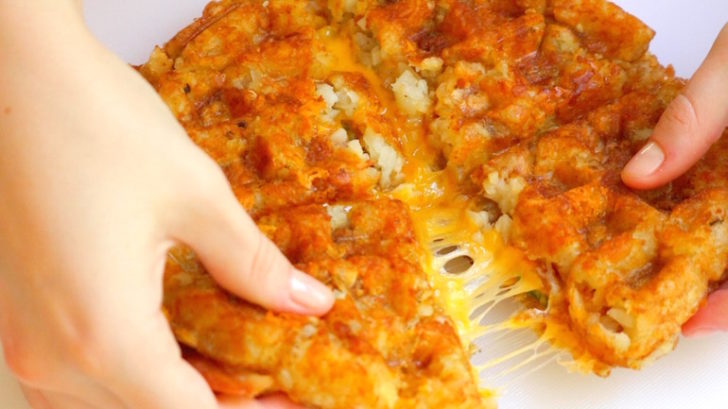 Our friends at Spoon University have outdone themselves this time. You can never go wrong with tater tots, but making them into a waffle and using them as bread is just pure genius. This killer recipe sandwiches cheese, bacon and jalapeño between two tater tot waffles. Crispy, gooey, spicy, and only 4 ingredients. You know you wanna try it. Get the recipe here!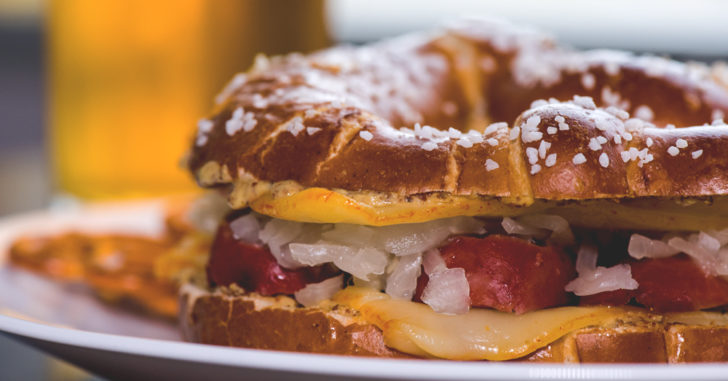 German food sometimes gets a bad wrap, which is completely undeserved – it's delicious! In honor of our love for Bavarian cuisine, we whipped up a grilled cheese sandwich like you've never seen before. Starting with a soft pretzel, we loaded it up with classic German flavors, including mustard and muenster cheese, then grill each half open-face until the cheese starts to melt, and top it with sliced bratwurst and sauerkraut…. Yum! Get the recipe here!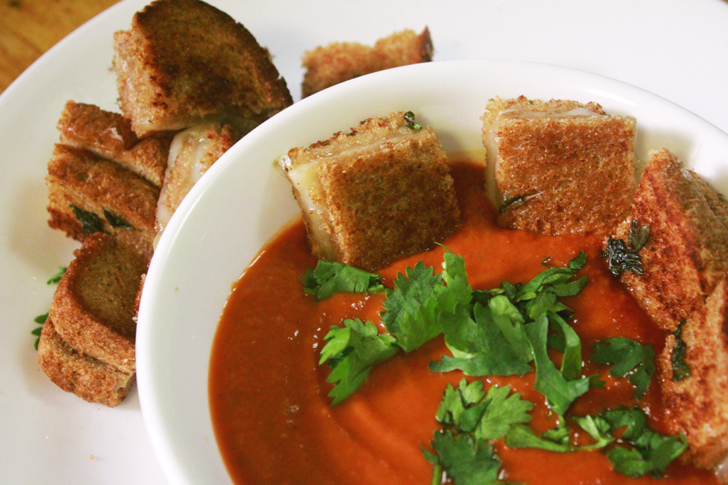 Ever wanted step up your grilled cheese game? Check out this simple, but brilliant grilled cheese crouton idea. I can't believe we hadn't tried it before! Go ahead and experiment with different cheeses to find your perfect flavor combo and then say goodbye to boring croutons because once you try these bite-sized cheesy cubes you'll never go back. Get the recipe here!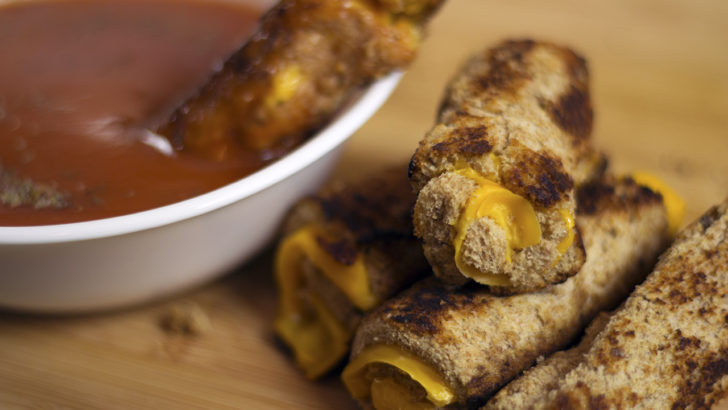 We all love grilled cheese sandwiches paired with tomato soup. It's the dynamic duo – you just can't have one without the other. Our friends at Spoon University had a stroke of genius and turned the classic grilled sandwich into a roll-up and of course we had to give it a try. Ours turned out every bit as yummy as we imagined and the kids went nuts over them! Get the recipe here!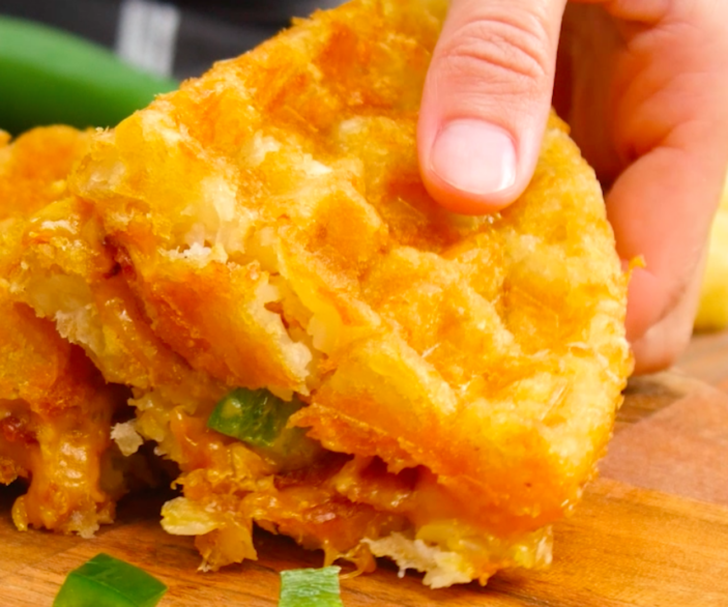 Gone are the buttery, toasted pieces of bread that sandwich the cheese, replaced with…tater tots. Not only that, but instead of grilling our sammie in a frying pan or panini press, we decided to use a waffle iron. If you love potatoes or cheese or bacon – because, of course we added bacon – then this sandwich is absolutely for you. Get the recipe here!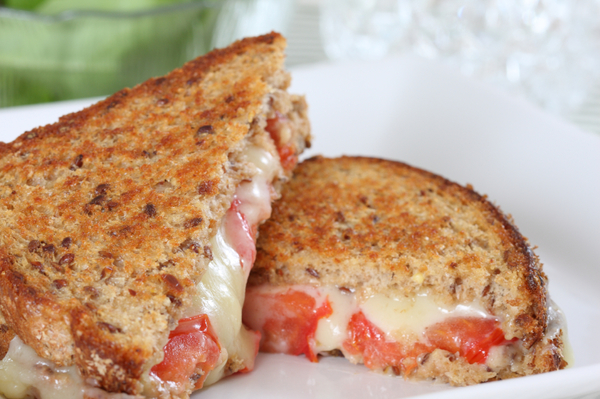 While we love the standard recipe for grilled cheese, we decided to try an amp-ed up version of the classic using marinated cheese, fresh tomatoes and homemade garlic butter. The result is to die for! It's easy to flavor your cheese at home or find it in the grocery store, and it takes this dish to a whole new level. For lunches when you need a pick-me-up or casual dinners where you still want to feel like you made an effort, try this grilled cheese it'll make your day! Get the recipe here!
I hope you found a few new recipes to try!
SKM: below-content placeholder
Whizzco for 12T