A baked mashup that'll stick to your ribs.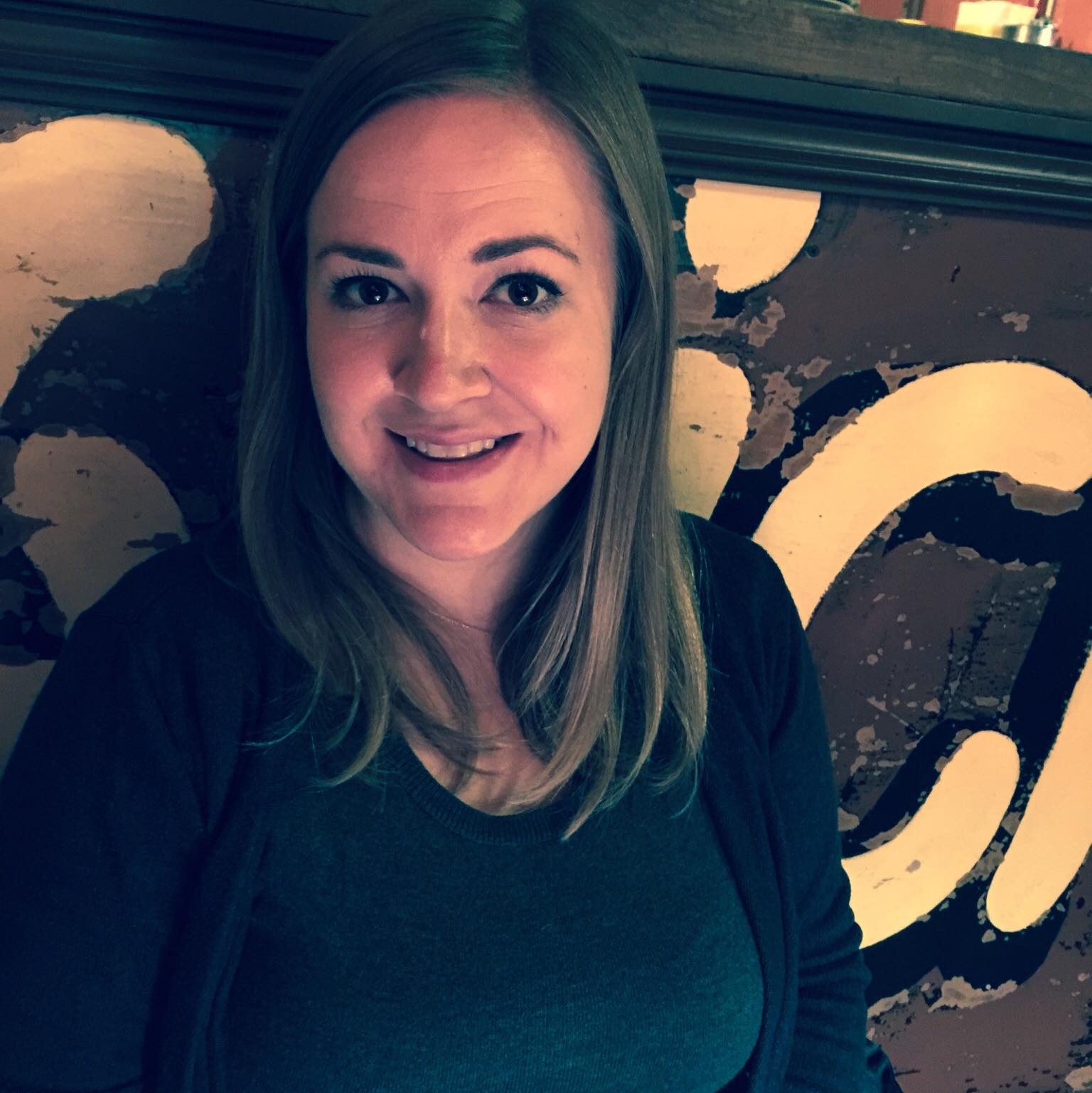 Kristy Norrell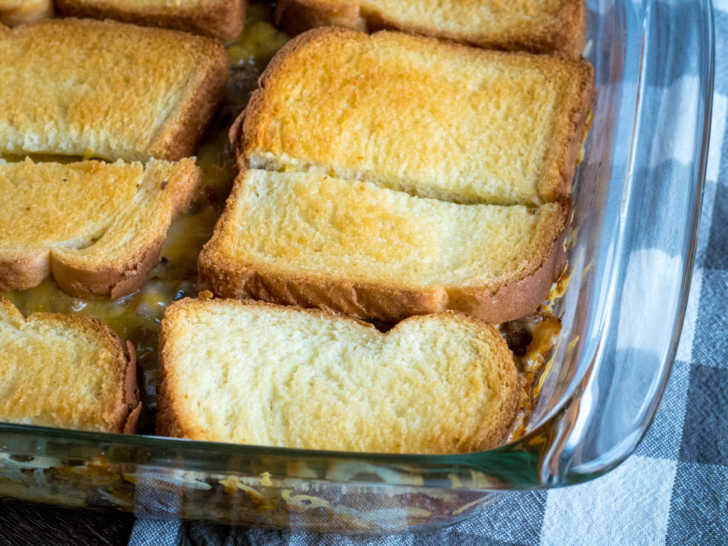 It's pretty easy to make a grilled cheese sandwich, sure. But we here at 12 Tomatoes firmly believe that most things can be improved when transformed into a casserole. And besides, this casserole isn't just a riff on a grilled cheese, it's a mashup of the toasty sandwich and a bacon cheeseburger. Which is to say, it's comfort food that's not in any way ashamed about its hearty cheesiness. Not even a little bit.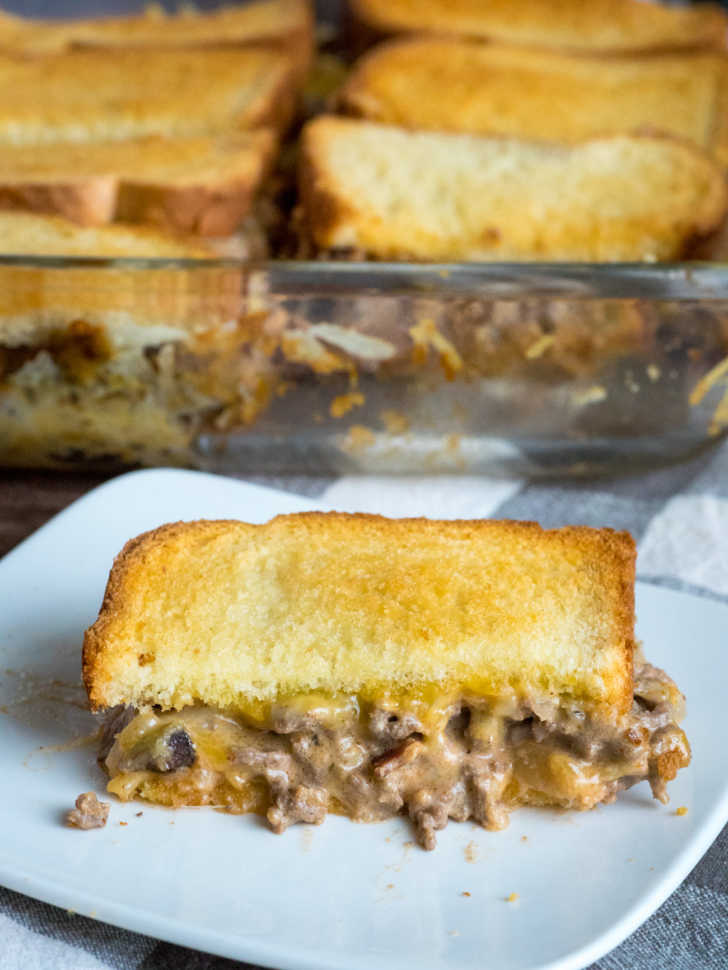 More or less, this is a casserole that's made up of a dozen little sandwiches with a filling that's reminiscent of a sloppy joe but flavored like a very cheesy bacon cheeseburger. (Everything about that sounds good, right?) The ingredients maybe aren't that groundbreaking, but it's all in the assembly, which goes like this:
You slather six slices of bread with butter, cut them in half, and line the bottom of a baking dish with them, butter side down.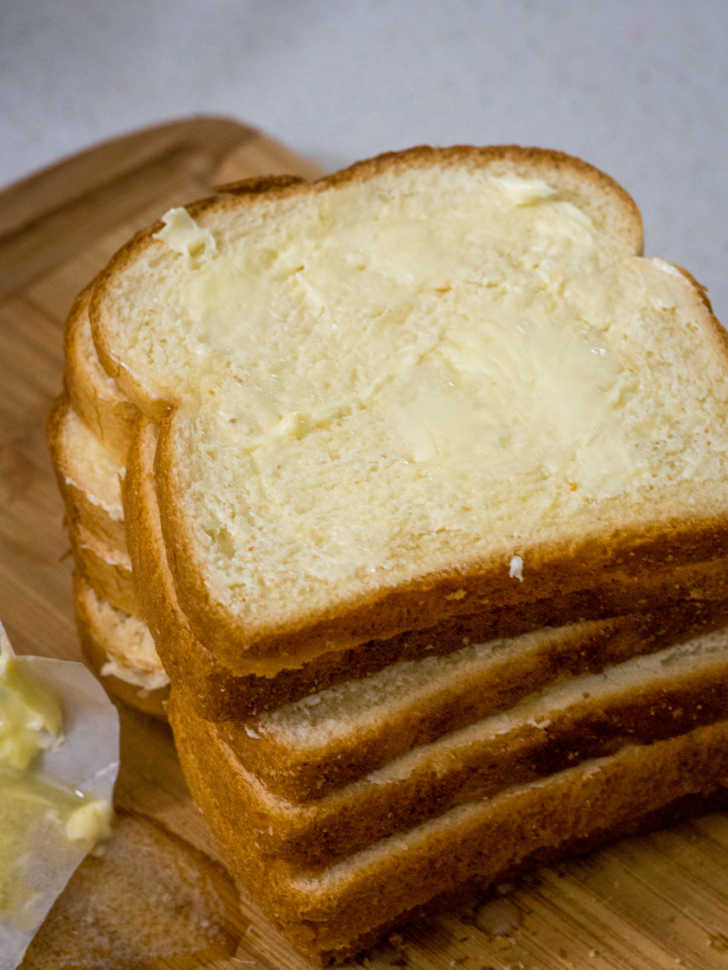 And then you brown up some ground beef and onions but kick up the mixture with ketchup, mustard, mayo, and bacon. It's all your favorite parts of a burger, there's just no patty involved.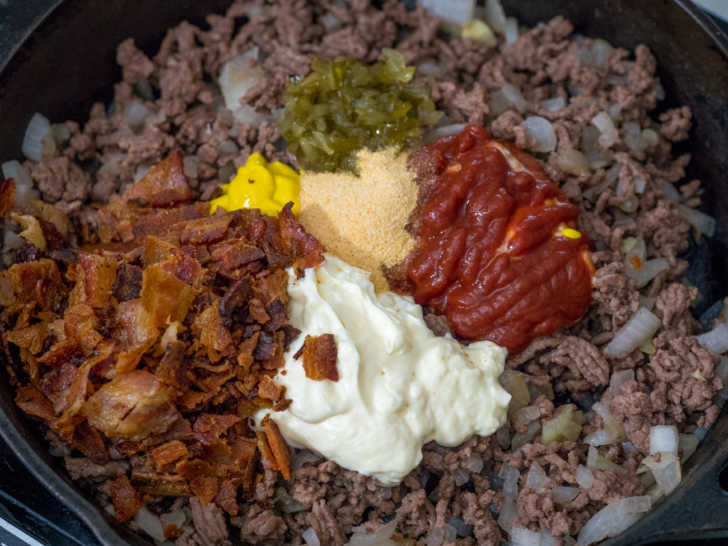 That gets spread over the slices of bread and topped with two kinds of cheese. (Mozzarella for melting ability and cheddar for flavor.)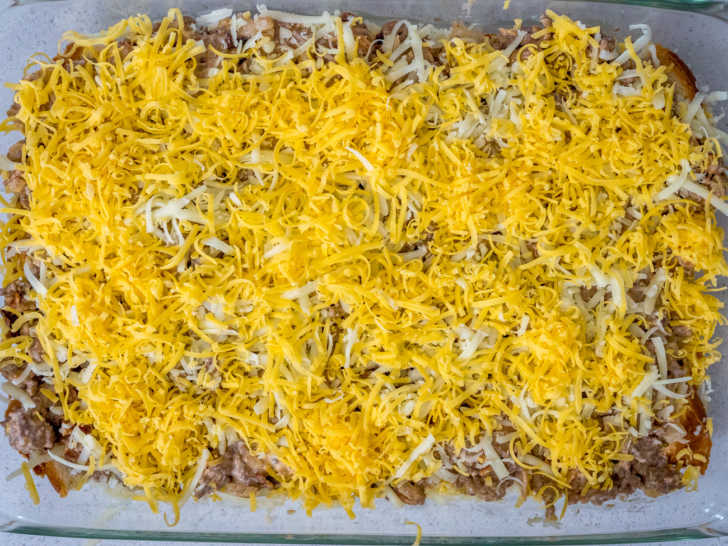 Then you top it all off with more buttered bread.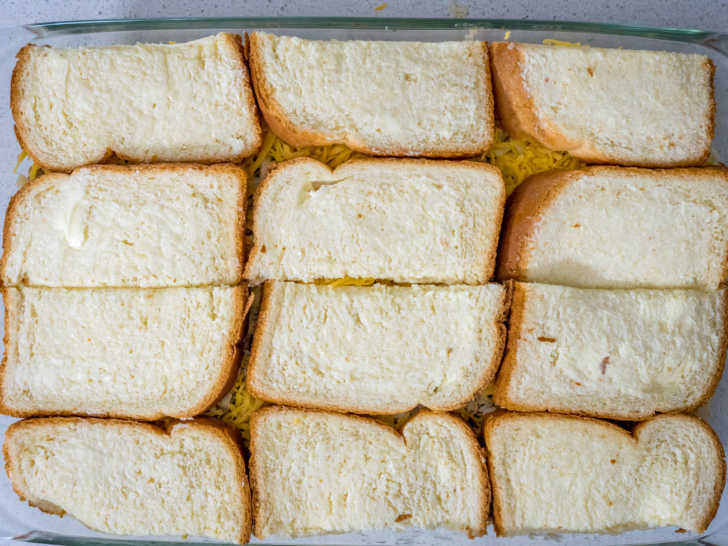 And it all bakes until the bread is toasted and golden brown and the cheese has melted into the hamburger mixture so everything is one very messy but very delicious component. (Go ahead and use a fork – it's a casserole, after all, not a handheld sandwich.)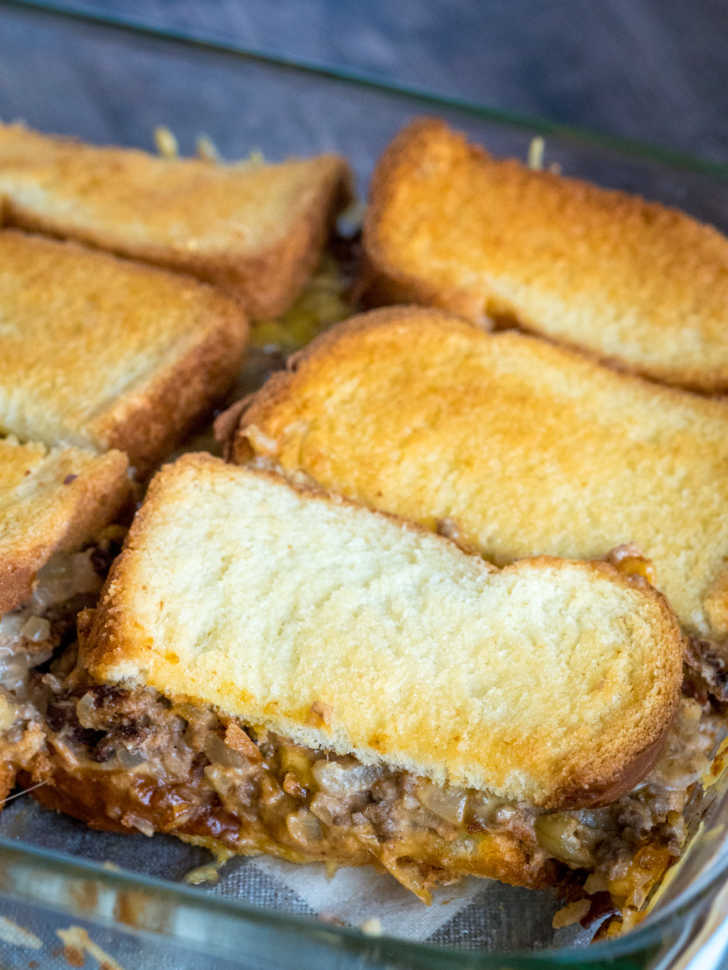 The bread on the bottom is softer but still sturdy while the top layer is crispy. The center? Well, that's all about ooey-gooey cheesiness and salty bacon and beef. While sandwiches are a great answer for quick lunches or picnics, this dish does what a casserole does best – it sticks to your ribs in the most comforting way.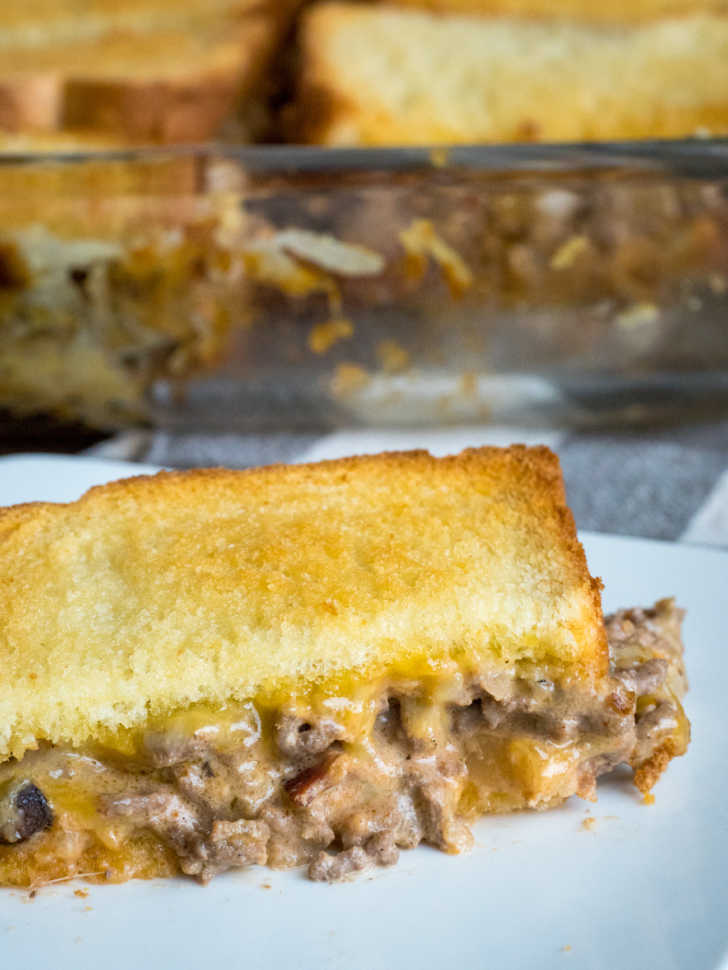 Bacon Cheeseburger Grilled Cheese Casserole
Serves 6
15m prep time
20m cook time
Ingredients
1 lb lean ground beef
1 small yellow onion, diced
1/2 cup bacon, cooked and chopped
1/4 cup mayonnaise
1/4 cup ketchup
1 tablespoon yellow mustard
1 tablespoon sweet pickle relish
2 teaspoons onion powder
12 slices white bread
1/2 cup (1 stick) butter, softened
2 cups mozzarella cheese, grated
2 cups cheddar cheese, grated
Kosher salt and freshly ground black pepper, to taste
Preparation
Preheat oven to 400°F.
In a large skillet over medium-high heat, season ground beef and cook until almost cooked through.
Drain any excess grease, add onions, and cook until softened, about 3 more minutes.
Remove pan from heat and stir in bacon, mayo, ketchup, mustard, and onion powder. Season with more salt and pepper if needed.
Spread the butter over 6 slices of bread and cut each slice in half. Lay pieces butter side down in a 9x13-inch baking dish.
Top with half of each cheese and then spoon beef mixture on top. Sprinkle remaining cheese over the top.
Butter the remaining slices of bread and again slice them in half. Arrange bread butter side up on top of the cheese.
Bake until bread is golden brown and cheese has melted, 20-25 minutes. Enjoy!
Recipe adapted from This Is Not Diet Food.
SKM: below-content placeholder
Whizzco for 12T