A cross between soup and risotto, risi e bisi is an easy peas-y light meal!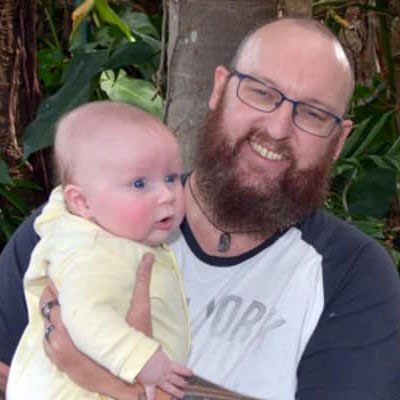 Jono Elderton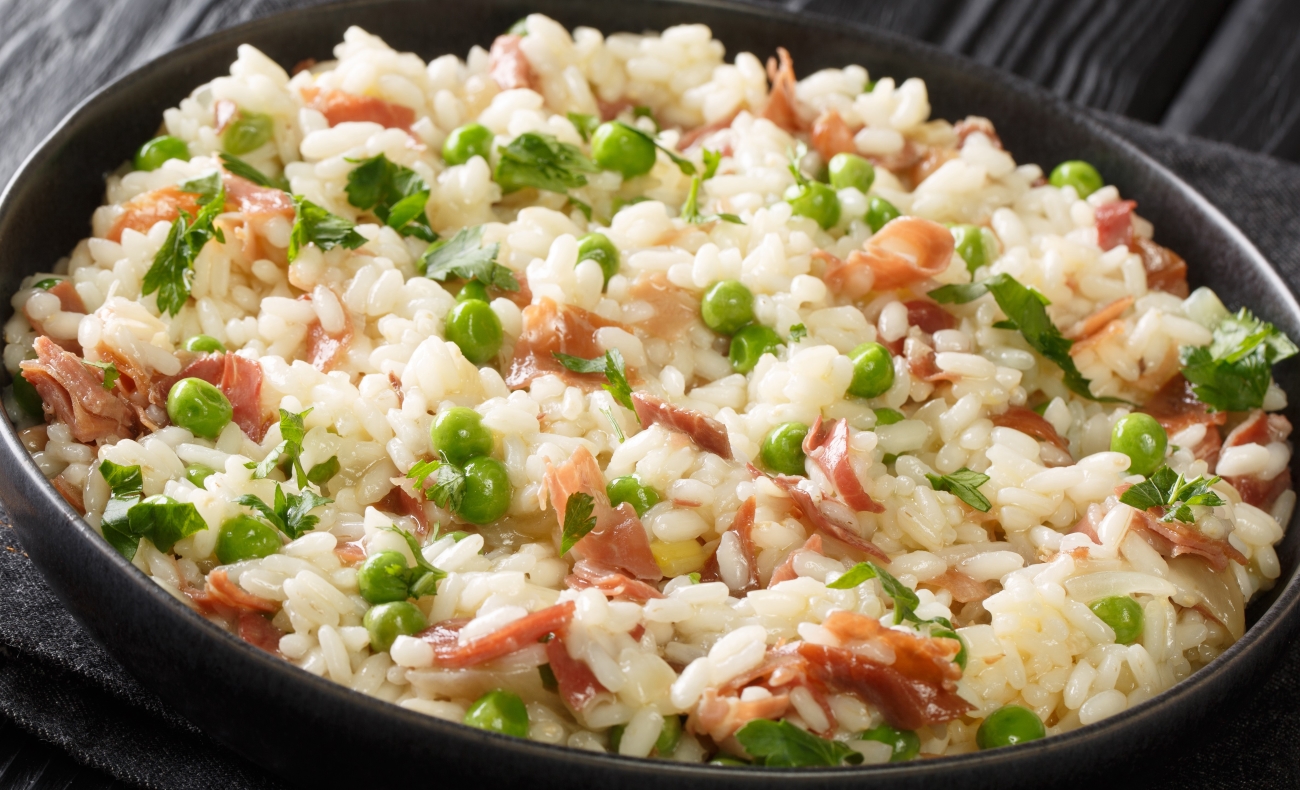 Risi e bisi (Italian rice and peas) exists in the space between soup and risotto, offering a delicious light meal that's light on ingredients but chock full of taste. There are many different variations on this Venetian spring favorite; I've opted to work on a version containing white wine, citrus, butter, and prosciutto. The recipe below maximizes the tremendous array of rich flavors, while also providing a blueprint for you to scale back should you wish to simplify the meal's taste or craft a more health-conscious dish.
There is a systematic process when making the perfect Venetian rice. It's quick and logical, so if you prepare in advance – each ingredient at the ready – the recipe takes little stress to create, and you'll be tucking in after just 35-40 minutes. You can even enjoy a crisp glass of wine as the cooking wraps up! The finished product can be tailored to your preference as a saucier soup style final dish, or a thicker, creamier risotto (my family prefers the latter).
Starting with quickly frying prosciutto (or bacon, which is thicker and more distinctly salty) each step brings about the addition of the next flavor element while building on the pieces already there. Arborio rice works as the bedrock of the meal, soaking up and folding in every ingredient as it cooks, whether it's traditional Italian herbs and spices, contrasting liquids, and creamy butter.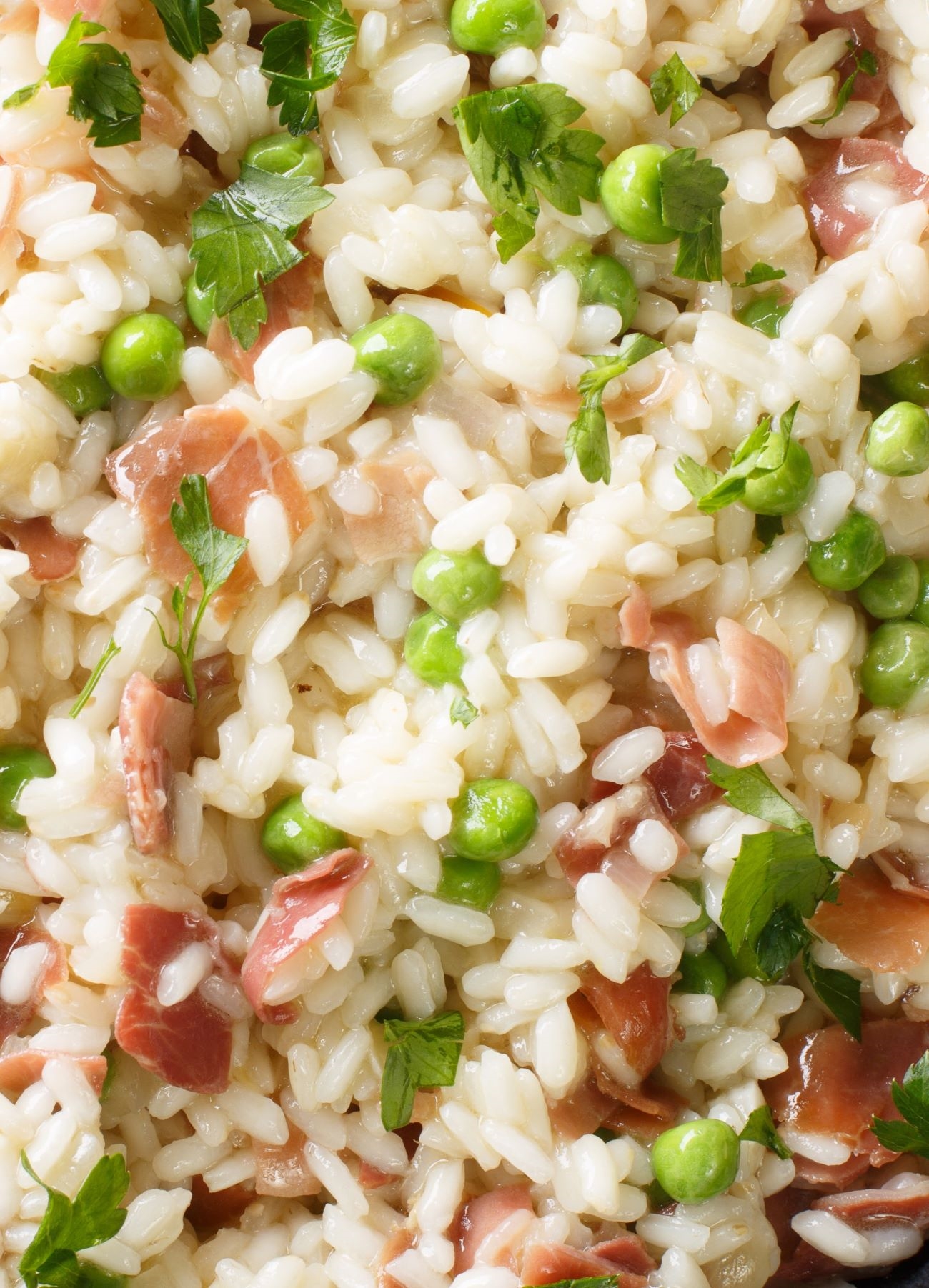 As I like to do with many meals that soak up liquid, replacing water with stock or wine (or both) makes a huge difference to the end result, infusing the dish with complementary flavors that you can identify and savor on the palate. In Venetian rice, dry white wine works to add depth and a hint of minerality alongside tart citrus and butter, while the stock becomes a part of the Arborio rice, creating delicious pockets of flavor.
As for the peas, if you can work with fresh peas and fold them in at the end of cooking, I would highly recommend doing so because they pop with refreshing vibrancy, while contrasting the salty prosciutto with freshness. If not, preparing frozen peas to be at room temperature when added to is the best alternative for your risi e bisi. Their presence within the meal is strongest if the peas don't have to be cooked, just added at the end and stirred through the rice.
Risi e bisi is a family favorite meal because it's simple to make and suitable for any time of year, as a flavorful dish that doesn't feel heavy. Plus, you can put it together with everyday items you'll likely have available, great when the kids are being picky or you don;t know what you want. If we don't have prosciutto, we always have bacon!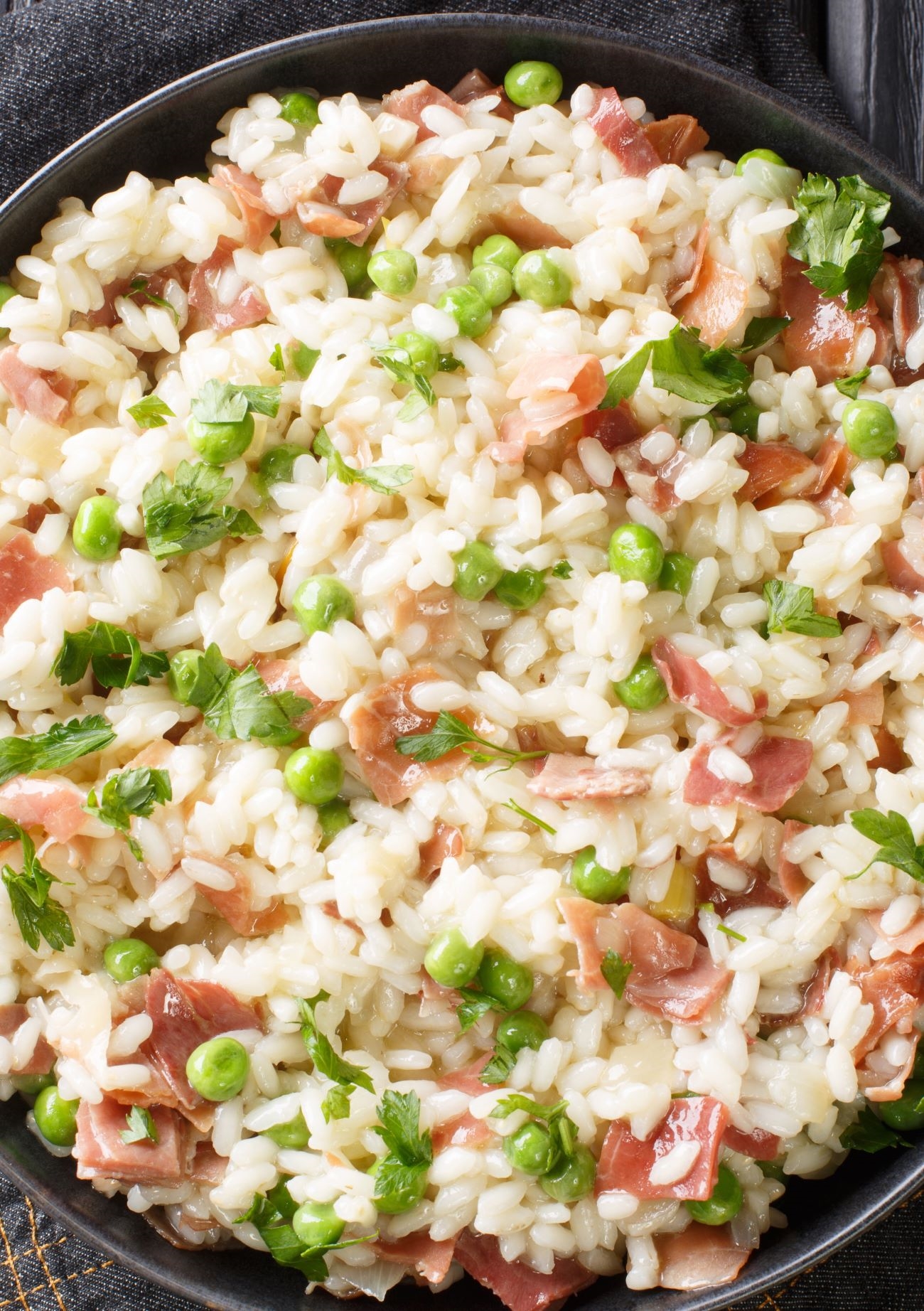 Venetian Rice (Risi e Bisi)
Serves 4
10m prep time
30m cook time
Ingredients
2 tablespoons olive oil
2 shallots, chopped finely
2-3 teaspoons minced garlic
4-6 oz prosciutto, chopped roughly
1 1/3 cups Arborio rice
2 1/2 cups chicken broth
1/2 cup white wine (preferably dry)
1 cup frozen peas (at room temperature)
2 tablespoons lemon juice
1 oz unsalted butter
1/2 cup fresh parsley, chopped finely
1/2 cup grated parmesan cheese
Kosher salt and black pepper, to taste
Preparation
Place the chicken stock in a saucepan over medium-high heat. Bring to the boil, then reduce heat to low and hold at a simmer.
Heat the olive oil in a large pan over medium-high heat. Cook the prosciutto, shallots and garlic, stirring continuously, for 2 minutes.
Reduce pan heat to medium. Stir in the arborio rice and cook for 1 minute, then add the white wine. Cook, stirring, for 1 minute, or until liquid is almost absorbed.
Add 1/2 a cup of chicken broth from the saucepan, using a ladle. Stir until liquid is absorbed. Continue gradually adding stock, with the rice absorbing liquid before adding the next batch.
Cook for 20 minutes. Make sure the rice looks creamy, and grains are tender yet firm to the taste.
Remove rice from heat. Add peas, butter, lemon juice, parsley and parmesan cheese, stir to combine then cover for 1-2 minutes. Season with salt and pepper, stir again, then serve.
Recipe adapted from Skinny Spatula
SKM: below-content placeholder
Whizzco for 12T