Holy smokes, this is so cheesy!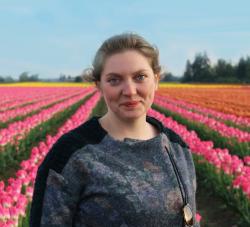 Decatur Macpherson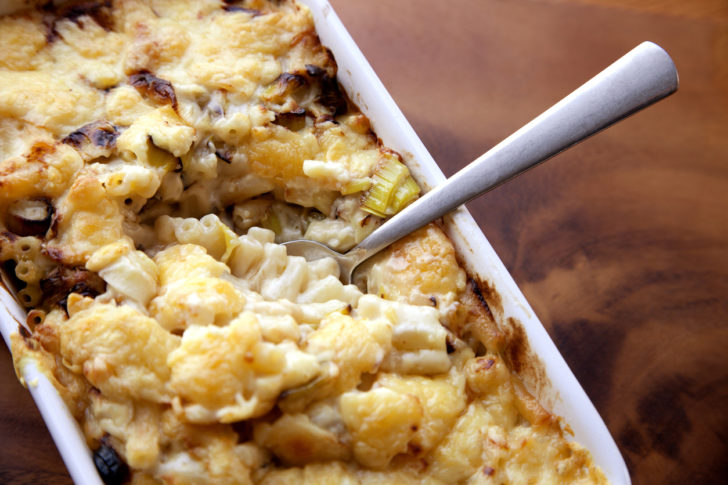 All right, we've tried a lot of macaroni and cheeses in our time – just about every variety, or so we thought…. The cauliflower-packed versions, the store-bought iterations, the Martha Stewart staples, we love giving them each a shot (and have found ourselves totally hooked on many of them), but thought we'd kind of exhausted all possible options in terms of reinventing the classic dish. That was, until we realized we hadn't really tried a recipe where veggies were totally integral to this dish. Unlike cauliflower, we weren't trying to put vegetables in here, hoping no one would notice them, we wanted these veggies to shine!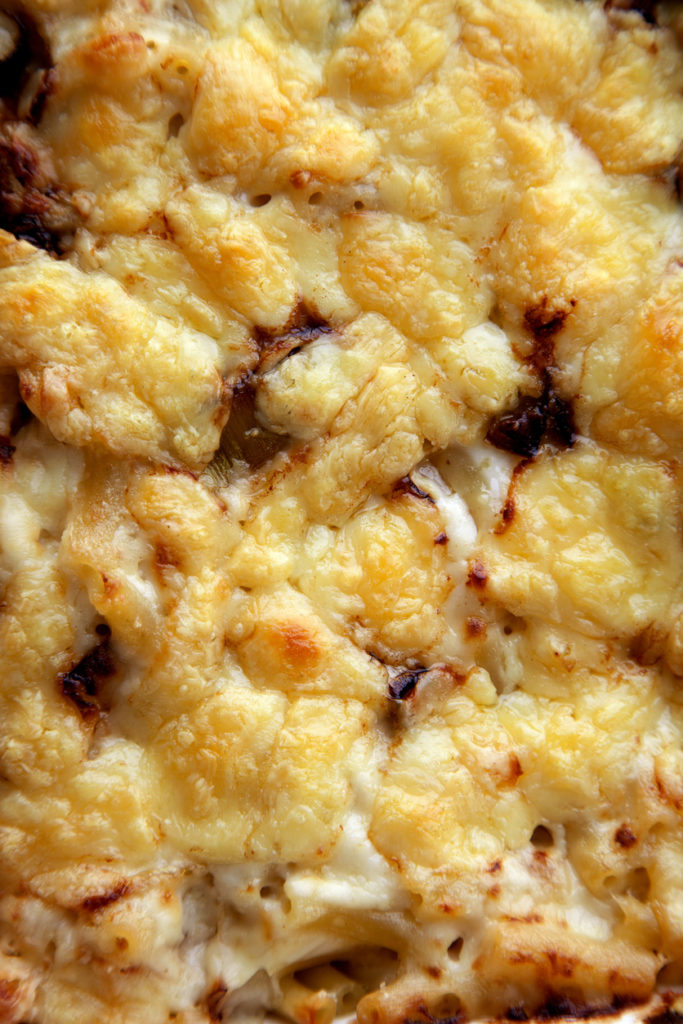 Obviously, in order to sell this to the die-hard mac and cheese fans in our life, we had to make sure the cheesy sauce – i.e. the most important part of the whole thing – lived up to everyone's standards. Similar to our other favorite versions, we made a roux-based sauce and then added ridiculous amounts of cheese. Yum, can't go wrong with tons of cheese! And to that we added our perfectly sautéed veggies and cooked pasta. Sautéeing the vegetables first ensures you don't get weirdly crunchy bites interspersed between your al dente noodles, plus, we season them up and brown them just a little, so you get a great, round depth of flavor that will have you hooked. Seriously, our kids didn't even realize how many veggies we packed in here!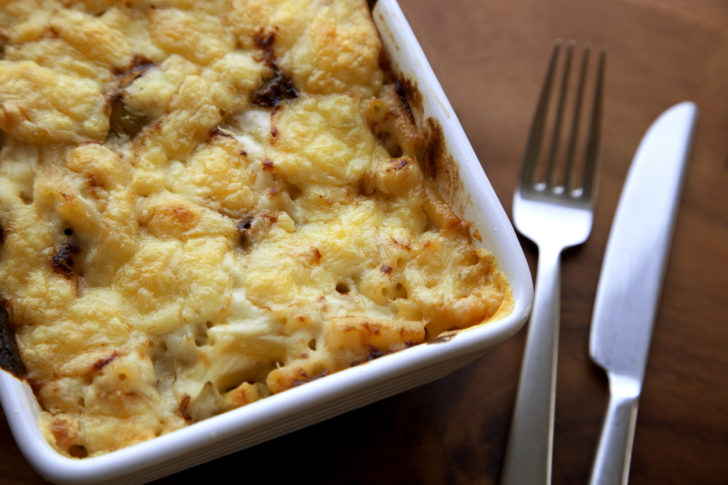 This dish is a little bit of work and you do end up using a couple dishes throughout the process, but please don't let that stop you! (And definitely wrangle someone else into doing the dishes.) We can't begin to explain how yummy this is, or impress upon you enough how glad you'll be that you made this. Bonus: it freezes exceptionally well, so if you happen to make it and freeze it, people will be praising your name weeks down the line when they take their first bite!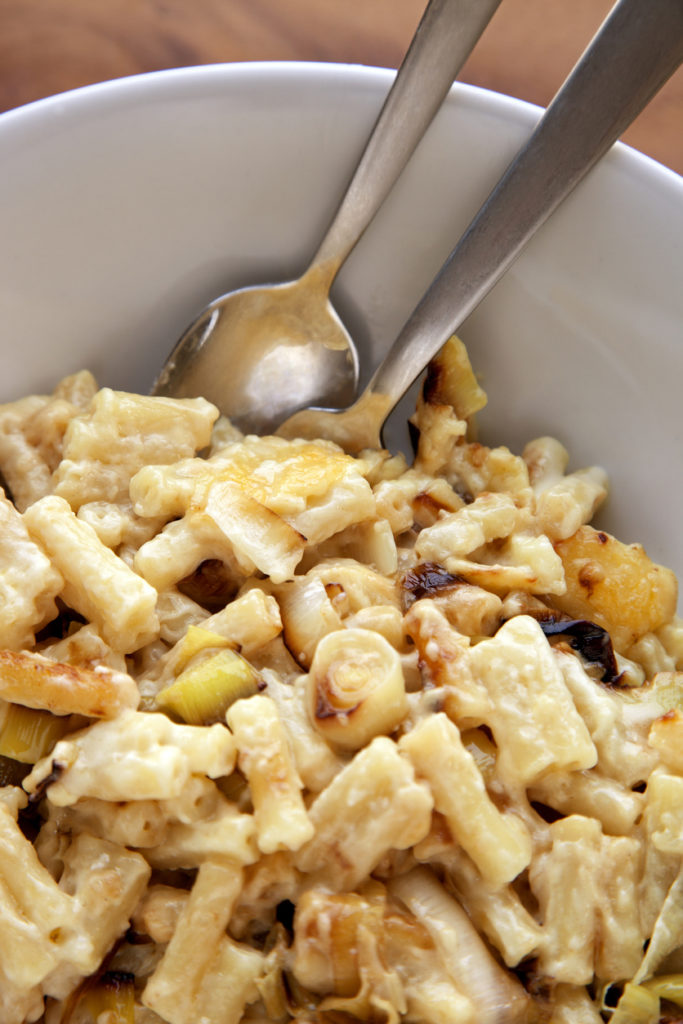 Veggie Mac and Cheese Bake
Ingredients
1 (16 oz.) package tube pasta or elbow macaroni or shells
1 yellow onion, chopped
2 leeks, chopped, optional
1 potato, diced or sliced
3/4 cup baby portobello mushrooms, optional
1 teaspoon salt
1/2 teaspoon pepper
1/2 teaspoon garlic powder
2-3 tablespoons extra-virgin olive oil
Sauce:
1/4 cup (1/2 stick) unsalted butter
1/4 cup all-purpose flour
1/2 cup heavy cream
1/2 cup whole milk
1 1/4 cups sharp cheddar cheese, grated, divided
3/4 cup gruyere cheese, grated
1/2 teaspoon salt
1/4 teaspoon pepper
1/4 teaspoon nutmeg
Preparation
Preheat oven to 350º F and lightly grease baking dish (9x13-inch, or other, depending on what you have) with butter or non-stick spray.
Bring a large pot of salted water to boil and cook pasta 1-2 minutes less than package instructions.
Drain, rinse with cool water and set aside.
Heat olive oil in a large pan or skillet over medium-high heat and sauté potato for 10 minutes, then add onion, leek and mushrooms until softened. Potatoes should be fork tender.
Season with salt, pepper and garlic powder, then remove from heat and set aside.
In a separate, large saucepan, heat butter over medium heat until melted.
Whisk in flour and cook, stirring frequently, until lightly browned and smooth, 2-3 minutes.
Season with salt, pepper, and nutmeg, then slowly whisk in heavy cream and whole milk.
Continue to cook until mixture is smooth and slightly thickened, then stir in 3/4 cup cheddar cheese and all of gruyere, whisking until melted.
Stir cooked pasta and sautéed veggies into cheese sauce, until everything is thoroughly coated, then transfer to greased baking dish.
Top with remaining cheddar cheese, then place in oven.
Bake for 35-40 minutes or until top is melted and bubbly and dish is warmed throughout.
Remove from oven and serve hot.
SKM: below-content placeholder
Whizzco for 12T