If you've ever ordered a Caesar Salad in a restaurant and been disappointed because of some aspect of the dressing, we've got the perfect recipe for you. Sometimes the dressing is too creamy, sometimes it's too "anchovy-y" — sometimes there's just too much of it, period. Instead of taking your frustration out on the salad itself, consider making your own from scratch and, while you're at it, change up the ingredients and add some grilled shrimp instead of chicken. Caesar Salad is one of the best recipes to make at home because you know what's going into it and how to cater to your own taste — although we don't think you'll have to change too much of this recipe for it to taste just right — and you'll have made one of the best Caesar salads you've ever had!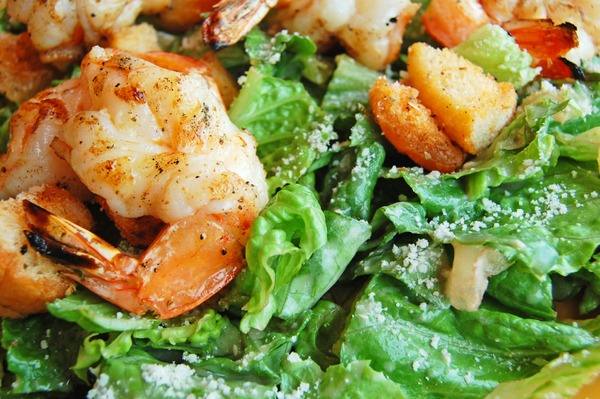 Grilled Shrimp Caesar Salad
(Serves 2)
Ingredients
Shrimp:
1/2 pound shrimp, peeled and deveined (10-12 shrimp)
1-2 tablespoons fresh lemon juice
2 cloves garlic, crushed
1 1/2 teaspoons lemon zest
1 tablespoon olive oil
salt and freshly ground black pepper, to taste
Salad:
4 cups romaine lettuce, roughly torn or chopped
2 tablespoons pasteurized egg substitute
1 clove garlic, minced
1-2 tablespoons olive oil
1/4 cup parmesan cheese, very finely sliced or grated
1 teaspoon anchovy paste (optional)
1 tablespoon fresh lemon juice
dash of Worcestershire sauce
1/4 teaspoon Dijon mustard
salt and freshly ground pepper, to taste
Croutons:
4 pieces French bread
1 tablespoon olive oil
1 clove garlic
salt and pepper, to taste
Directions
Preheat oven to 325∫ F.
Halve your garlic and rub cut sides on all sides of the bread slices.
Cut your bread into 1/2-1-inch cubes and drizzle with olive oil, then add salt and pepper.
Place bread cubes on baking tray in a single layer and bake for 10 minutes, or until golden and crisp.
In a pan, over medium heat, add olive oil and wait until hot before adding shrimp, crushed garlic cloves, lemon zest and salt and pepper. Cook until shrimp is opaque, 2-3 minutes per side. Take off heat, remove garlic cloves, drizzle with lemon juice and set aside.
For the salad dressing, combine and mix all of the ìSaladî ingredients except the lettuce and parmesan. Add in the romaine and croutons and toss well. Add shrimp and, if needed, adjust seasoning.
Garnish with Parmesan cheese on top.
Recipe adapted fromFine Cooking
SKM: below-content placeholder
Whizzco for 12T