If you've ever had a poke cake, then you can attest to how delicious and moist they are! Plus, these cakes are easy to throw together for an effortlessly tasty dessert that's sure to be a crowd-pleaser. If you're unfamiliar with this style of cake, it's basically a regular cake with holes poked on top (hence the name) and some sort of filling poured over.
Another reason I love these cakes is that the recipe is so versatile! Once you have the process down pat, you can really substitute the cake, filling, and frosting to make the perfect poke cake. Let's check out the list below for some great ideas on how to get started!
It's no secret that we love desserts around here. Cakes, cookies, pies, fudge… the list goes on and on. That's why I'm so excited to be sharing this Snickerdoodle Poke Cake recipe! It combines cookies and cake – what's not to love about that? There are all of the delicious flavors of cinnamon sweetness you'd expect to find in a snickerdoodle cookie, but with the added fluffy texture of cake, along with a delicious filling of vanilla pudding. Truly this is a dessert that will impress friends and family alike. Get the recipe here!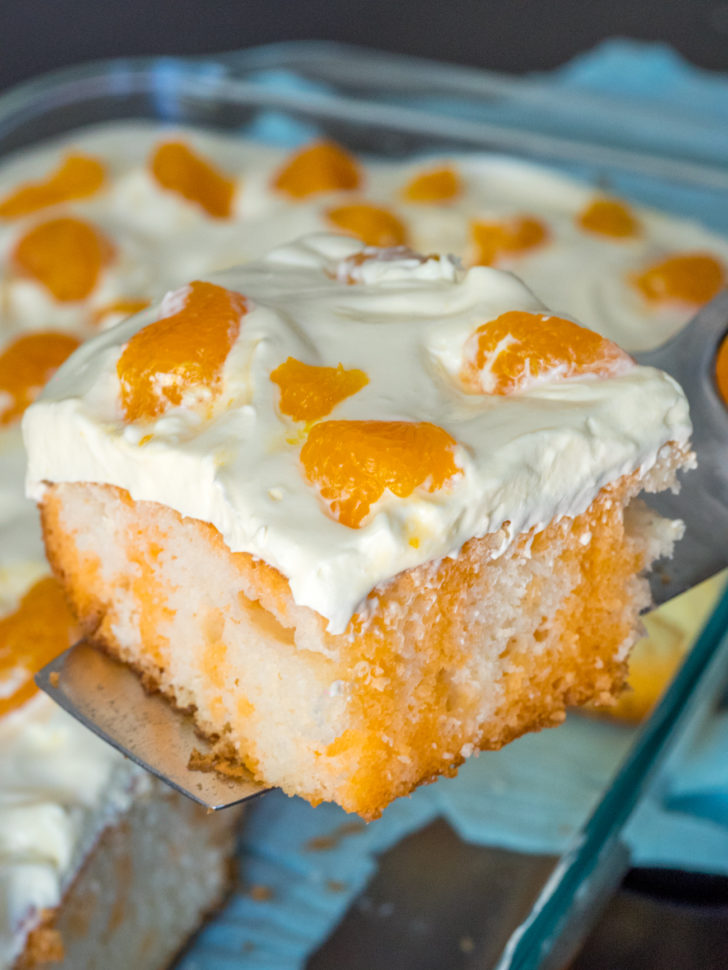 Is there anything more summery than an orange creamsicle?? What originated as a creamy, dreamy vanilla and orange popsicle has turned into a cult favorite flavor combo that we are thrilled to be playing around with, resulting in this delectable, warm weather treat. And not only that, but since we decided to make this version of our creamsicle cake a poke cake, the finished result is just as great to look at as it is to eat! Look at all those cute orange swirls – it's like an orange tie-dye cake! Get the recipe here!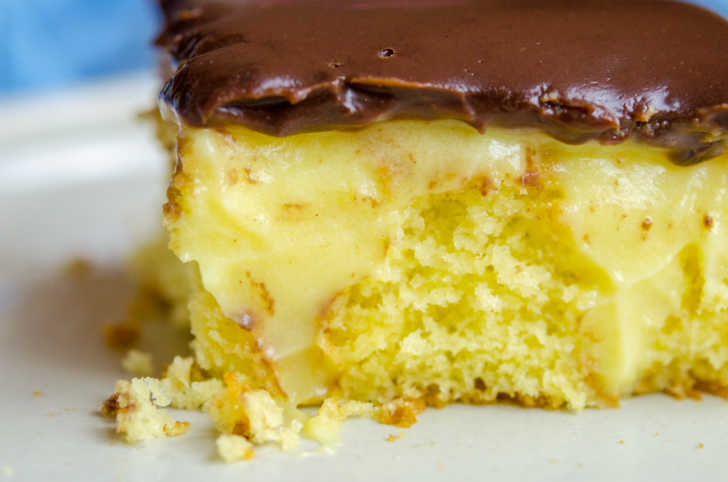 There is no arguing that Boston Cream Pie is a delicious thing. Where the confusion comes in is why a layer cake is called a 'pie.' While we can't totally solve that conundrum (more on that later), we have managed to make a super easy poke cake version of the Bostonian favorite. Translating it to a poke cake means that the vanilla custard permeates the crumb throughout, so every bite is moist and luscious. (And it takes a whole lot less work too.) Get the recipe here!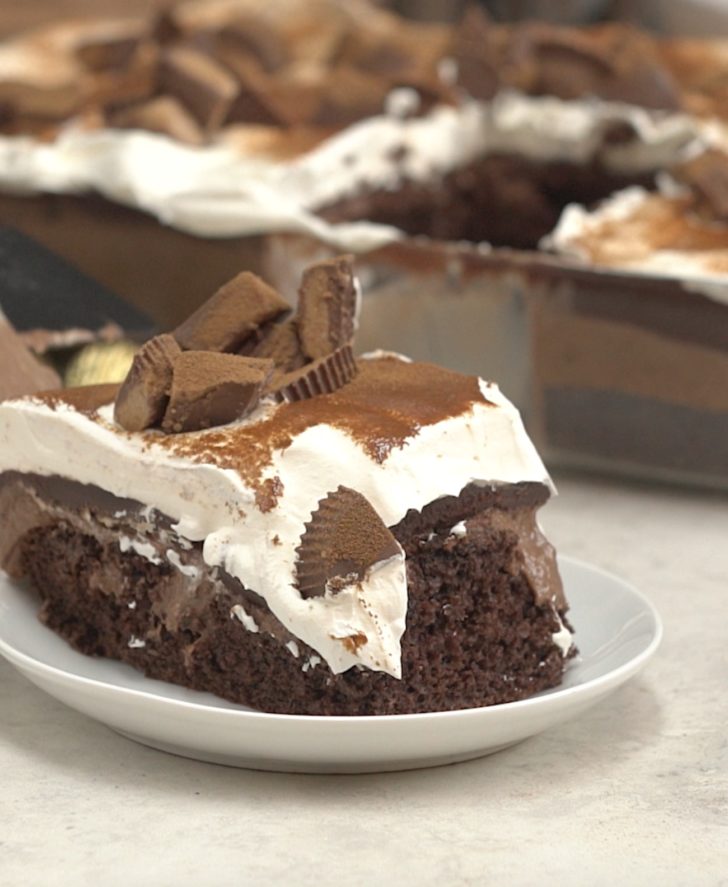 While Reese's peanut butter cups and coffee may not seem like the most obvious combination for a dessert, we promise you that flavor-wise it makes a lot of sense. The espresso powder brings out the chocolate flavor so it's deeper and richer and the peanut butter contrasts beautifully with its creamy and salty nature. The three flavors play together so nicely. And poke cakes are all about layered flavor, so this Reese's Coffee Poke Cake is a dream come true. Get the recipe here!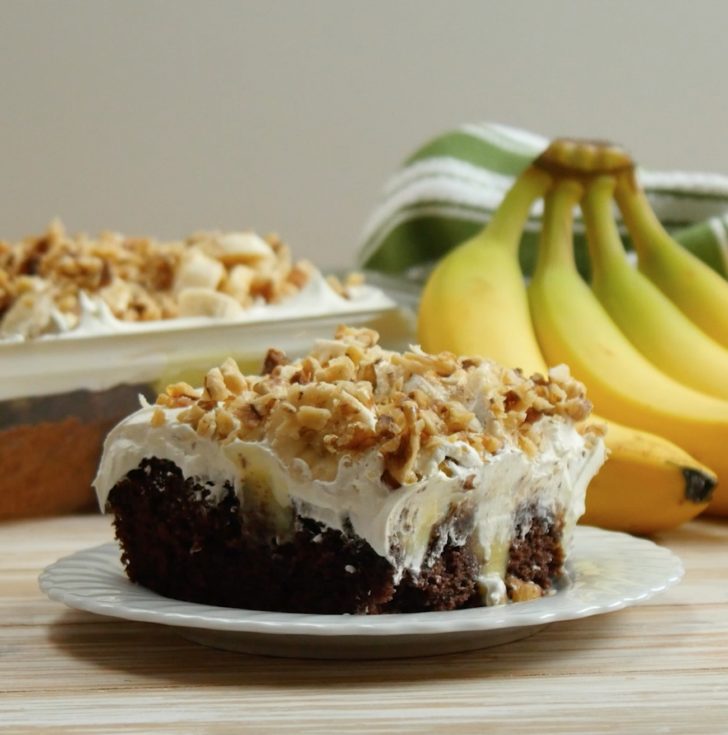 Banoffee pie is a thing that people seem to either love or hate, and we are definitely of the former opinion. Bananas, toffee, and cream (and we like ours with chocolate)… yum. What's not to like about that combo? We're also of the opinion that poke cakes are the perfect vehicle for fun flavor combinations and a banoffee version seemed like it would work perfectly. And it did. We love this cake! Get the recipe here.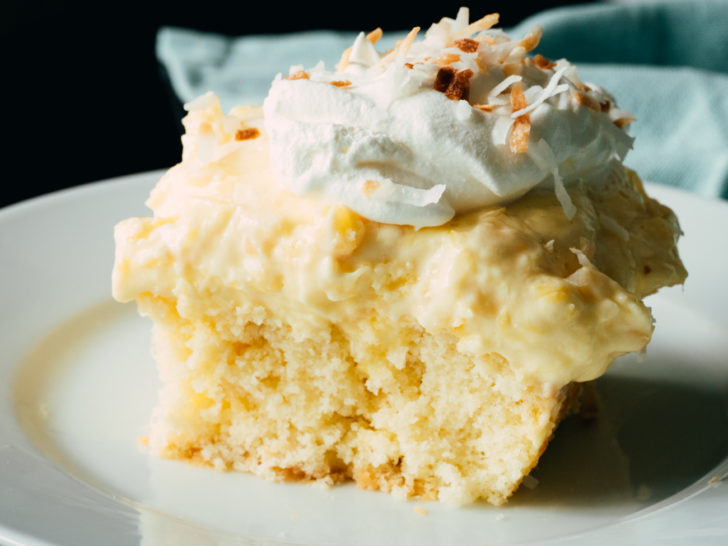 Hawaiian poke cake couldn't be simpler, and we love the citrusy freshness that oozes into every bite. Topped with a cool and creamy whipped topping with crunch from toasted nuts and sweet coconut flakes, this cake is a dessert lovers dream. Store bought supplies help to make this a pretty easy cake to whip up, and with a little finesse, it looks scratch made and tastes extra delicious, perfect for a bake sale or office party, even a pot luck dessert. It has just the right amount of fancy and all the right amount of goodness in each bite. Get the recipe here!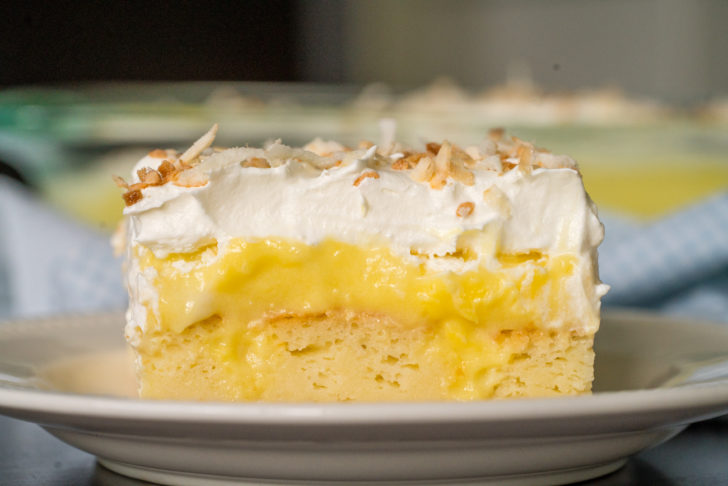 Whether you make this for the ultimate summer cook-off or you need a reminder that the summer months aren't too far away and make this in January, there's no bad time for it. You could switch up flavor combinations and add pineapple or mango, but we love the undiluted coconut flavor that we get with each bite; that's why adding the coconut cream is so important. We prefer it to coconut extract, since it's less artificial tasting, plus incorporating it into both the cake and the pudding makes for a double whammy when you bite into it later! Trust us, you can't go wrong with this and you'll be so glad you made it! Get the recipe here.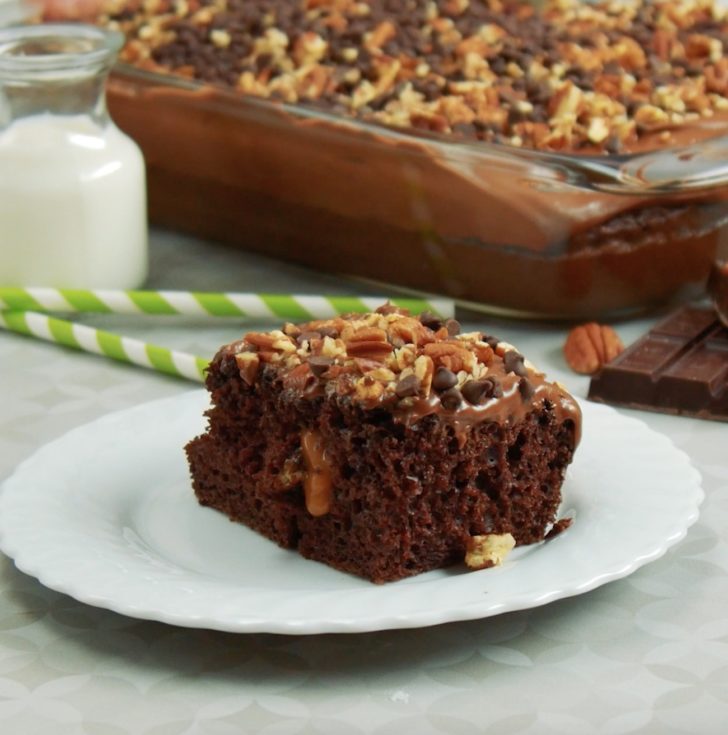 Don't worry, no turtles were harmed in the making of this cake. We're talking about the candy… You know, the one with pecans and chewy caramel coated in chocolate? It's a combination everyone loves and we thought it would be just perfect for an easy poke cake. (And we were right!) This czke has a ton of chocolatey flavor coupled with gooey caramel throughout and topped with crunchy pecans (and more chocolate). It's really, really delicious. And it couldn't be easier! Get the recipe here.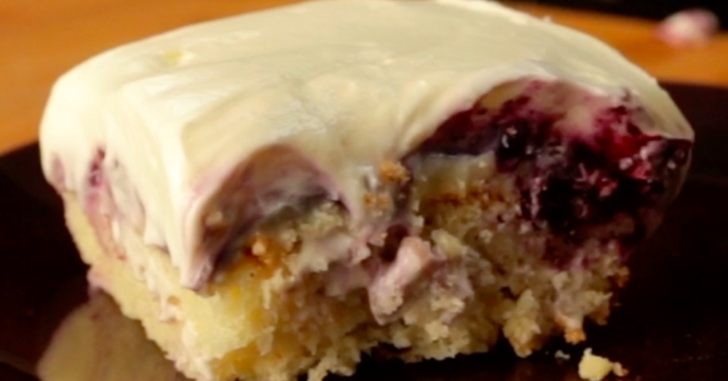 Whether it's the hottest day in July or the most freezing day in January, we frequently get cravings for this cake and there's no way to satiate them but to make it immediately. We make the blueberry sauce/topping ourselves, but you could just as easily use blueberry jam. Regardless of whether it's homemade, the blueberries pair perfectly with the cheesecake filling that soaks down into the warm cake. This dessert is decadent bliss, so make a quick trip to the store if you need to and try it out! Get the recipe here.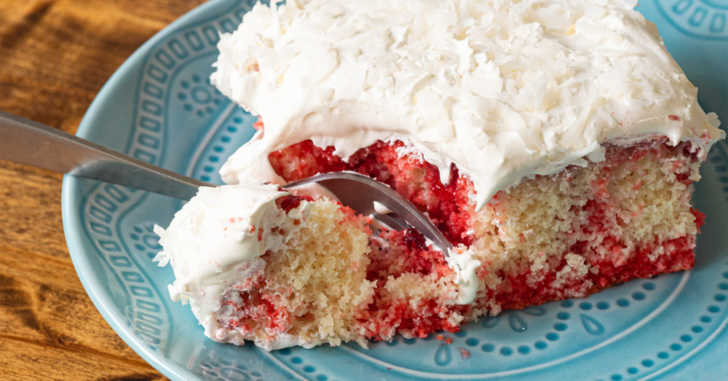 I don't think I've ever had raspberry and coconut in the same dessert, but now that I've tasted this Coconut Raspberry Poke Cake, I can safely say this combo ranks among my top 5 favorites! This recipe is made super simple by using a box cake mix. You can, of course, make the cake from scratch if you have the time and energy, but I'm all about quick and easy when it comes to making desserts! With just 6 ingredients and 5 steps, this poke cake certainly qualifies as both of those. Get the recipe here!
SKM: below-content placeholder
Whizzco for 12T