This is so much better than ordering take-out!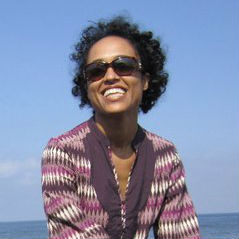 Sarah Cool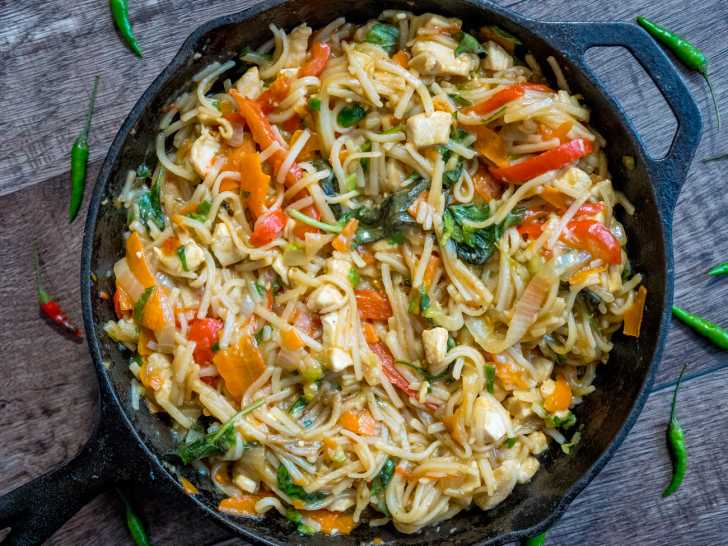 As much as I like to experiment and try new recipes, I've also got a handful that I come back to on a regular basis because they're just so delicious and comfortable. This recipe for Thai drunken noodles is one of those recipes, something that I like to make, well, let's be honest, it's something I like to make because I'll find myself craving these amazing flavors. A rich sauce, a bit of heat from fresh chili peppers, and vibrantly flavorful Thai basil offer a beautiful combination of flavors that make this one truly special, drool-worthy, highly crave-able dish.
This is a meal that comes together pretty quickly. The combination of small-diced meat and veggies, pre-cooked noodles, some great seasonings, and high heat mean that I can enjoy a bowlful of Thai drunken noodles in less than 30 minutes.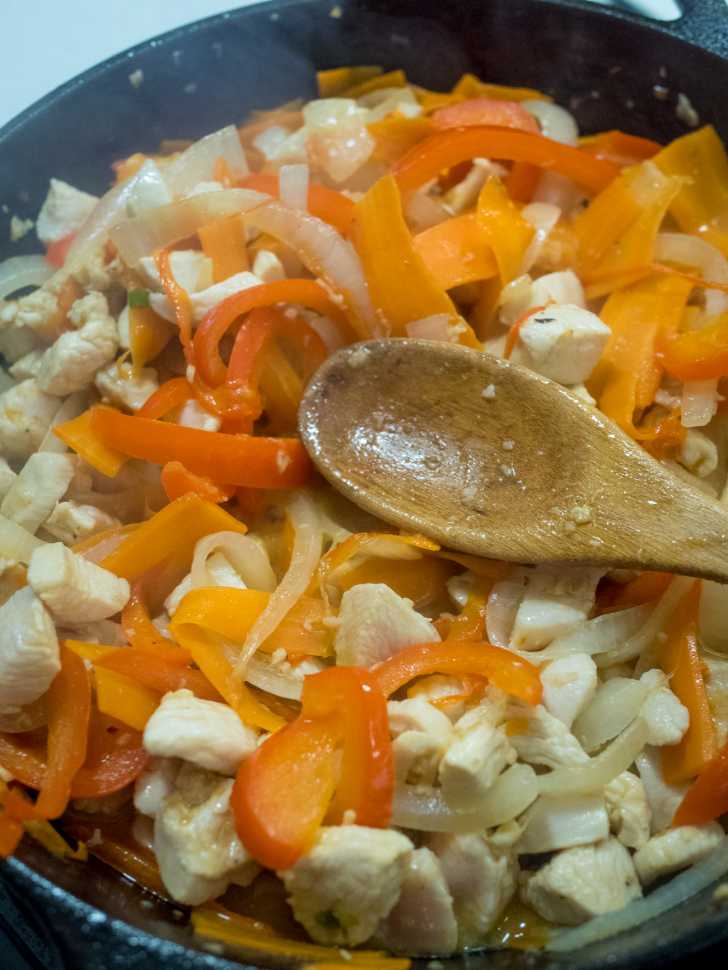 Any good recipe will build layers of flavor, and each layer plays a vital role in the finished product. In the case of these drunken noodles, the first layer of flavor that I need to create is a sauce made with oyster and fish sauce, sweetened with a little bit of sugar and thinned with some water. I'll set this to the side for later. Then I take out a large skillet – if you have a wok you'll definitely want to use it here – and heat up some oil, peanut or sesame oil. I cook up the garlic and chili first, then add the diced veggies and give them a quick sauté, followed by the chicken.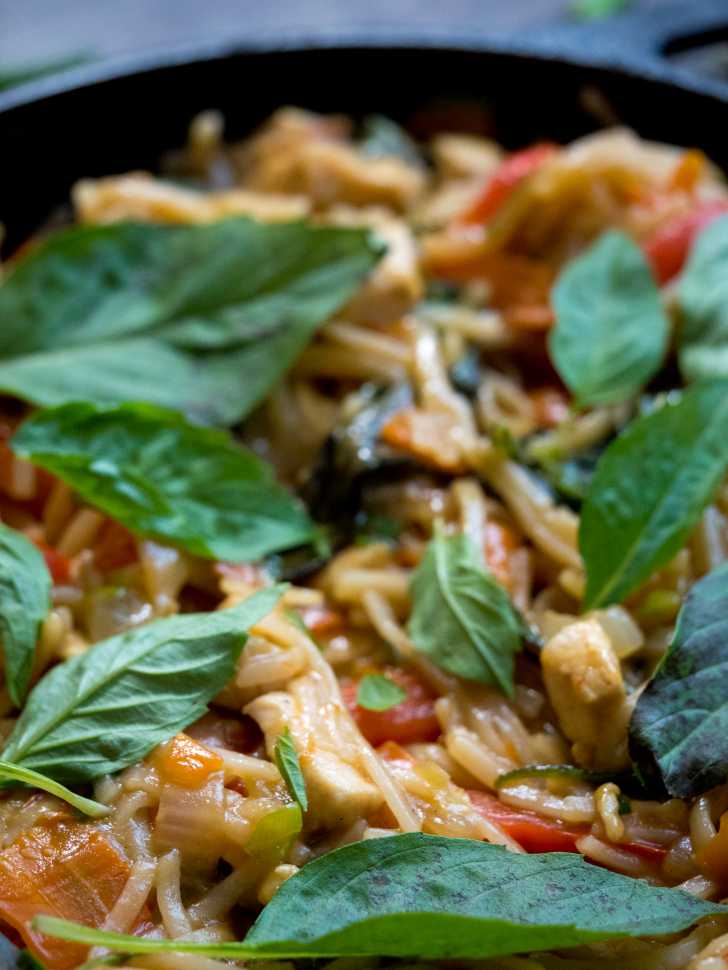 Now it's time for the noodles that I've already cooked and the sauce I made just a few minutes earlier, which is what makes these noodles "drunken." All of these are tossed together in the skillet and my meal is just about ready to be served. I need my garnish of fresh basil. If you can't find Thai basil, then regular basil is a good alternative, but there's just something extra special about Thai basil leaves. Now I'm ready to dive right into a steaming bowlful of Thai drunken noodles. Yum!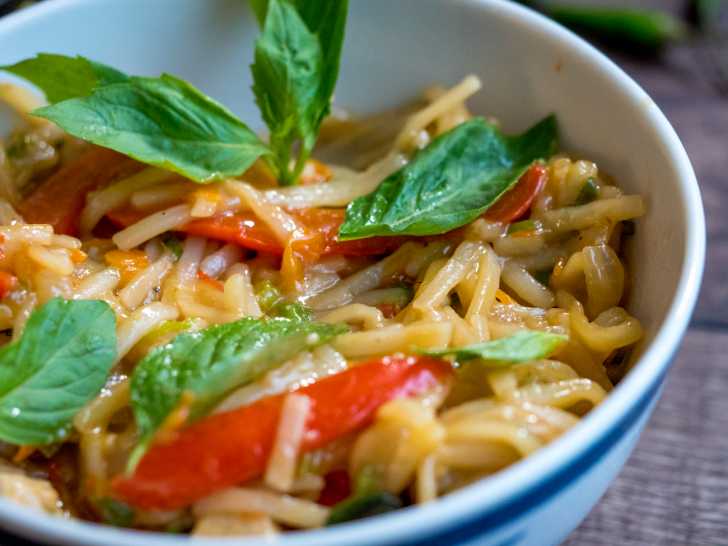 Thai Drunken Noodles
Ingredients
8 oz wide rice noodles
2 tablespoons peanut or sesame oil
3 cloves garlic, minced
2 birds eye chillies, seeded and finely chopped
1/2 white onion, sliced
1/2 lb boneless skinless chicken breast, chopped
2 carrots, cut into ribbons
1 red bell pepper, thinly sliced
1 cup fresh Thai basil or regular basil leaves
2 teaspoons fish sauce
3 green onions, chopped
For the sauce:
3 tablespoons oyster sauce
2 tablespoon fish sauce
2 teaspoons granulated sugar
2 tablespoons water
Preparation
Prepare noodles according to package directions. Drain and set aside.
Meanwhile stir together the oyster sauce, fish sauce, granulated sugar and 2 tablespoons water for the sauce. Set aside.
In a large skillet or wok, heat the peanut or sesame oil over high heat.
Add garlic and chili and cook for just a few seconds. Add onion, carrots, bell pepper, and cook for 2 minutes, stirring frequently. Add chicken and the 2 teaspoons fish sauce, and cook until chicken is cooked through, about 2 minutes.
Add the noodles, green onions, and sauce and cook until sauce has reduced and coats the noodles, 1-2 minutes.
Remove from heat, stir in basil, and serve. Enjoy!
Recipe adapted from Half Baked Harvest.
SKM: below-content placeholder
Whizzco for 12T