This cake is something special.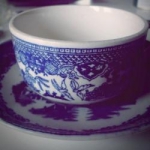 Rose Heichelbech

When you share or print a 12 Tomatoes recipe,
you're making mealtime meaningful.
100%
of the Share to Care sponsor fees fund meals for families in need.
Learn More
CLICK ANY LINK BELOW TO JOIN OUR CAUSE!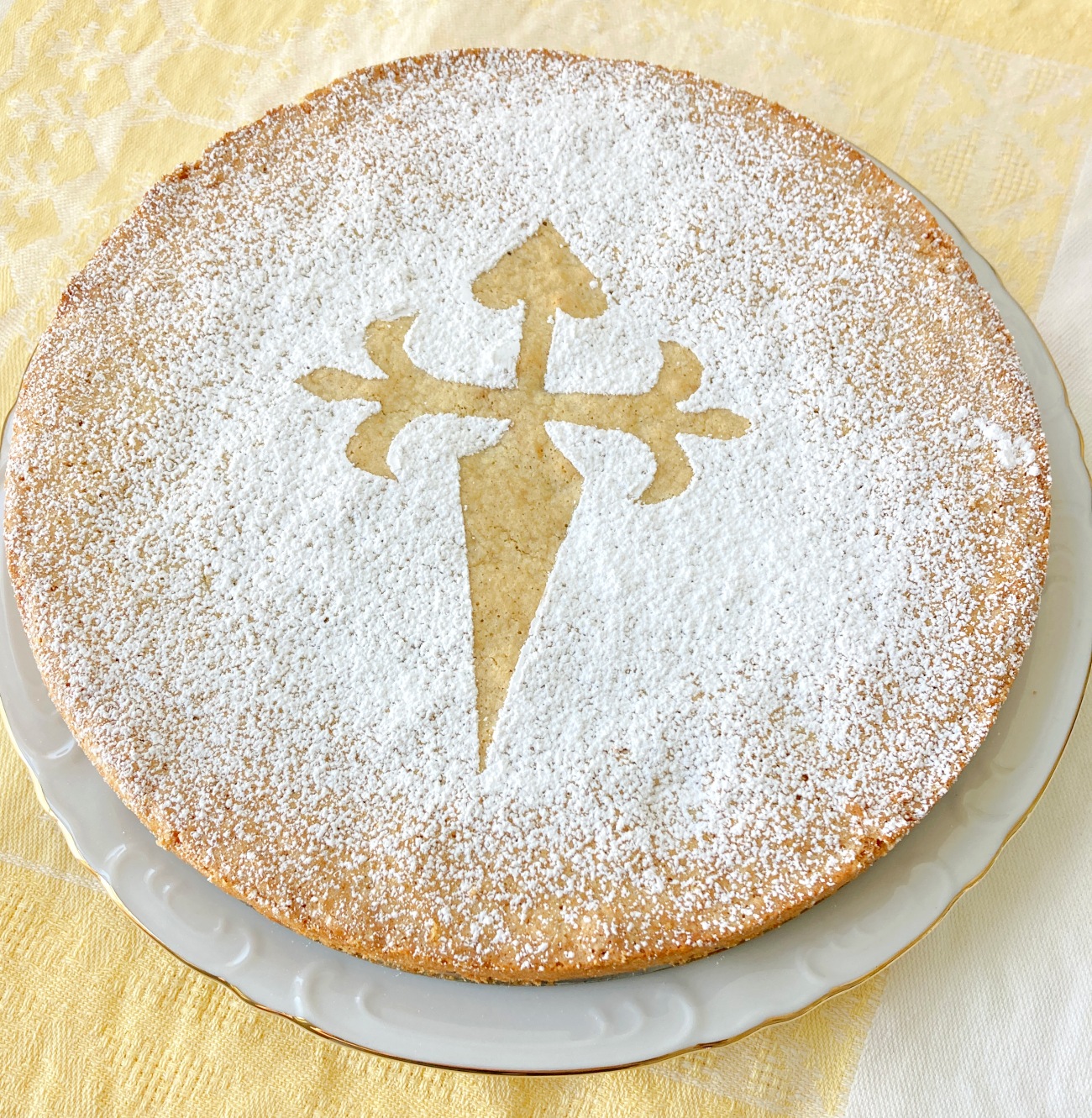 In Spain there is a certain cake that's eaten in and around Galicia where a lot of pilgrimages take place on the Camino de Santiago trail. Weary travelers can indulge in a post pilgrimage treat of a local speciality, the tarta de Santiago. This Spanish almond cake is named for St. James, the national saint of Spain. But, it's also served for weddings and holidays, and in particular is great for Easter.
There are 3 things that really set this cake apart from other desserts. The first is that it's naturally gluten-free- and it's not part of any new fangled food movement. Rather, this cake relies on almond flour for a rich taste and texture that a cake made with wheat flour could only dream of.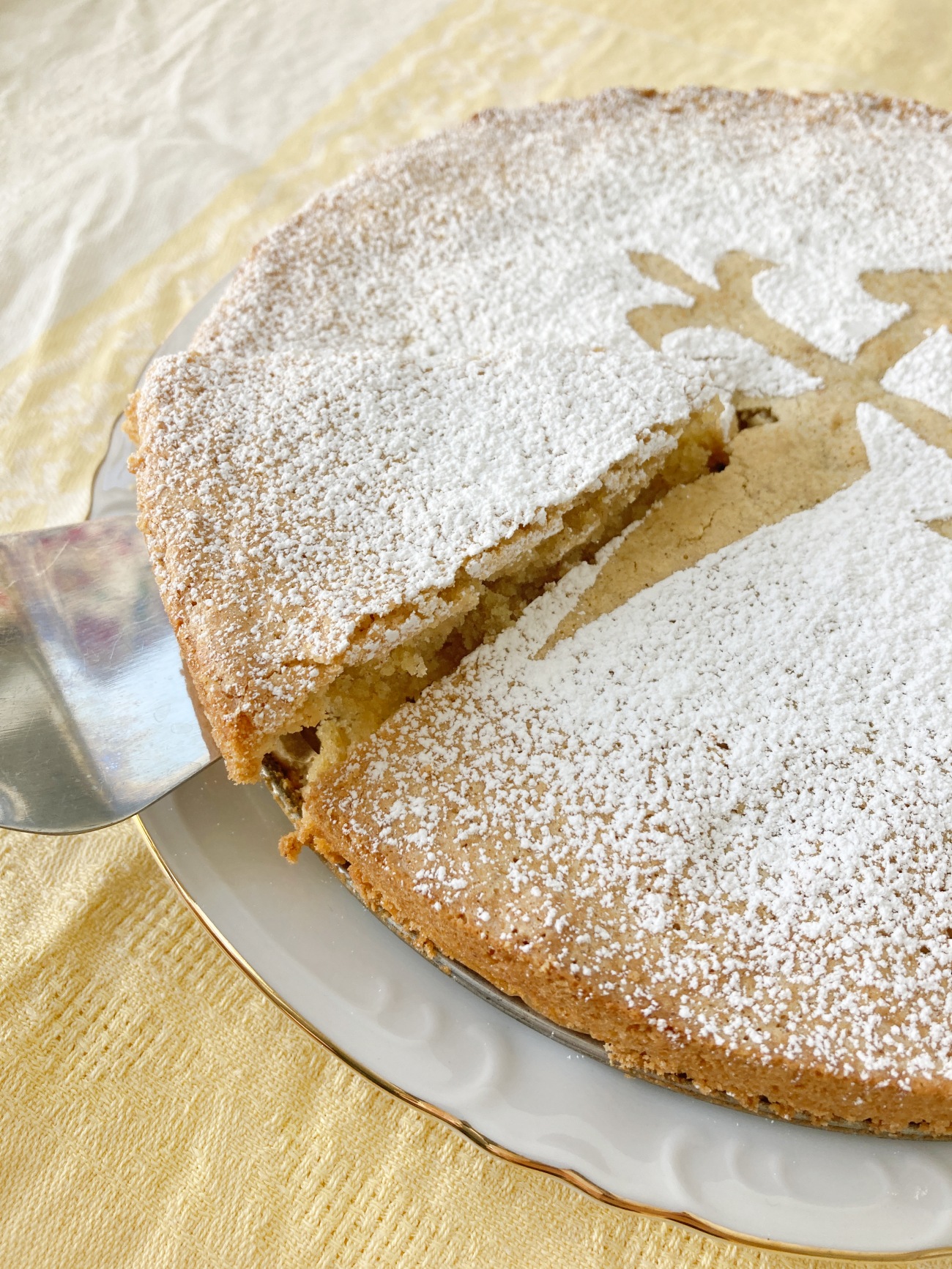 That brings us to the second thing that makes this cake so special, the flavor. There's just a bit of almond extract in it, but a lot of that almond flavor comes from the almond flour itself. It's such a creamy, sweet, addictive flavor!
For this recipe we recommend to only use real almond extract. It's a lot more expensive than the imitation stuff, but the flavor is 10x better. With extracts it's always worth it to get the real deal.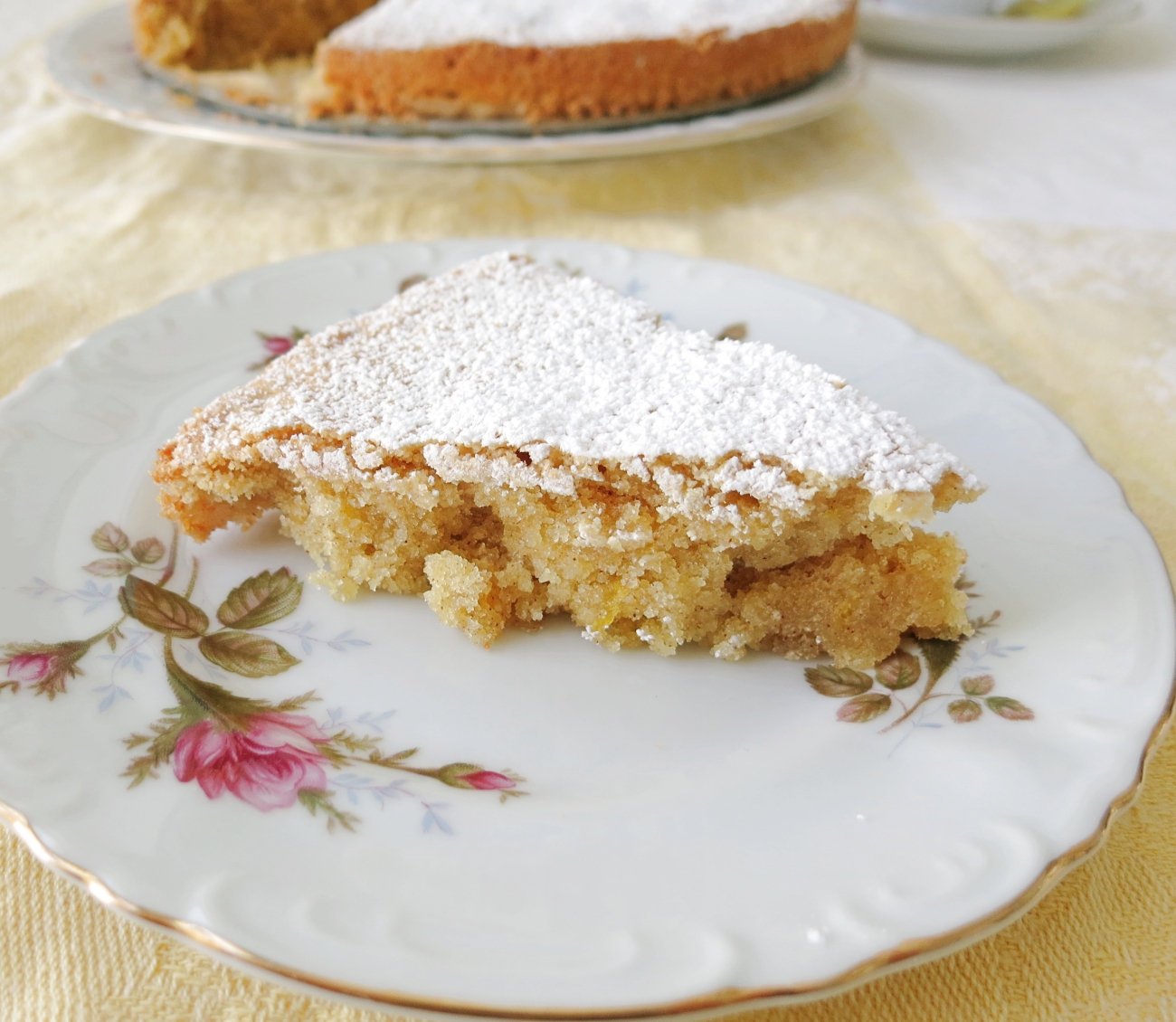 The result of all this almond goodness? Well, this cake is almost like if marzipan and a snickerdoodle had a baby. It's warm, soft, chewy, and very rich tasting.
There's also a bit of cinnamon and some lemon in the cake, a common combination in many Spanish treats.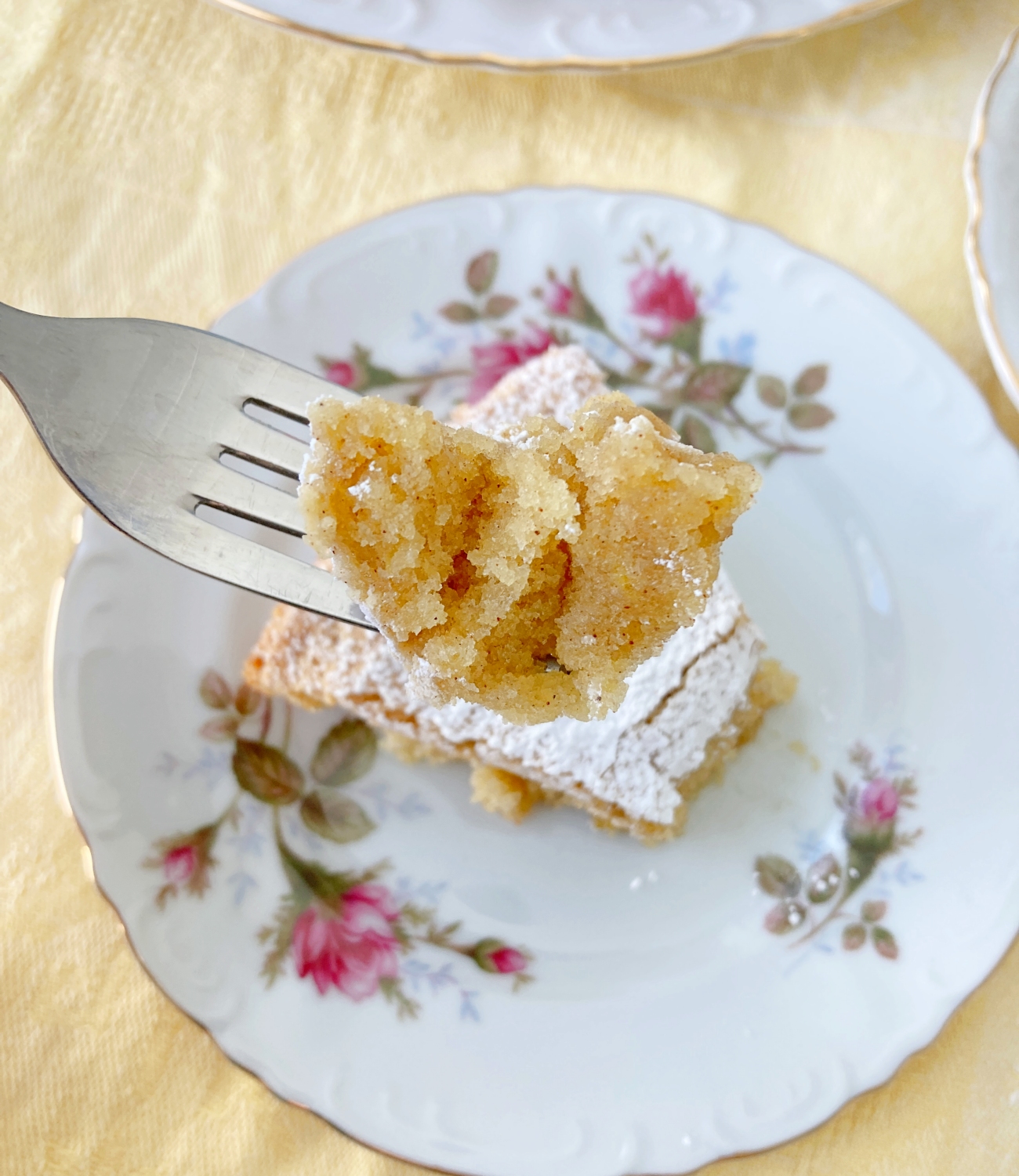 The last thing that puts this cake in a league of its own is the decoration. There's no frosting, no fruit, and no chocolate- just a simple dusting of powdered sugar. But, the top has the design of the Cross of Saint James on top, a traditional symbol of Spain.
To make the stencil I just used a plain, black-and-white image from a Google image search of "St James cross" to cut out my own stencil on printer paper.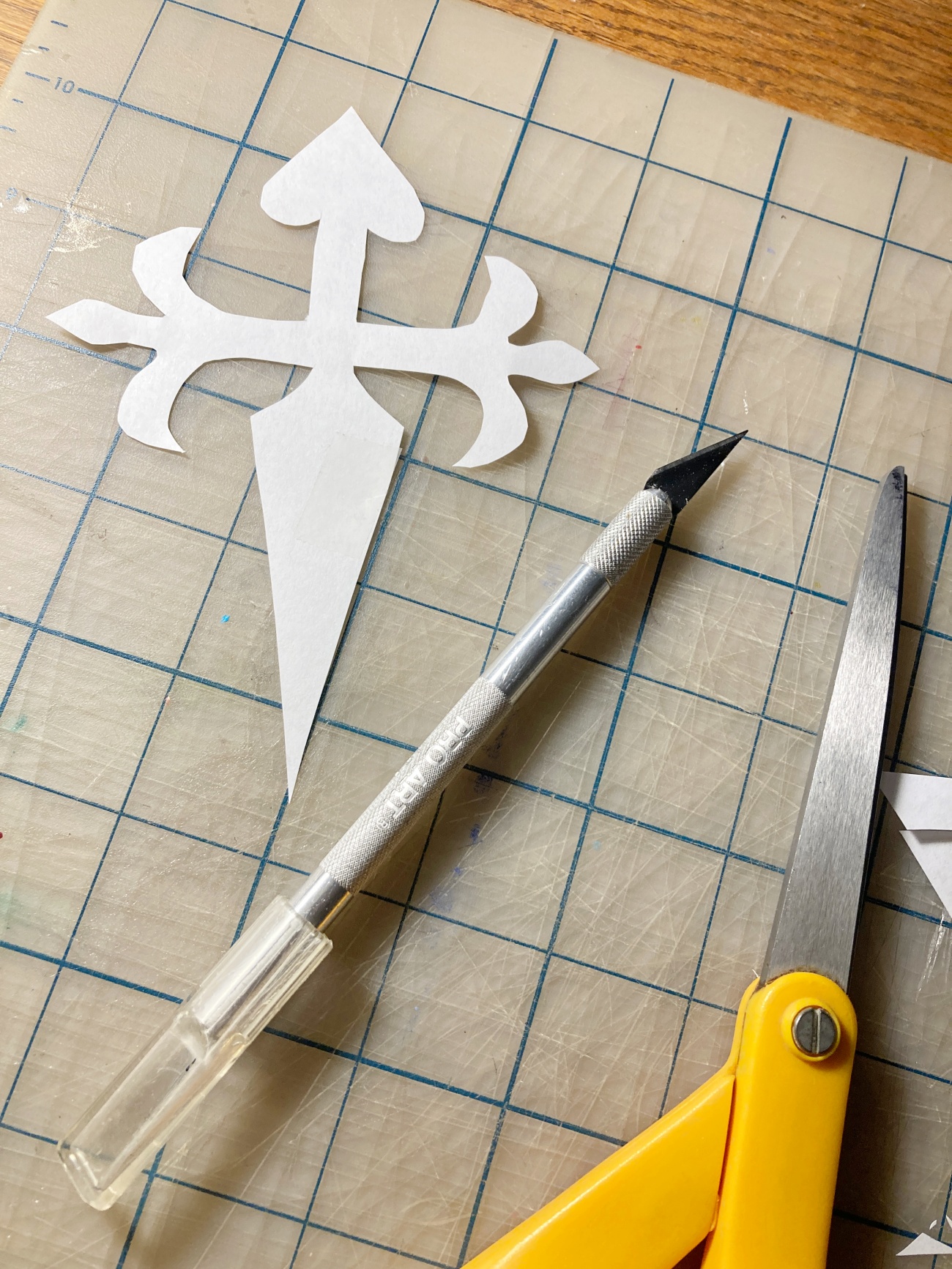 Then use a mesh strainer with a few tablespoons of powdered sugar in it and shake it over the cross and the entire top of the cake. Then with perfectly clean tweezers you can lift the stencil off and carefully place it to one side. I'm saving my stencil because I know for a fact that I'll be making this tasty cake again. Of course, you could also use other stencil shapes for different occasions if you wanted to!
I used a 9″ springform pan here and I wish I had used an 8″ or even a 7″ so that the cake could gain more height. Since there's no wheat, yeast, or leavening in the batter it won't rise in the oven, so keep that in mind when you're choosing your baking pan.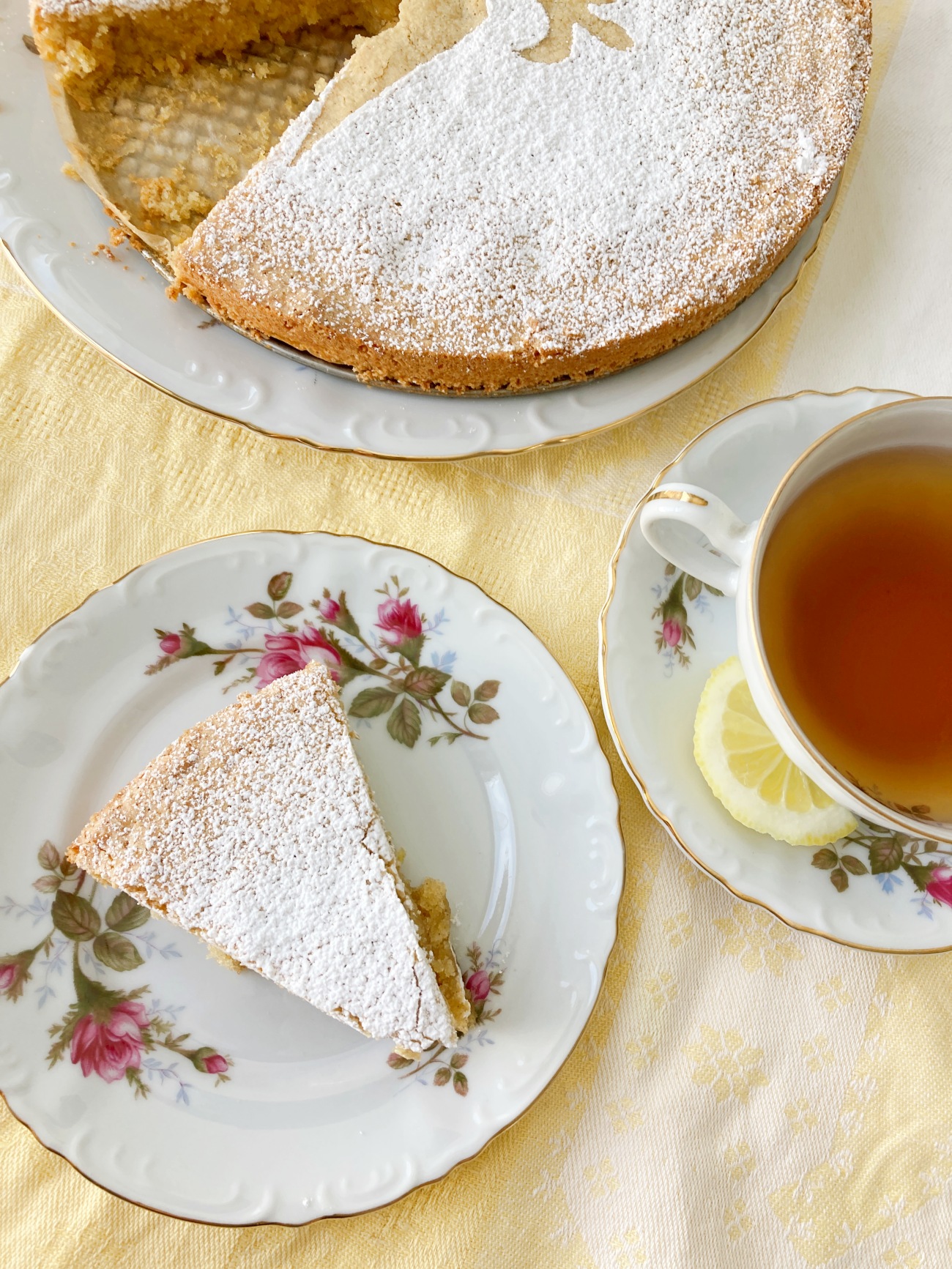 A springform is ideal so that you can release the cake. But, if you only have a regular cake pan then that will work great, too. I found that this cake released from the sides of the springform easily, so I imagine it will slice well even inside of the pan.
For Easter or any special day this tarta de Santiago is one of the tastiest ways to celebrate! It's a new favorite at my house.
Tarta de Santiago (Spanish Almond Cake)
Serves 12
3h 42m prep time
30m cook time
111 calories

When you share or print a 12 Tomatoes recipe,
you're making mealtime meaningful.
100%
of the Share to Care sponsor fees fund meals for families in need.
Learn More
CLICK ANY LINK BELOW TO JOIN OUR CAUSE!
Ingredients
3 eggs
1 cup fine sugar
1/2 teaspoon almond extract
2 cups almond flour
zest of 1 lemon
1/2 teaspoon cinnamon
2 tablespoons powdered sugar
Preparation
Preheat oven to 350˚F. Combine eggs, sugar, and almond extract in large bowl. Use electric mixer to beat until lightened in color. If you can't find fine sugar at the grocery pulse 1 cup of granulated sugar in food processor a few times to make it finer.

Add lemon zest and cinnamon to batter and mix. Then fold in almond flour. Do not over-mix at this stage.

Pour into a greased and lined 8" springform pan. Bake for 30 minutes or until toothpick inserted in center comes out clean.

Allow to cool for 15 minutes before releasing from pan. Place on wire cooling rack and allow to cool completely before dusting with powdered sugar, preferably using a cross of St. James stencil.
Recipe adapted from Caroline's Cooking.
SKM: below-content placeholder
Whizzco for 12T