This warming stew is packed with flavor.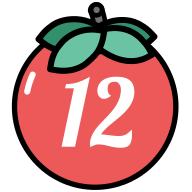 Sedrak Mamulyan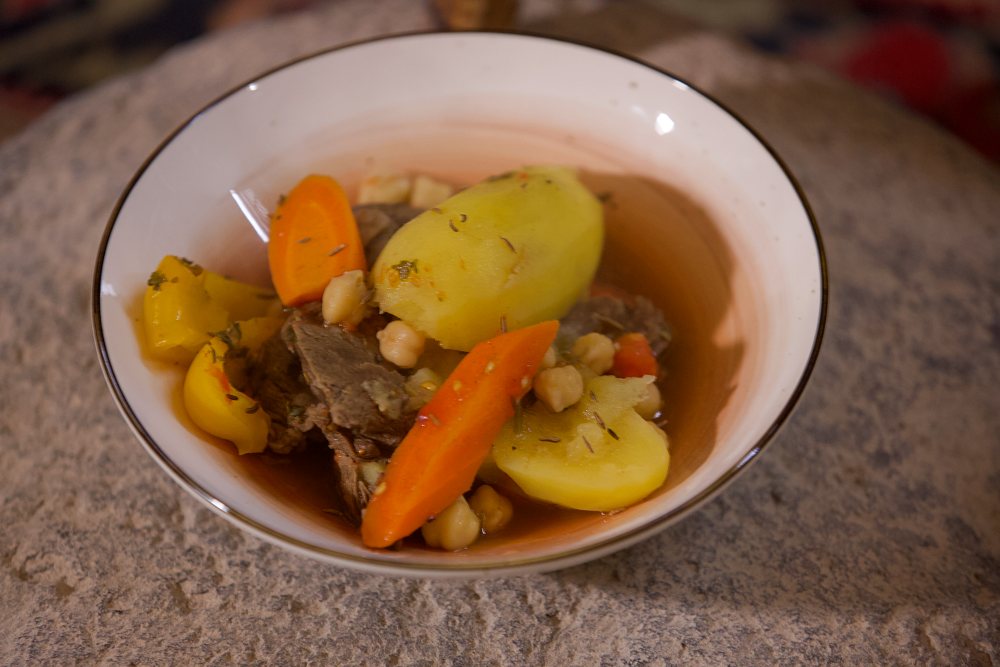 Soups and stews are not only a welcome addition to the menu during colder months, they are a wonderful way to use what you have on hand. Plus they can be bubbling away in the background while you attend to other things. This lamb stew recipe from Armenia combines the flavors of this tender meat with potatoes, chickpeas, and carrots for hearty meal.
To begin making this recipe cut your lamb filet into about 2-inch pieces. Then boil this for about 40 minutes over medium-low heat. As with other recipes of this type where meat is boiled, you'll need to periodically skim off the foam (sometimes appetizingly called "scum").
This foam is just protein particles that rise to the top of the water as the meat cooks and releases its juices. While it's harmless and won't change the flavor of the stew, it can make the broth grey and cloudy. And, that's why skimming boiled meats is essential when making soups and stews.
After simmering the lamb add it to another pan filled with potatoes, carrots, peppers, tomatoes, and chickpeas. A blend of garlic, cumin, and cilantro flavors the stew. If you're not a fan of cilantro you can use fresh mint instead and just add it to the end so that it keeps its flavor.
Aromatic herbs go famously well with richness of intensely-flavored lamb meat. This is why mint jelly or mint sauce is often served with lamb roast or rack of lamb.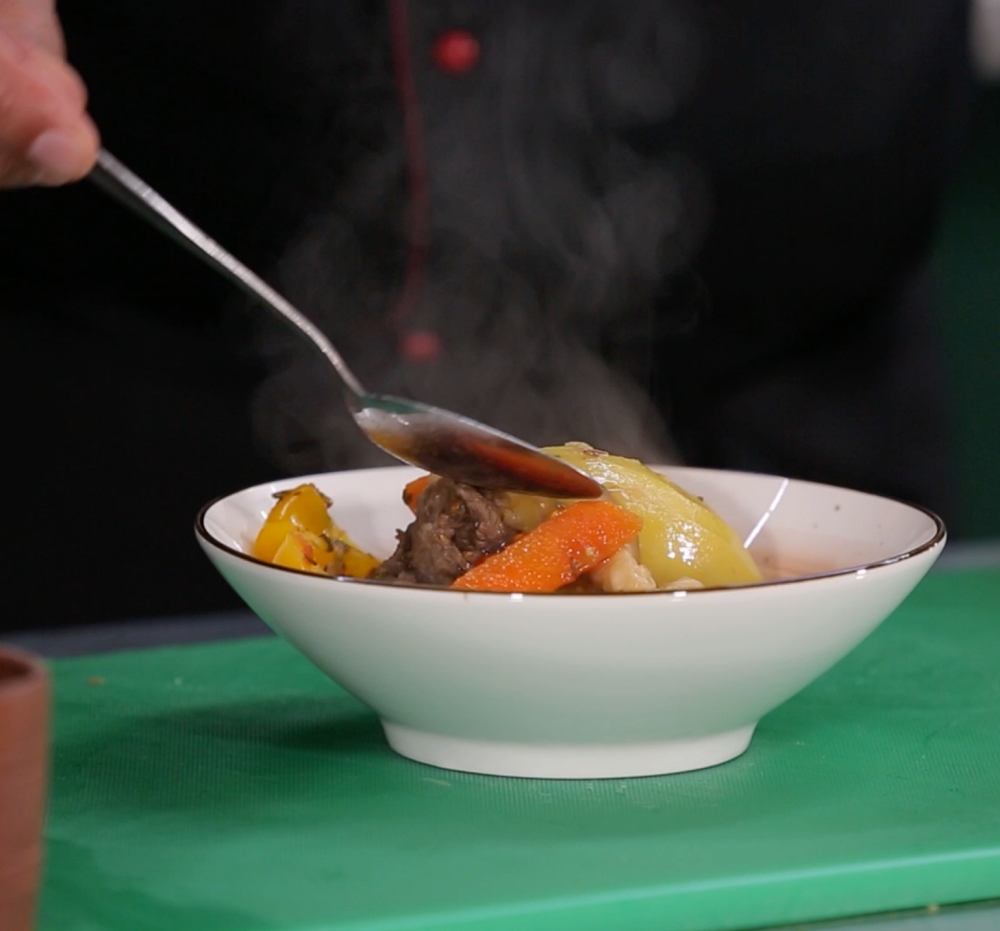 To finish cooking add a bit more water and then let the stew simmer for another 40 minutes. Then at the last minute add in black pepper. At this point taste the stew to see if it needs more salt. Serve this meaty stew piping hot and enjoy the deep flavors of lamb with spices.
Stew of Vardenis
Serves 4
20m prep time
1h 20m cook time
Ingredients
3 1/ 2 cups water, divided
4-5 lbs lamb filet
2 1/2 tsp salt
1 15-oz can garbanzo beans, drained
1/2 lb potatoes, peeled and quartered
1 bell pepper, seeded and sliced lengthwise into strips
3 carrots, sliced into 1"-2" pieces
3-4 cloves of garlic, minced
1 tsp ground cumin
1 bunch fresh cilantro
3 tomatoes, quartered
2 tsp black pepper
Preparation
Cut the meat into 2" to 2 1/2" pieces. Bring 3 cups water to a boil in medium stock pot. Add salt and lamb to water and cook on medium-low heat for 40 minutes. Periodically skim off the foam that rises to the top of the water.
To a separate stew pot add chickpeas, potatoes, bell pepper, tomatoes, and carrots.Then add garlic, cumin, cilantro, and 1/2 cup water to the vegetables.
Place cooked lamb meat on top of vegetables and spices, followed by the lamb broth. Cook over low heat for 35-40 minutes. Add black pepper, stir, and then remove from heat. Taste and add more salt if needed. Serve stew piping hot.
SKM: below-content placeholder
Whizzco for 12T