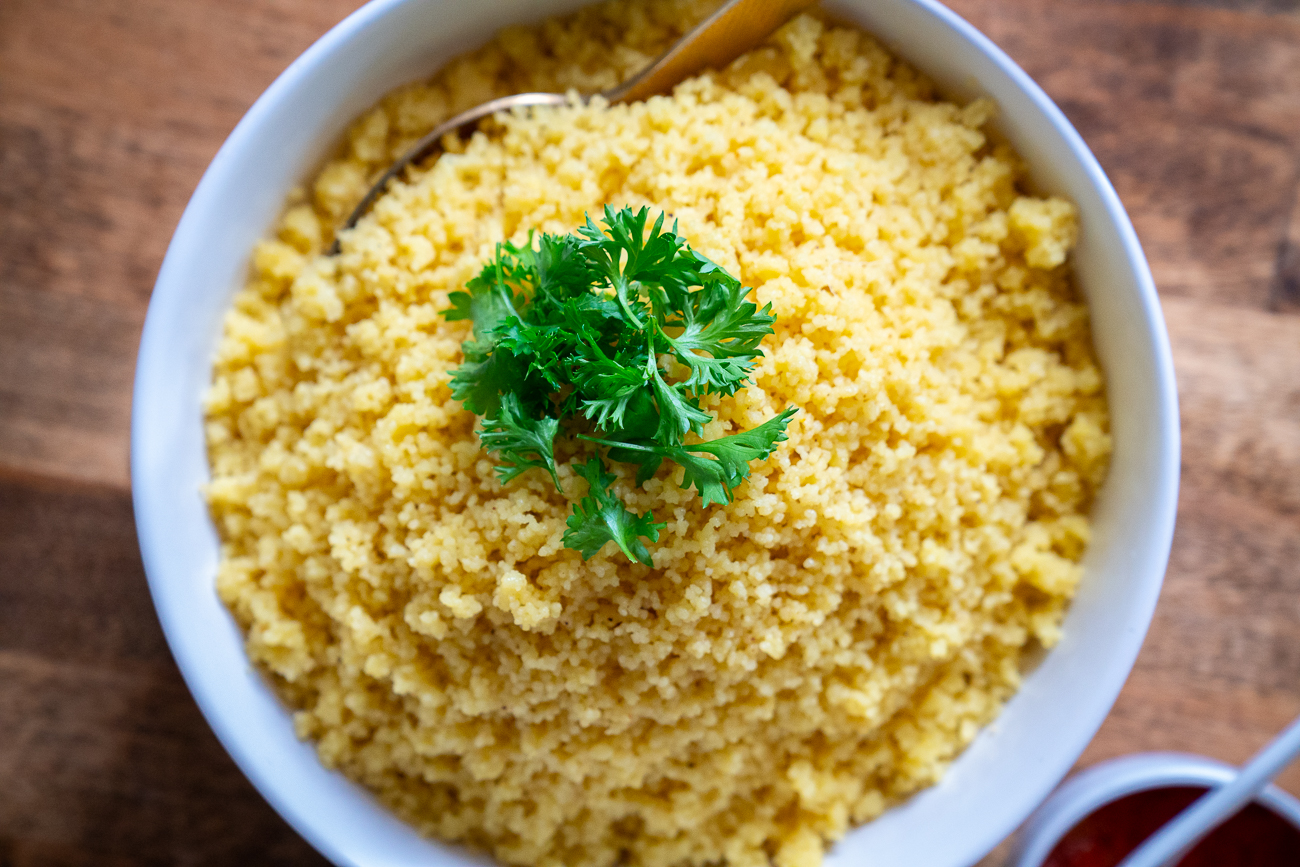 Couscous is one of my favorite genres of pasta, I think because it's so light and flavorful. This particular couscous is made even more delicious with the addition of browned butter – need I say more? Instant couscous is quick but making a batch from scratch is simple, too. Similar to how we might make a risotto, by adding a seasoned chicken broth, the couscous finishes with a buttery-nuttiness and fresh herbs, the ideal combination and complimentary side dish to a delicious main meal.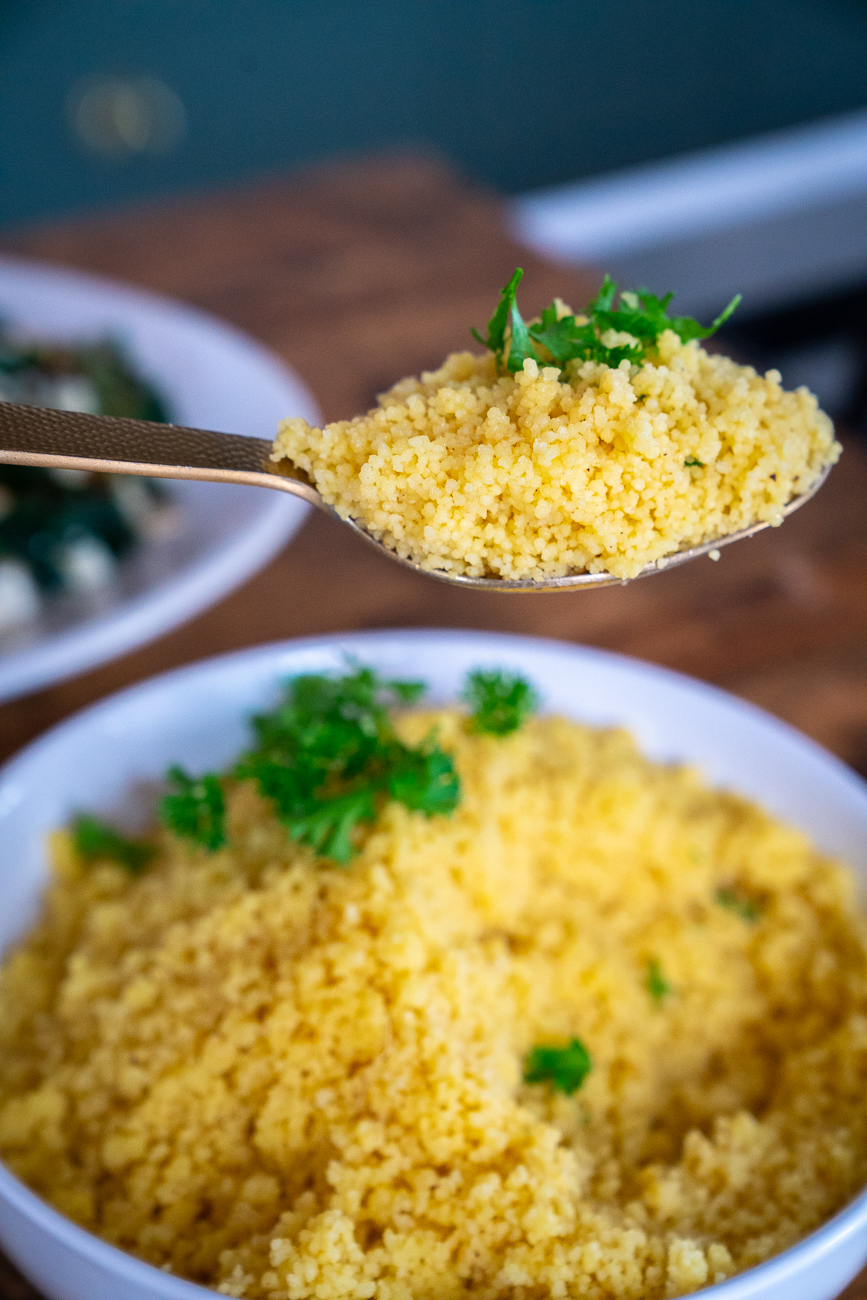 Let's begin with the infused chicken broth. I'm serving this with a Moroccan-themed menu, so I want to make sure to create a flavor echo in each dish. To this end, I'm using some expected and some unexpected ingredients. You'd certainly expect in the preparation of a broth to use chicken stock, garlic, and salt, but the unexpected in this broth would be the addition of a cinnamon stick, cumin, saffron, and star anise. Each of these infuse the broth with a kind of warmth that transforms the plain couscous into something extraordinary.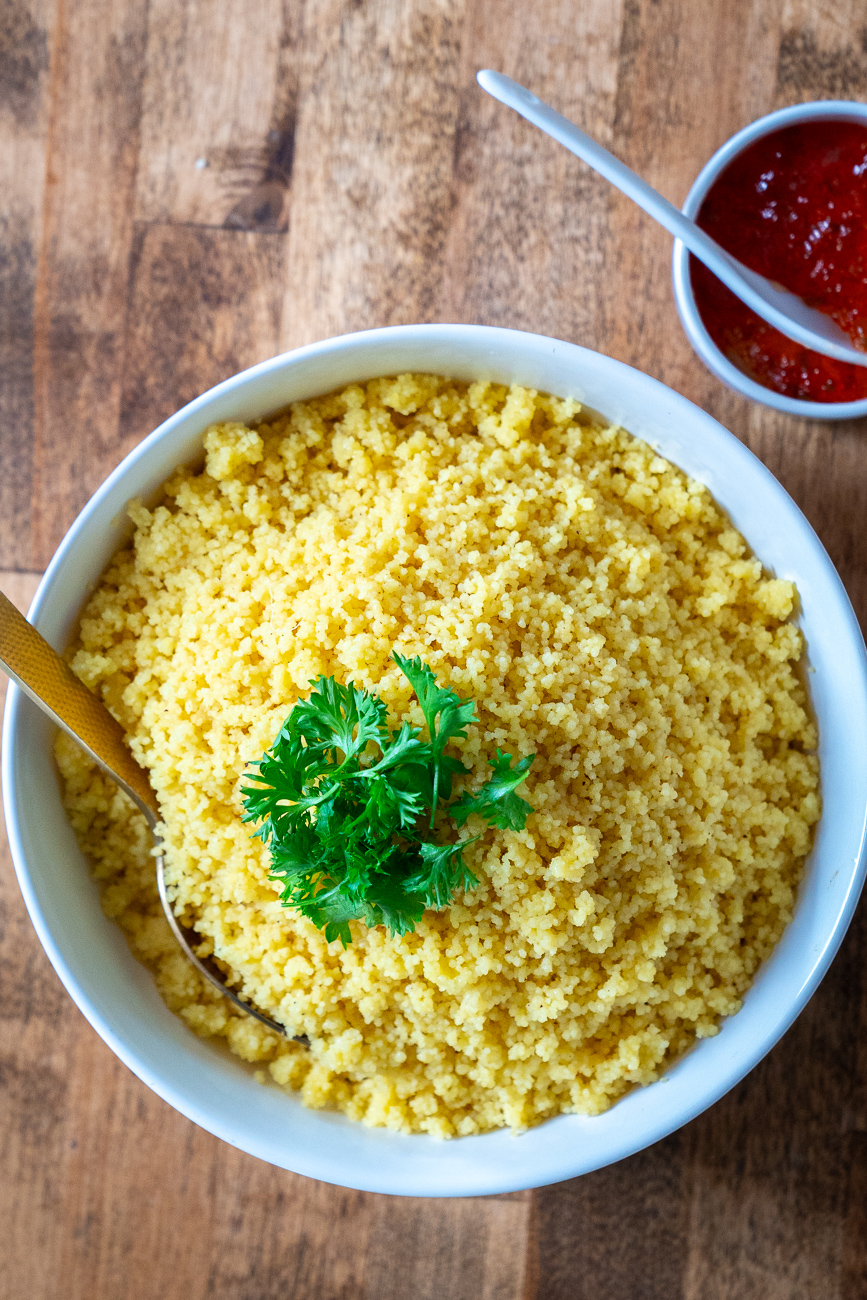 The only other flavor that could possibly make this better would be browned butter. If you've not used browned butter before, is almost too simple to be real. As the butter melts and begins to turn from its original pale yellow into a rich golden brown, it takes on a nutty richness that becomes savory and luxurious. The browned butter is added after the couscous has been steamed and fluffed, then it is finished with fresh-squeezed lime juice. I love to keep a little bit of freshness in the end, so garnish with fresh parsley to give the dish a pop of color.
Oh, the aroma! Everything about this batch of Steamed Couscous with Browned Butter and Herbs is alluring. I appreciate the ease of a boxed instant couscous but one bite of this will alter hearts and minds. Enjoy!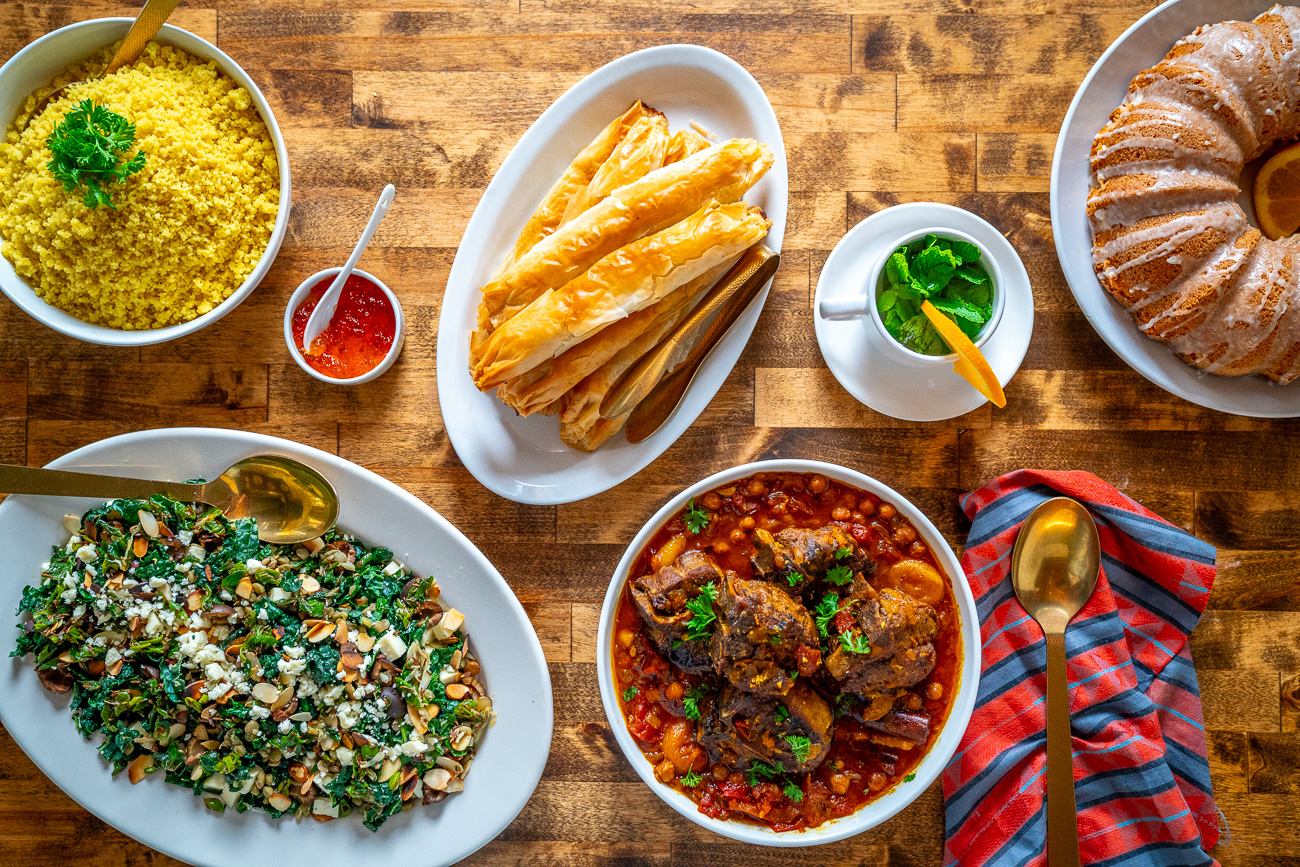 Steamed Couscous with Browned Butter and Herbs is from the Flavors of Morocco menu at Table for 12. It is served with Lentil and Kale Salad, Crispy Phyllo Prawn Cigars, Lamb Stew with Spiced Chickpeas, and Orange Cardamom Cake.
Steamed Couscous with Browned Butter and Herbs
Serves 6
15m prep time
30m cook time
Ingredients
2 1/2 cups couscous
1/3 cup butter, browned
1/2 lemon, juiced
1 tbsp fresh parsley, minced
For stock:
A pinch of saffron
1 cinnamon stick
½ teaspoon whole cumin
2 garlic cloves, smashed
2 star anise
2 cups chicken broth
1 tablespoon kosher salt
Preparation
Infuse the stock ingredients together for 10 minutes on low heat. Cool slightly and pour liquid through a strainer to remove the infusing herbs.
Spread dry couscous over a sheet pan. Pour over strained broth into couscous. Rub the couscous together with your hands to break up any clumps.
Set up the double boiler over medium-high heat, using a large stock pot and a small colander with cheesecloth draped over.
Scoop couscous into a double boiler uncovered for 8 minutes, then toss and continue to steam for another 8 minutes.
As the couscous steams, prepare the browned butter. Melt butter in a small pan or saucepan over medium-high heat. Once the butter starts to foam, remove it from heat.
Transfer steamed couscous to a serving dish. Toss with the browned butter and lemon juice. To serve, garnish with fresh parsley.
This recipe is from the Flavors of Morocco menu at Table for 12.
SKM: below-content placeholder
Whizzco for 12T