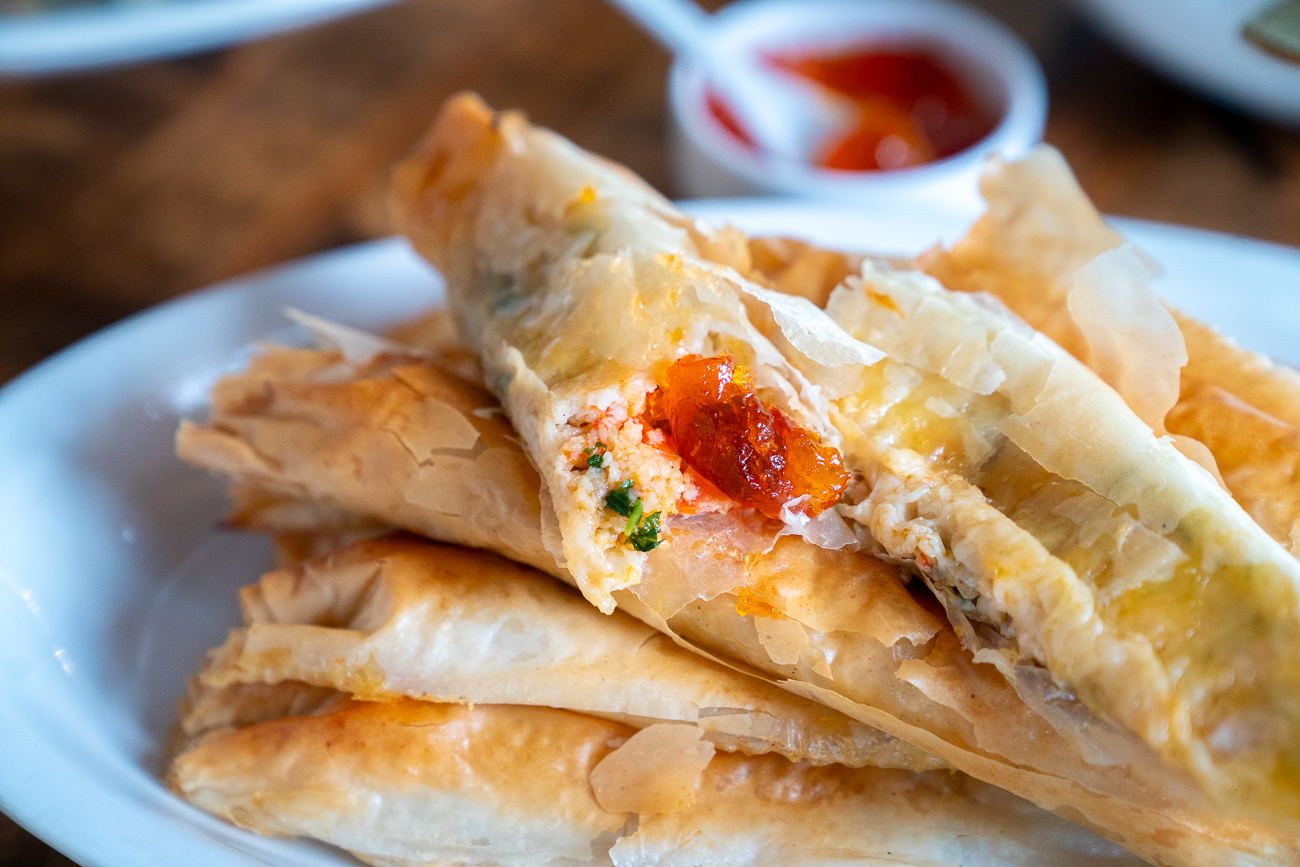 Birouat are Moroccan pastries, and let me be the first to say that these are so delicious and so easy to make that you'll likely find birouat to be something you're making on a regular basis. Birouat can be savory or sweet and for this occasion, I'm making a savory filling with shrimp, rich goat cheese, and fresh jalapeño for a little heat. If you want to silence your dinner guests (in a good way), you'll want to serve exactly this. Get ready to impress with a dish that is simple, elegant, and stunningly delicious.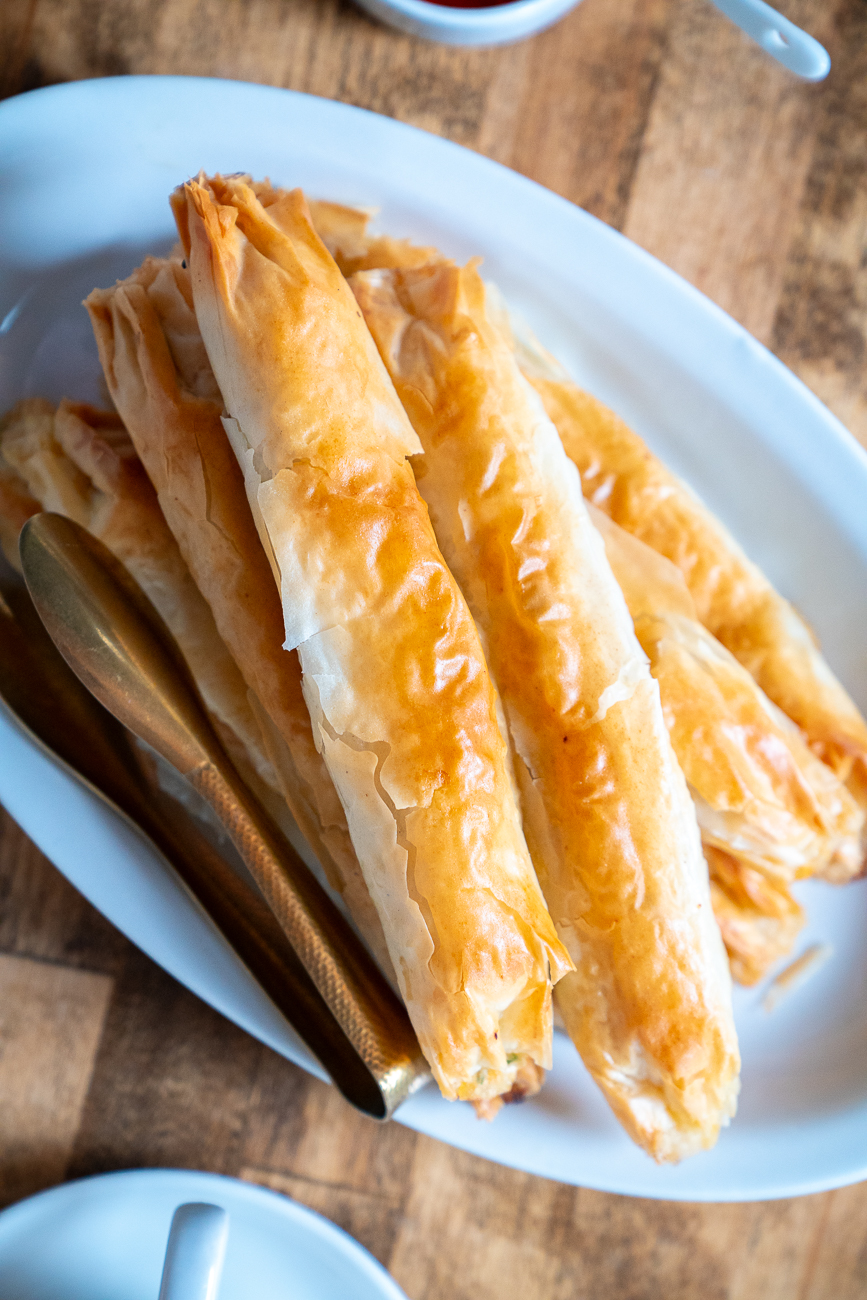 Birouat is typically served in two different shapes, triangles or cylindrical, cigar-like shapes – just like what I'm making here with our Crispy Phyllo Prawn Cigars. Let's start from the beginning, with the all-important filling. I want to strike a delicate balance between sweet, savory, creamy, and spicy with this filling. The shrimp itself is naturally sweet and it pairs beautifully with harissa, a spicy chili pepper paste that's readily available in your grocery store. It coats the shrimp in an amazing flavor, not too spicy but with just the right amount of memorable warmth.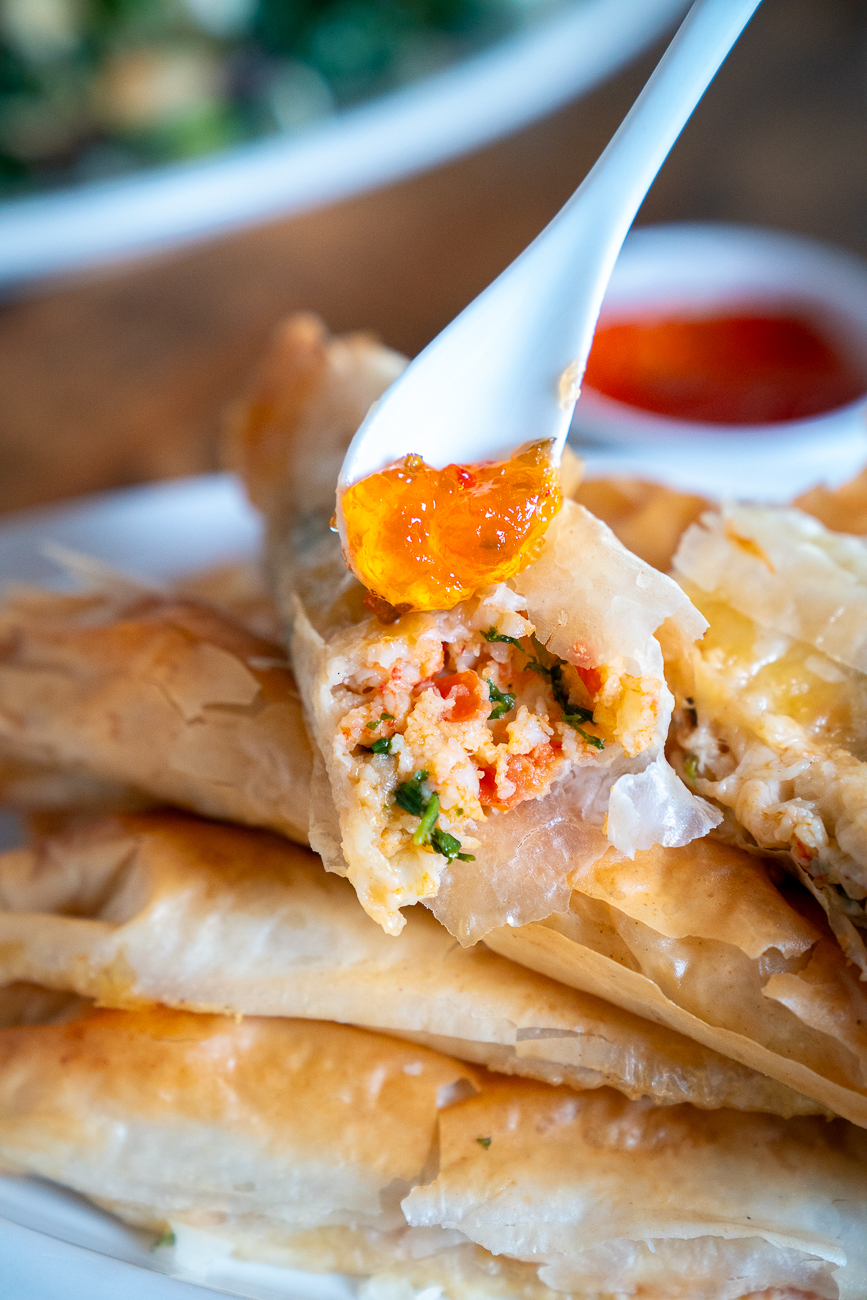 And now for the rest of the filling. I sauté onions, garlic, and jalapeño to create another trifecta of sweet and savory to be added to the filling. To cool the heat from the harissa and jalapeño, and bring in some richness, I add creamy goat cheese. The tangy cheese, along with fresh herbs and a splash of lemon juice for brightness, all combine to make a filling that is absolutely outstanding on its own, but will soon become truly showstopping when wrapped in phyllo dough and baked to golden perfection.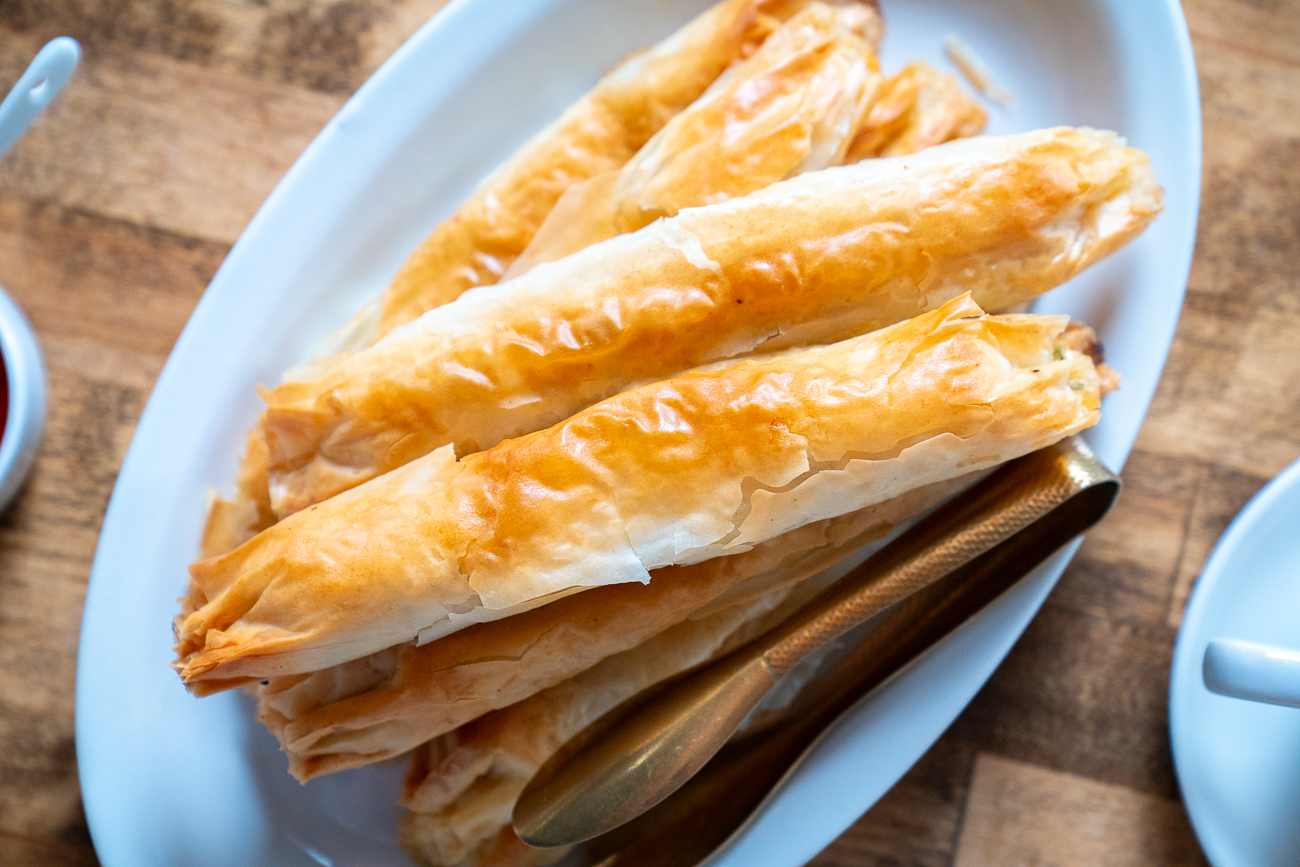 Once the filling is cooled, I can now create my birouat, and that requires unwrapping the delicate layers of phyllo. The thin sheets, three for each cigar, are held together by the queen of all things – butter – to create the crisp, flaky wrapping that will blanket the beautiful filling. My cigars go into the oven where the phyllo will transform into a warm golden color. The end result is stunning! These Crispy Phyllo Brawn Cigars are a symphony of texture and flavor that will perform beautiful music to the tastebuds.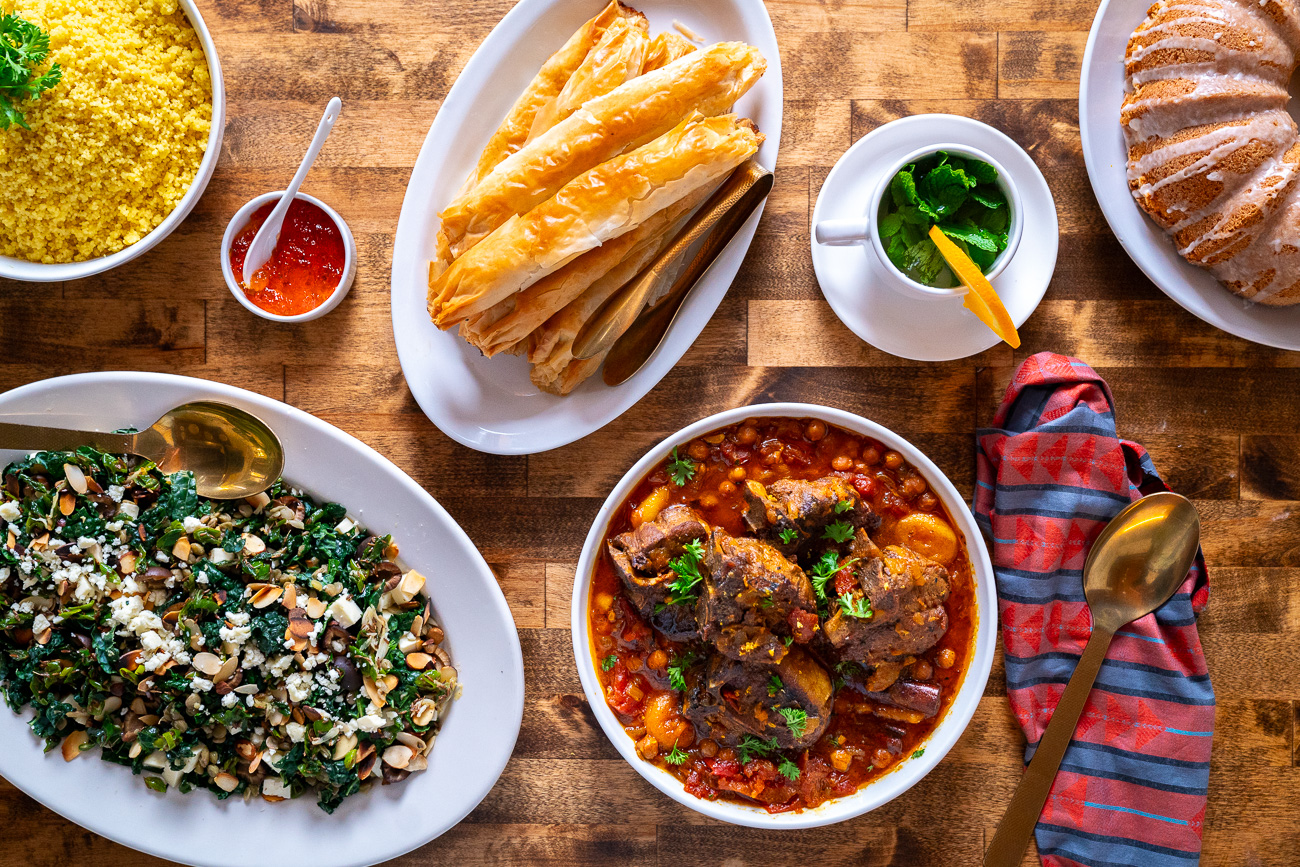 Crispy Phyllo Prawn Cigars are from the Flavors of Morocco menu at Table for 12. It is served with Lentil and Kale Salad, Lamb Stew with Spiced Chickpeas, Steamed Couscous with Brown Butter and Herbs, and an Orange Cardamom Cake.
Crispy Phyllo Prawn Cigars
Serves 6-8
15m prep time
30m cook time
Ingredients
3 tablespoons vegetable oil
3/4 lb. peeled and deveined raw shrimp
1/2 cup yellow onion, diced small
4 garlic cloves, minced
1 jalapeño, seeded and diced
3 oz. goat cheese
2 tablespoons fresh chives, minced
1 tablespoon fresh parsley, minced
1 tablespoon harissa
1/2 lemon, zested
1/4 cup Panko breadcrumbs
Kosher salt and freshly cracked black pepper, to taste
For briouat:
1 package phyllo dough
1/2 cup unsalted butter, melted
2 tablespoons extra virgin olive oil
Kosher salt and freshly cracked black pepper, to taste
Preparation
Preheat the oven to 400°F and prepare a wire rack lined sheet tray.
Season both sides of your raw shrimp with salt, pepper, harissa on a plate.
In a sauté pan over medium-high heat, cook shrimp with 2 tablespoons olive oil for 1 - 2 minutes. Remove to a cutting board and cut into pieces.
Add olive oil, onion, minced garlic, and chopped jalapeno to the pan. Cook until softened and golden, 6 minutes.
Remove pan from heat, then add cooked shrimp, goat cheese, chives, parsley, and lemon zest. Set aside and cool in the refrigerator.
Toss the filling with Panko breadcrumb and add more if the filling is too moist. Taste the mixture for seasoning.
Remove the phyllo dough from the plastic sleeve and place onto a cutting board. Cut phyllo stack in half, lengthwise, and stack both halves on top of each other.
Mix melted butter with olive oil together.
Using one sheet at a time, brush each sheet with butter mixture. Stack another phyllo sheet on top of first and repeat 1 more time for a total of 3 stacks.
Using a small ice cream scoop, scoop 3 level scoops (about 3 tablespoons) of filling along one end of the stacked phyllo sheet.
Roll up into a long cigar, then crimp the edges to create a firm seal and place onto a wire rack. When finished, brush the tops of the cigars with butter and bake for 15 minutes or until golden brown. Enjoy!
This recipe is from the Flavors of Morocco menu at Table for 12.
SKM: below-content placeholder
Whizzco for 12T