Tortellini in brodo–literally, tortellini in broth–is an Italian classic that's the equivalent of chicken noodle soup and can be found in just about any household in the country at some point or another. The perfect way to start off your dinners or for when you want a light lunch, this dish is absolute, simplistic perfection.
While you could use store-bought beef broth, we prefer making our own; knowing exactly what goes into it, and being able to control and hone in on our preferred flavor elevates the pantry staple to something truly special and noteworthy. Seeing as beef broth doesn't usually get that much attention, we really wanted a chance to sing its praises .this soup is light, yet still filling, and nothing comforts us more.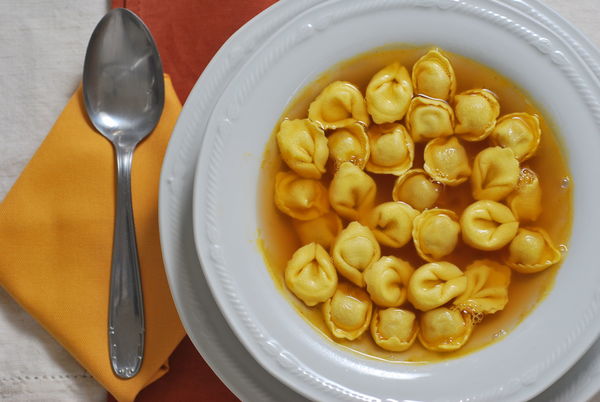 Tortellini in Brodo
Serves 6-8
Ingredients
3 pounds beef shank bones
2 pounds turkey wings
1 pound beef scraps
1-1/2 pounds beef tortellini (homemade or store-bought)
2 ribs celery, chopped
2 carrots, rinsed and chopped
2 large white onions, chopped
2 cloves garlic, crushed
1 bay leaf
1/4 cup apple cider vinegar
kosher salt and freshly ground pepper, to taste
Parmesan cheese, garnish
water, as needed
Directions
Preheat oven to 350 F.
Place beef bones and turkey wings in a baking dish and roast until browned.
Remove from oven and transfer bones to a large slow cooker.
Add beef scraps, celery, carrots, onions, garlic and bay leaf.
Pour in enough cold water that bones are submerged by about 3 inches, then add apple cider vinegar.
Turn slow cooker on high and bring mixture to a boil.
Once boiling, turn heat down to low and cook for 12-24 hours, adding more boiling water to the mixture in order to keep bones submerged.
Skim the top of broth occasionally to remove any particles or fat that rises to the top.
When you've reached your desired flavor, turn slow cooker off and pour broth through a strainer, discarding all solid materials.
Transfer to a container and let cool to room temperature, then refrigerate until chilled.
Skim hardened layer of fat off the top before using.
For the pasta, reheat broth in a large pot over medium-high heat. Bring to a boil and cook tortellini according to packaging directions, or until pasta floats to the surface.
Remove from heat and ladle into serving bowls. Serve with lots of Parmesan cheese.
Recipe adapted from Saveur
SKM: below-content placeholder