A rich and decadent recipe that's perfect for a dinner party or a nice weeknight dinner with family.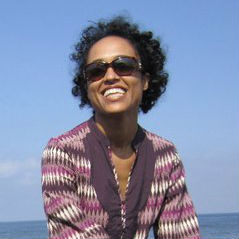 Sarah Cool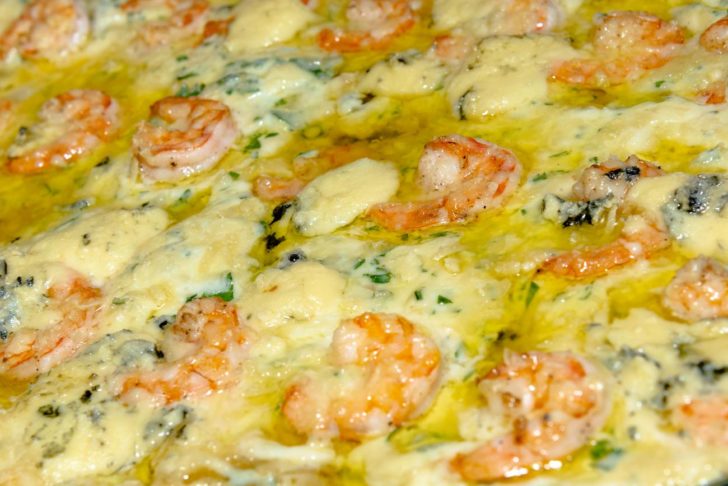 We were planning a casual dinner party with friends and wanted to make something special, and we also wanted not to compromise our evening trapped in the kitchen over the hot stove. After a turn through the recipe box, we came across one of our favorite pasta dishes, a shrimp and four cheese lasagna that is deliciously decadent and easy to make. It looks like a fancy dish so you'll impress your guests without exhausting yourself in the process.
We went to our seafood section at the grocery store and found some beautiful shrimp. If you can't find something already peeled and deveined, ask the fishmonger to take care of that for you. The shrimp offer a nice bit of elegance to the final presentation of the dish. Now for the cheese: we've got a wonderful blend of four kinds of Italian cheese, fontina, ricotta, mozzarella, and parmesan and each one adds something special to the dish. To contrast the decadence of the cheese, we add a little brightness and crisp flavor with lemon zest in the cheese mixture and lemon juice over the shrimp. What we end up with is layer upon layer of richness that is balanced with light citrus flavor and lemon-tossed shrimp.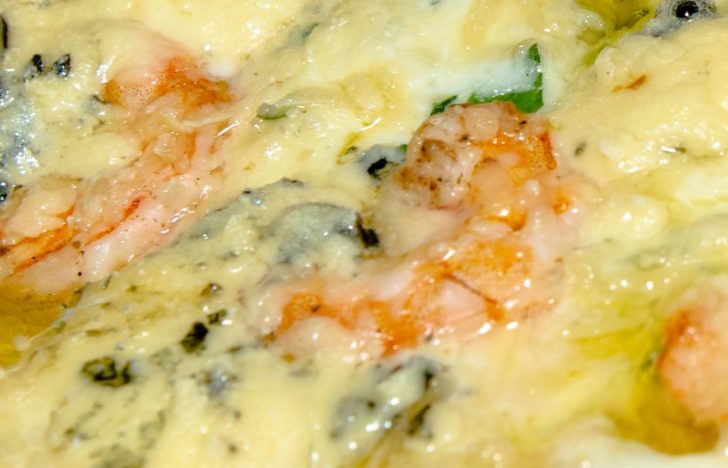 An elegant meal is ready in no time, and we're left with plenty of time to socialize with our friends. A side salad and a slice of crispy bread are all we need to complete the dinner, and we've not compromised our desire to make something amazing with our desire to enjoy time with good friends. This will be a restaurant-quality meal made with love right in our own kitchen. Our shrimp and four cheese lasagna doesn't require an occasion – with ingredients like this, we can whip this up for a nice family meal during the week, too. There's no better way to spoil friends or family than with a lovely meal made fresh at home.
Shrimp and Four Cheese Lasagna
Ingredients
2 pounds fresh shrimp, peeled, deveined, tails removed
8-10 lasagna sheets, cooked and cooled
1 cup ricotta cheese
1 cup grated Parmesan, divided
3 cups mozzarella cheese, shredded
1 cup fontina cheese, grated
1 large egg
½ tablespoon lemon zest
1 tablespoon lemon juice
½ cup fresh parsley, chopped
1 teaspoon kosher salt
½ teaspoon pepper
2 tablespoons olive oil
Preparation
Preheat oven to 450°F. Generously grease a 2-quart baking dish with cooking spray.
Mix egg, ricotta, ¼ cup parmesan, lemon zest, salt, and pepper in a medium bowl. Fold in ½ cup mozzarella and 1 cup fontina cheese.
Place a layer of cooked lasagna sheets into prepared baking dish. Spread 1/2 of the cheese mixture over top. Repeat with the second layer of lasagna and 1/2 of the cheese. Finish with a third layer of lasagna.
Top with 1 cup of mozzarella cheese and remaining parmesan cheese. Cover with foil and bake for 18-20 minutes.
Remove from oven. Toss shrimp in lemon juice then scatter over the top of lasagna. Top with remaining mozzarella cheese, chopped fresh parsley, and 2 tablespoons olive oil.
Bake for 6-8 minutes or until shrimp are fully cooked and cheese has melted.
Remove lasagna from oven to cool and set, 5-7 minutes, before serving. Enjoy!
Recipe adapted from Simply Recipes.
SKM: below-content placeholder
Whizzco for 12T