An entire feast in under an hour.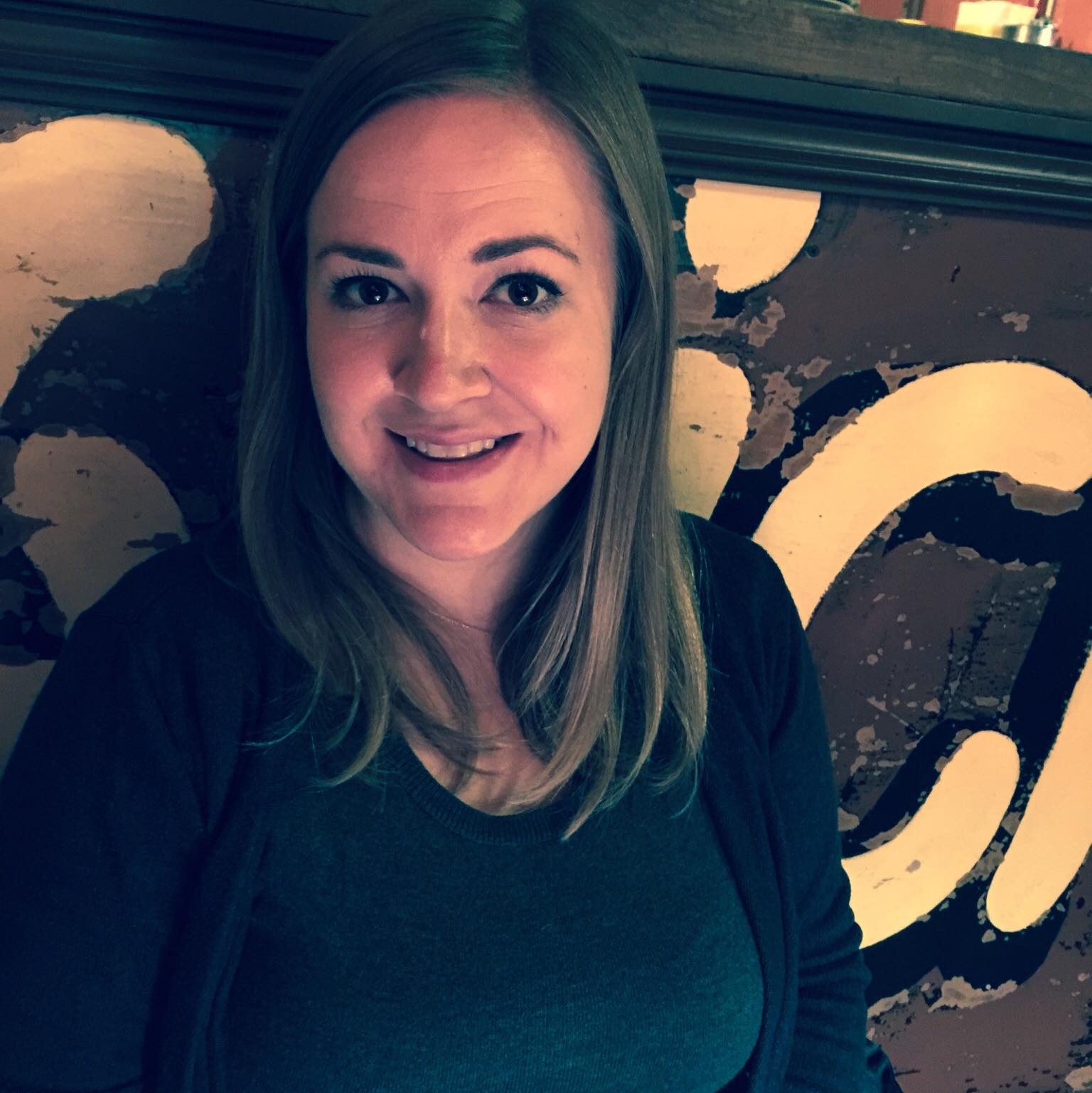 Kristy Norrell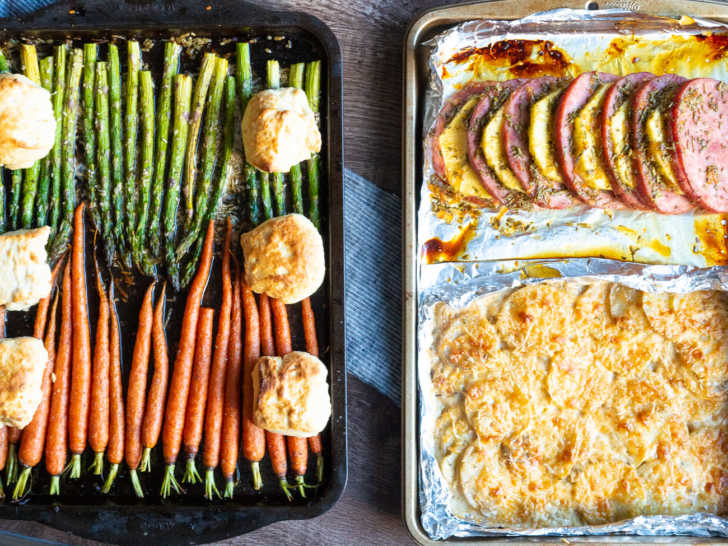 For most of us, an Easter gathering this year looks a little different than our normal. And while that might mean you're not getting together with a big group of relatives, it doesn't have to mean that you can't mark the occasion with a special meal for the people you live with every day. This recipe is just the way to do that – with just two sheet pans and some easy-to-find ingredients, you can have an entire delicious feast for four done in under an hour. It's truly no-fuss and yet it still feels entirely special. See how to make it below!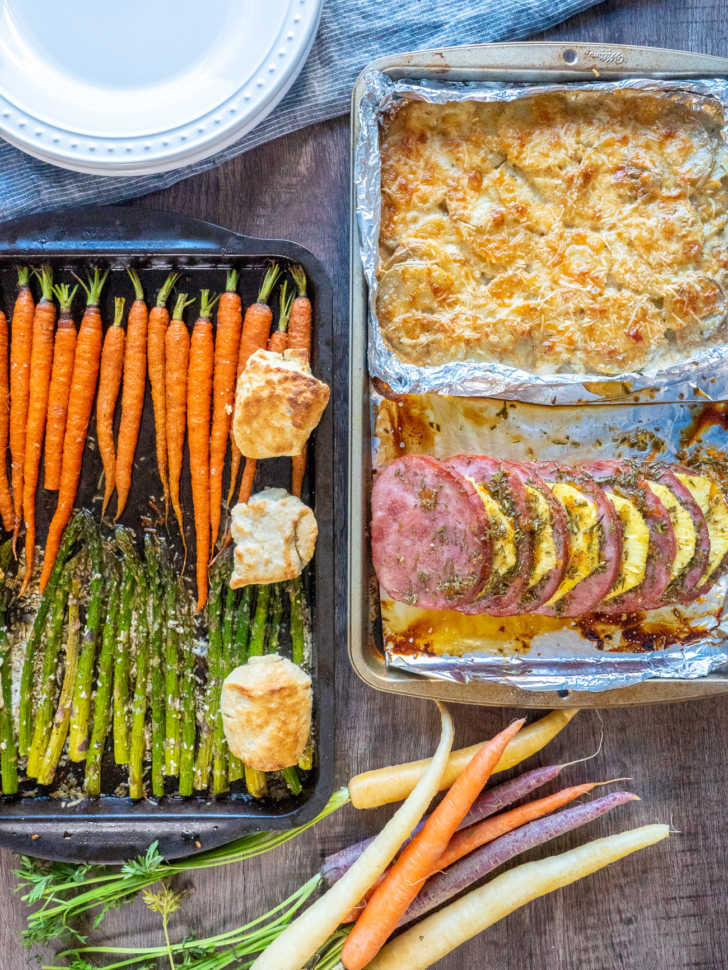 This recipe gives you marmalade glazed ham with fresh pineapple, thyme and parmesan kissed asparagus, honey butter roasted carrots, Gruyere topped scalloped potatoes, and biscuits all in one easy sheet pan preparation. It might seem like it's a lot to handle but I promise that it's very approachable. That's five dishes! But instead of mashing all the components into a casserole or some sort of baked dish, the sheet pan preparation here gives you an entire meal complete with a main and sides that's absolutely special occasion worthy.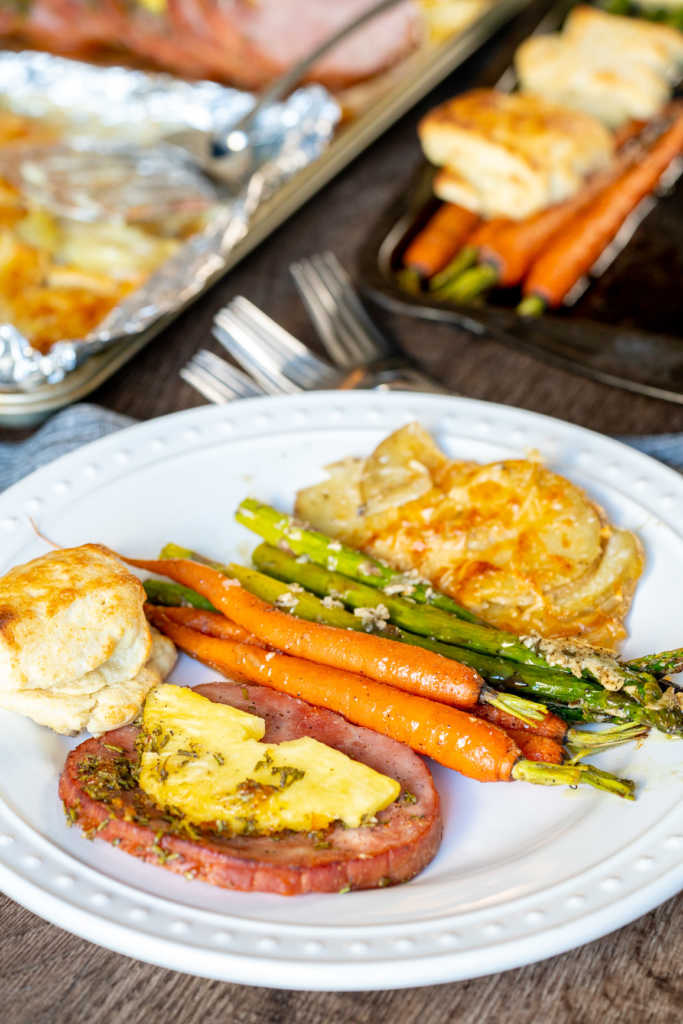 The key here is in staggering the baking times a bit since asparagus has a very different baking time than scalloped potatoes, for instance. All that means is that the ham and potatoes need to share a baking sheet and hang out in the oven a little longer than everything else. That's certainly easier than hanging out over a hot stove stirring multiple pots and pans!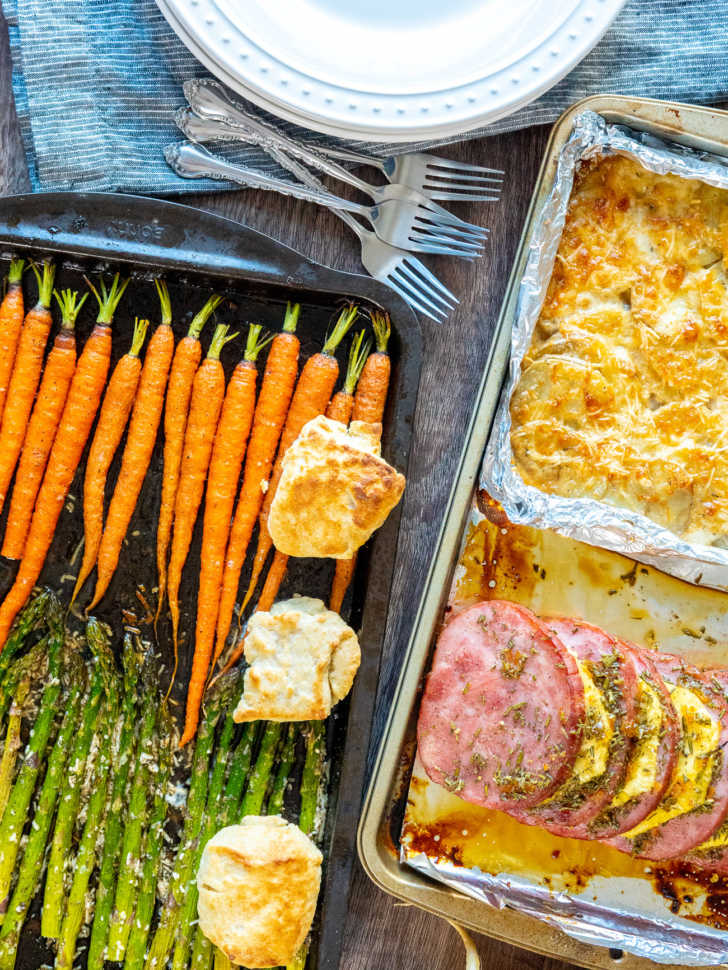 Sheet Pan Easter Dinner for Four
Serves 4
10m prep time
40m cook time
For the Gruyere Au Gratin Potatoes:
3 cups Yukon Gold potatoes, thinly sliced
2 tablespoons butter
1 cup heavy cream
1 teaspoon salt
1/4 teaspoon black pepper
1/8 teaspoon ground nutmeg
1 clove garlic, minced
1/2 cup Gruyere cheese, grated
1/4 cup Parmesan cheese, freshly grated
For the Pineapple Ham:
3 tablespoons orange marmalade, melted
2 tablespoons fresh rosemary, chopped
8 thick slices ham or ham steak
3 slices fresh pineapple, cored and halved
Kosher salt and freshly ground black pepper, to taste
For the Parmesan Asparagus:
1 bunch asparagus, woody ends removed
1/2 teaspoon dried thyme
2 tablespoons olive oil
1/3 cup Parmesan cheese, freshly grated
Kosher salt and freshly ground black pepper, to taste
For the Honey Butter Carrots:
1 lb small spring carrots, trimmed
2 tablespoons unsalted butter, melted
1 tablespoon honey
Kosher salt and freshly ground black pepper, to taste
For the biscuits:
1/12 cups all-purpose flour
1 tablespoon baking powder
2 teaspoons sugar
1/2 teaspoon kosher salt
3/4 cup plus 2 tablespoons heavy cream
Preparation
Preheat oven to 425°F and lightly grease a rimmed baking sheet with nonstick spray. Line a second baking sheet with foil, and create a foil tray by folding a large piece of foil in half and folding up edges. Set tray on one half of the baking sheet and lightly coat with nonstick spray.
For the potatoes:
In a large skillet over medium heat, combine butter, cream, potatoes, salt, pepper, nutmeg, and garlic. Stir to combine and bring to a boil.
Once bubbling, lower heat and let simmer until cream has thickened, about 2 minutes.
Transfer potatoes and cream to the foil 'tray' you made and spread out in an even layer. Top with Gruyere and Parmesan.
For the ham:
In a small bowl, stir together marmalade, rosemary, and pepper.
Arrange ham and pineapple in a row next to the scalloped potatoes. Brush with orange marmalade mixture.
For the asparagus:
Place the asparagus on one half of the empty baking sheet. Drizzle with olive oil, add salt, pepper, thyme, and Parmesan and toss to coat. Spread out in a single layer.
For the carrots:
Arrange carrots on the baking sheet opposite the asparagus. Drizzle with butter, honey, salt, and pepper and toss to coat. Spread out in a single layer.
For the biscuits:
In a medium bowl, stir together flour, baking powder, sugar, and salt. Stir in the heavy cream until dough starts to hold together.
Pour out onto a lightly floured surface and knead until dough comes together. Roll into a 1-inch thick rectangle and cut into 6 square biscuits using a sharp knife. Arrange biscuits around the edge of the baking sheet with the asparagus and carrots.
Place both sheet pans in the oven on separate racks. Bake asparagus and carrots until tender and biscuits are golden brown, 14-16 minutes, rotating pans halfway through. Continue baking potatoes and ham until potatoes are tender, 20-22 minutes.
Serve and enjoy!
Recipe adapted from The Food Network.
SKM: below-content placeholder
Whizzco for 12T