No wok needed – and you get the perfect combo of chewy and crispy noodles.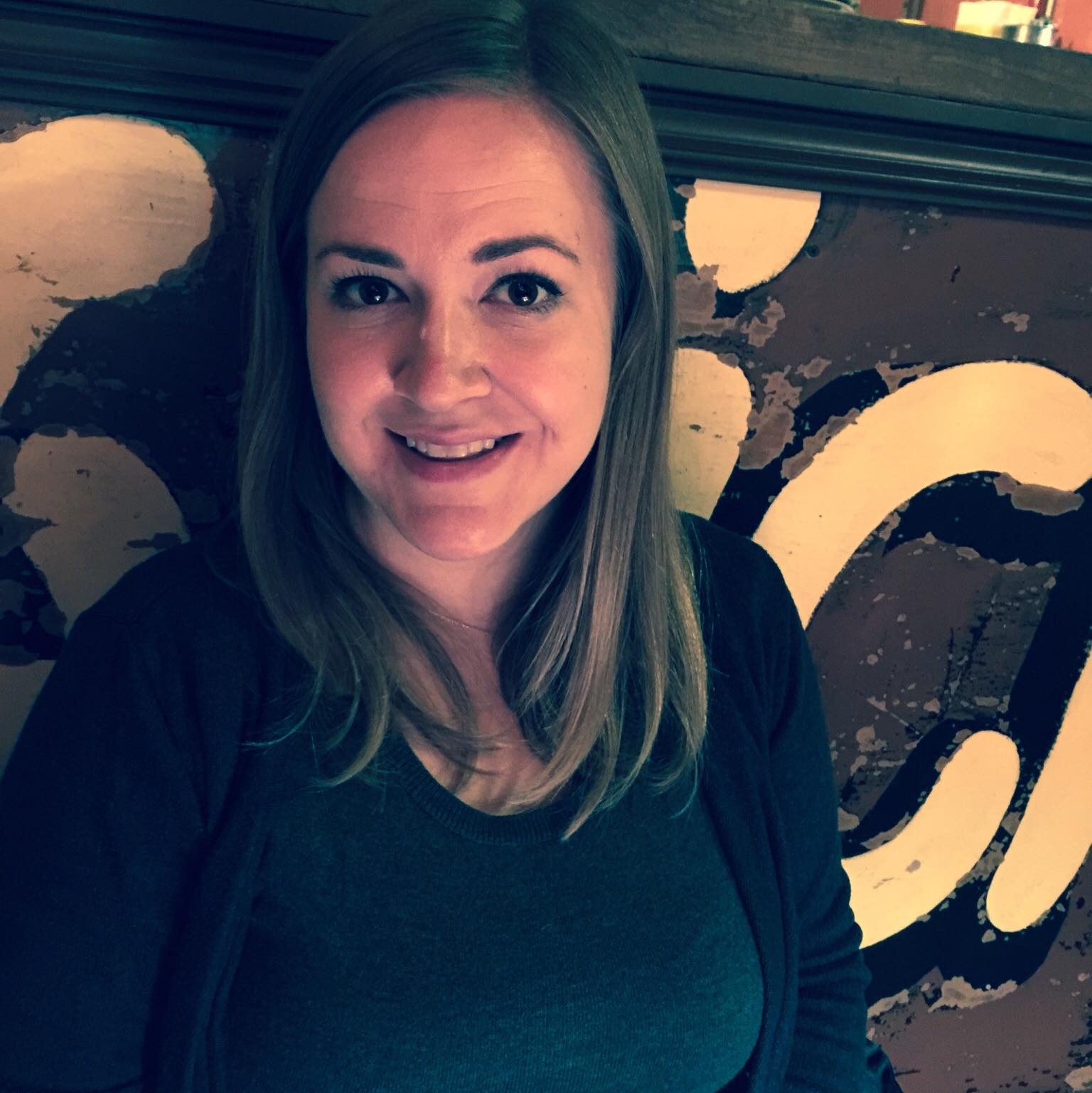 Kristy Norrell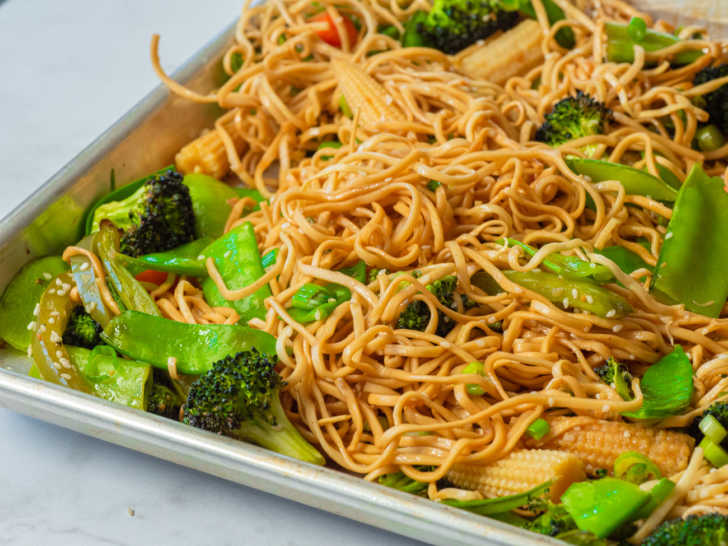 I think we all know Chow Mein as a stir-fried dish, and one with incredibly tasty slippery, saucy noodles at that, but this recipe has a genius twist up its sleeve – you bake the whole thing on a sheet pan. That means that there's no stir-frying at all with this Chow Mein, but the oven method turns out a combination of crispy and soft noodles that you just don't get out of a wok. It's as versatile, easy, and delicious as your usual Chow Mein but it has a little extra crunch for you. And trust me, it gets gobbled up fast.
Chow Mein is easy to love – it's a dish that's quicker to make than it is to order takeout and that doesn't change with this method. But not only is it quick and easy, it's also versatile. You can throw in pretty much whatever combination of veggies you happen to have in your fridge so it makes for a great use-it-up type of meal.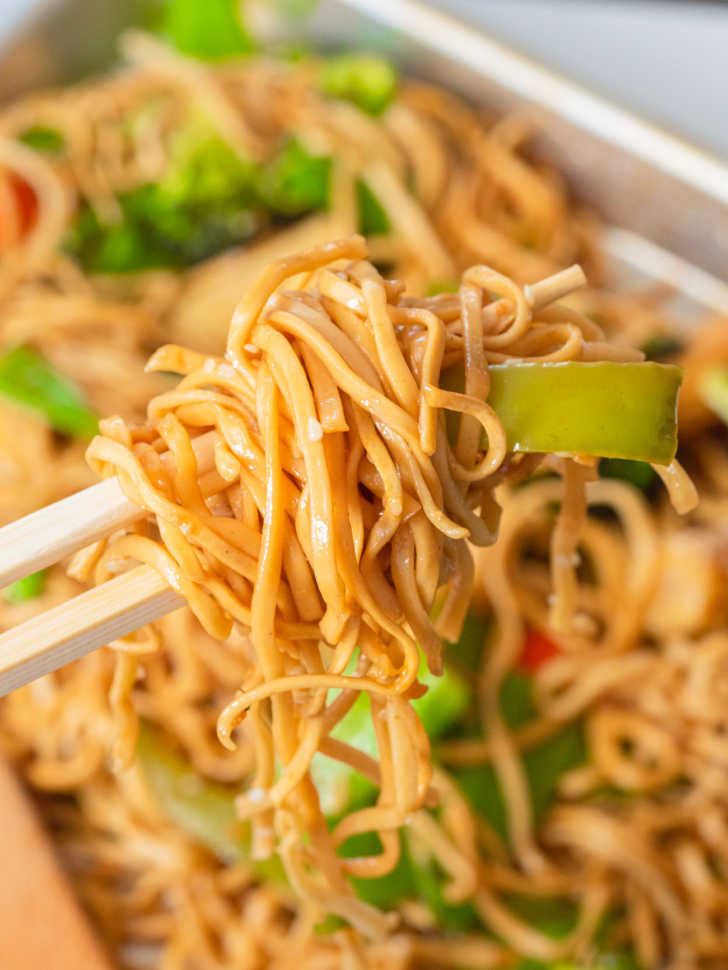 Of course, none of that matters if the meal isn't also delicious, but you can rest assured that this one is. The sauce that coats everything is salty and positively slurpable and it makes a pretty veggie-heavy meal into something that the whole family looks forward to. We've used a pretty classic combination of baby corn, carrots, snow peas, and broccoli but the combinations of what works here are seemingly endless – asparagus, sugar snap peas, cabbage, and bok choi are right at home too.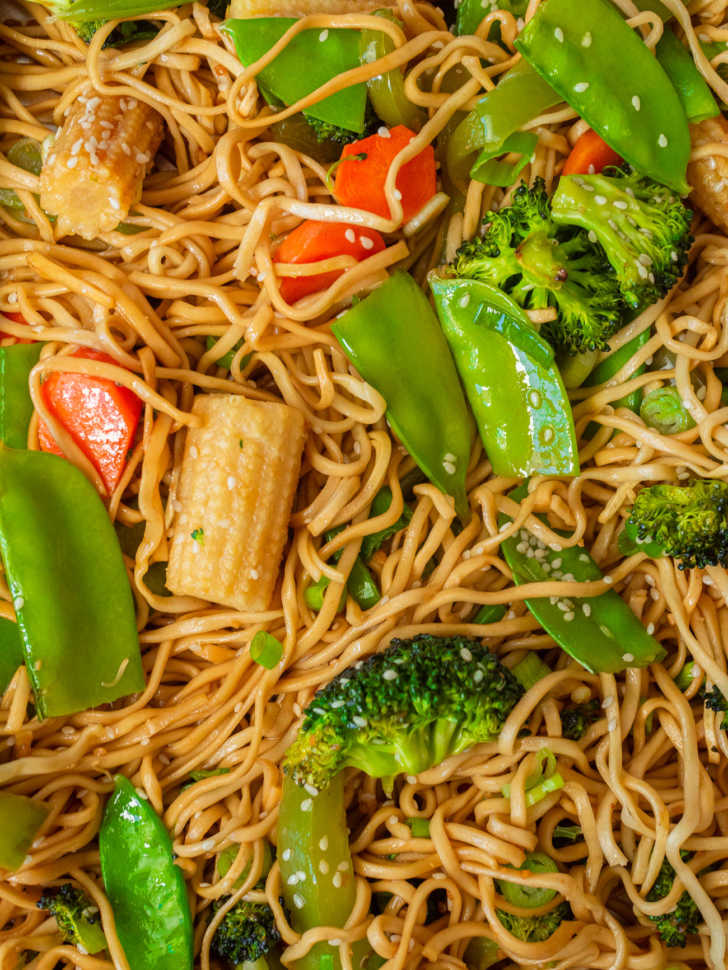 Now, the sauce and the veggies are delightful but I am honestly mostly here for the noodles. While you can use fettuccine or the like in a pinch, what really makes this sing is a bag of thin egg noodles, which are pretty easy to find in your grocer's international aisle. They might not be in your usual ingredient list, but I promise you that they're worth picking up for this recipe!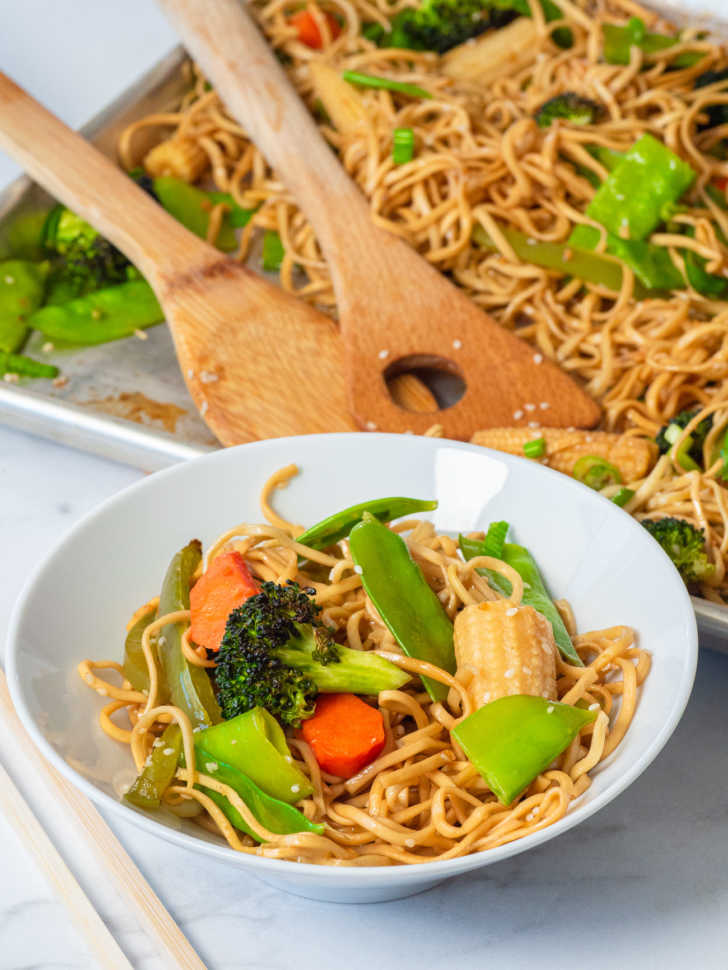 In this sheet pan method, the edges of some of those noodles get crispy, while the bulk stay tender so you end up with a combination of crunch and chewiness that's really hard to step away from. Easy to make and easy to love, that's always a winning dinner in my book!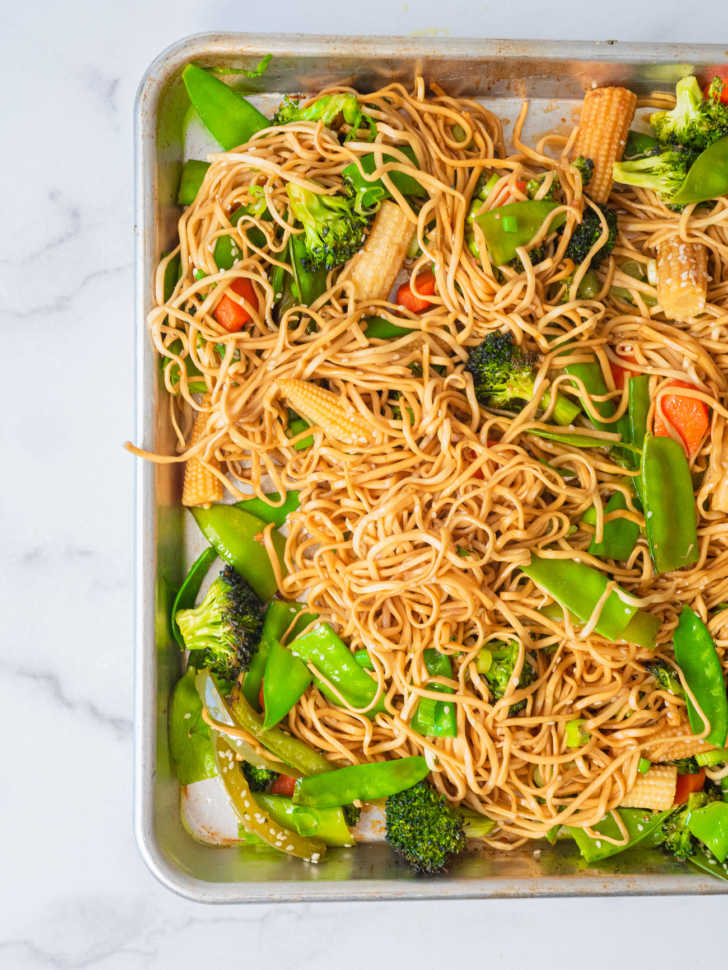 Sheet Pan Chow Mein
Serves 4
5m prep time
25m cook time
Ingredients
1 bell pepper, thinly sliced
1 carrot, peeled and thinly sliced diagonally
1 head broccoli, chopped into florets
Olive oil
1 (8.8 oz) package dried thin egg noodles
1 small can baby corn, drained
6 oz sugar snap or snow peas, trimmed and chopped into 1-inch segments
1 tablespoon toasted sesame oil
3 scallions, thinly sliced
2 tablespoons sesame seeds
Kosher salt, to taste
For the seasoning:
1 tablespoon toasted sesame oil
3 tablespoons soy sauce
1 tablespoon oyster or hoisin sauce
1/4 teaspoon ground white pepper
1 small clove garlic, minced
Preparation
Preheat oven to 425°F.
Add carrot, bell pepper, and broccoli to a large rimmed baking sheet. Drizzle with olive oil, sprinkle with salt, and toss to combine. Roast until vegetables start to soften, 10 minutes.
Meanwhile, bring a large pot of salted water to a boil. Add noodles and cook according to package directions. Drain and rinse with cold water. Pat dry with a clean kitchen towel.
In a small bowl, mix together the seasoning ingredients - the toasted sesame oil, soy sauce, oyster or hoisin sauce, white pepper, and garlic.
Push vegetables to one side of the baking sheet. Add noodles, corn, and snow or snap peas to baking sheet.
Drizzle with sesame oil, season with a bit of salt and toss everything together.
Bake until noodles are crispy in parts, about 15-18 minutes. You should have crispy edges and tops and non-crispy noodles in the center. Remove, drizzle with seasoning mix and toss well.
Serve topped with scallions and sesame seeds. Enjoy!
Recipe adapted from Smitten Kitchen.
SKM: below-content placeholder
Whizzco for 12T