Salty bacon and sweet maple syrup mixed with toasted waffles – get me a fork!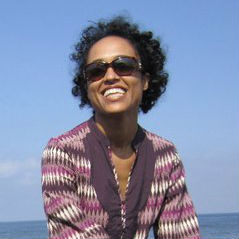 Sarah Cool
Waffle bacon casserole…sounds amazing, right?! We got to enjoy a version of this breakfast dish recently on a weekend away and boy was it good! Fresh waffles baked with bacon and covered with syrup, and yes, it was yummy in our tummies. We don't always have time to whip up a batch of fresh waffles, but when we do have a lazy weekend morning we like to take the time to make something special without making a big mess. So, in an effort to recreate this weekend brunch from our vacation, we've borrowed one of our favorite shortcuts: frozen waffles.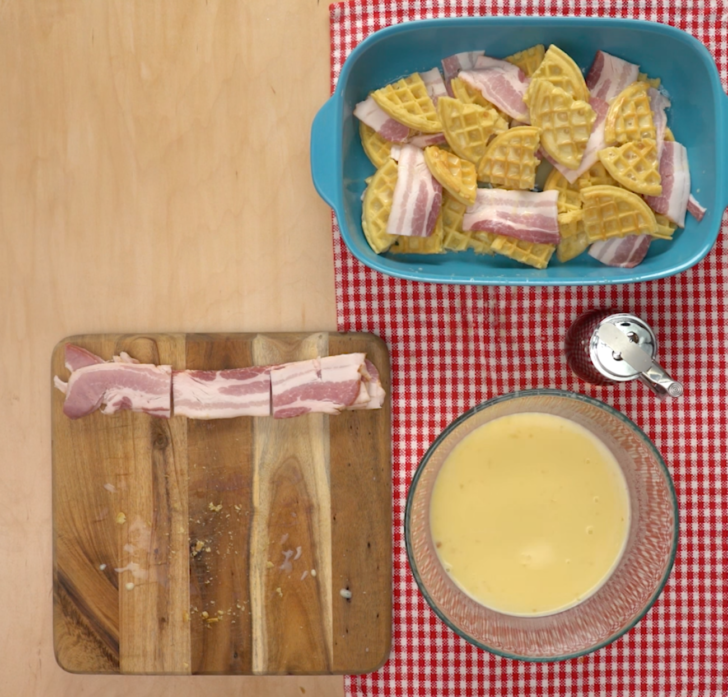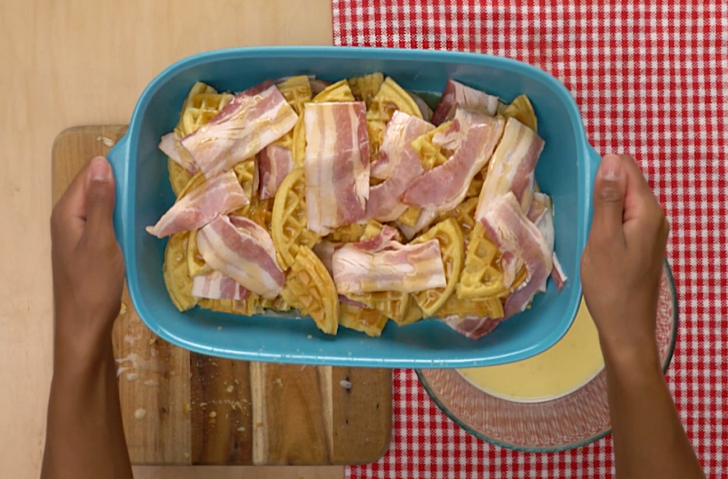 Toasted waffles are dipped in a milk and egg batter, just like what you'd do for French toast, then sprinkled with chunks of sliced bacon, and drizzled over the top with our favorite maple syrup. This goes into the oven for about an hour and, as it bakes, our house is filled with the warm and inviting smell of bacon and maple. Our hungry bunch is already waiting at the table when the kitchen timer goes off. We scoop out a generous helping of this delicious casserole and top it with a little more maple syrup – just for good measure.
The combination of sweet and salty is one of our favorite parts of the dish, and it doesn't hurt that there's hardly any mess to clean up – no flour all over the countertops and floor, or a greasy pan of bacon to clean. Another benefit of a waffle bacon casserole is that it's a great family recipe and a fun way to get eager young chefs to help out in the kitchen. We get to enjoy a quiet weekend at home with a delicious breakfast and a cup of coffee. Waffle bacon casserole is a real breakfast treat for the whole family and so simple for the weekend!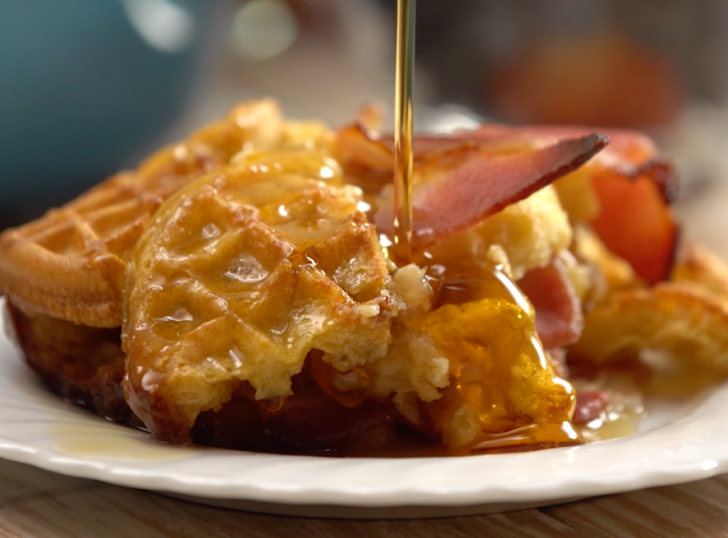 Waffle Bacon Casserole
Ingredients
12-16 frozen waffles
6 large eggs
2 cups milk
1 teaspoon vanilla extract
½ teaspoon kosher salt
8 slices bacon, sliced into thirds
½ cup maple syrup, plus more for serving
2 tablespoons unsalted butter
Preparation
Preheat oven to 375°F. Coat a 9x13-inch casserole dish with cooking spray or butter.
Bake waffles on a baking sheet for 15-20 minutes, or until crispy, flipping halfway through. Or, cook in a toaster according to package instructions. Once toasted, cut into quarters and set aside.
Mix eggs, milk, salt, and vanilla extract. Dunk ⅓ of waffle sections into egg-milk mixture then layer on bottom of casserole dish. Scatter ⅓ of bacon pieces over waffles. Repeat until all ingredients are used. Drizzle ½ cup maple syrup over top.
Cover casserole dish with aluminum foil and bake covered for 45-50 minutes. Remove foil and bake an additional 10-15 minutes or until waffles are crispy and golden brown.
Serve with butter and more maple syrup, if desired. Enjoy!
SKM: below-content placeholder
Whizzco for 12T