Rice — upgraded to be the ultimate comfort food.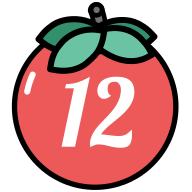 Victoria Brittain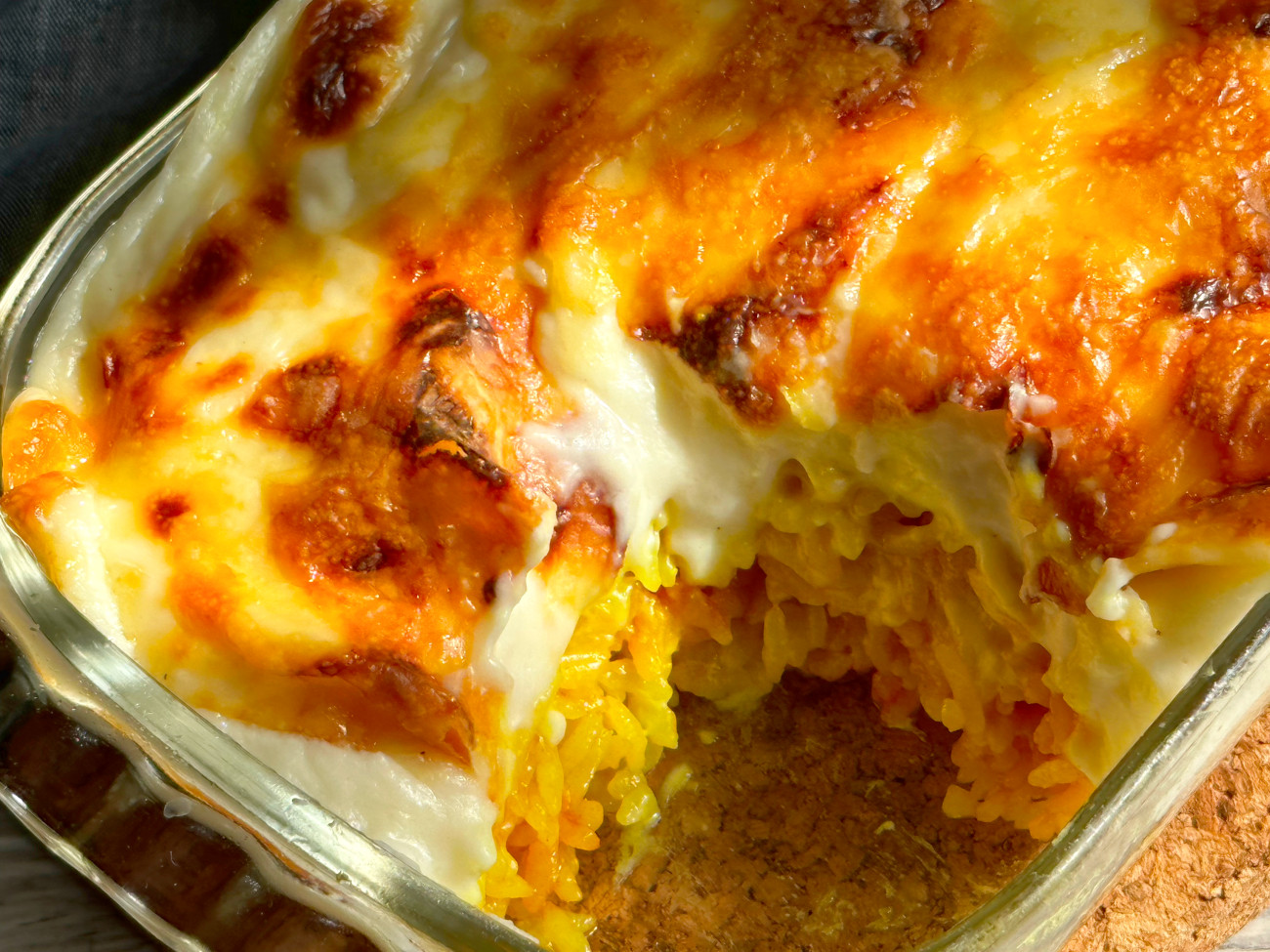 Rice — it comes in the form of a sad cardboard takeout container or the most abysmal of tacky catered wedding foods, it's never something you ever look forward to eating. That is, until now. This Rice Gratin will be the star of your dinner table, whether you plan on it or not. A turmeric-laced buttered rice is topped with a cheesy white sauce and baked until it achieves golden, bubbly perfection.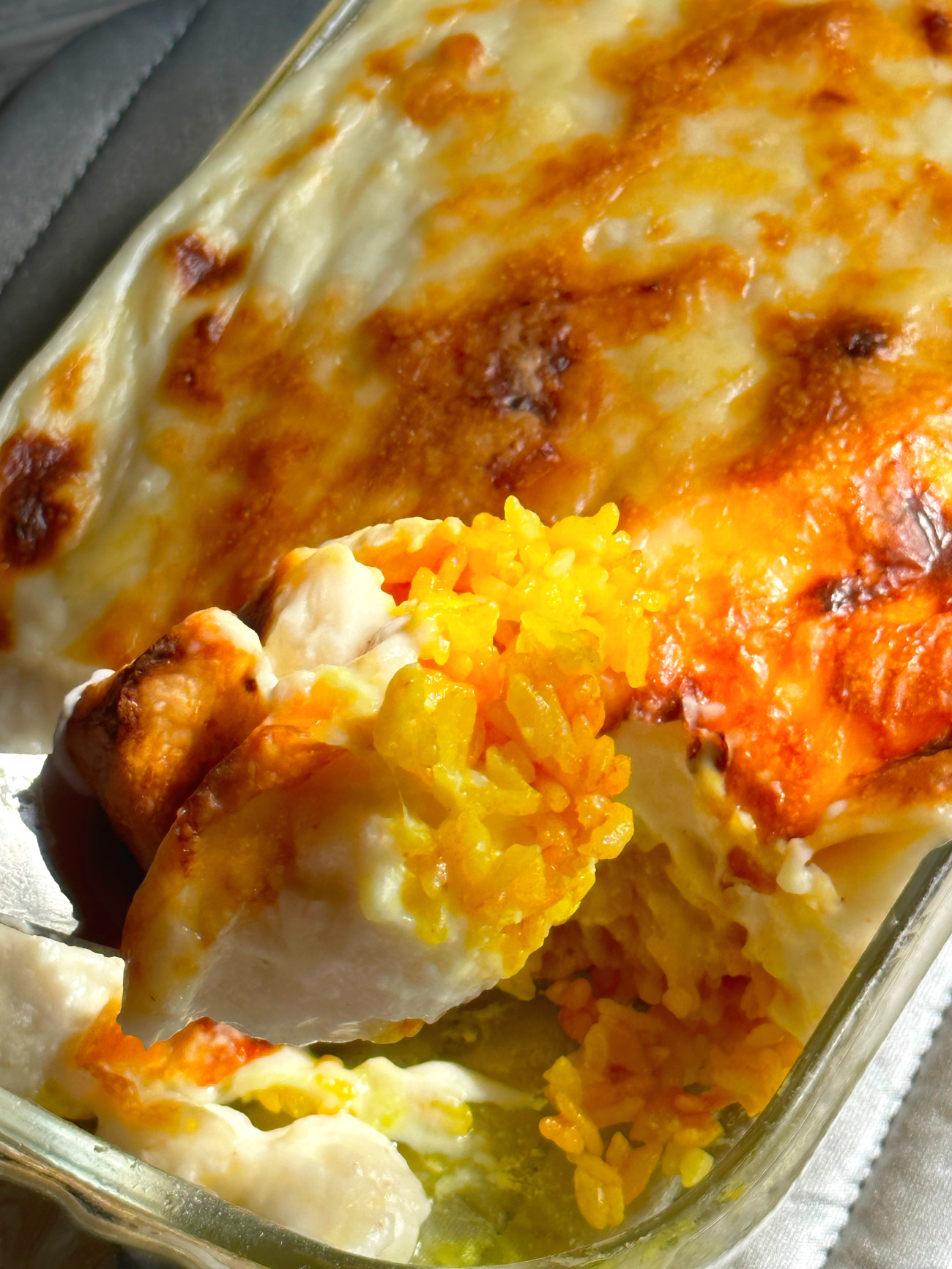 When one thinks of gratin, your mind immediately goes to the light summer squash gratin or hearty winter potato gratin, but as long as you have a casserole dish and some sauce, you can gratin anything. This grain may not come to the forefront of your mind, but man, you've been missing out! Rice layered and baked with cream, butter, and cheese needs to be in your recipe repertoire.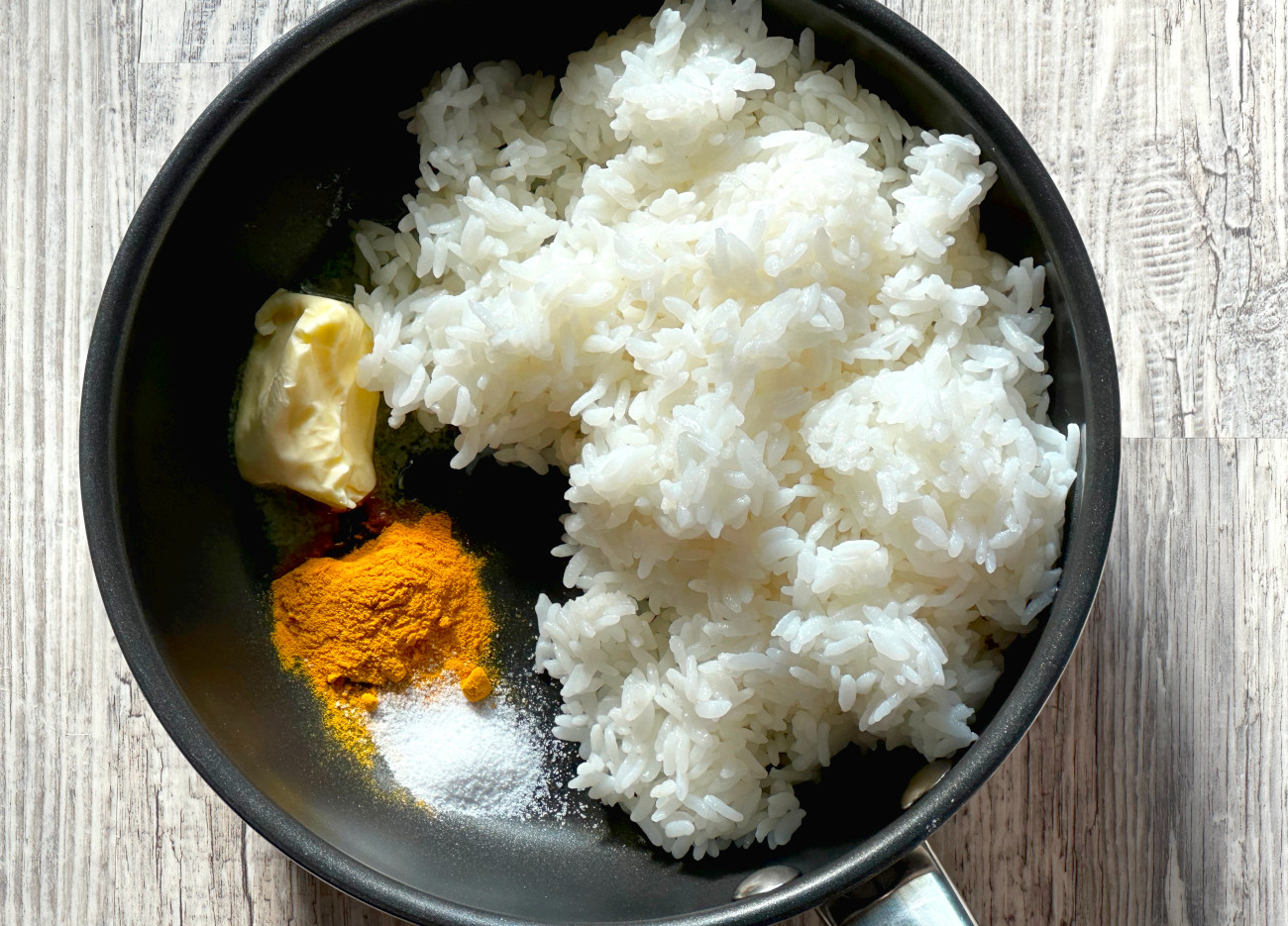 The ingredient list is short and simple — rice, butter, turmeric, milk, flour, and cheese, plenty of cheese.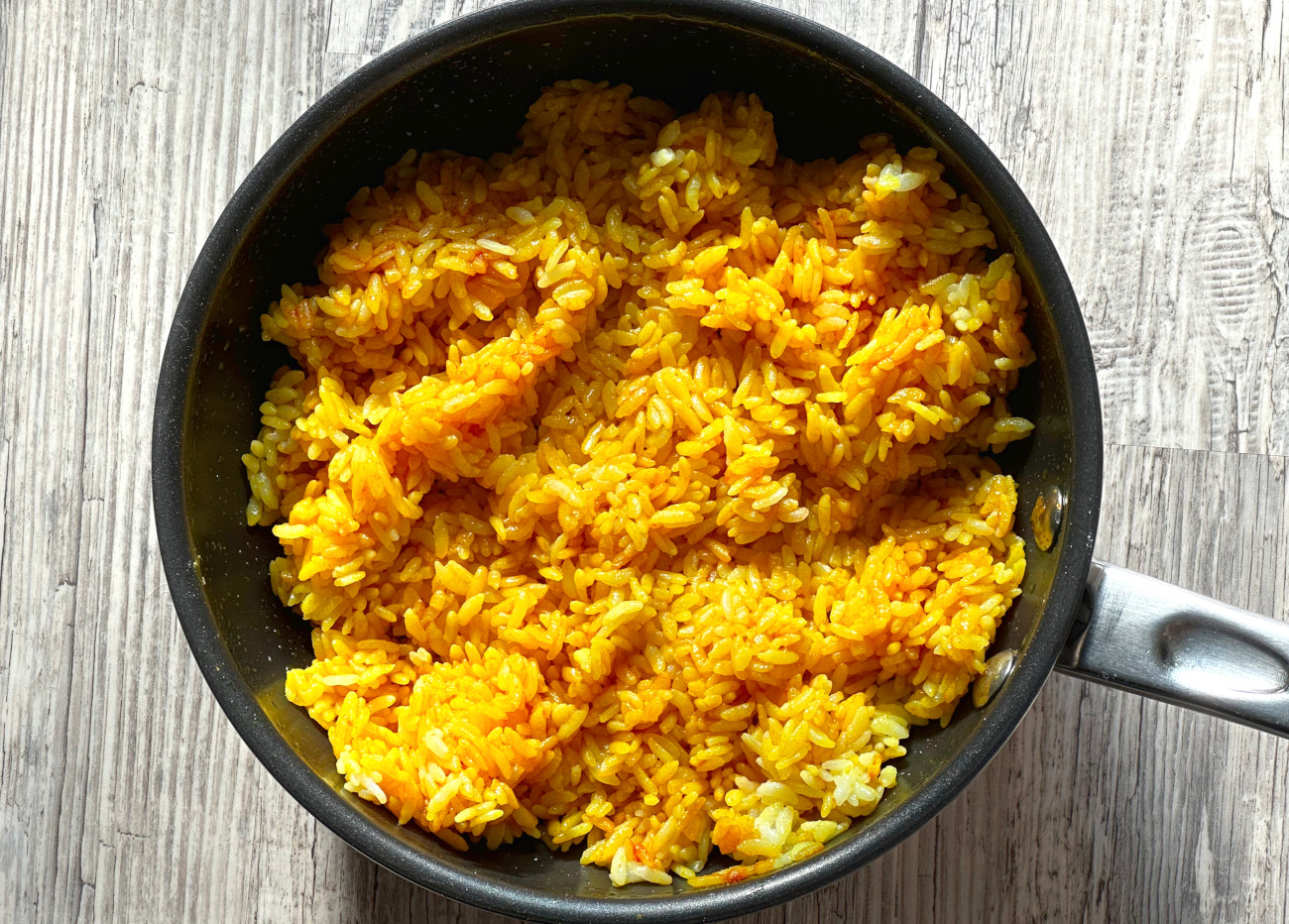 You can go about the recipe in a fancy way and cook up your own rice, but for convenience and streamlining the recipe, I opted for instant microwaveable rice. I used short-grain rice, which has a natural sweetness and some needed clumping action going on, but you can easily swap out short-grain rice for whatever you have floating around in your kitchen pantry.
In a saucepan, I melted butter with some turmeric and salt. Once melted, I tossed in the rice until it was completely coated and had a beautiful golden-yellow color. The rice then gets transferred into a greased casserole dish.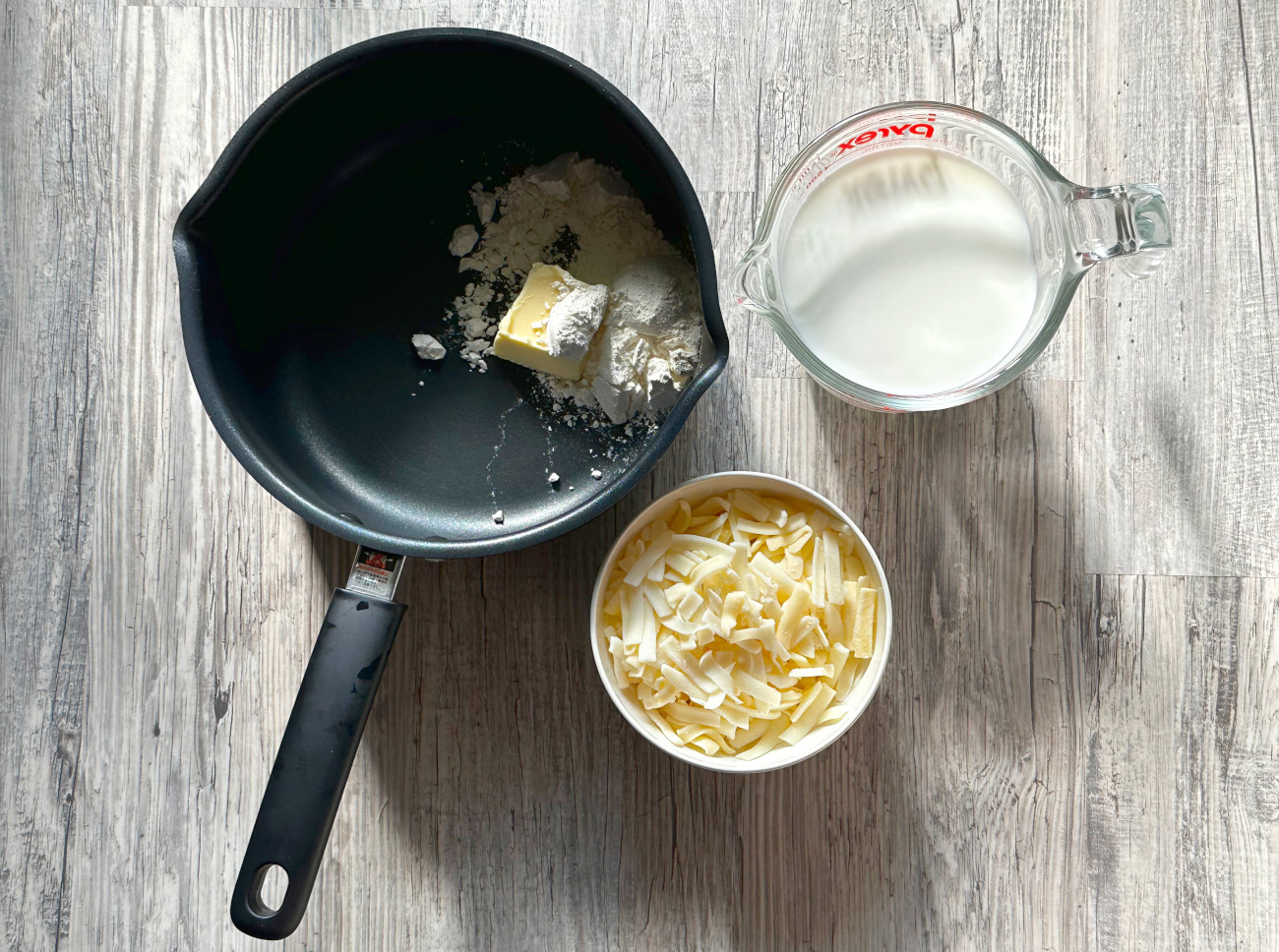 Next comes the sauce, the glorious white sauce.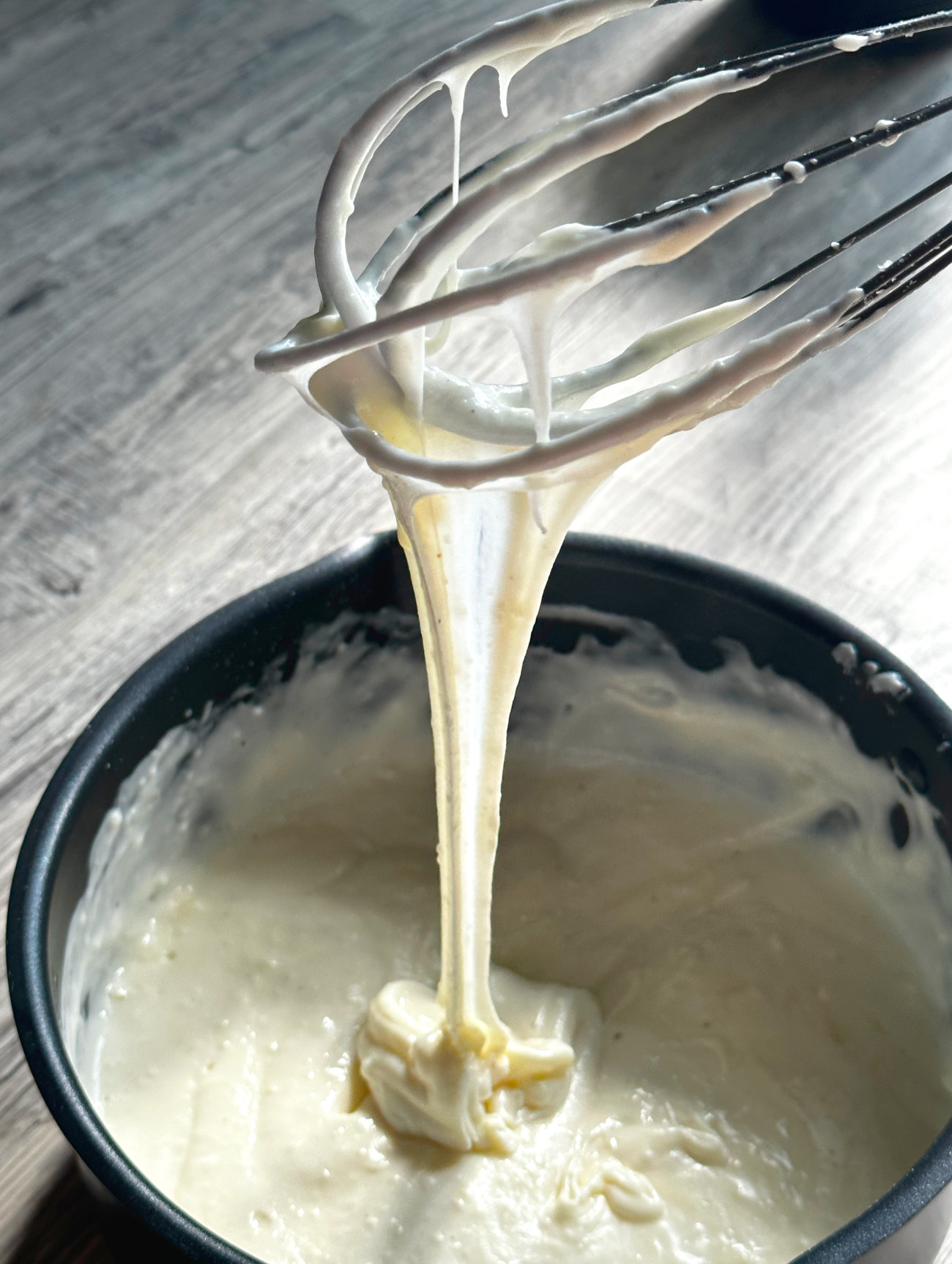 You start like you would with any old white sauce and whisk flour and butter together until it forms a roux. Then gradually add in the milk until it gets smooth and thick. I seasoned the sauce with some nutmeg, salt, and pepper.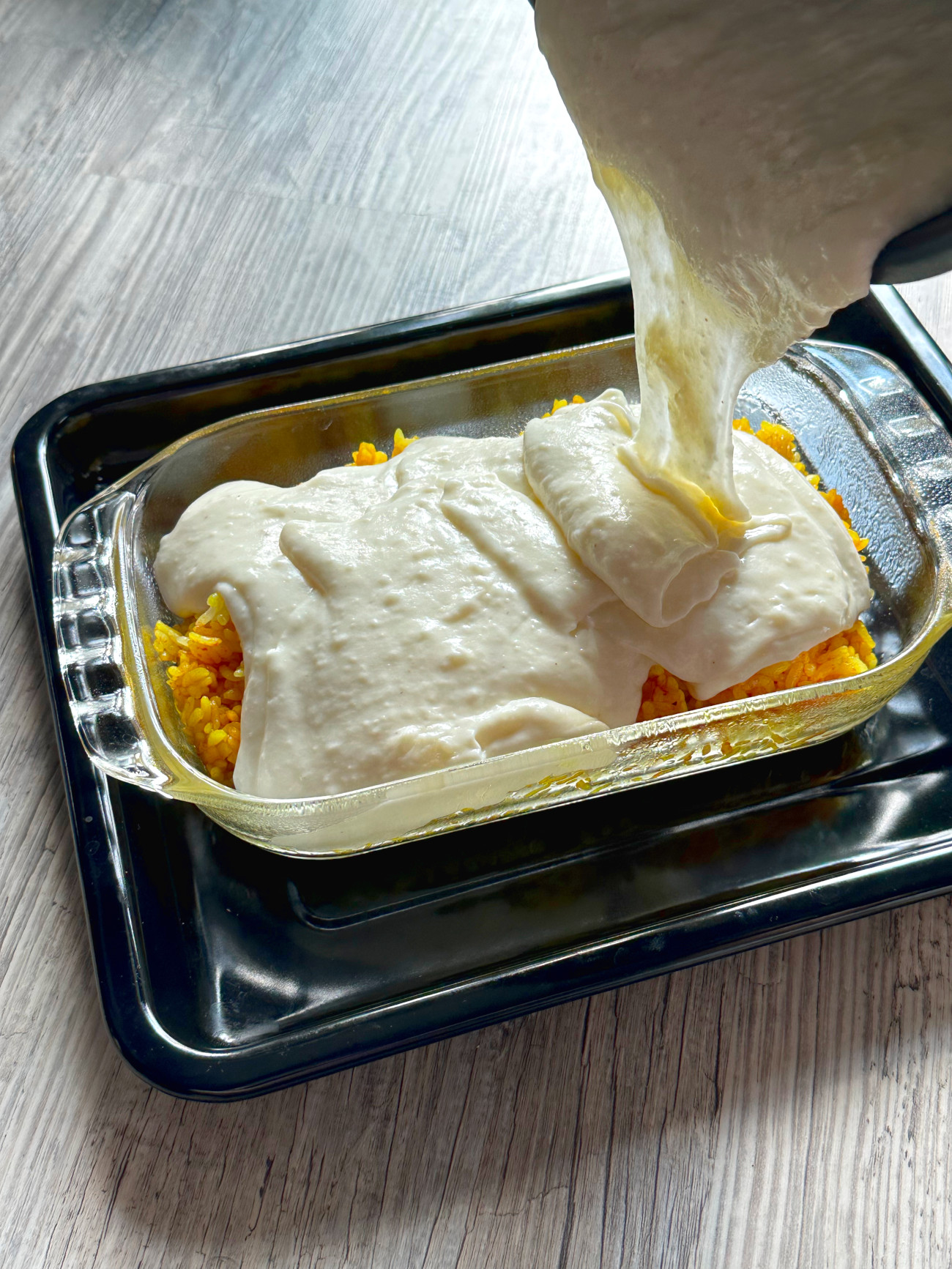 The cheese sauce looks luscious as it's poured on top of the rice.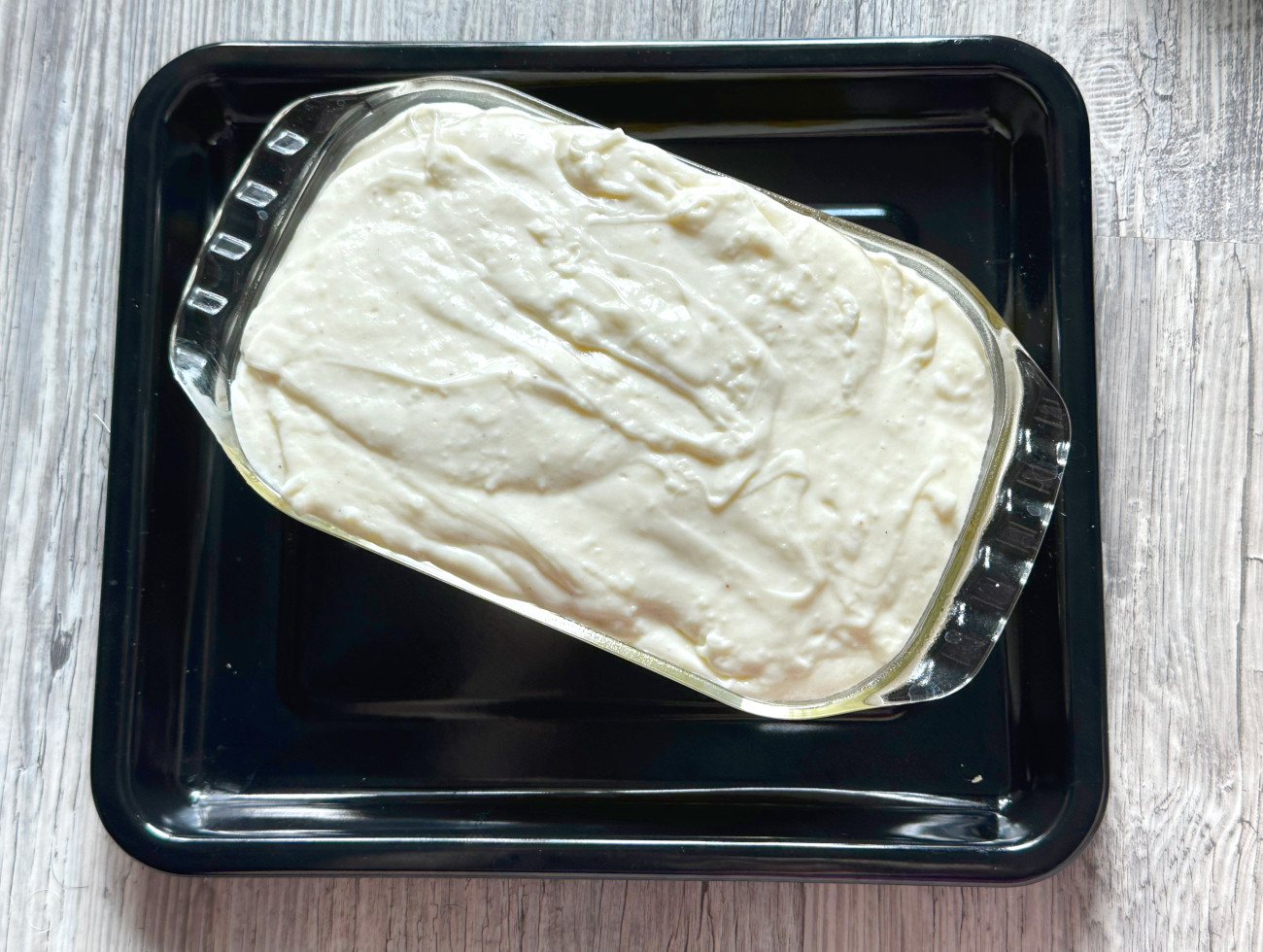 Then came the cheese. I used mozzarella, but you can easily use any white cheese like white sharp cheddar, provolone, or gruyere. But for the sake of budget and ease of access, I went with something that was available and affordable in most supermarkets.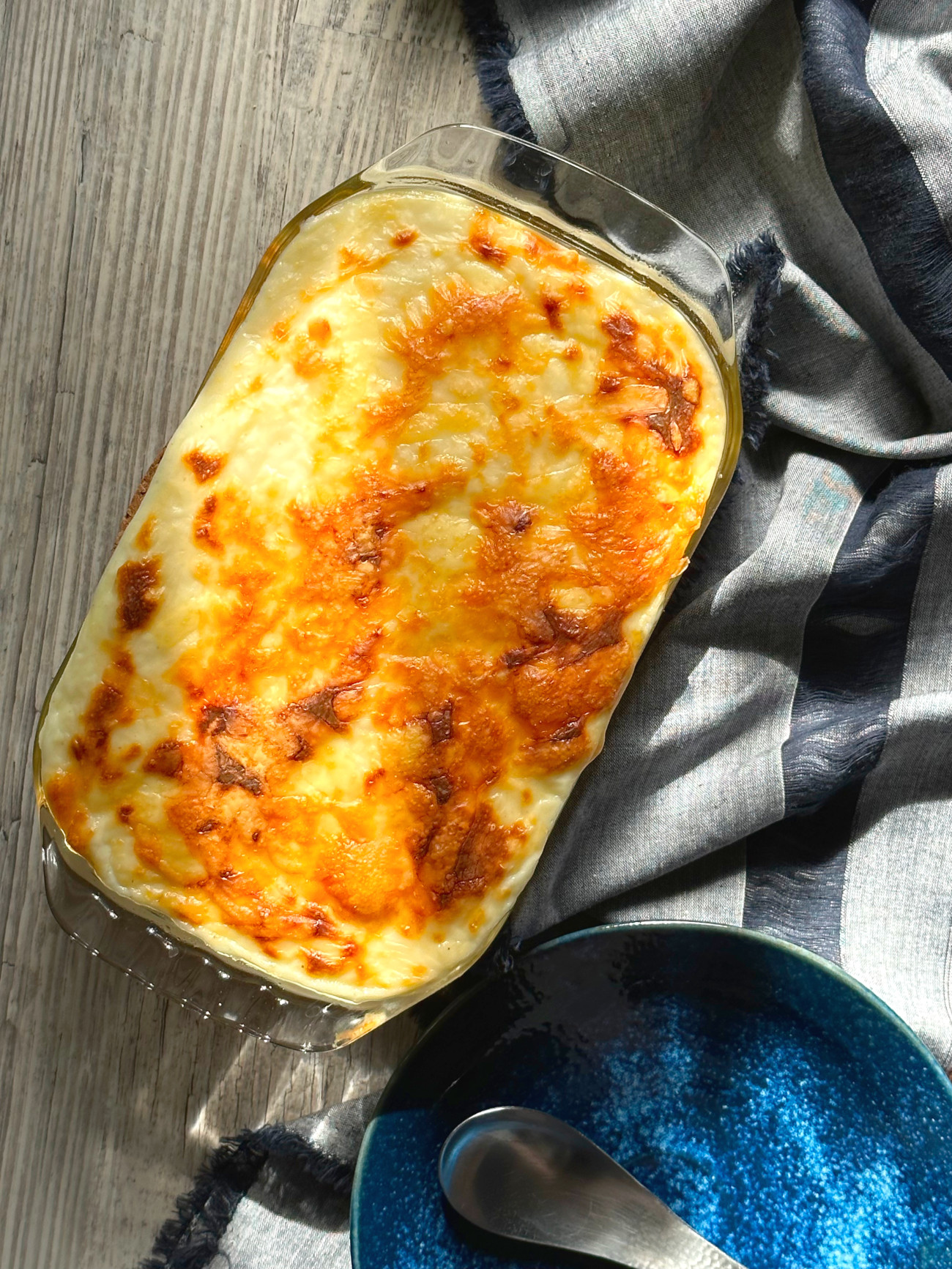 Just when you think you're done with the cheese, there's more. Topping the gratin with a layer of cheese will create a divine crispy coating that'll contrast against the smooth creamy sauce beneath.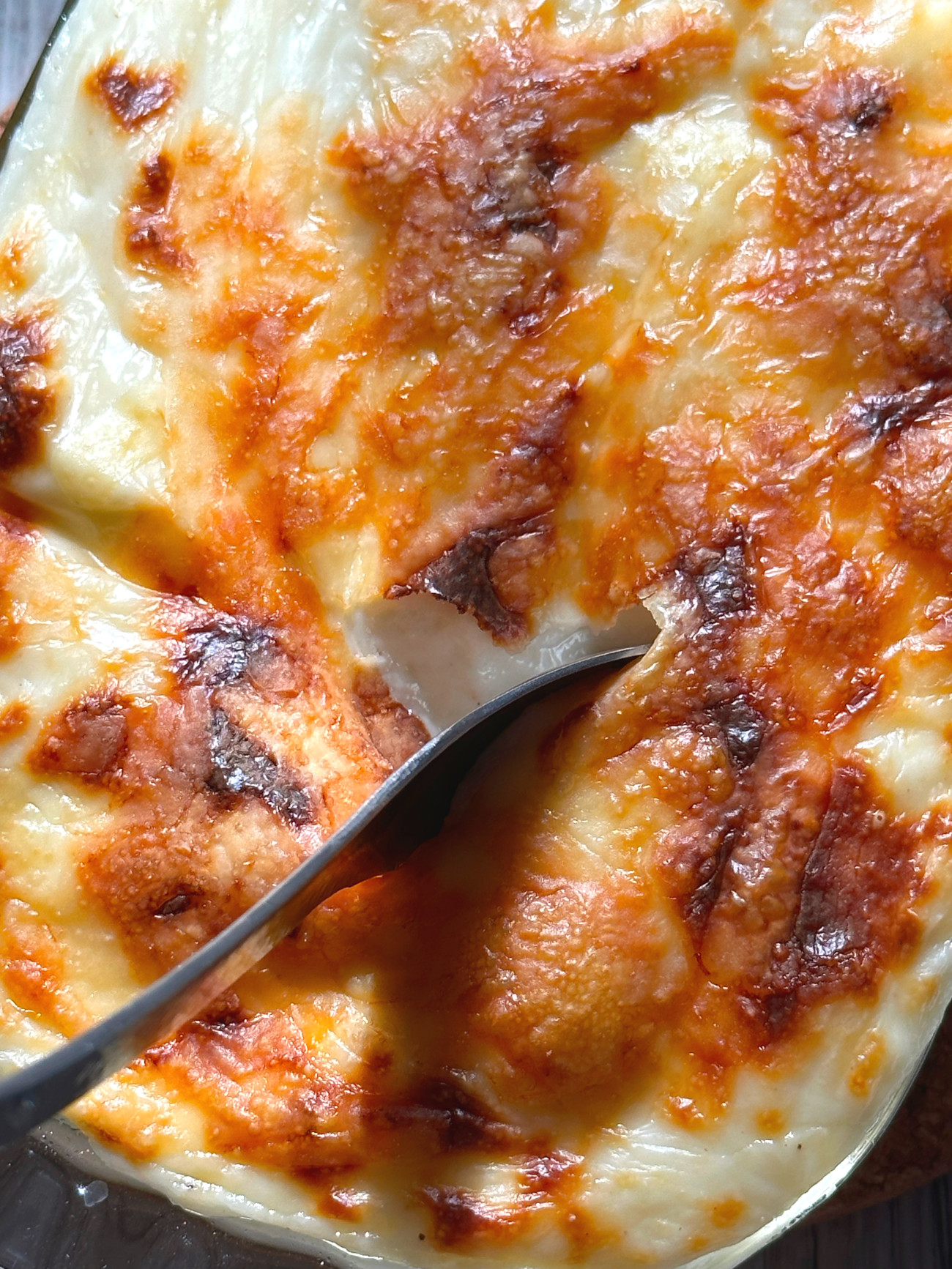 Once baked you get a next-level side dish that honestly outshines the main dish. If you topped this gratin with some sautéed shrimp or a bolognese sauce, you'd have a complete and divine meal.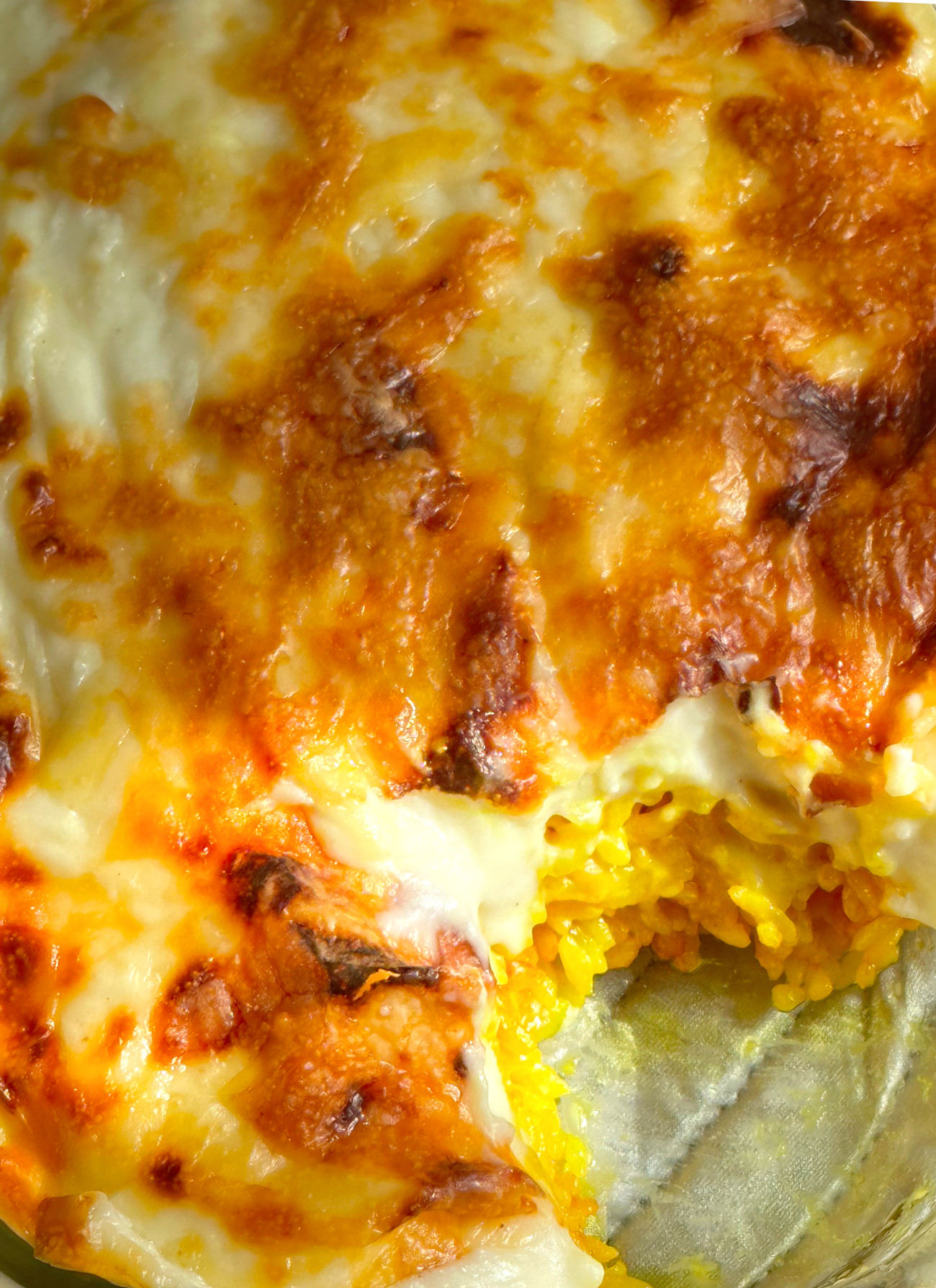 Rice Gratin is more of a comfort food than macaroni and cheese or mashed potatoes. It's rich without being sickly rich. The turmeric coating the rice breaks up the creaminess, and the crispy cheesy topping is a divine bite you may have to eat off of the entire casserole. You won't need turkey or ham or roast beef when you have this side.
Rice Gratin
Serves 4
20m prep time
35m cook time
For the Rice:
4 tablespoons unsalted butter
2 1/2 teaspoons turmeric powder
1/4 teaspoon fine salt
3 cups short grain rice, cooked
For the Gratin:
6 tablespoons unsalted butter
6 tablespoons all-purpose flour
3 3/4 cups whole milk
1/4 teaspoon ground nutmeg
4 ounces mozzarella or white cheddar cheese, shredded and divided
Kosher salt and freshly cracked black pepper
To make the Rice:
In a saucepan melt butter and then add turmeric and salt. Add in rice, tossing to combine until rice is completely covered. Remove from pan and set aside.
To make the Gratin:
Preheat oven to 375°F. Line a cookie sheet with tin foil. Grease a 8x8 casserole dish and pour in the rice, set on top of the cookie sheet and set aside.
In a saucepan set over medium-low heat, melt butter. Once melted, whisk in flour, creating a paste.
Slowly whisk in whole milk, this will make a thick sauce. Whisk in nutmeg. Season with salt and pepper. Add in half of the cheese.
Pour on top of the rice and then cover with remaining cheese.
Bake in the oven until the top is golden and a bit crispy, about 8 to 10 minutes. Serve warm and enjoy.
Recipe adapted from Sudachi Recipes
SKM: below-content placeholder
Whizzco for 12T