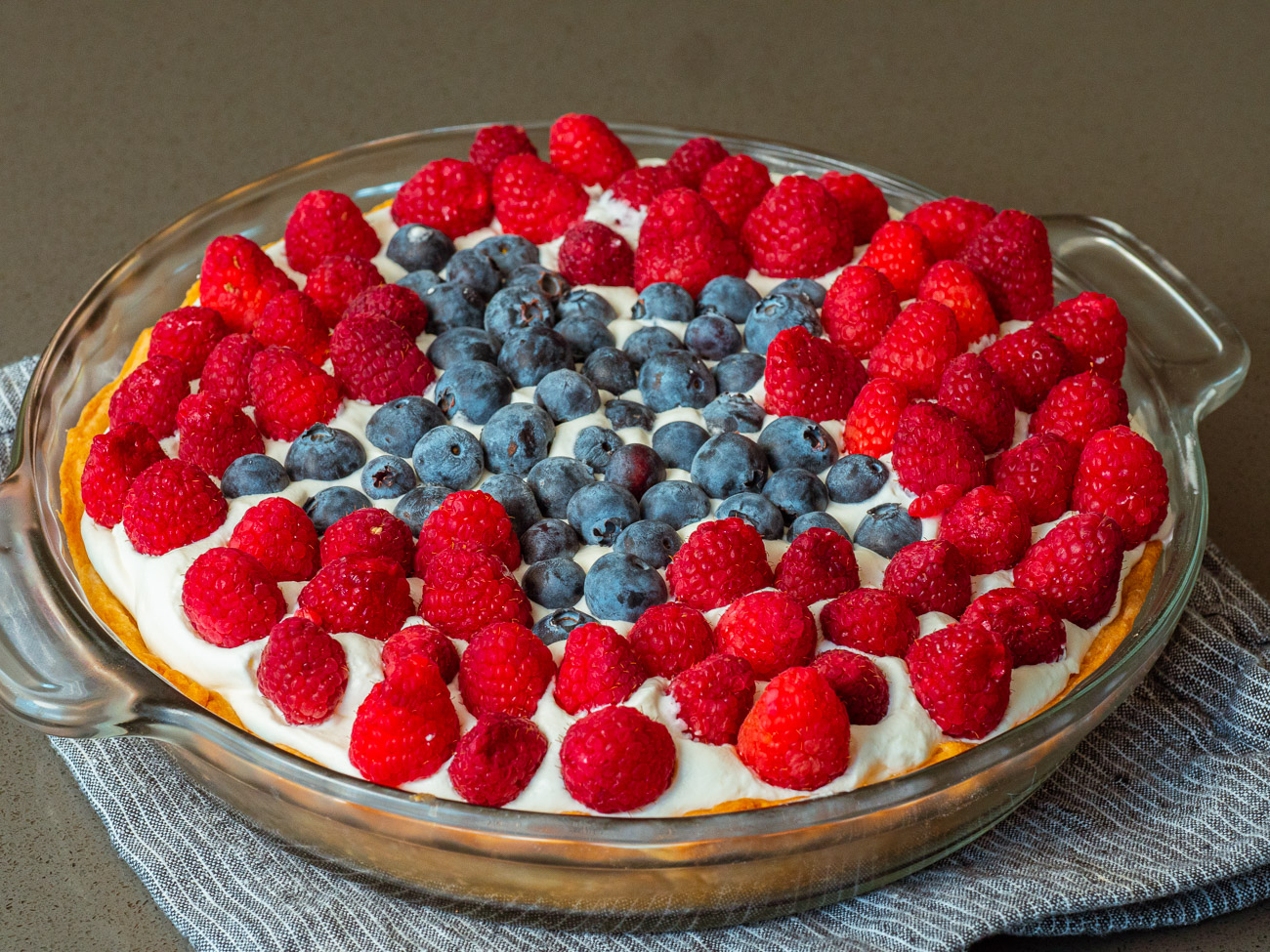 When it comes to pies there's every kind you can think of out there. But, sometimes a return to the classics is a comforting way to enjoy a great dessert. This red, white, and blue buttermilk pie has that rich, custard-like filling, but with a fun topping that is perfect for patriotic celebrations. Buttermilk pie has a long history and that's because it's so good people are still enjoying it nearly 200 years after it was first created.
To make this recipe you'll need to start with the crust, folding in cold, cubed butter to a mixture of flour, sugar, and salt. Then add in 1 spoonful of water at a time until a sandy mixture forms before adding the rest of the flour. Then roll out the crust.
To simplify this recipe you can use a frozen pie crust instead and it will still come out beautiful and delicious. Once the crust is ready it's time to move on to the filling, which is made from eggs, sugar, lemon zest, a little bit of flour, melted butter, buttermilk, and vanilla extract. The sweet filling is offset nicely by the slight sourness of the lemon zest and buttermilk.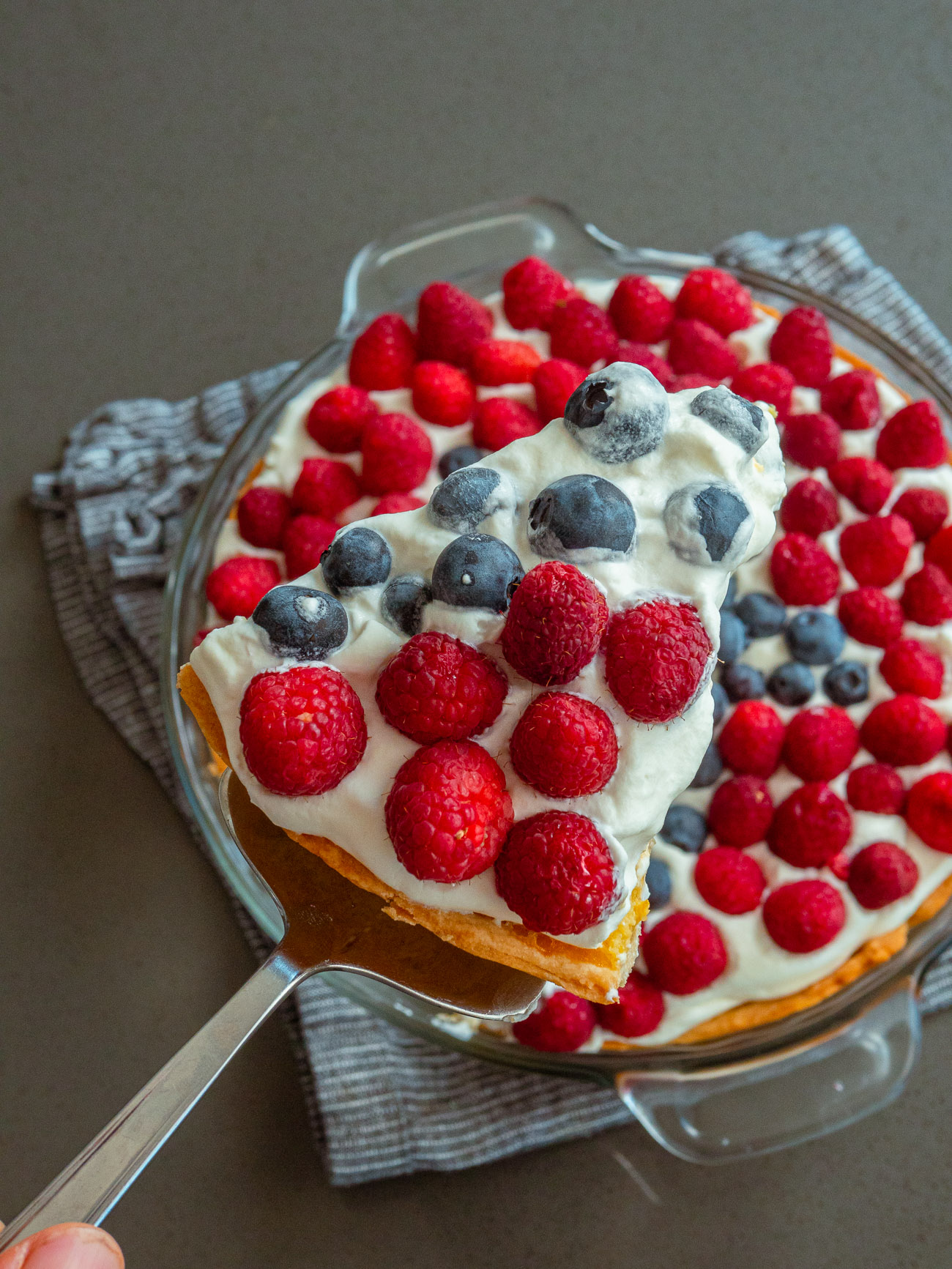 Pour the filling into the crust and bake this pie for 50 minutes or until the top is golden and filling is set. If the crust or the filling browns too early take the pie out and cover with foil part way through the baking.
Now here's the hard part: once this pie comes out of the oven you need to let it cool off for 2 hours on a cooling rack. Once the pie is cooled whip up some heavy cream and spread over the pie. Add blueberries and raspberries on top of the cream. We did ours in a star pattern, but you can do stripes, circles, or even use all one type of berry for a monochromatic look. This is a versatile recipe, so change it up for whatever you're in the mood for.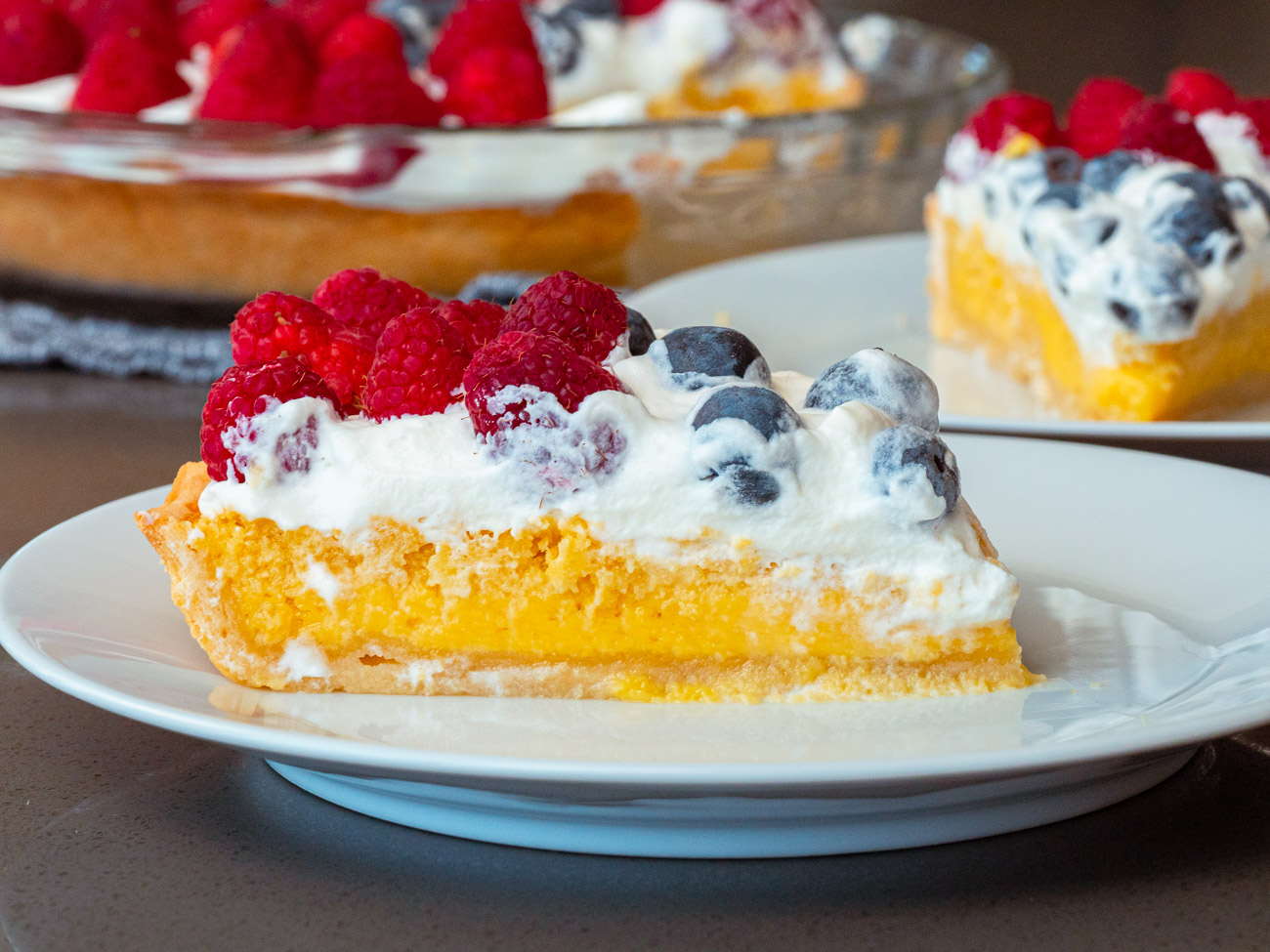 Anyway you slice it this is one pie that's sure to be a hit at summertime gatherings or really anyplace where pie-lovers congregate. Thanks to the creamy filling and the fresh berries on top this is one dessert that never fails to finish a meal off perfectly.
Red, White, and Blue Buttermilk Pie
Serves 8
3h 20m prep time
50m cook time
For the crust:
1 1/4 cups all-purpose flour, divided
2 Tbsp granulated sugar, divided
1/2 tsp salt
1/2 cup cold butter (1 stick), cubed
1/4 cup ice water
For the filling and topping:
4 eggs
1 cup granulated sugar
1 tsp lemon zest
1 Tbsp flour
1/4 cup butter (1/2 stick), melted
1 cup buttermilk
2 tsp vanilla extract
1 cup heavy whipping cream
1 pint fresh red raspberries
1/2 cup fresh cup blueberries
For the crust:
Preheat oven to 325˚F. Combine 3/4 cup flour in a large bowl with sugar and salt. Stir well. Add butter to flour mixture and cut in using a dough cutter or two forks until a sandy mixture is formed. Add the rest of the flour and add the water 1 tablespoon at a time.
Only add enough water to make a loose dough and then stop mixing. Roll out dough on floured work surface. Cut a 9 1/2" circle from the dough. Place this into a 9" pie pan and crimp edges with fork or with fingers. Trim any excess crust from the edge of the pan.
For the filling:
In a medium bowl combine eggs, sugar, and lemon zest. Add in flour and butter and stir well. Pour in the vanilla extract and buttermilk and stir again. Pour into pie crust.
Bake for 50 minutes or until custard-like pie is set. Allow to cool for 2 hours on cooling rack.
When ready to serve pie whip the heavy cream until stiff peaks form. Spread cream on cooled pie and decorate with berries.
Recipe adapted from Simply Recipes.
SKM: below-content placeholder
Whizzco for 12T