I'm taking inspiration from the fall season and whipping up a batch of my favorite pumpkin cream cheese swirl muffins.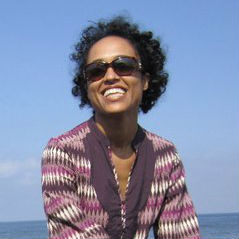 Sarah Cool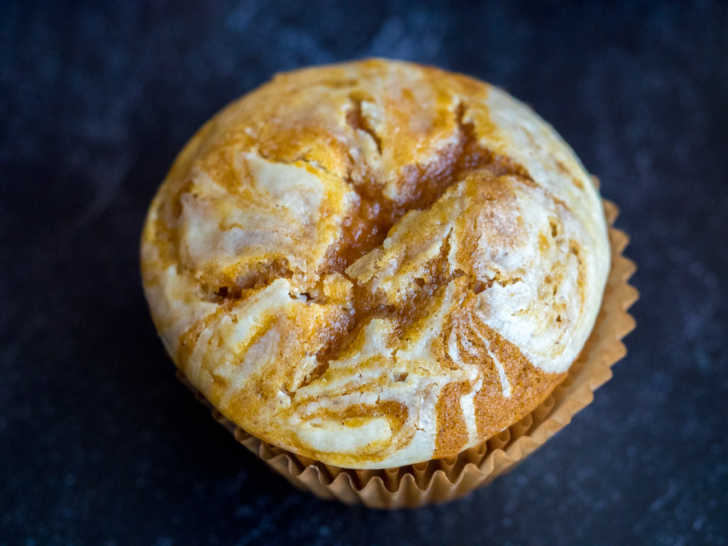 For me, fall means that it's time to bake, and of course, that means everything from warm casseroles to sweet treats. Muffins are wildly popular in my house and what I love about the muffin is just how versatile it is. Muffins are savory, sweet, made with fruits or vegetables (like corn), they're always super cute, and their size makes them irresistible. For this weekend's baking project, I'm taking inspiration from the fall season and whipping up a batch of my favorite pumpkin cream cheese swirl muffins.
The hypnotic and alluring swirl of cream cheese that adorns the tops of these muffins is probably my favorite part of the muffin, but what's inside of it is also irresistible. And, if I really have to be honest with myself, I can't resist a sweet cream cheese frosting, filling, or topping and this is no exception.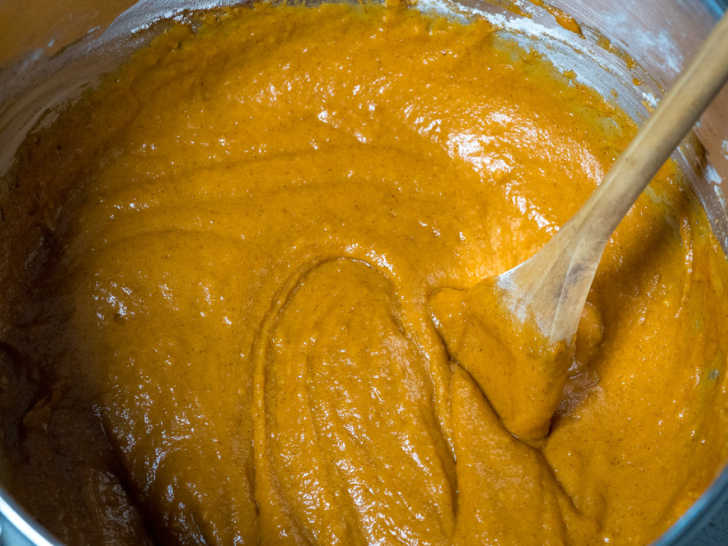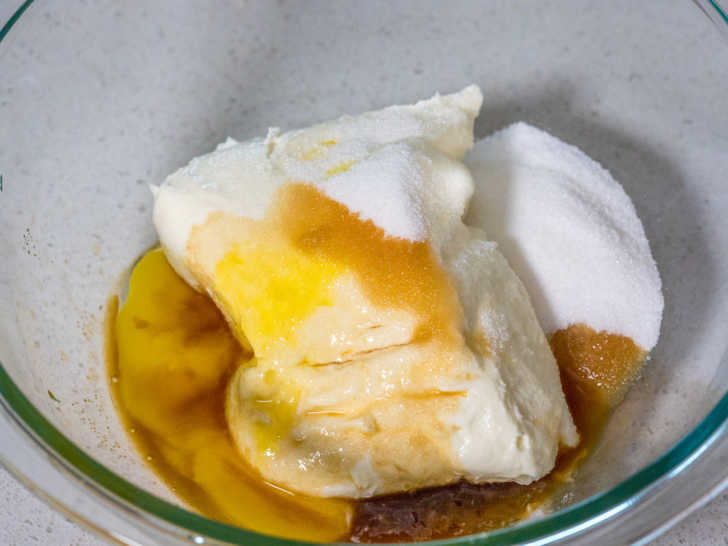 Pumpkin pureé, pumpkin spice, and nutmeg – oh my! It's these ingredients that keep this batch of muffins on the fall flavors theme. I love the combination of warm spices with a little bit of sweetness, and that's why I'll use both granulated and brown sugar in the batter. Brown sugar is so magical – it's sweet molasses spiced flavor makes everything taste good. This batter will go evenly into each muffin cup. I've lined them with paper cups and I'm using a cookie scoop to ensure the equal distribution of the batter.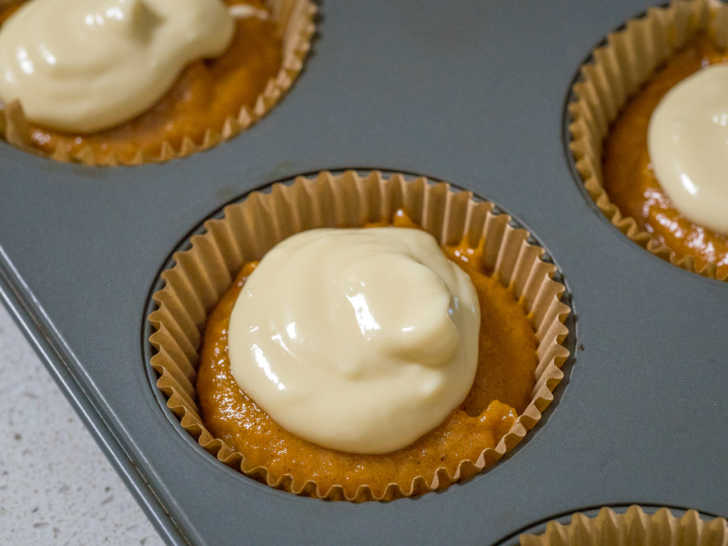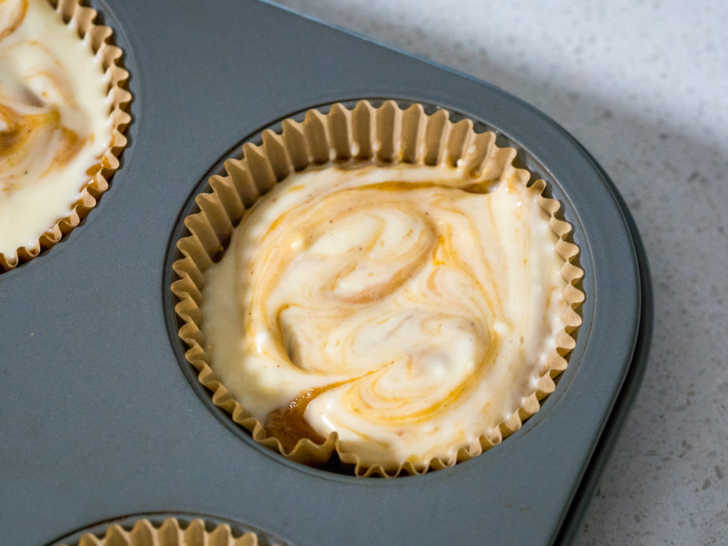 Now for the sweet cream cheese swirl, which is basically cream cheese, sugar, and egg. A good dollop of this will go on the top of each muffin and then I'll take a toothpick and swirl the cream cheese over the top of the muffin. It's ok if this measurement isn't totally exact. Nobody has ever complained about too much cream cheese on anything. Use a toothpick to swirl the two batters together and let your creativity flow. The end result, prebake, will not look very good, but this will be remedied as soon as it bakes!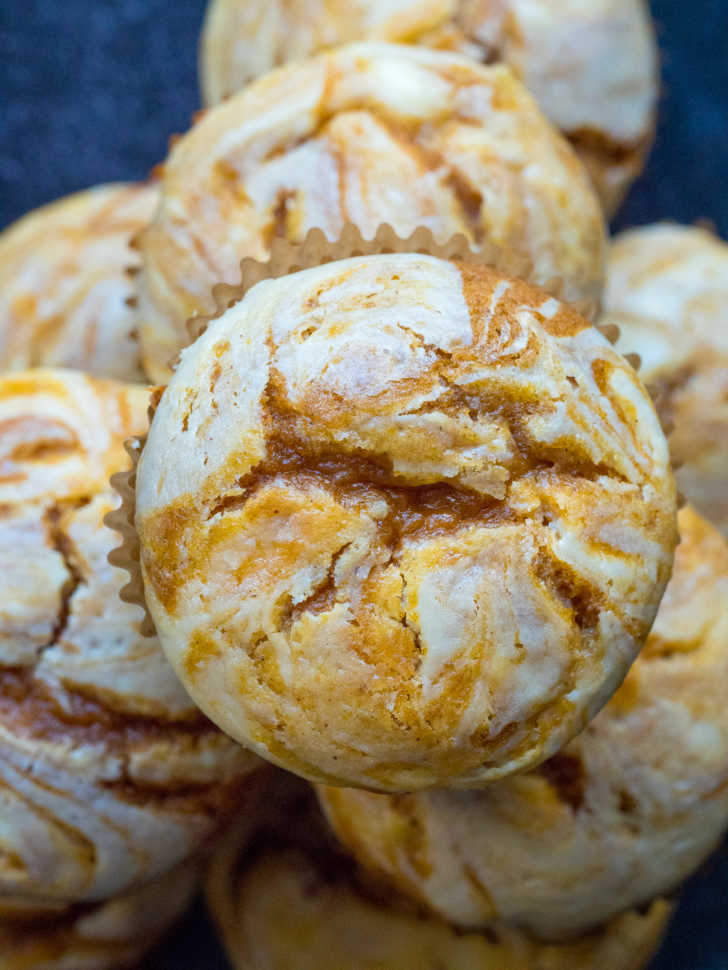 The ping of my kitchen timer 20 minutes later alerts me that my pumpkin cream cheese swirl muffins are done – but the delicious smell of these baking in the oven was already my cue. Look at how well these turned out! The cracked swirl of cream cheese makes these muffins look beautifully rustic, as if ready for a farmer's market or a bakery specialty. A batch of warm pumpkin cream cheese swirl muffins is just what a cool and crisp fall morning calls for, served next to a cup of hot coffee. I hope your family enjoys these as much as mine does!
Pumpkin Cream Cheese Swirl Muffins
Makes 18 muffins
10m prep time
20m cook time
Ingredients
1 3/4 cup all purpose flour
2 tablespoons pumpkin spice
1/8 teaspoon nutmeg
1 teaspoon baking soda
1 teaspoon salt
1 (15oz) can of plain pumpkin puree
1 cup granulated sugar
1/2 cup packed dark brown sugar
2 large eggs
1/2 cup vegetable oil
1 tablespoon vanilla extract
Cream Cheese Swirl
8oz cream cheese, softened
1/4 cup granulated sugar
1 large egg yolk
2 teaspoons vanilla extract
Preparation
Heat the oven to 375°F.
Place paper baking cups into muffin pan and set aside.
In a large bowl, whisk together the flour, pumpkin spice, nutmeg, baking soda, and salt. Once fully combined, set aside.
In a new large mixing bowl, whisk together pumpkin, sugar, and brown sugar.
Beat in the eggs, vegetable oil, and vanilla extract. Slowly incorporate the dry ingredients. Mix until no lumps remain but be careful not to over work the batter.
Fill each muffin cup to ¾ full to allow the muffins room to rise. To ensure an even distribution of batter throughout, I recommend using a cookie scoop.
In a medium bowl, combine the cream cheese, sugar, egg yolk, and sugar. Beat until well combined.
With a spoon, top each muffin with about 1T of the cream cheese mixture.
Bake muffins for 18-20 minutes or until a toothpick comes out clean after being inserted into the center of the muffin.
Remove from the oven and let cool before serving.
To store, place in an airtight container and put them in the fridge.
Recipe adapted from The Novice Chef.
SKM: below-content placeholder
Whizzco for 12T