A single pot, but SO much flavor.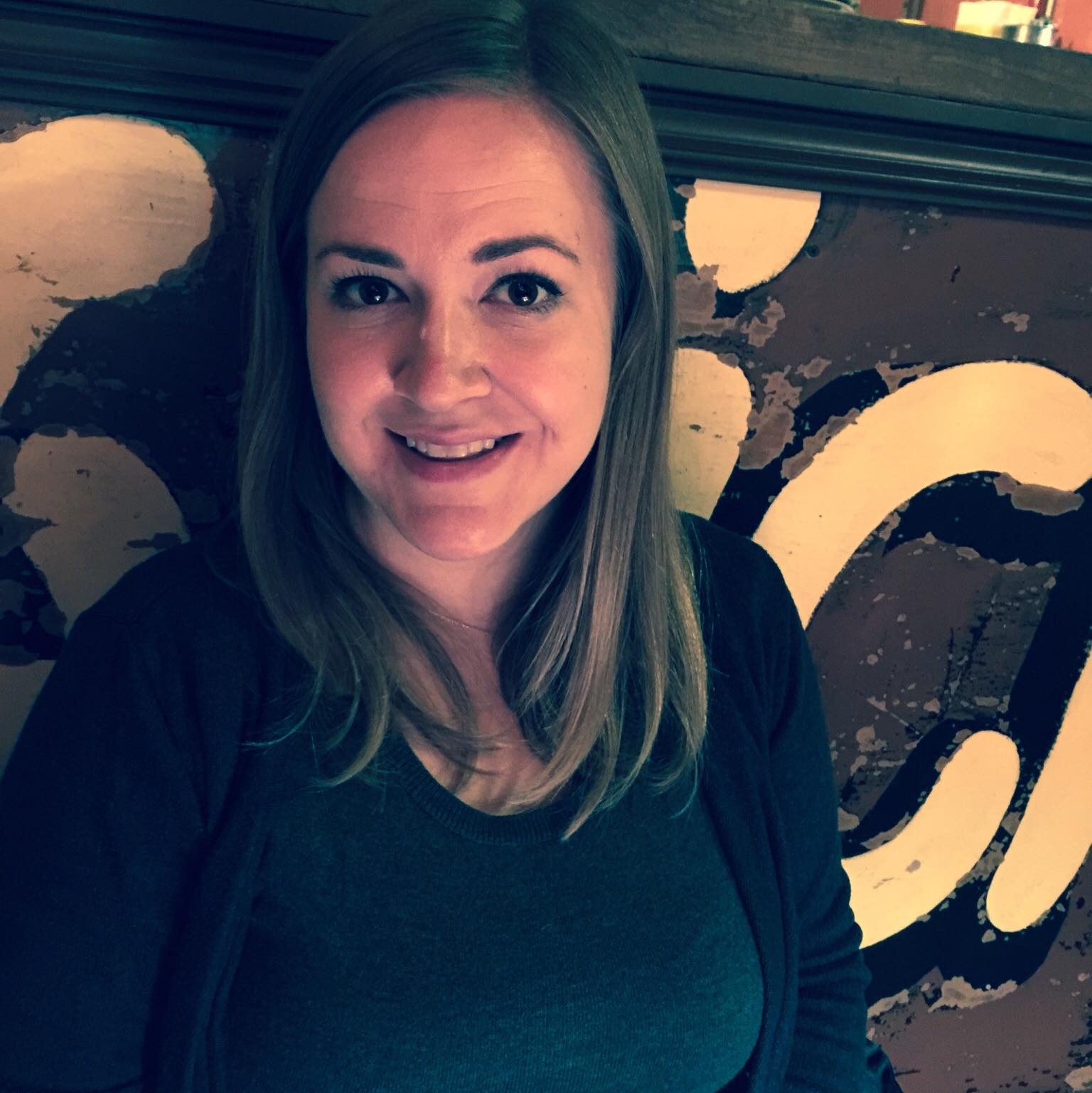 Kristy Norrell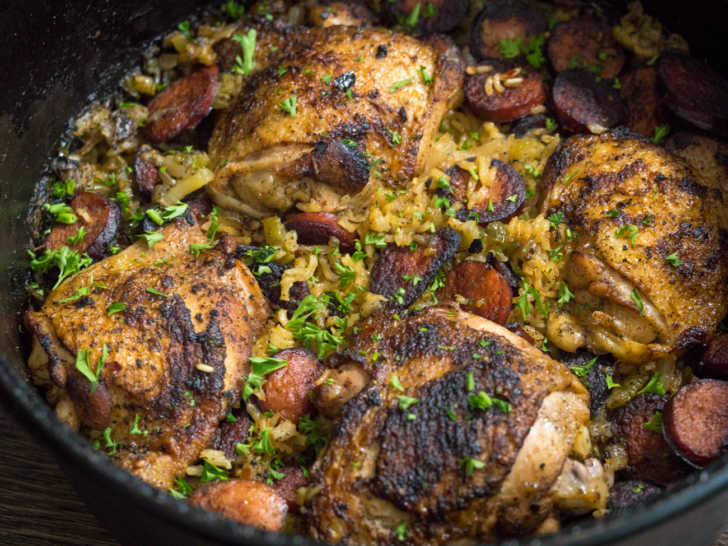 Dirty Rice is traditional Cajun comfort food. The dish hails from Louisiana and gets its name because the white rice is cooked with so much good stuff – ground beef, liver, cayenne and other spices – that it takes on a rich color as it cooks. Our version here is maybe not quite traditional, but it makes the dish even heartier by pairing it with flavorful whole chicken thighs and spicy sliced andouille and it does it all in one single pot.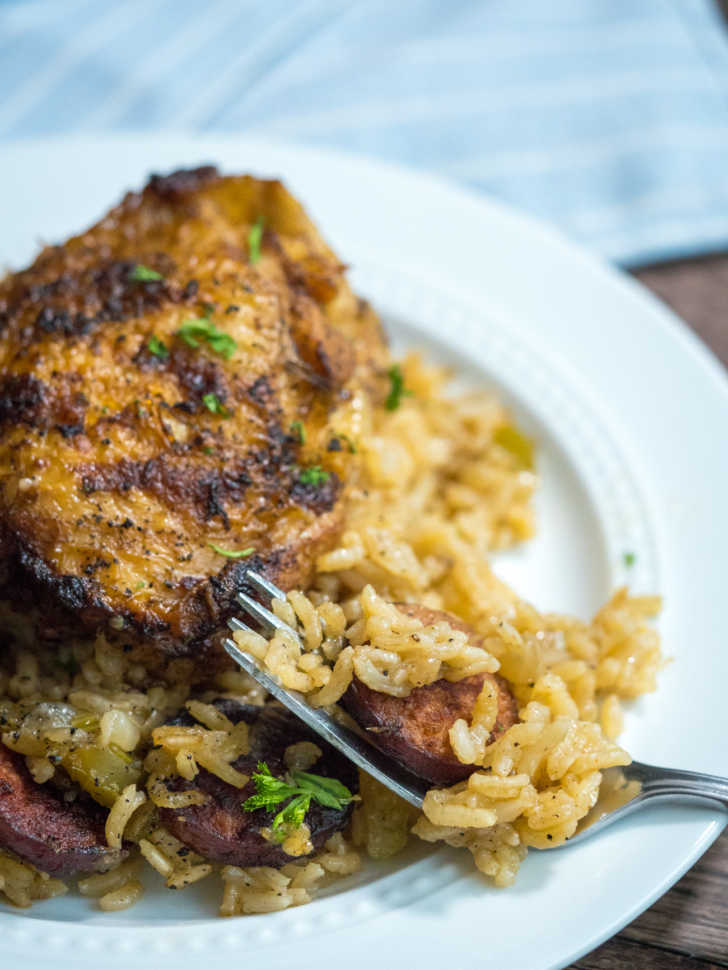 The very first step here isn't cooking at all, but rather to toss the chicken thighs in some salt, garlic powder, black pepper, onion powder, cayenne pepper, oregano, red pepper flake, lemon juice, and olive oil and let it hang out while you start to work on the other ingredients. You don't need to plan ahead and let it marinate all day, that brief time is enough to lock in the flavor.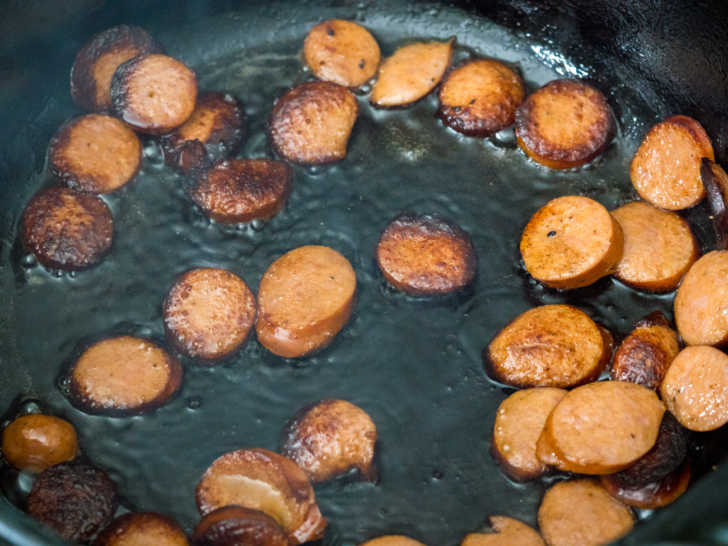 Our Dirty Rice features no liver or ground beef, but it does feature zesty andouille sausage. While the chicken sits, you brown up some sliced andouille in a pot and don't be afraid to get some nice color on it – that leaves some goodies in the pot to flavor the rest of the dish. Once those are done, you can move on to searing the chicken, starting skin-side down so you get it a nice crisp on it.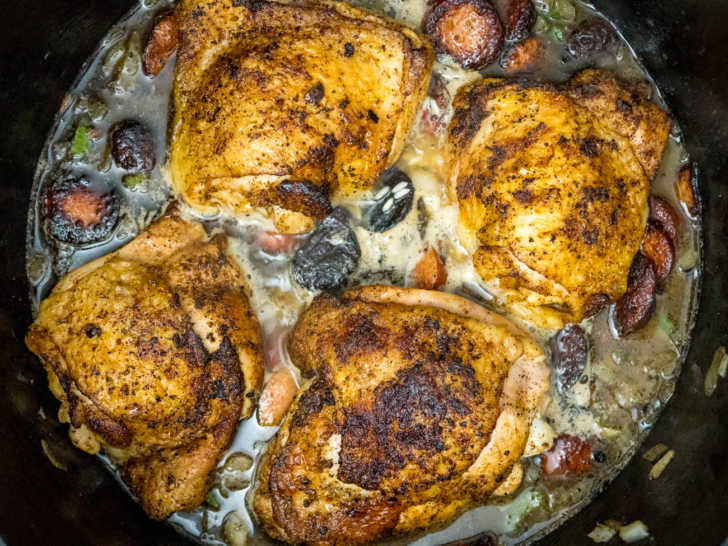 After sauteeing some onion, jalapeño, bell pepper, and celery, the rice heads into the pot with some chicken broth and then the meat gets nestled on top. You cover the whole dish up and let it bake until the rice is tender and the chicken has cooked through.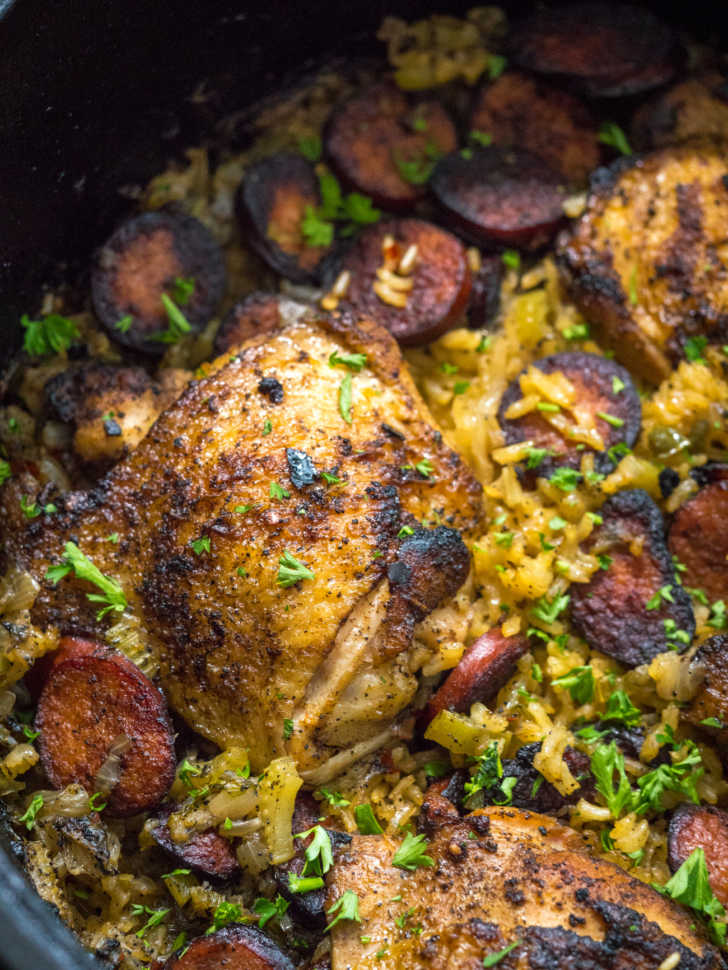 The juices and spices from the meat run down into the rice below, "dirtying" it up with their flavor and the rice turns out soft and fluffy. (Giving the dish ten or fifteen minutes uncovered in the oven at the end of the cooking time helps this process.) It's not a spicy dish, but it's one that is intensely spiced, which is to say you get a whole lot of flavor out of one pot!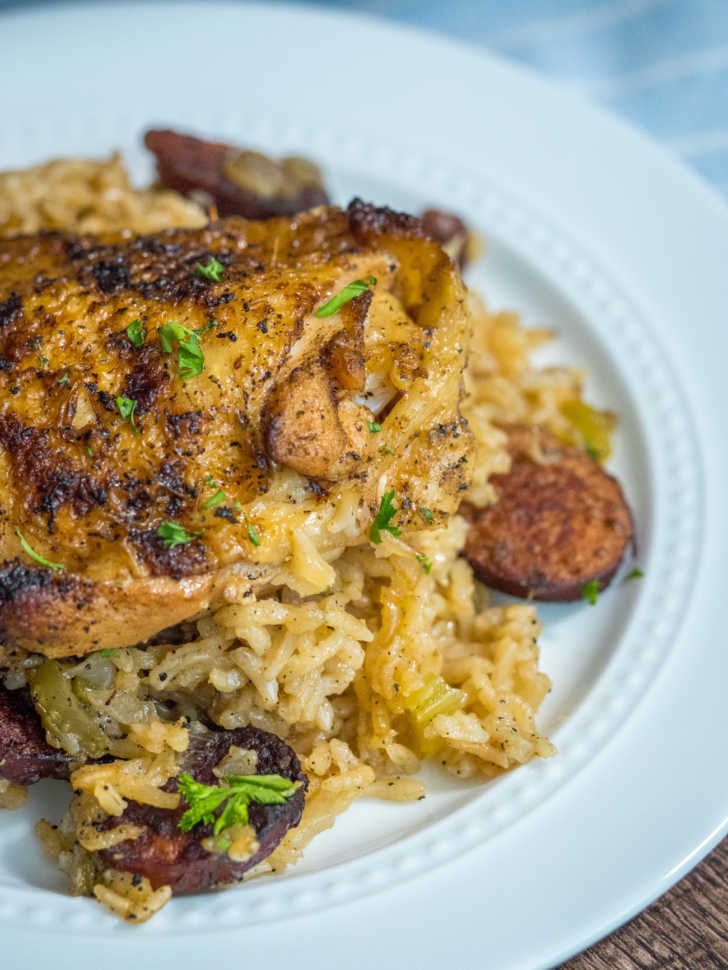 One Pot Chicken and Dirty Rice
Serves 4
15m prep time
45m cook time
For the marinade:
1 teaspoon salt
1 teaspoon garlic powder
1/2 teaspoon black pepper
1/2 teaspoon onion powder
1/4 teaspoon cayenne pepper
1/2 teaspoon dried oregano
1/4 teaspoon red pepper flake
1 teaspoon lemon juice
1 tablespoon olive oil
For the chicken and rice:
2 tablespoons olive oil
1 link andouille sausage, sliced 1/4-inch thick
4 bone-in skin-on chicken thighs
1 yellow onion, diced
1 jalapeño pepper, seeded and diced
1 green bell pepper, seeded and chopped
2 celery stalks, diced
1/4 teaspoon red pepper flake
1 cup dry long-grain rice
2 1/4 cup chicken broth
Kosher salt and freshly ground black pepper, to taste
Fresh parsley, minced, for garnish
Preparation
Preheat oven to 350°F.
In a medium bowl, stir together the ingredients for the marinade - salt, garlic powder, black pepper, onion powder, cayenne pepper, oregano, red pepper flake, lemon juice, and olive oil. Add chicken and turn to coat. Set aside.
In a large Dutch oven over medium-high heat, add the olive oil. Brown sausage on both sides, then remove to a plate. Set aside.
Add chicken thighs, skin side down, to Dutch oven and sear until skin is crispy, 2-3 minutes per side. Remove chicken to plate with sausage.
Wipe out pan to remove any blackened bits, pan drippings and brown bits can remain.
Reduce heat to medium-low and stir in onion, jalapeño, bell pepper, and celery. Cook until softened, 2-3 minutes. Stir in red pepper flake and salt and pepper.
Add rice and chicken stock and bring to a simmer. Nestle chicken and sausage on top of the rice along with any accumulated juices and return to a simmer.
Cover and bake in preheated oven for 35 minutes. Uncover and bake until liquid has absorbed, 10-15 minutes more.
Serve with fresh parsley and enjoy!
Recipe adapted from The Chunky Chef.
SKM: below-content placeholder
Whizzco for 12T