This classic Mexican dish is not one that you can whip together or tackle half-heartedly, but we promise, if you put in the time and effort, you will be rewarded with some of the best tamales you've ever tasted! Tamales are like little pockets of deliciously tender meat, that have been steamed to perfection in cornhusks, keeping the tamales moist and flavorful. If you've ever had a truly great tamale, you'll know that very few others compare, so try making them at home and be amazed!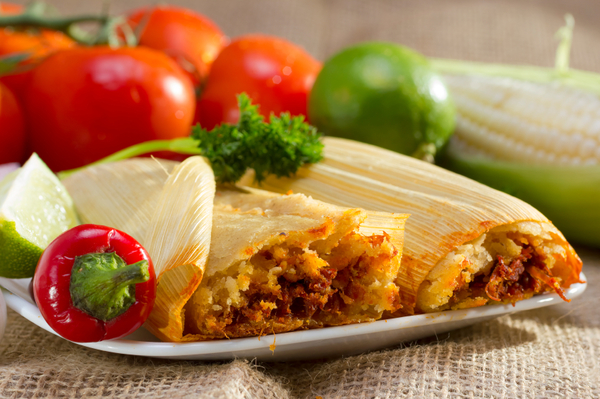 Tamales
Yields 2-3 dozen
Ingredients
2 pounds pork shoulder roast
2 bags dried corn husks, approx. 3 dozen
2 onions, sliced, divided
2 tomatoes
2 bay leaves
1 carrot
1 jalapeño pepper
1 cinnamon stick
1 head garlic, cloves peeled, divided
2 oz. dried guajillo chiles, tops cut off and seeds removed
2 oz. dried ancho chiles, tops cut off and seeds removed
4 cups masa mix/masa flour
4 cups reserved pork broth, warm
1 cup vegetable shortening
1 tablespoon vegetable oil
1 tablespoon salt, divided
1 tablespoon cumin seeds, toasted
2 teaspoons baking powder
1 teaspoon oregano
1 teaspoon coriander seeds, ground
salt and pepper, to taste
water, as needed
Directions
Turn broiler on high and spread 1/2 head of peeled and divided garlic cloves, jalapeño and 1 onion out on a baking sheet. Broil until charred, flipping over so both sides cook, and set aside.
Season pork shoulder liberally with salt and pepper, and heat vegetable oil in a large, heavy pot over medium heat.
When oil is hot, brown pork shoulder on all sides, making sure the meat makes good contact with the bottom of the pot. Once browned, add enough water to the pot that the pork is covered by 1-2 inches. Add charred vegetables, bay leaves, cinnamon stick, oregano, coriander and salt, and cook on low for 2-3 hours, or until fork tender.
Remove roast to a platter, pour cooking liquids through a strainer and reserve pork broth. Shred the meat with two forks.
In a large stockpot, combine remaining sliced onion, chiles and remaining garlic cloves. Cover everything with water and add cumin seeds, and boil for 20-25 minutes, or until chiles are soft and tender.
Remove chiles from pot, reserve water, and transfer to a blender. In batches, puree until smooth.

Optional: pass chiles through a strainer to catch remaining skin and/or seeds.

Pour pureed chiles into a boil and season with salt and pepper. Add shredded pork to the bowl and mix until thoroughly coated with sauce.
Carefully soak dried cornhusks for 30 minutes in a large bowl of warm water. When ready, rinse and dry cornhusks and set them out on a baking sheet, covered by a damp towel.
In a separate bowl, combine masa mix, baking powder and 2 teaspoons salt. Pour in pork broth, a little at a time, until you've got a dough-like consistency.
In a small bowl, beat vegetable shortening for 3-5 minutes, or until fluffy and lightened in color. Add shortening to the masa and beat until the dough is spongy.
Remove dam towel from husks and place 1 large husk, smooth side up and horizontally, on a flat surface. Using a spoon dipped in water, spread a thin layer of masa over the husk, but leave 1/4 of the husk exposed at the top.
Add 1-1 1/2 tablespoons of meat filling to the center of the masa, but leave some extra space at the narrow end. Fold the narrow end up and over to the center. Then fold both sides in towards the center. Pinch the top closed.
Once all tamales are wrapped, place them open/pinched sides up in a colander or steamer. Place steamer in a large pot filled with 2-3 inches of water, but make sure the water does not reach the steamer.
Cover pot with a damp cloth and place lid on top of pot. Steam tamales for 2 hours, making sure water stays at a low boil and doesn't boil away.
Tamales are finished when the insides begin to pull away from the outer husks. Unfold the husk, garnish with remaining pork filling and serve immediately!
Recipe adapted from No Recipes
SKM: below-content placeholder
Whizzco for 12T