Since most of us are working from homes these days, our internet connection is even more important than ever. It needs to see us through not just work, but streaming services as well. Personally, I've never done so much streaming in my life. But what if your internet provider suddenly stopped providing such great service? What if you called and called, but their services still didn't improve? How far would you go to send a message that your internet provider is terrible?
90-year-old Aaron Epstein from North Hollywood, California, just wanted to stream his favorite TV shows from the comfort of his home. However, his internet service provider, AT&T, was not co-operating. In fact, they were providing such terrible service that Epstein shared with The Washington Post that the streaming experience "was like watching a slide show."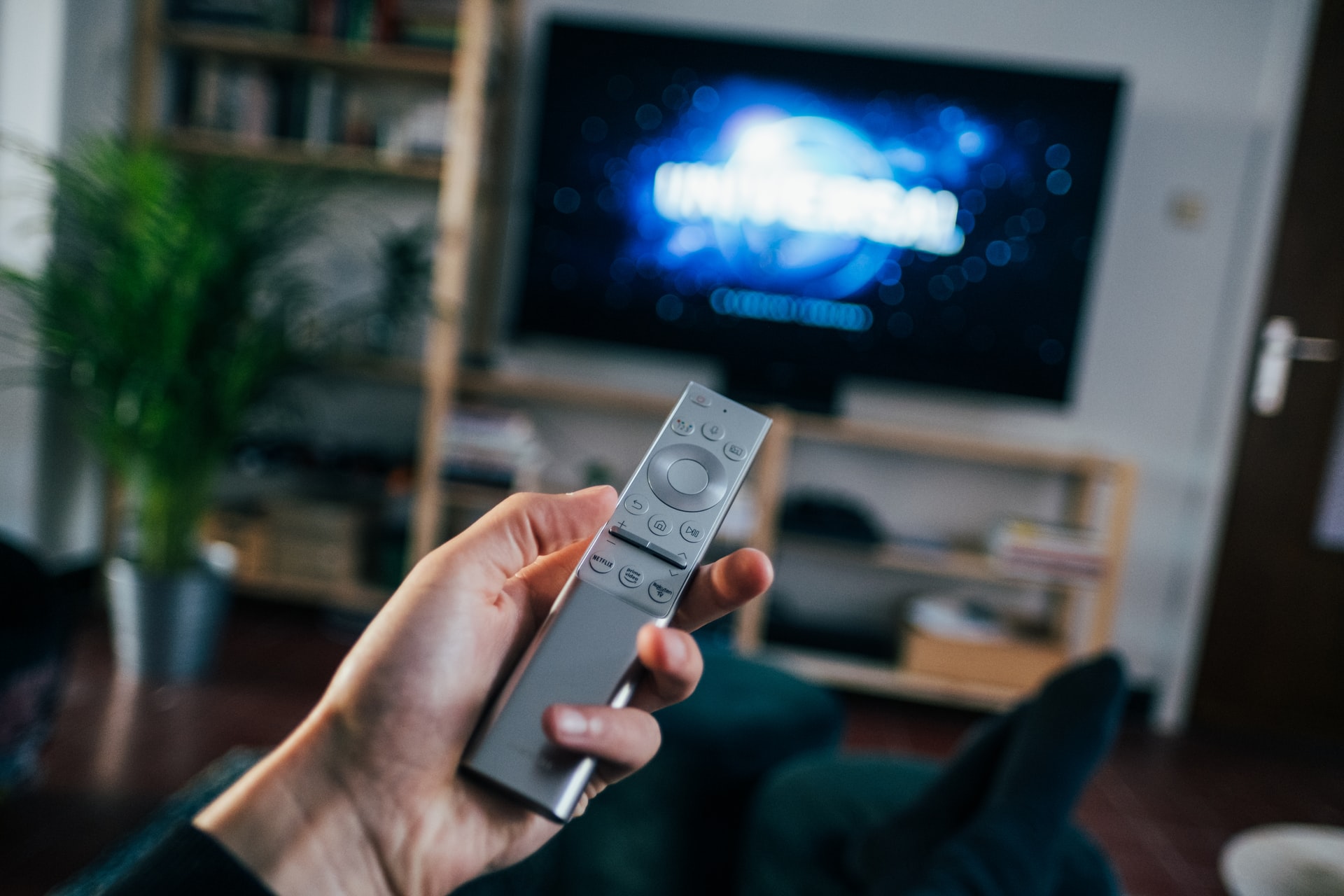 The tech-savvy 90-year-old, who has been a long-time AT&T customer since 1960, tried to get in contact with the company in order to pinpoint the problem. In fact, he tried reaching the company multiple times, but nothing ever came of these repeated calls. As he shared with KTLA, he kept trying to find out when he'd be provided with faster speed, however, all he was told by AT&T was, "It's coming, it's coming."
Unfortunately for Epstein, it was clear that his faster connection was never going to arrive and the company wasn't going to upgrade his service. But what got him really upset was seeing the company's constant ads and emails advertising their "faster speed."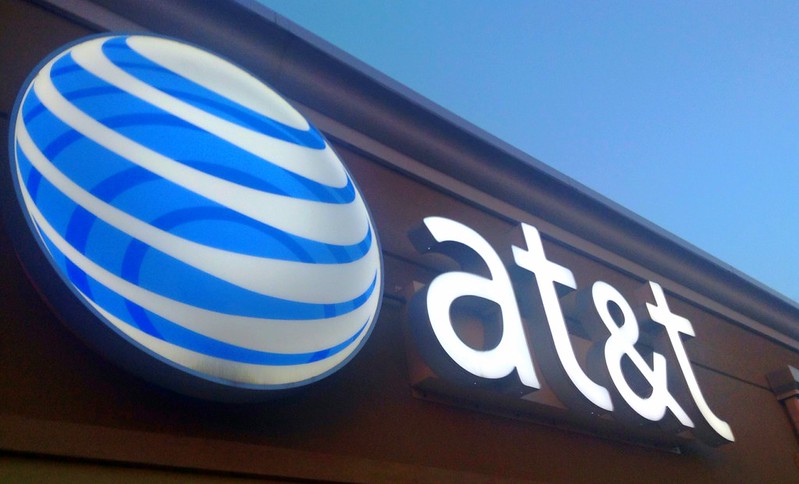 Rather than just switching providers or shaming them on social media, Epstein decided to go with an old-fashioned version of the Tweet of shame: he took out a newspaper ad in two editions of the Wall Street Journal. The first was in the New York Wall Street Journal, and the other one was in Dallas, where the AT&T headquarters are located.
His ad was an "Open Letter to Mr. John T. Stankey CEO AT&T." In order to get his point across to the company, it cost him $10,000! Would've been cheaper to just Tweet them, but Epstein had a lot of important things to say. Raju Narisetti shared a photo of the ad on Twitter.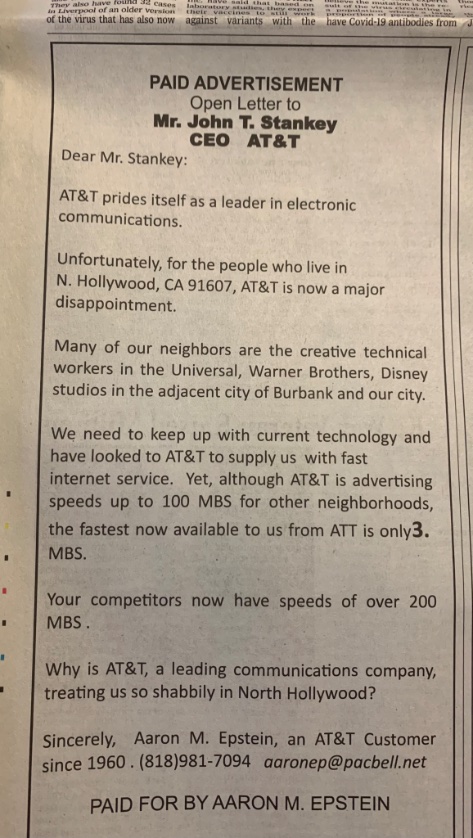 A portion of his letter read, "We need to keep up with current technology and have looked to AT&T to supply us with fast internet service. Yet, although AT&T is advertising speeds up to 100 MBS for other neighborhoods, the fastest now available to us from AT&T is only 3 MBS. Why is AT&T, a leading communications company, treating us so shabbily in North Hollywood?"
He concluded his ad with his full name, as well as contact information like his email and phone number. While he might not have used social media to make his point, his point was made and it reached his intended audience. Many news outlets, including The Washington Post, quickly picked up his story, while others began to circulate his ad on social media.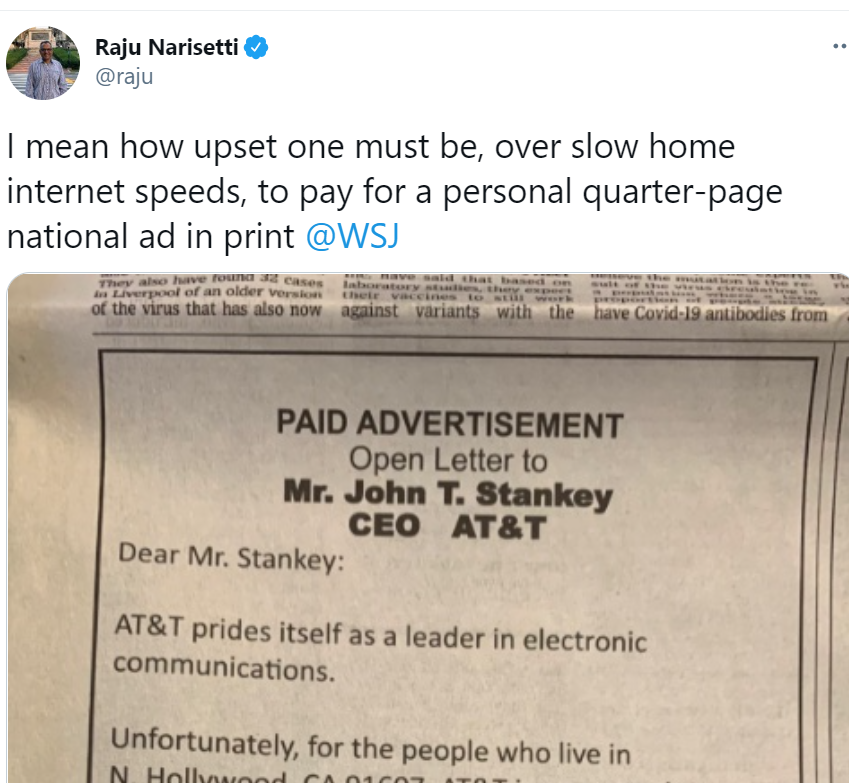 Eventually, with so much attention, the office of the CEO reached out directly to Epstein the day that the ad came out. And several days later, two AT&T technicians showed up at his home in order to set him up with a faster connection speed. Not just that, but Epstein received a personal phone call from Stankey to make sure that he was happy with his service.
Regarding how much it cost him, Epstein said to NBC News, "People are not going to expensive restaurants. People are not going on fancy vacations. My wife and I are at home and watch Netflix and streaming services more. So, I have no complaints whatsoever about spending this kind of money."
What do you think of Epstein's method? Would you do the same? Let us know!
SKM: below-content placeholder
Whizzco for 12T