Having a killer sweet tooth can quickly turn into a waistline problem, it's an affliction. Luckily, for anyone out there who knows what we're talking about, these red velvet cupcakes taste just like the classic, sugar-loaded cupcakes, but are much better for you. We replaced some of the fattier ingredients and now these cupcakes weigh in around 190 calories per serving, instead of the traditional 300+!
Now you can indulge and satiate your craving for sweets without the guilt! These cupcakes are perfect for any and all parties, but consider them especially during the holidays; when you're going to celebration after celebration and good food is presented to you at every turn, it's nice to know you don't have to cut yourself off completely. Go ahead and try these!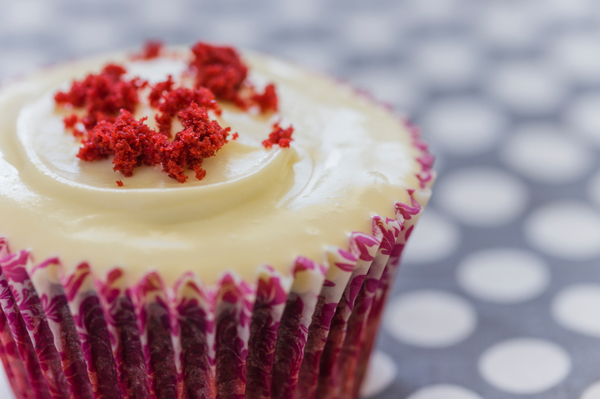 Low-Cal Red Velvet Cupcakes
(Yields 2 dozen cupcakes)
Ingredients
Cupcakes:
1 1/2 cups cake flour
1 cup whole-wheat pastry flour
2 tablespoons unsweetened cocoa powder
1 cup sugar, plus more for garnish
1 cup low-fat buttermilk
3/4 cup plain, non-fat, Greek yogurt
3/4 cup unsweetened applesauce
1 large egg
2 large egg whites
2 teaspoons distilled white vinegar
1 1/2 teaspoon baking soda
1 teaspoon vanilla extract
1 teaspoon salt
1/2 teaspoon red food coloring (liquid or gel-paste), plus extra for garnish
Frosting:
8 oz. low-fat cream cheese
1 cup powdered sugar
1/2 teaspoon vanilla extract
Directions
Preheat oven to 350º F and line your cupcake tins with liners.
In a large bowl, sift together your flours, cocoa powder and salt.
In a separate bowl, mix together your sugar, applesauce and Greek yogurt.
Slowly beat in your eggs, one at a time, waiting until each egg is fully incorporated before adding the next one. Scrape down sides of bowl.
Add in vanilla and food coloring and mix well.
Taking turns, add in flour mixture and buttermilk, beginning and ending with the flour. Pour in 1/3 cup batches.
In a small bowl or glass, mix together the vinegar and baking soda (it will foam up), and mix it into cupcake batter.
Pour batter into cupcake tins and fill each liner 3/4 full.
Place in oven and bake for 17-20 minutes, or until toothpick inserted in centers comes out clean. Cupcake centers should be springy to the touch. Rotate cupcake tins halfway through baking time.
While cupcakes are baking, combine frosting ingredients in a medium bowl and beat together.
Remove cupcakes from oven and let cool completely before frosting.
[Optional: in a small bowl, mix 2 tablespoons sugar with 1 teaspoon food coloring. Mix well and use as garnish on top of cupcakes]
Recipe adapted from Women's Health
SKM: below-content placeholder
Whizzco for 12T