This is the holy grail of scone recipes.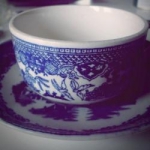 Rose Heichelbech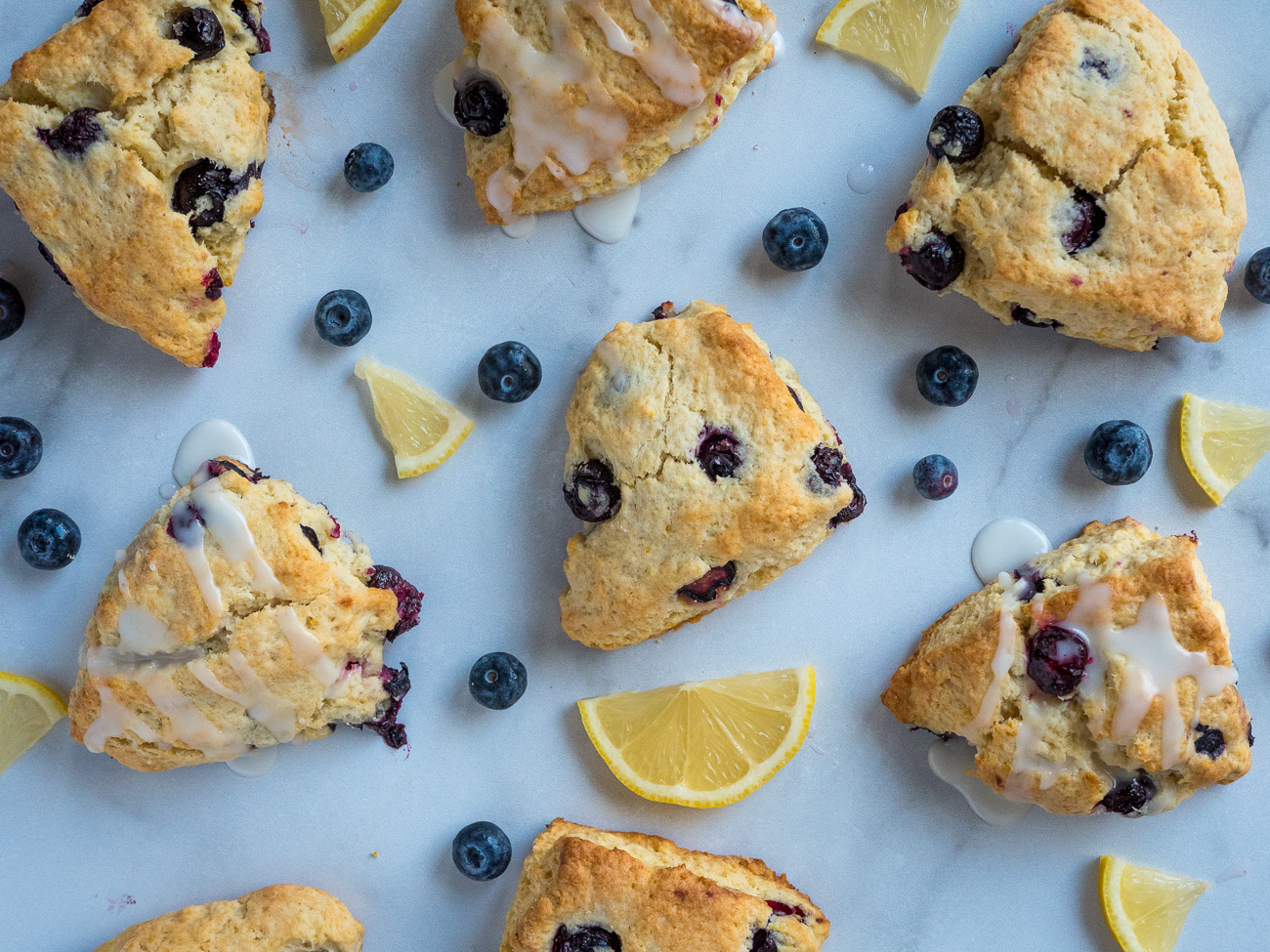 Scones are one of the most perfect foods to serve at breakfast- and they make wonderful snacks for the rest of the day as well. The flaky texture and buttery flavor make them a perfect side to salty bacon or savory eggs. And, these lemon blueberry scones manage to pack a ton of flavor into each bite thanks to whole blueberries and freshly-grated lemon zest.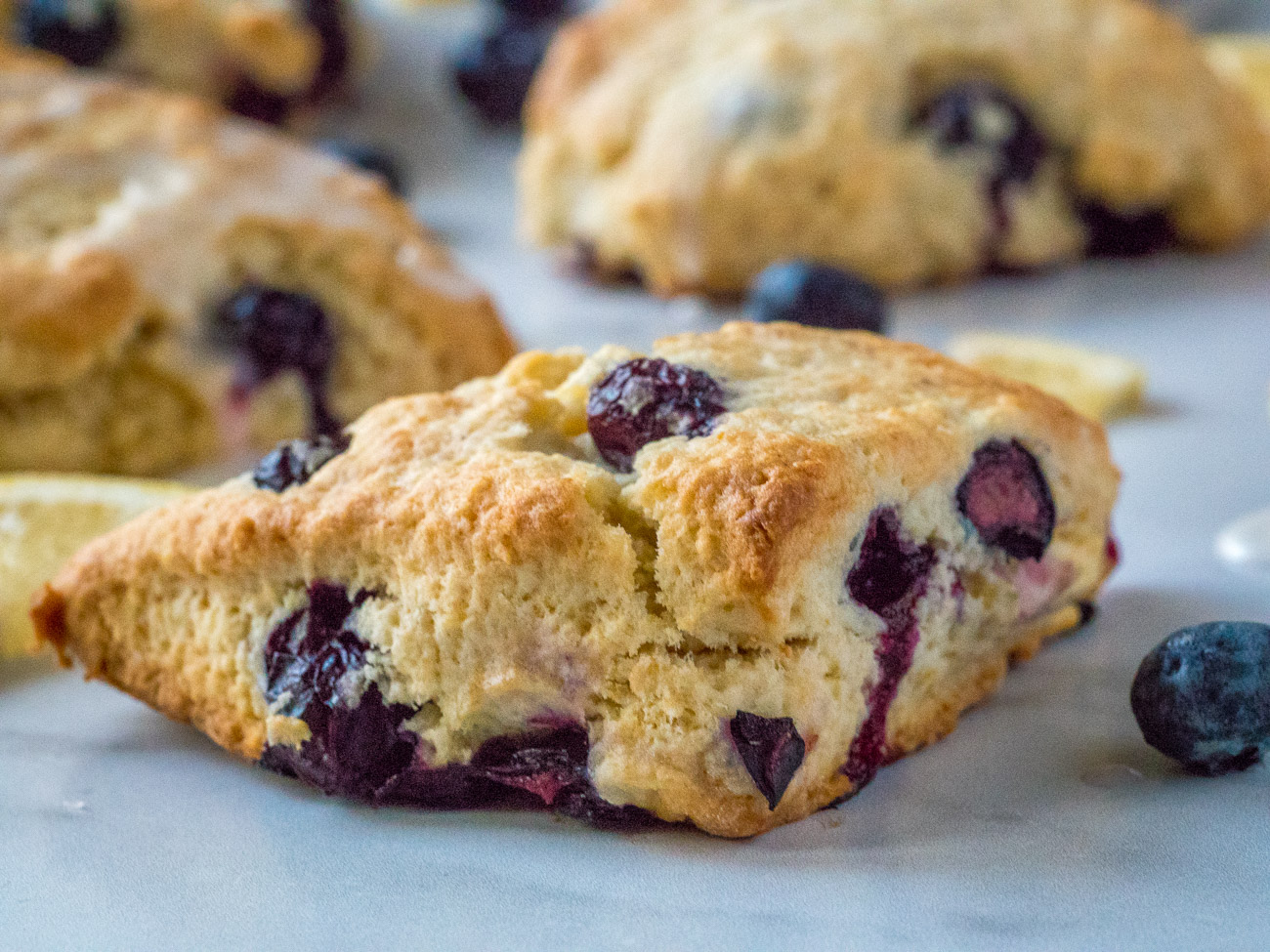 It's not difficult to make these wonderful scones, but there are a few tricks you need to follow for the best result. Like a lot of scones doughs, this recipe relies on a generous amount of butter. But, you'll want to pop your butter in the freezer before starting this one.
Once the butter has become very cold (at least 20 minutes), you're going to grate the butter using a box grater. This ensures that the butter pieces are all the same size which means that there won't be any large lumps of butter or sections of the dough lacking butter.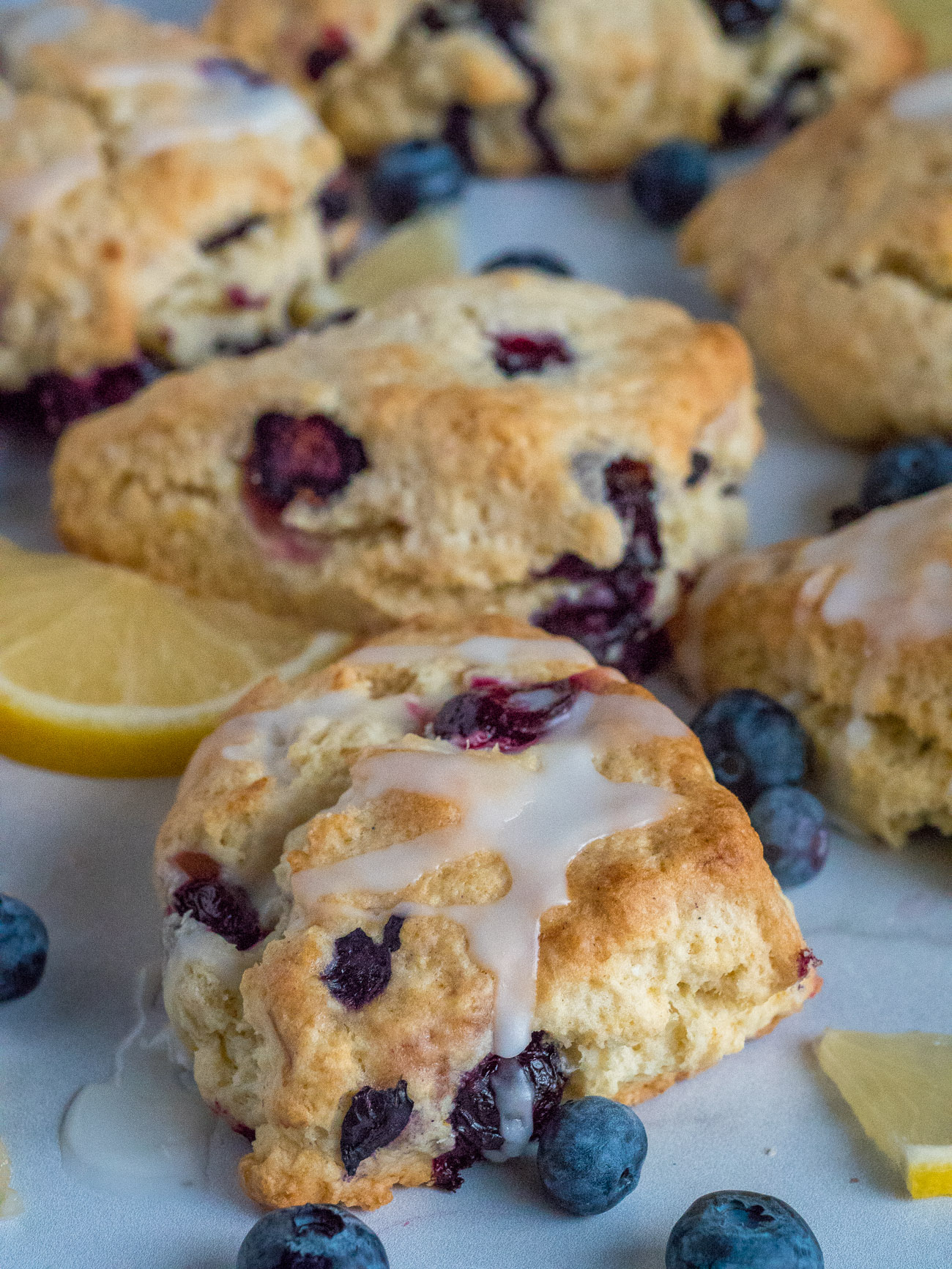 The other thing to note about this recipe is that once the dough is made up, you'll need to gently fold in the blueberries. For this recipe using frozen blueberries is best as they not only help keep the dough cold, they also cannot be burst when you mix them into the dough. But, whatever you do don't let them thaw at all before adding them in. Take them straight from the freezer to the mixing bowl or else you might end up with purple scones.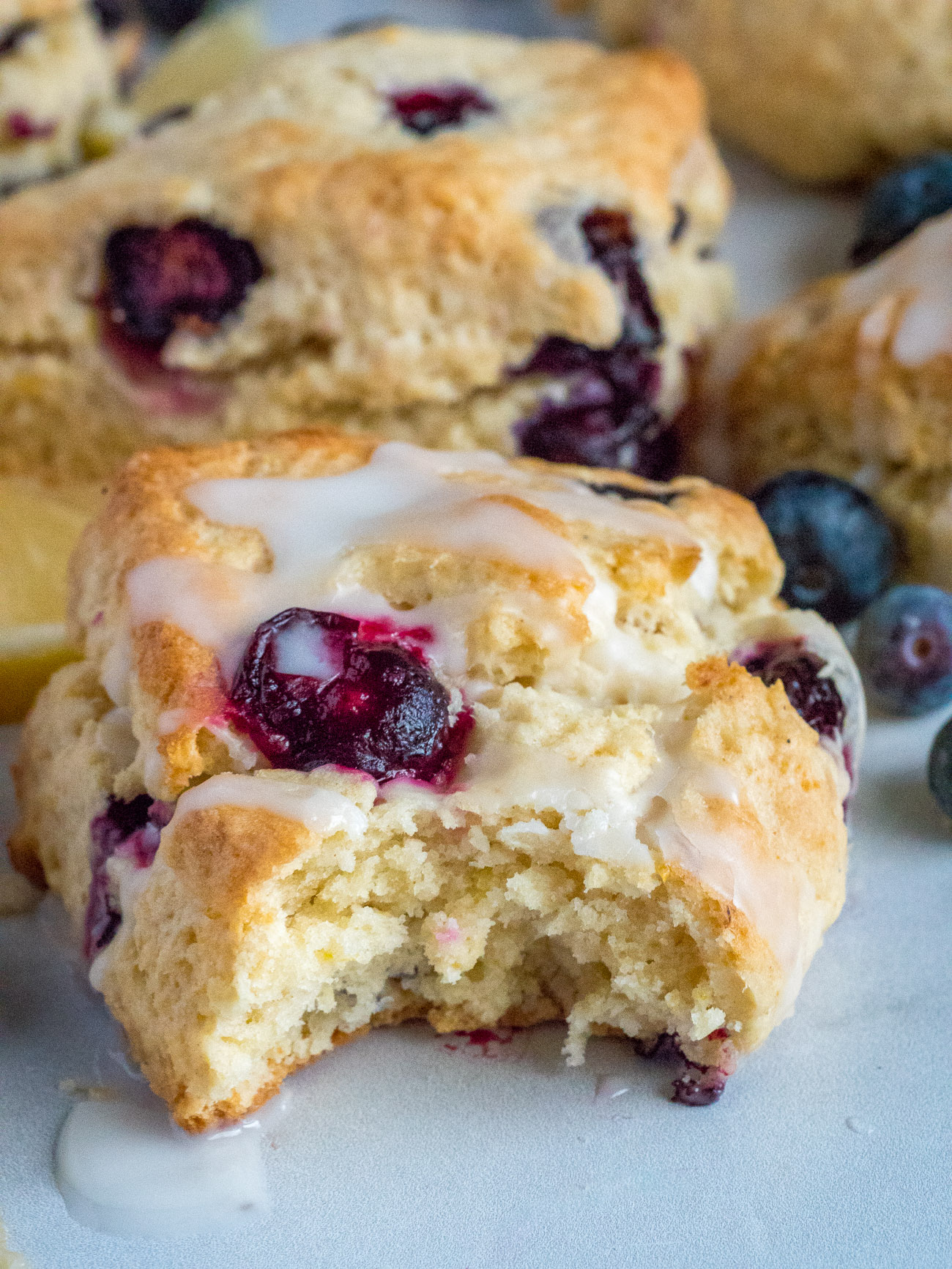 After the dough is all ready, you'll need to cut the dough in two, forming a ball with each half. Then flatten each dough ball slightly and cut into each ball crosswise using a pastry scraper or sharp knife. You'll end up with 8 wedge-shaped scones using this method.
Some scone recipes call for cutting the scones using a cookie or biscuit cutter, but for this recipe you'll want to minimize damage to the blueberries by sticking to the wedge shapes. Once they're cut, place them on greased or lined baking sheets 2-3 inches apart and refrigerate the scones for 15 minutes. This minimizes uneven cooking and means they won't melt into blobs in the oven.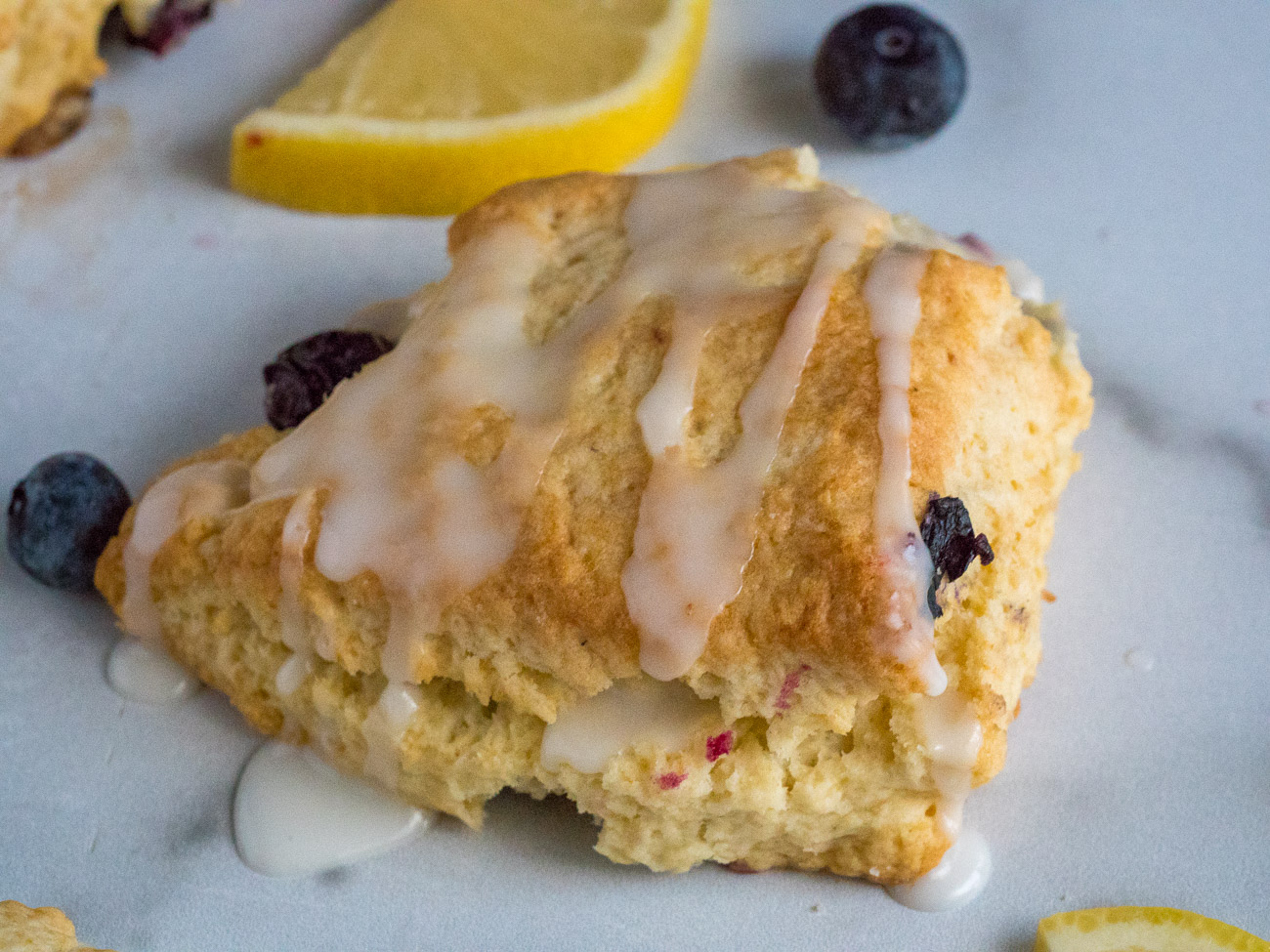 Once they bake for 21-25 minutes at 400˚F, these scones need to cool before you add the glaze. Just like a lemon pound cake glaze, the recipe is simple: mix together 1 cup powdered sugar with 3 tablespoons fresh lemon juice and drizzle over the top of each scone.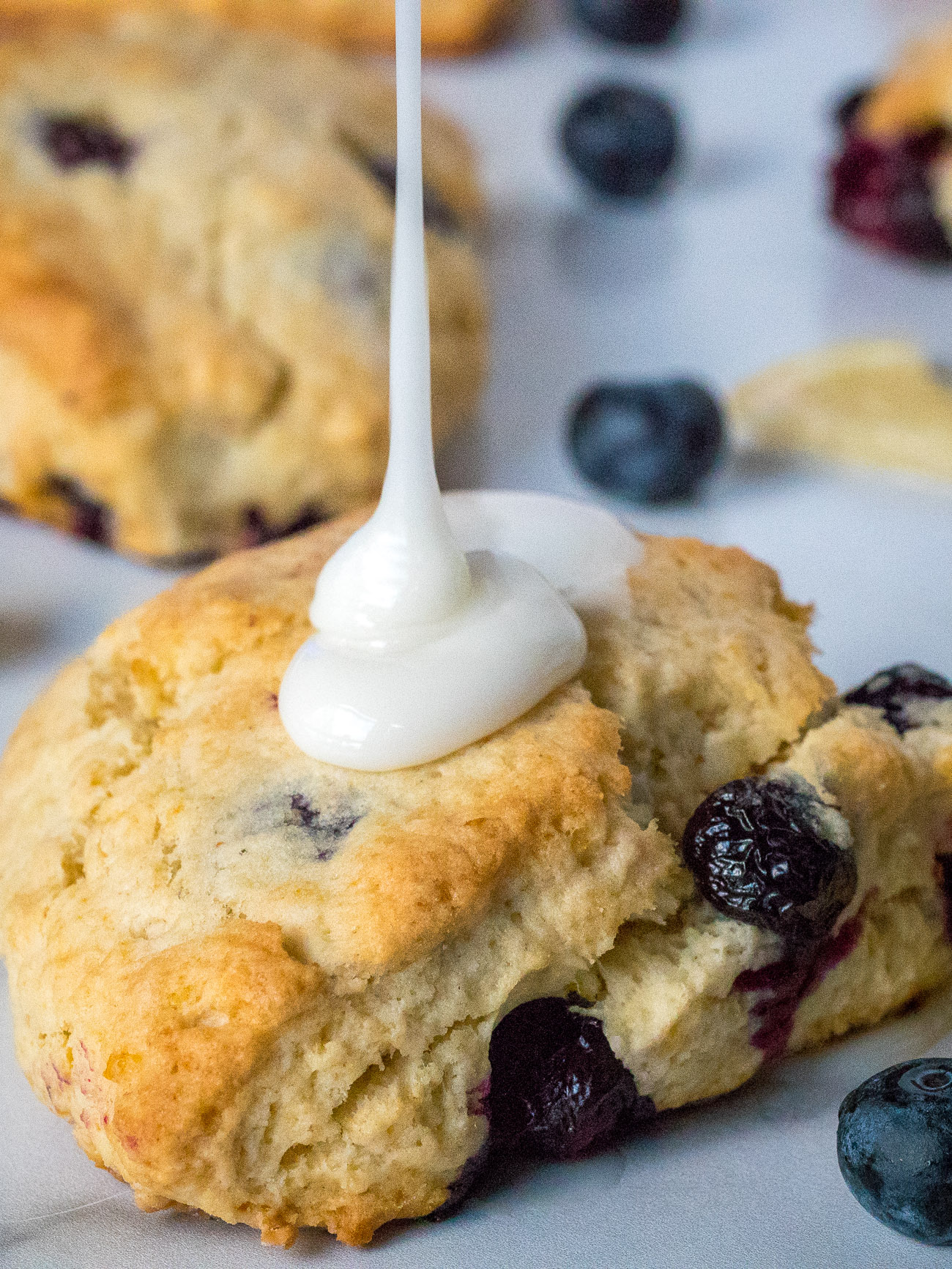 These phenomenal scones have just the right balance of flavors and will make any time you serve them a special occasion in and of itself. We didn't think scones could be any more delicious until we tried this delightful recipe.
Lemon Blueberry Scones
Makes 8 scones
30m prep time
25m cook time
25m inactive
For the scones:
2 cups all-purpose flour, plus extra for work surface
6 tablespoons granulated sugar
1 tablespoon fresh lemon zest (about 1 lemon)
2 1/2 teaspoons baking powder
1/2 teaspoon salt
1 stick unsalted butter, frozen
1/2 cup heavy cream, (plus 2 teaspoons for brushing)
1 egg
2 teaspoons vanilla extract
1 heaping cup fresh or frozen blueberries (do not thaw)
For the icing:
1 cup powdered sugar
3 tablespoons fresh lemon juice (about 1 large lemon)
Preparation
In a large bowl whisk together flour, sugar, lemon zest, baking powder, and salt. Grate frozen butter into mixture, then blend with a pastry cutter or two forks until dough just begins to come together in a lumpy, sandy texture. Do not allow mixture to warm up.

In a medium bowl whisk together cream, egg, and vanilla. Slowly add this mixture to the flour and butter blend. Dough will be thick. Gently fold in blueberries.

Sprinkle flour on work surface and flour your hands. Pour dough out and form into a ball. Cut dough in half then reshape into two balls. Cut each ball into 4 triangular pieces.

Place scones on greased or lined baking sheet 2-3 inches apart and refrigerate for 15 minutes. Preheat oven to 400˚F.

When scones are ready to be baked brush them with the remaining cream. Bake for 21-25 minutes or until firm and just barely becoming golden. Transfer to wire cooling rack.
In a small bowl whisk together lemon juice and powdered sugar for icing. Drizzle over scones once they have cooled completely.
Recipe adapted from Sally's Baking Addiction.
SKM: below-content placeholder
Whizzco for 12T