You need to taste it to understand why it's become a classic.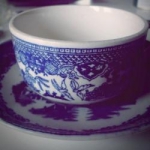 Rose Heichelbech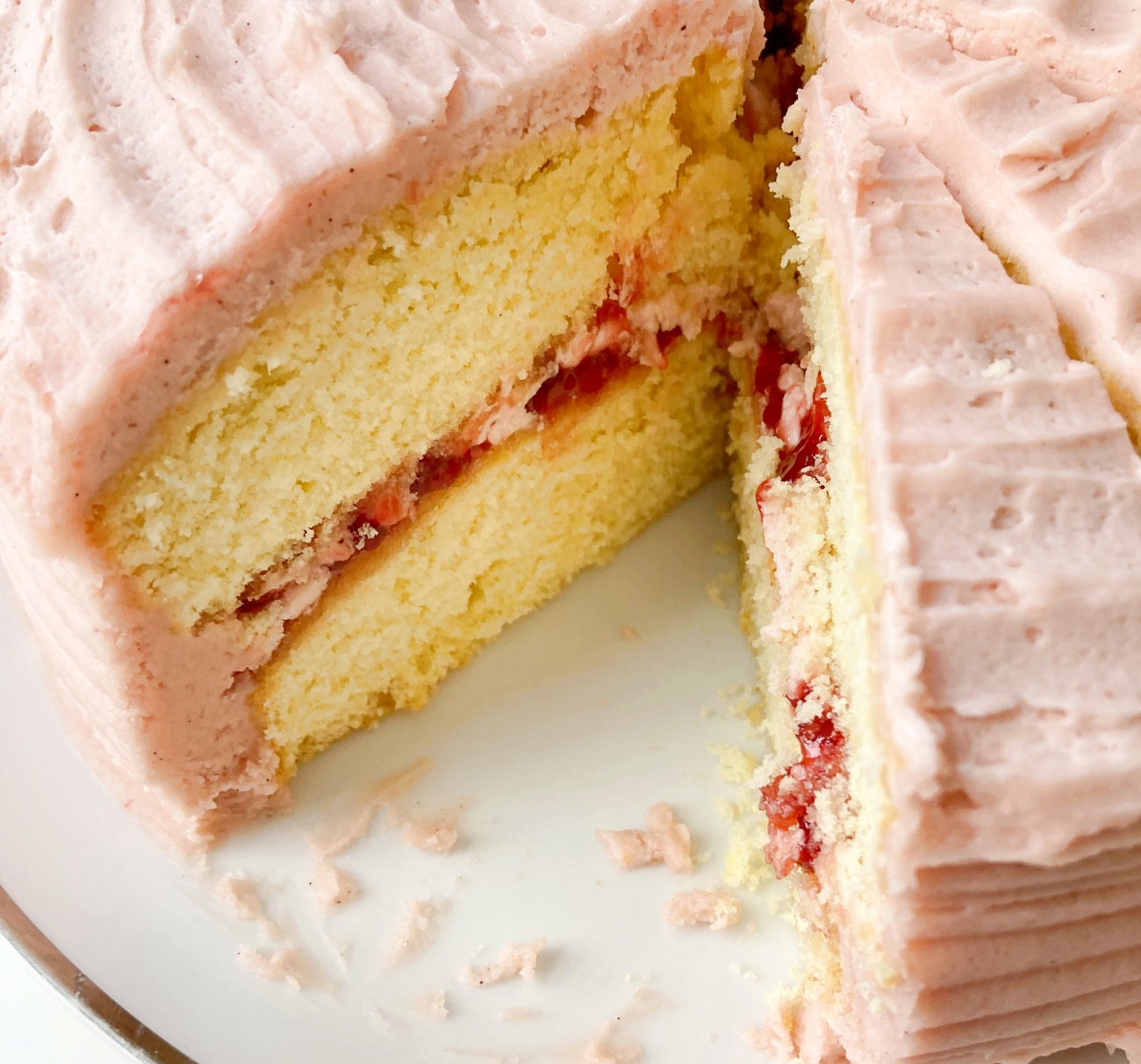 At the time of the wedding of John Fitzgerald Kennedy and Jacqueline Bouvier in 1953 he was a junior senator in Massachusetts, not yet the presidential candidate that anyone and everyone could recognize on the street. But, he was well known enough for photos of the nuptials to be featured in a 3-page spread in LIFE magazine.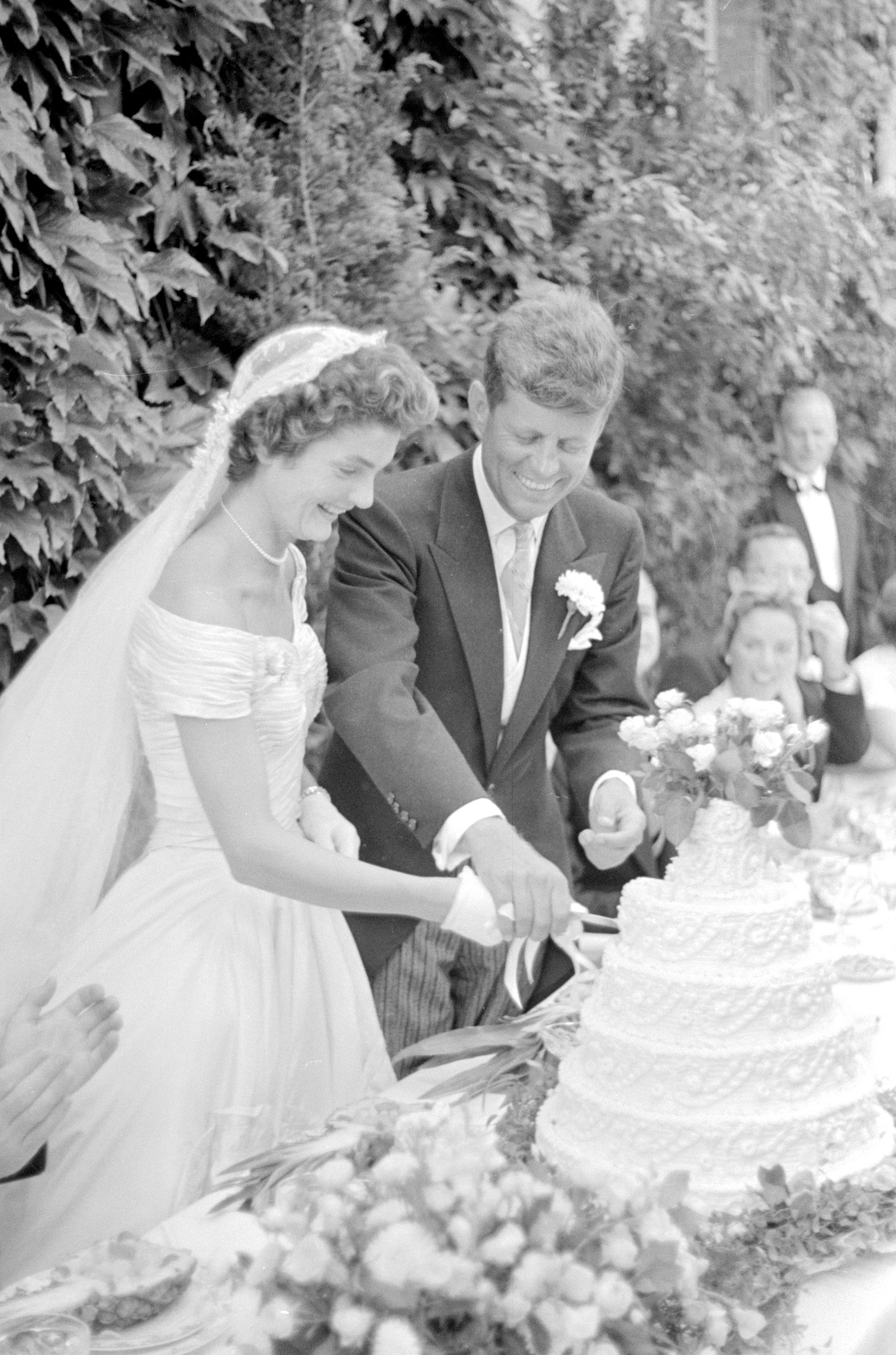 It has been reported that she thought her gown looked rather like a lampshade! And, to go with that lacey dress was a tiered cake embellished with a scroll and paisley design. You may have seen the photos but if you ever wondered what this cake tasted like you're in luck as it's what we're making today!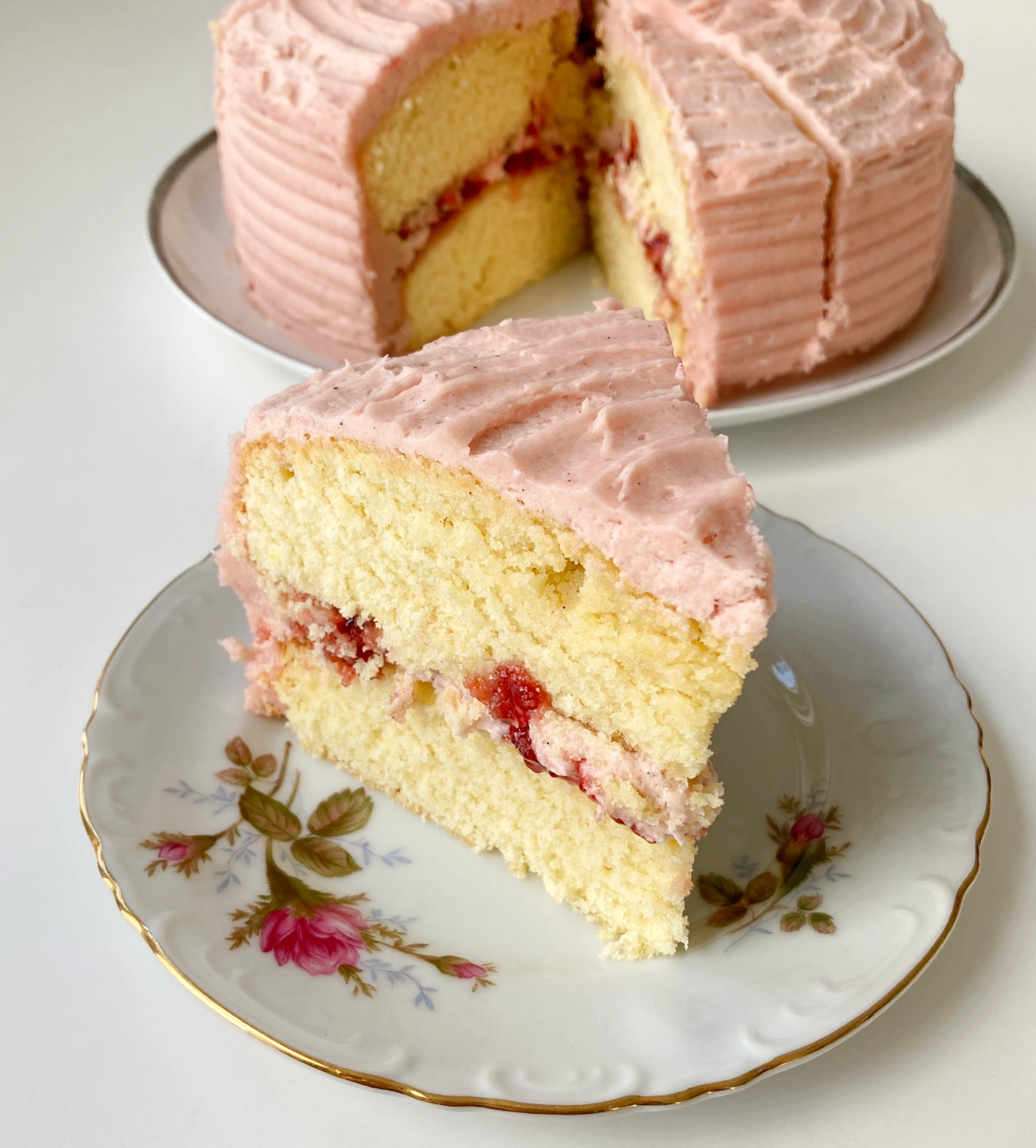 For the wedding the cake was commissioned from the small East Coast business Plourdes Bakery. JFK had gone into their shop in 1951 while campaigning and once he got a load of their pastries and cakes he vowed that they would bake his wedding cake. He not only kept his promise, but he also invited the owner and his wife to the wedding, too.
The flavors of this cake are simple, just vanilla and raspberry. Jacqueline enjoyed simple combinations of fruit with vanilla so this was a perfect choice for the couple. This cake was served at JFK's presidential inauguration and at the celebrations of many other presidents as well, such as for Clinton's birthday and George H.W. Bush's inauguration.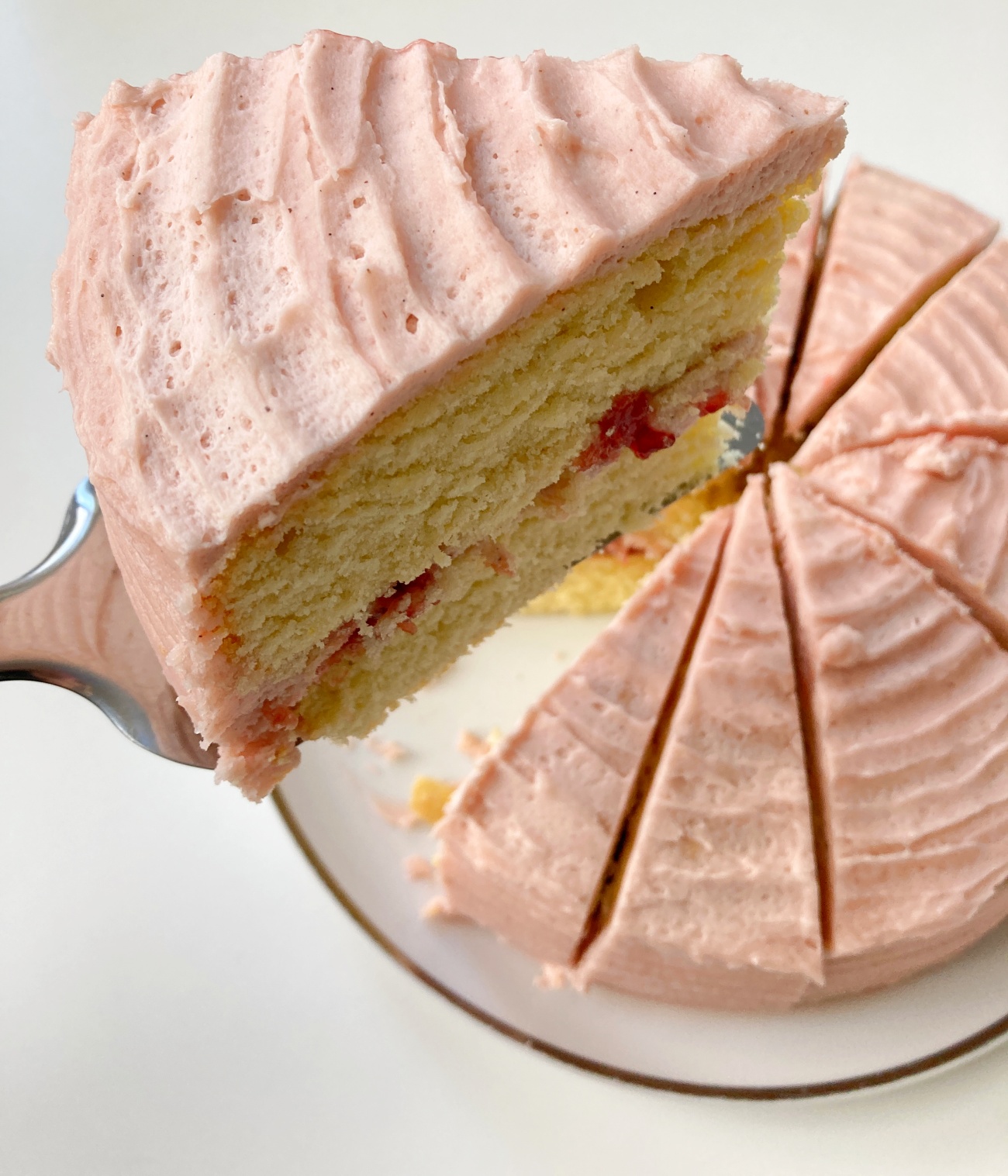 The original wedding cake was clad in white buttercream, but our version has some raspberry mixed into the frosting for even more berry flavor.
To decorate this cake I chose to do a simple design using a frosting comb. I think mine came from a dollar store and it's been one of the best baking purchases I've ever made! Since this frosting is very soft it's best to keep the cake and the frosting cold until it's time to decorate.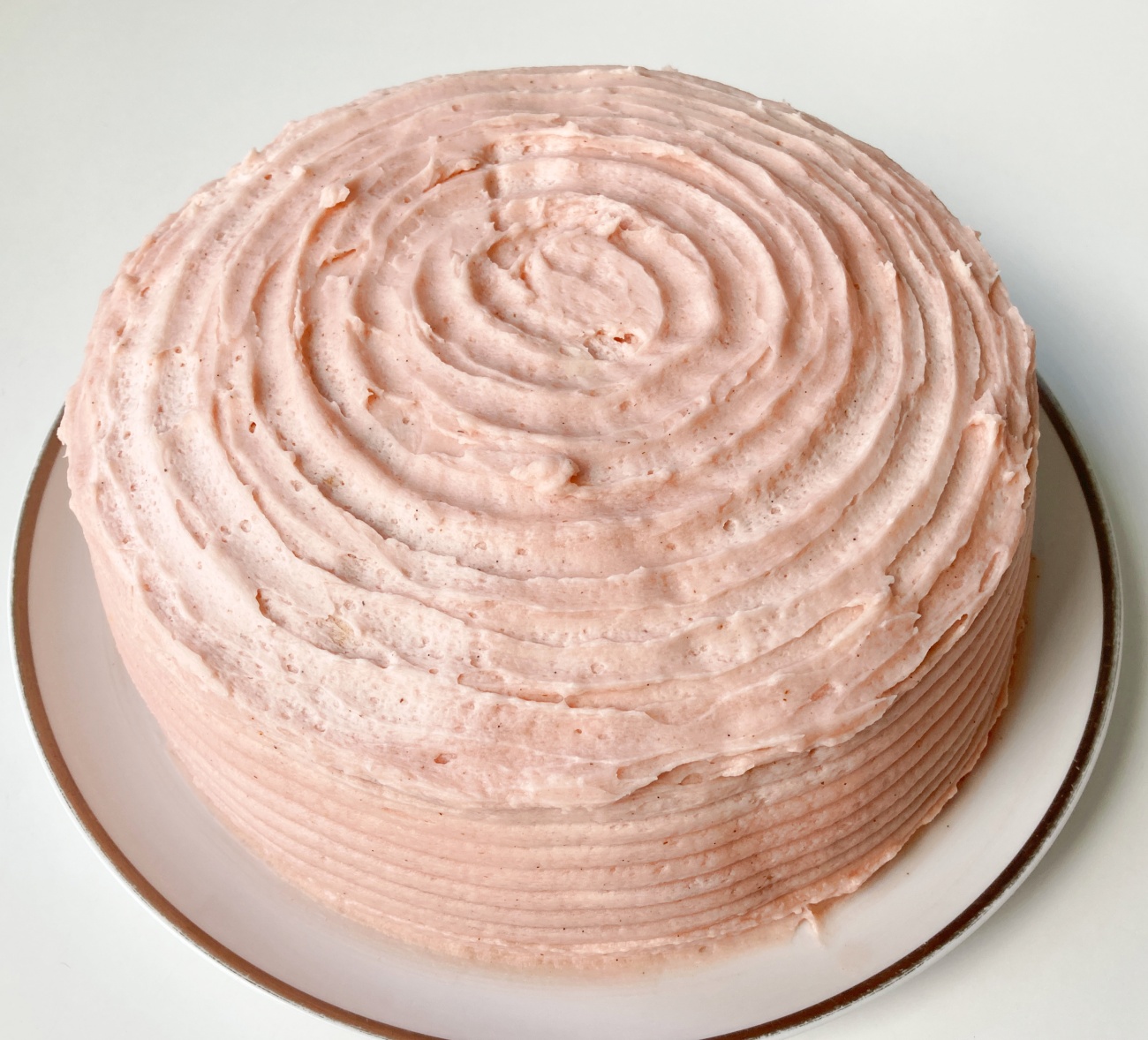 If you have a piping bag then you can attempt to recreate those lovely paisley designs, but any way you make it look it will still have the fantastic flavor that has entranced so many over the years.
The vanilla cake is one I am truly enamored of- and I don't usually go for white or yellow cake to be honest. It's got a rich flavor and a firm texture that gives it the oomph to stand up to the sweet filling and frosting. And, if you can I advise to use real vanilla bean pods or paste for the frosting. It makes a world of difference.
This is one layer that cake that will lend a show-stopping elegance to any occasion and the flavor is simply divine. Well, you've got to try it for yourself to see and taste a little bit of history while you're at it!
JFK's Wedding Cake
Makes 16 slices
1h 30m prep time
22m cook time
471 calories
For the cake:
1 1/2 sticks salted butter, softened
1 1/2 cups granulated sugar
1 teaspoon vanilla extract
5 eggs
1 3/4 cups all-purpose flour
1 teaspoon baking powder
1 tablespoon milk
For the frosting and assembly:
1 1/2 cups unsalted butter, softened
4 cups powdered sugar
2 teaspoons vanilla extract
2 tablespoons heavy whipping cream
1/4 teaspoon salt
seeds from one vanilla bean pod
1 (12 oz) jar seedless raspberry preserves
For the cake:
Preheat oven to 350˚F. In a large bowl cream together butter and sugar until light in color. Add vanilla and eggs one at a time, stirring between each addition. In another bowl combine flour, and baking powder. Slowly add dry ingredients to wet, then stir in milk.
Line the bottoms of 2 8"-cake tins with parchment paper and grease the sides. Split batter between the pans and bake for 20-22 minutes or until knife inserted in center of each one comes out clean.

Allow to cool for 15 minutes before removing to wire racks to cool completely, about 30 minutes. Place in refrigerator until ready to decorate. While cake is cooling work on frosting.
For the frosting and assembly:
In a large bowl beat butter with electric mixer until light in color, about 5-8 minutes. Add 2 cups powdered sugar and vanilla extract and seeds to butter. Mix until fully combined. Add remaining sugar and cream and beat again until fluffy.

Using electric mixer incorporate 1/4 cup raspberry preserves into frosting. If desired reserve some plain frosting before mixing raspberry in to create 2 colors of icing to decorate with.

Place first cake on serving dish or platter. Cover with remaining raspberry preserves. Then pipe on a layer of raspberry frosting.

Add second cake on top and cover entire cake in a layer of raspberry frosting. Use a frosting comb to decorate or pipe on rosettes on top using plain or raspberry frosting.
Recipe adapted from The New York Times.
SKM: below-content placeholder
Whizzco for 12T