Japan is famed for its variety of healthy, tasty noodle options, and home of the noodle that kept me fed through the end of my teens and university.
I've been lucky enough to spend a great deal of time in Japan. The simple enjoyment of grabbing a quick bowl of noodles and keep going, like so many millions of other people, always seemed like a brand new experience.
They are often used in simple soups created from interesting, nutritious ingredients, and form part of traditional style dishes enjoyed as part of a balanced daily diet.
The following group of 7 Japanese noodle varieties showcase how you can prepare cool international food with simplicity in preparation, colorful ingredients, and subtlety of flavor.
1. Ramen Noodles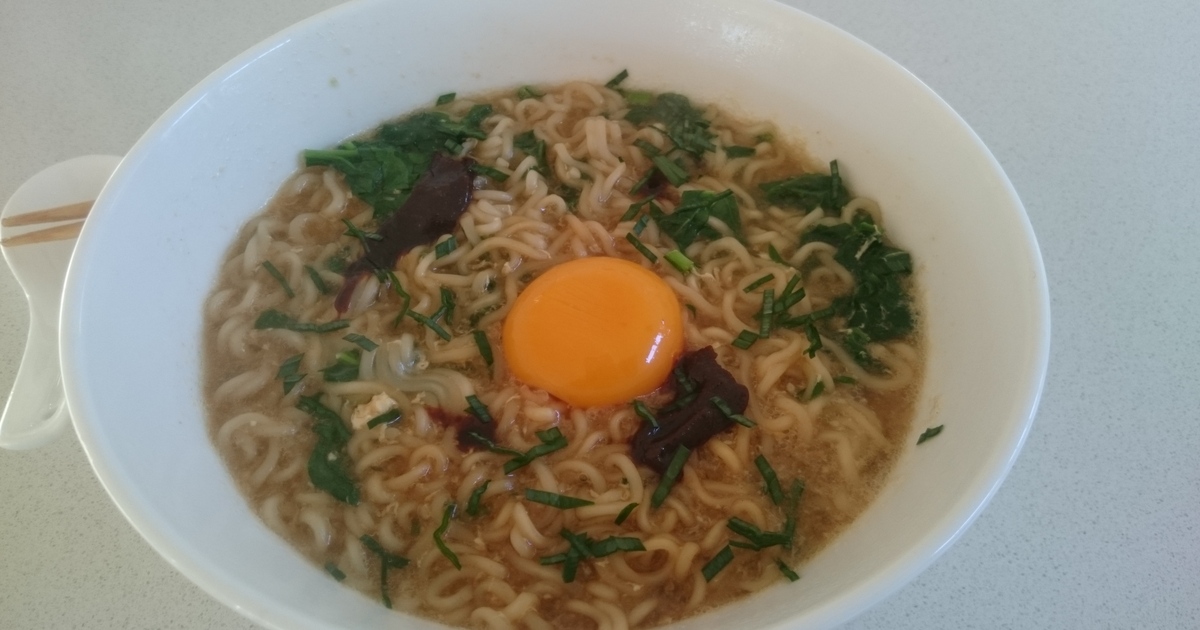 For much of western society Ramen refers to the quick heat and eat noodles that got us through college or helped our food scrape by until payday.
Traditionally a Japanese dish of noodles in broth, ramen is often garnished with small pieces of meat and vegetables, while the supermarket version comes with dehydrated veggies and some packet stock.
While the packets of cost effective noodles can be a lifesaver when you're hungry, below you'll find a healthier yet tasty version you can add to your repertoire.
Easy Chicken Ramen Noodles (Serves 4)
Ingredients
2 eggs
4 cups reduced salt chicken broth
1½ tsp light soy sauce
2 chicken breast fillets, boneless and skinless approximately (10-12 ounces)
4 Instant ramen noodles packets
1 cup/2 bunches roughly sliced baby bok choy
1 cup shredded carrots
1 ounce baby corn spears
2 green onions, chopped
1 chili (finely chopped)
Instructions
Put eggs in a medium size saucepan full of water and boil until hard. Remove eggs with tongs or a slotted spoon and set aside (keep covered).
In a separate medium large saucepan, add chicken broth and soy sauce and bring to a boil. Add the trimmed chicken breasts and continue cooking for 7-10 minutes or until cooked. Remove chicken breasts from broth, cool momentarily, then slice into thin pieces and return to broth.
Add ramen noodles to broth and shredded chicken. Cook noodles for 3-5 minutes, adding more stock or water as necessary. Salt and pepper to taste.
Peel and halve eggs, set aside.
Remove soup from heat. Add bok choy, carrots and corn.
Garnish with one half egg, chopped green onions, and chili as required, and serve immediately.
RELATED RECIPES
2. Soba Noodles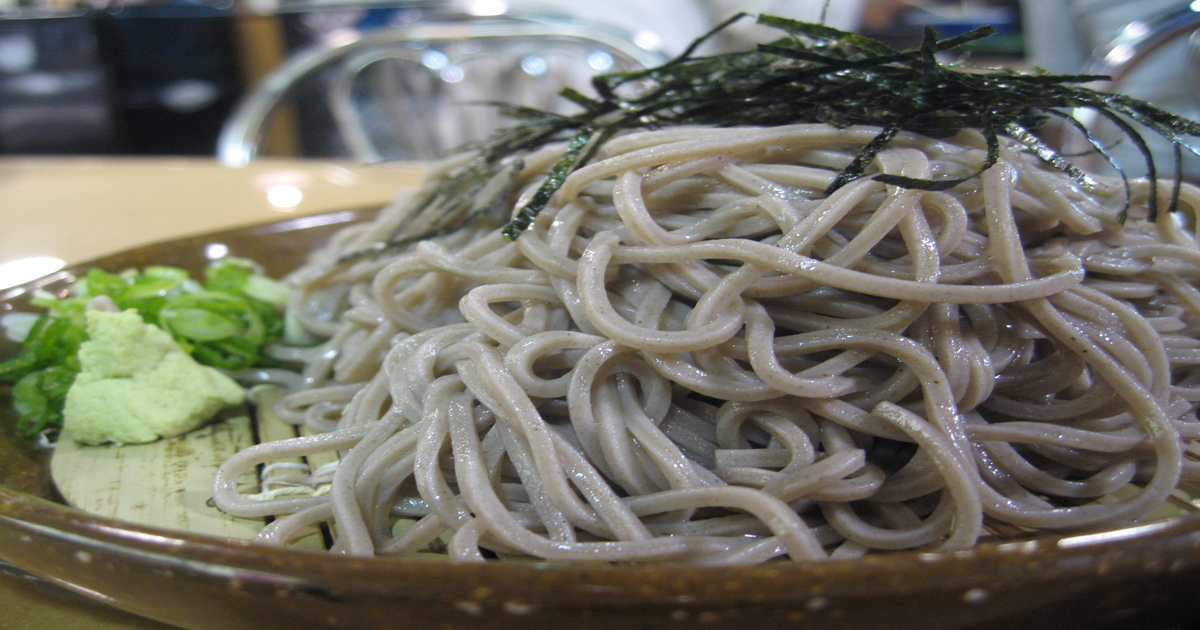 Soba are thin noodles made from buckwheat flour (which is a seed, which means they're gluten free), or a combination of buckwheat and wheat flours.
Soba noodles are served either chilled with a dipping sauce, pickled vegetables, and wasabi – or in hot miso broth as a noodle soup.
Soba offers numerous health benefits as they're loaded with antioxidants, fibre, and magnesium (good for blood flow).
Simple Soba Noodles
Ingredients
3 ounces dried soba noodles
1/2 teaspoon sesame oil
1 tablespoon canola oil
1 teaspoon grated/minced ginger
2 minced garlic cloves
2 spring onions, chopped roughly, (separate white and green parts)
6 cups water
1 large carrot, cut into thin sticks (no more than an inch long)
1/4 cup white miso paste
4 tablespoons light soy sauce
4 cups sliced fresh spinach or bok choy
Garnish: Sesame seeds (A sprinkling)
Optional: ½ pound protein, cooked separately (chicken, beef, tofu)
Instructions
Bring a medium saucepan of water to a boil. Add the soba noodles and cook them according to the package directions, then drain the noodles in a colander under cool water.
Return the noodles to the saucepan and toss through with the sesame oil.
Heat the canola oil in a large pot over medium heat then add the garlic, ginger, and white parts of the scallions. (You can do this while frying your protein if required.)
Saute until rich and fragrant, then add the water to the pot, raise the heat and bring mixture to a boil.
Add the carrots and simmer for 2-3 minutes, until soft to touch and bright, then remove the pot from the heat.
Place the white miso paste into a small bowl and ladle some of the mixture in, then whisk until the combination is smooth.
Stir the miso mixture into the pot, along with the spinach or bok choy. Stir until the greens are wilted, seasoning the soup with light soy sauce.
Divide your noodles across four bowls, then ladle soup on top evenly amongst the group. (Add your protein choice if required). Sprinkle with sesame seeds and the green parts of the spring onions then serve.
RELATED RECIPES
3. Udon Noodles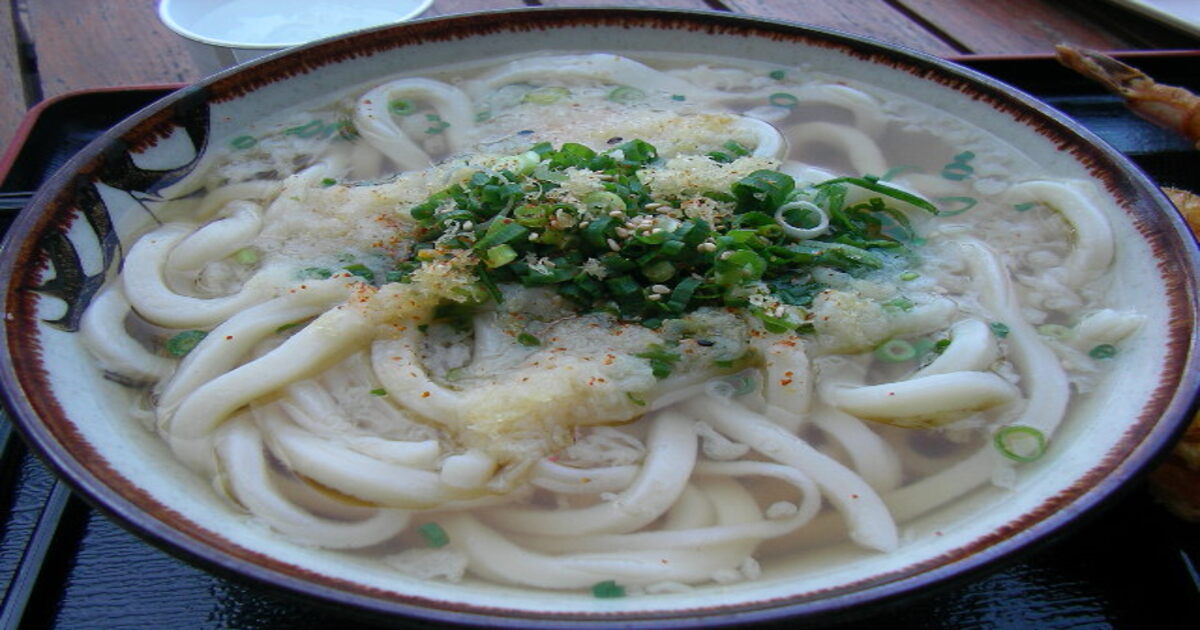 Udon is a type of thick, wheat-flour noodle used frequently in Japanese cuisine. It is often served hot as a noodle soup in its simplest form, as kake udon, in a broth called kakejiru, which is made of dashi, soy sauce, and mirin. It is usually topped with thinly chopped scallions.
Simple Kake Udon (Serves 2)
Ingredients
6 ounces udon noodles (or 2 servings)
1 1⁄2 cups Japanese fish stock (dashi)
3 tablespoons mirin
2 tablespoons soy sauce
1 teaspoon grated ginger
1 finely chopped green onion
Instructions
Heat a large pot of water for cooking the udon noodles.
Meanwhile, bring dashi to a simmer. Add mirin, soy sauce and salt (optional). Continue simmering until ready to use.
Cook the udon noodles according to the package instructions.
Divide drained, cooked udon into two large, deep serving bowls.
Top with grated ginger, chopped green onion, and fish cake slices (optional).
Pour in simmering broth to fill both bowls.
Top with optional toasted sesame seeds, shichimi togarashi, and/or tenkasu.
Drinking all the broth is not recommended. Additional noodles can be added to the remaining broth in the bowl as desired.
4. Kelp Noodles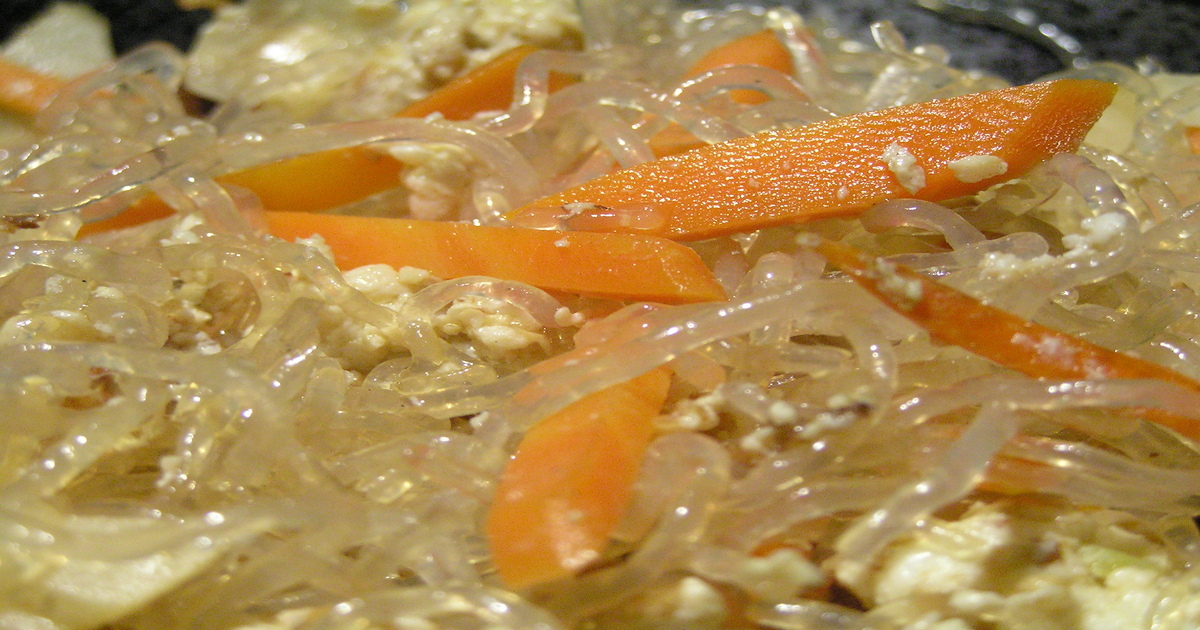 Made from edible seaweed and native to Japan, these thin, clear or green 'noodles' are an interesting alternative healthy option adept at absorbing your dishes' flavor.
Green kelp noodles have similarities with pasta but are rich in the briny seaweed flavor. Clear kelp noodles are more widespread. They are bland, but work brilliantly in soups and salads.
Kelp noodles require no cooking but need thorough rinsing before being added to a dish.They are nutrient-rich, low calorie and carb, fat and gluten-free.
Kelp Noodle Salad (Vegan Friendly)
Ingredients
1 pound bundle kelp noodles
1 large julienned carrot
1 large julienned Lebanese cucumber
1 tbsp toasted sesame seeds
1/2 cup cashews
Small bunch of mint leaves, roughly pulled apart
Optional: Small bunch of roughly chopped coriander
3 sprigs finely chopped green shallots
Dressing
Juice of ½ lemon
1 tbsp minced fresh ginger
1 fresh chopped chilli (heat of your choice)
3/4 cup crushed peanuts
3 tbsp tamari
1 heaped tbsp tahini
1/4 cup toasted sesame oil
Low sodium salt to taste
Instructions
Wash the noodles under warm water then set aside and strain out excess.
In a large salad bowl, add the carrots, cucumber, shallots, sesame seeds, cashews and pulled mint (you could also use coriander here).
In a jar, combine all dressing ingredients and shake thoroughly to mix.
Add in the drained kelp noodles and the dressing to the bowl. Toss thoroughly and serve. Take your time to mix to give the noodles time to soak up the flavor from the dressing.
5. Harusame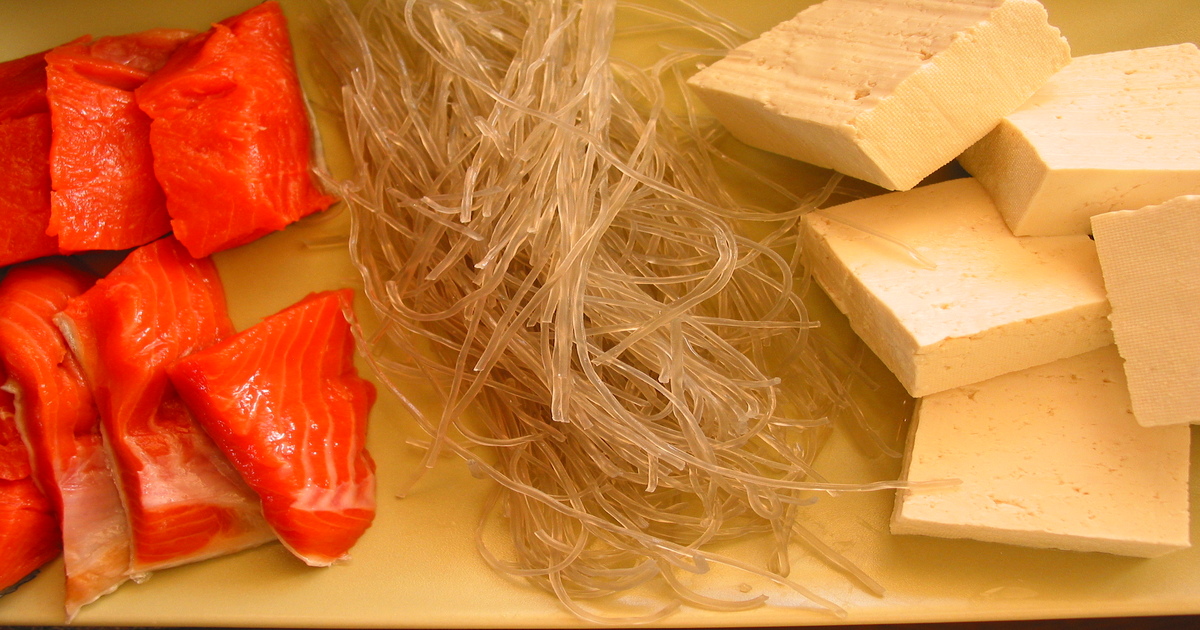 In Japanese, the name of these translucent noodles means "spring rain."
Japanese glass noodles are typically made from mung bean or sweet potato starch, although other starches can be used as well.
Harusame are also described as 'salad noodles' – they are popular served cold – but are also a favourite for hot pots, as they don't absorb a lot of liquid when cooked, yet take on aspects of the flavor.
Harusame Salad (Serves 4)
Ingredients
7 ounces harusame noodles
1 zucchini
1 carrot
4-5 slices ham (or plant based protein)
2 Eggs
Dressing
1 tablespoon brown or raw sugar
2-3 tablespoons light sodium soy sauce
2 tablespoons rice vinegar
1 tablespoon sesame oil
Optional: Sesame Seeds/ul>
Instructions
Cook the harusame noodles in boiling water as per packet instructions.
Rinse noodles in cold water and drain well.
Cut cucumber, zucchini and ham into thin strips and stir in with eggs to make a thin omelette, then cut them into thin strips.
Combine the dressing ingredients into a jar and shake thoroughly.
Combine harusame and omelette and a large mixing bowl, add dressing and mix with noodles.
6. Hiyamugi Noodles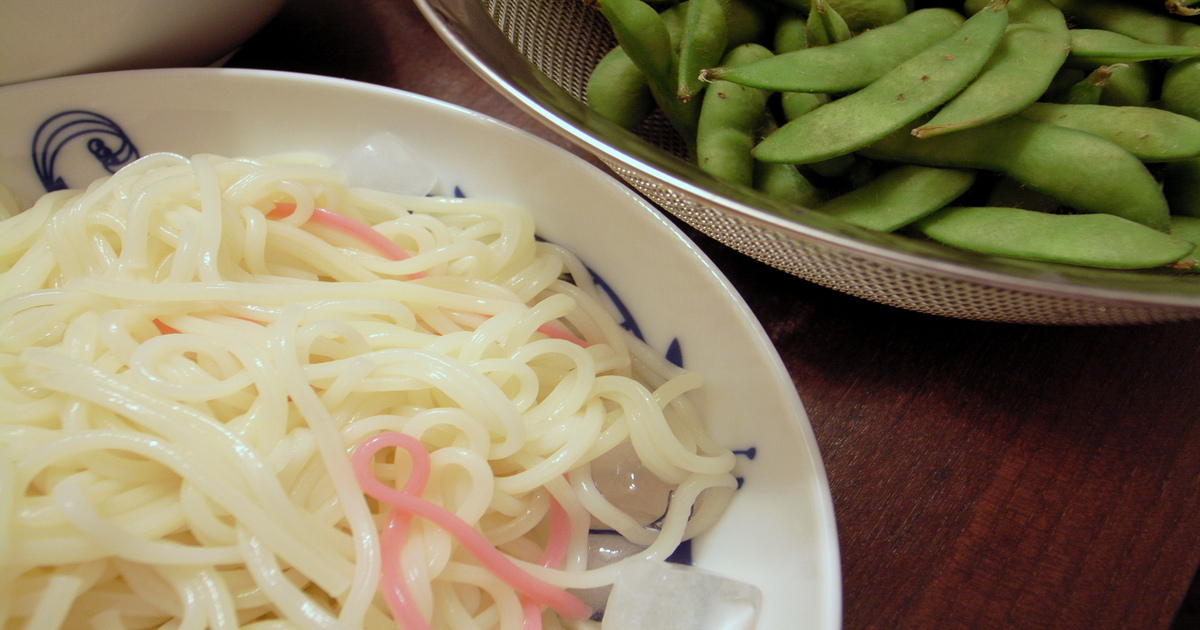 Hiyamugi are wheat flour noodles similar to somen and udon noodles and somewhere in between the two in size.
These noodles are often served in the same manner as somen and udon noodles. While they are mostly white, there are bundles mixed with noodles of pinkish or brown hues.
Hiyamugi is generally served cold with dipping sauces and pickled vegetables such as carrots, mushrooms, ginger, and daikon (white radish).
Simple Hiyamugi Noodles
Ingredients
7 ounces hiyamugi noodles
1 sheet Nori
Dipping sauce
1 cup water
1.5 tbsp soy sauce
1/2 tbsp sake
1/2 tbsp mirin
Instructions
Cook the hiyamugi according to the package instructions. Take to cold water. Change the water a few times if necessary to cool completely the noodles.
Shred the nori in 1/2 inch pieces and sprinkle over the cold noodles. Serve with the dipping sauce in an individual bowl.
7. Shirataki Noodles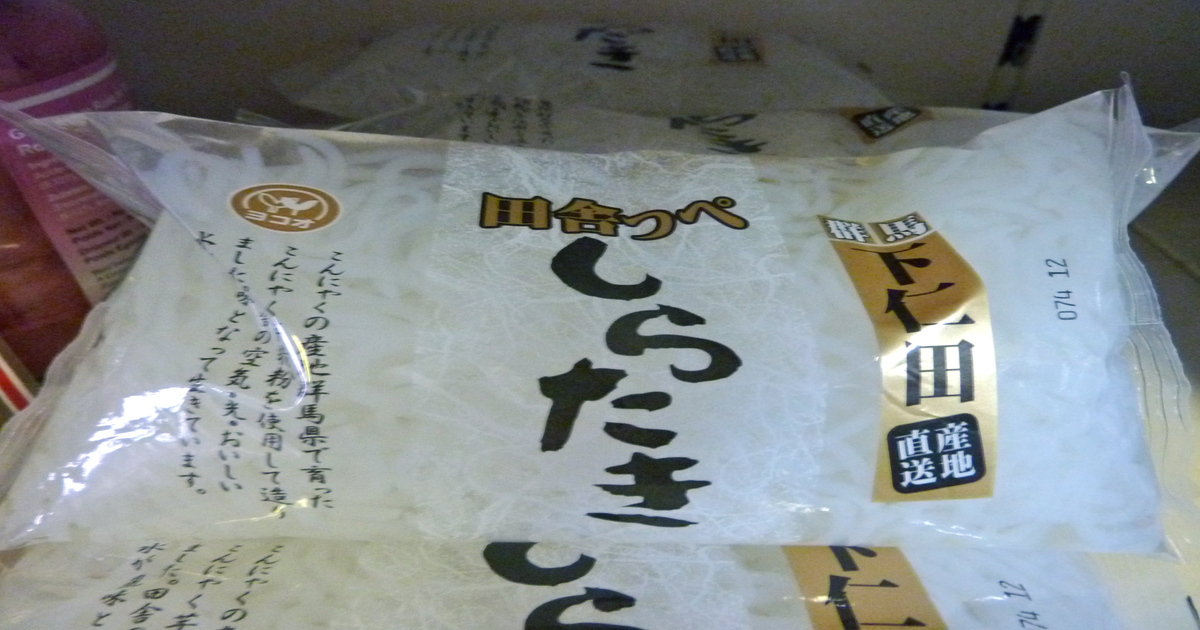 Shirataki are clear noodles made from konnyaku (yam cake). These noodles are chewy or rubbery, being used to add texture to traditional dishes such as sukiyaki and oden. There's not a lot of flavor to the noodles at all, which is part of their allure.
The health benefits of shirataki noodles are due to the glucomannan fiber they contain. Glucomannan is a soluble fiber that swells to many times its original volume when combined with water, which aids digestion, weight loss, and feelings of fullness.
Shirataki noodles have largely no calories, carbohydrates, fat, sugar, or protein. They are gluten-free and vegan.
Shrimp Shirataki (Serves 4)
Ingredients
16 ounces shirataki noodles
1 Tbsp cooking oil
8 ounces shrimp
1 stalk green onion (separate green and white)
3 cloves finely chopped/minced garlic
1/2 tsp finely chopped fresh ginger
2 cups shredded cabbage – shredded
1/4 cup chicken stock
1 small shredded carrot
Seasoning
2-3 Tbsp soy sauce
2-3 Tbsp oyster sauce
Optional: 1/2 tsp sugar, 1 grind black pepper to taste
Instructions
Drain the water from the shirataki noodles. Rinse briefly with cold water and then set aside.
Preheat a wok or large pan with cooking oil. Add white part of green onion, garlic, and ginger. Stir fry for 1-2 minute or until aromatic.
Add shredded cabbage and stir fry for 2 minutes. Pour in chicken stock and cook until cabbage is wilted, then carrots and stir fry for another 30 seconds.
Add shrimp and fry until they're a healthy pink. Add shirataki noodles, soy sauce and oyster sauce. You can also add sugar and black pepper to taste
Garnish with sliced green onions and serve.
The interest and ease of creating healthy soups and salads means Japanese style noodle recipes will continue to increase in popularity. Once you've found the ones you like most, there's a range of delicious flavors for you to explore.
SKM: below-content placeholder
Whizzco for 12T