A chilled, veggie-filled salad that's ready in 20.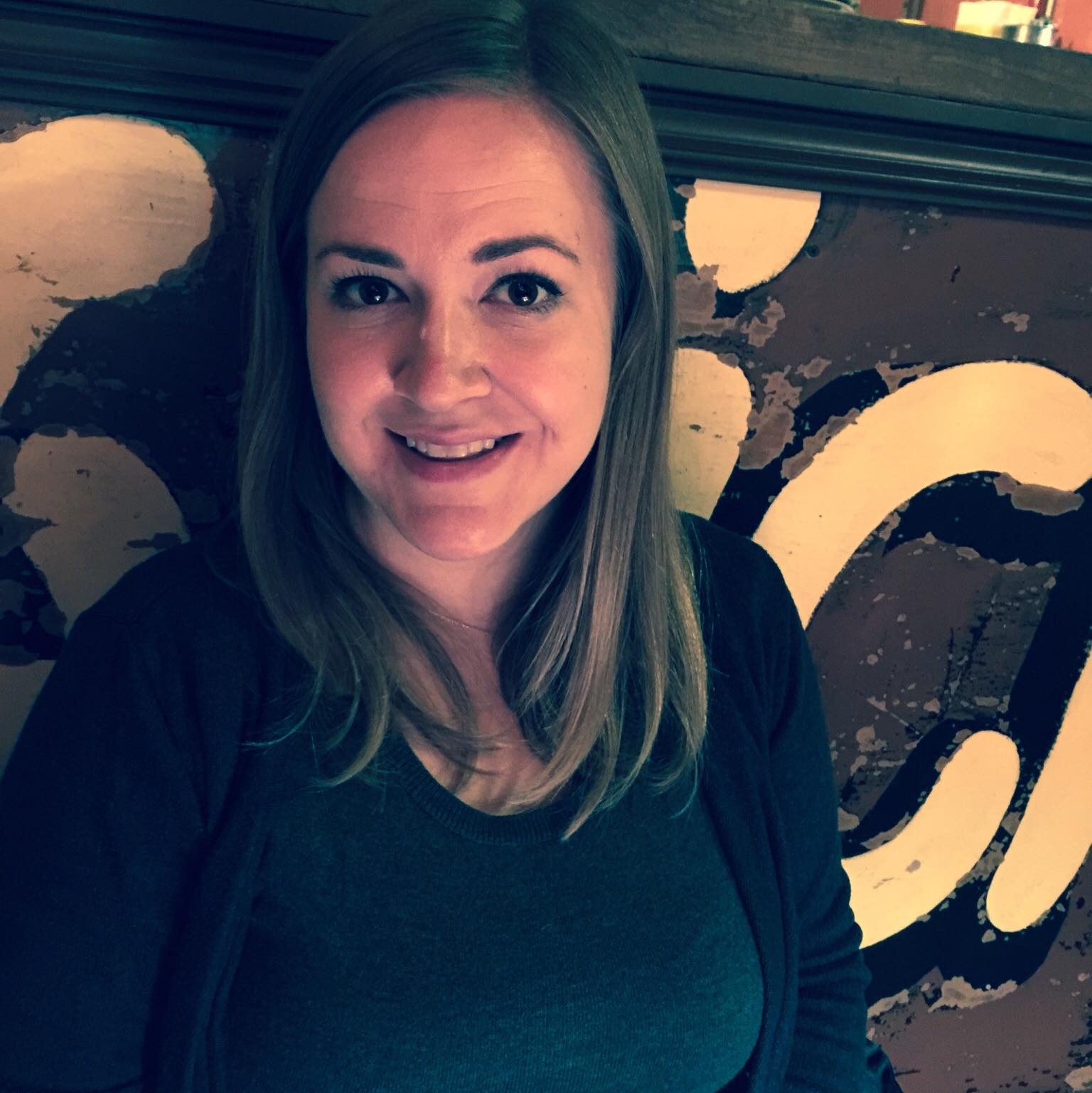 Kristy Norrell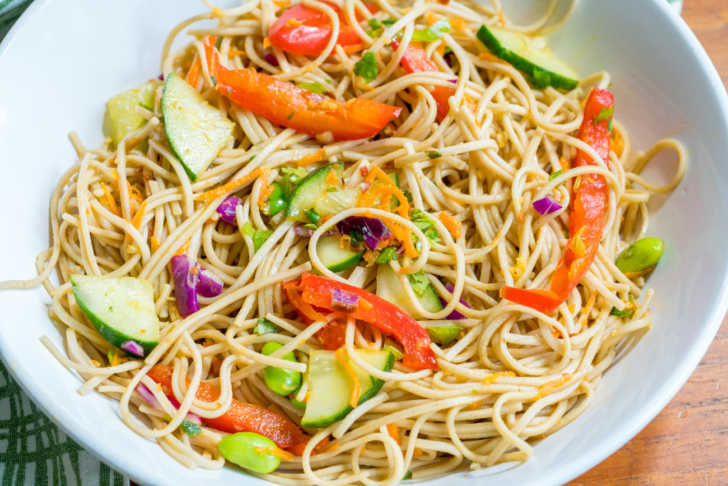 Over the years, the definition of a salad has gotten murkier and murkier. Once upon a time, it was something made up of jello and chopped fruit and maybe some whipped cream. But sometimes it's something made of potatoes and mayo. Nowadays, it usually calls to mind something healthy, and very green and leafy. But then, of course, there's pasta salad. And chicken salad. And tuna salad. It's an all-encompassing category, it seems.
But if you're looking for a salad that hits the mark in so many facets of the category, this is the one for you. It's a chilled dish that has the comforting bite of a pasta salad but also a rainbow's worth of vibrant veggies, and a tangy sesame dressing that wouldn't even think of weighing you down.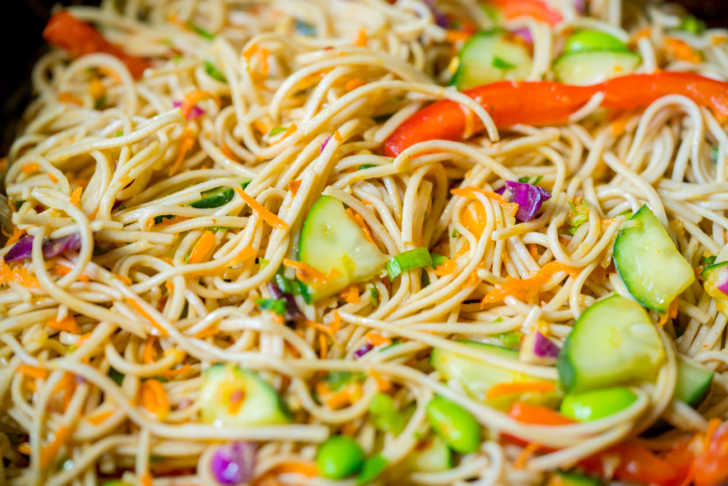 It's hard not to love a dish that comes together in twenty minutes, and this one makes for great meal prep since it keeps super well in the fridge. (Bonus points: it's an excellent make-ahead option for a potluck. Trust me, that bowl becomes empty real fast.) The base here is soba noodles, which are traditionally made of buckwheat. They're similar in size to spaghetti but have a nuttier flavor than a traditional wheat-based noodle.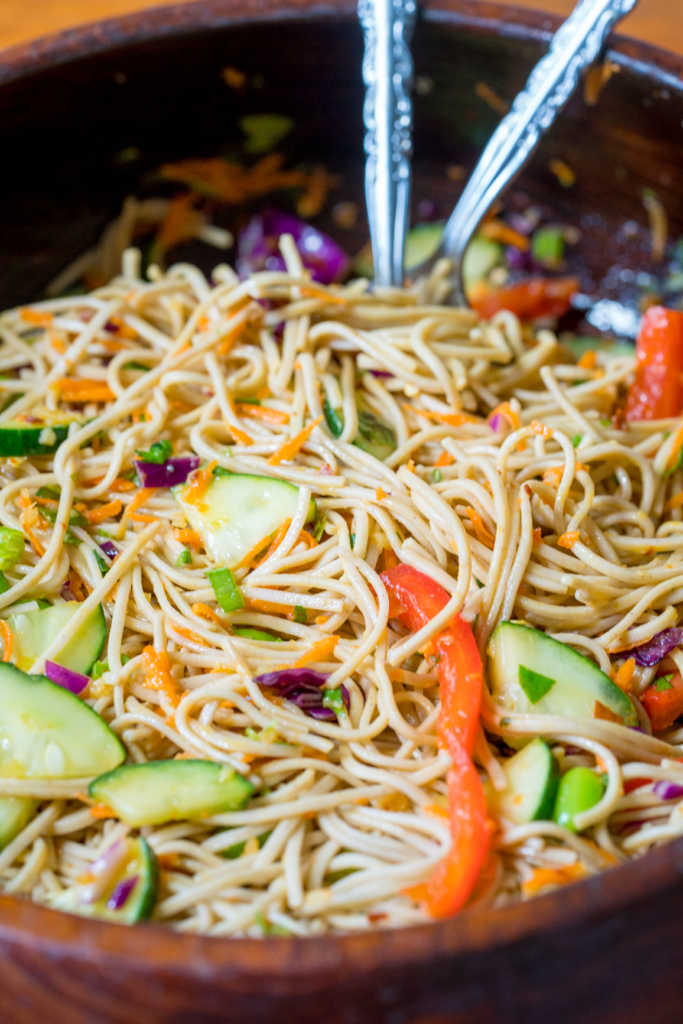 They're paired with an abundance of fresh veggies – cucumbers, red bell pepper, purple cabbage, cilantro, edamame, and green onion. They say to eat the rainbow, and with this array, you've just about accomplished it.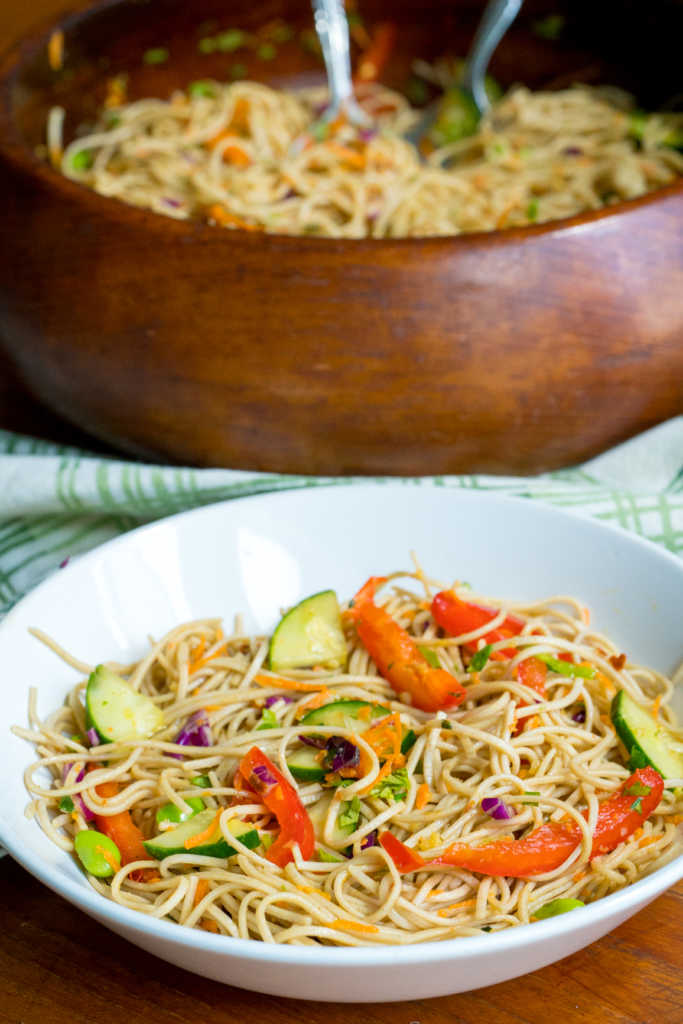 The dressing is quick (it can be made in the very same bowl) but it's not burdened with mayo or extra sugar. It's a light combination of sesame oil, soy sauce, rice wine vinegar, ginger, garlic, red chili flake, and a touch of honey. That means you've got something that's nutty, zesty, salty, and sweet to coat every last noodle. There are a fair amount of components in this salad, true, but it's little more than a quick toss to bring it together. And you can be sure that they all work together in a flavorful synergy that's pretty much unmatched.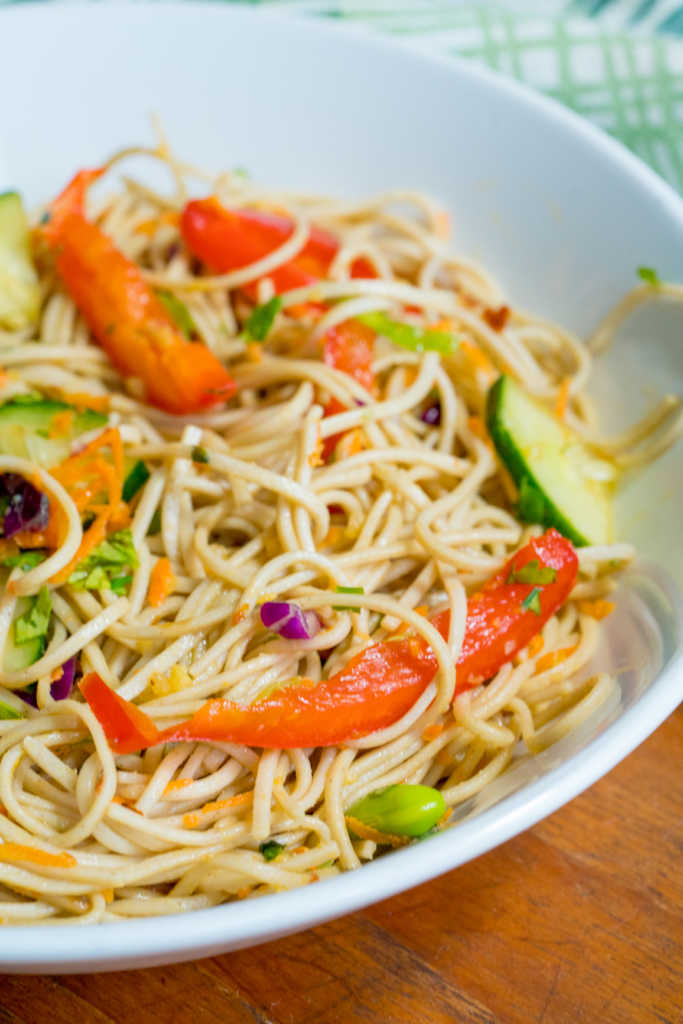 Soba Noodle Rainbow Salad
Ingredients
For the dressing:
2 tablespoons rice wine vinegar
2 tablespoons toasted sesame oil
1 tablespoon soy sauce
2 cloves garlic, minced
1 teaspoon fresh ginger, grated
2 teaspoons honey
1/2-1 teaspoon red chili flake, optional
For the salad:
12 oz soba noodles, cooked according to package directions
1 red bell pepper, cored and thinly sliced
1 small cucumber, quartered and thinly sliced
1/4 cup purple cabbage, thinly sliced
1/2 cup carrots, shredded
1/4 cup edamame, shelled
1/4 cup cilantro, chopped
1/4 cup green onion, thinly sliced
Preparation
In a large bowl, whisk together the rice wine vinegar, sesame oil, soy sauce, garlic, ginger, honey, and red chili flake, if using.
Add the cooked soba noodles, bell pepper, cucumber, purple cabbage, carrots, edamame, cilantro, and green onion. Toss until well coated with dressing.
Serve chilled and enjoy!
SKM: below-content placeholder
Whizzco for 12T