The draw of the pizza margherita is its simplicity– the most basic of ingredients, mixed together in just the right proportions, served on an airy, crispy crust. The key is making sure those few ingredients are the freshest and highest quality available. Garden fresh basil and the milkiest mozzarella you can find. If you really want to step things up, go for mozzarella di bufala!
What's the story behind the name of this classic pizza of neapolitan origin? Back in 1889, Queen Margherita of Savoy paid a visit to Naples, and the pizza-makers at Pizzeria Brandi decided to whip up a patriotic pizza in her honor. Calling on the colors of the Italian flag– red, green and white– the pizza was based on the trio of tomatoes, basil and mozzarella. While traditional pizzaioliin Italy bake the margheritain wood-brick ovens, you can get away with the ordinary one in your kitchen. You will, however, need a pizza stone in order to really perfect this recipe! If you don't have one,you can actually make your own really simply for just $3!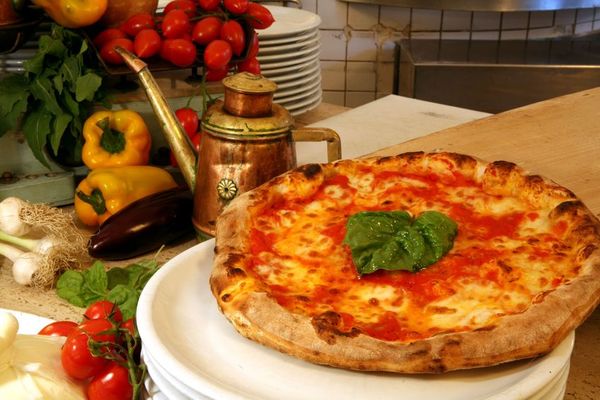 Pizza Margherita
Ingredients:
Dough
1 (1/4-ounce) package active dry yeast (2 1/4 teaspoon)
1 3/4 cups unbleached all-purpose flour, divided, plus more for dusting
3/4 cup warm water, divided
1 teaspoon salt
1/2 tablespoon olive oil
Topping
15 ounce can whole tomatoes in juice
2 large garlic cloves, smashed
2 tablespoons olive oil
4 basil leaves, plus more for sprinkling
1/4 teaspoon sugar
6 ounces fresh mozzarella or mozzarella di bufala, cut into 1/4-inch-thick slices
Directions:
1. Stir together yeast, 1 tablespoon flour, and 1/4 cup warm water in a large bowl and let stand until surface appears creamy, about 5 minutes. Make sure mixture has creamy appearance before proceeding with other steps. If necessary, start over with new yeast until the right consistency develops.
2. Add 1 1/4 cups flour, remaining 1/2 cup water, salt, and oil. Stir until smooth. Stir in 1/4 to 1/3 cup flour, enough to make the dough a bit slippery and sticky so that it pulls away from sides of bowl.
3. On a floured surface, knead the dough until it reaches a smooth and elastic consistency, about 8 minutes. Form into a ball, put in a bowl, and dust with flour. Cover with plastic wrap and let rise in a draft-free place at warm room temperature until doubled, about 1 1/4 hours. Alternatively, you can allow dough to rise in the fridge for a day. Just make sure you bring it back to room temp before you try to shape it.
4. While dough is rising, pulse tomatoes with juice in a blender until you've created a chunky sauce.
5. Next, cook garlic in oil in a small heavy saucepan over medium-low heat until fragrant and lightly golden. Add tomato purÈe, basil, sugar, and 1/8 teaspoon salt and simmer, uncovered, stirring occasionally, until thickened and reduced to about 3/4 cup. This should take about 40 minutes. Season with salt and cool.
6.Preheat oven to500∞F at least 45 minutes before you're ready to cook the pizza, and place your pizza stone on oven rack in lower third of electric oven (or on floor of gas oven).
7.Once dough has risen, shape it withoutpunching it down. Dust it with flour, then transfer to a parchment-lined pizza peel or large baking sheet. Pat out dough evenly with your fingers and stretch it so it's about 14 inches round, reflouring fingers if necessary.
8.Spread sauce over dough, leaving a 1-inch border. Arrange cheese on top, leaving a 2- to 3-inch border.
9. Place the baking sheet (with pizza on it) onto pizza stone in oven. Bake about 15 minutes, until dough is crisp and browned and cheese is bubbling. Transfer pizza to a cutting board and cool for at least 5 minutes. Sprinkle with fresh basil leaves before serving.
10. Buon appetito!
SKM: below-content placeholder
Whizzco for 12T