Braciole (or "roulade," as it's also known) is a delicious Italian dish that consists of pan-grilled or fried rolls of stuffed meat. There are lots of different kinds, due to the easily customizable stuffings of cheese, herbs, or hard-boiled egg (our favorite!), so it's a great dish to have in your cooking arsenal, because it can cater to just about any occasion! These stuffed rolls are made of very thinly sliced and pounded out meat, and then cooked low and slow to achieve a perfect tenderness and juicy flavor. Homemade tomato sauce rounds the meal out–and it pairs perfectly with the meat, or with any pasta you might want to make on the side.
We love braciole because it's relatively simple to make, and you're rewarded with extraordinary flavor and presentation! Buon appetito!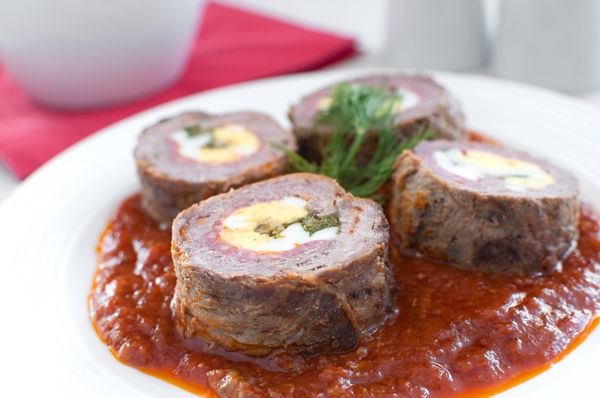 Braciole
Serves 6
Ingredients
Meat and Filling:
2 pounds beef top round, thinly sliced
1/2 pound sliced salami or prosciutto
3-4 hard-boiled eggs, 1 per roll, chopped
3/4 cup Parmigiano-Reggiano or Provolone cheese, grated
1/2 cup flat-leaf parsley, chopped
2 tablespoons garlic, minced
1 tablespoon extra-virgin olive oil
kosher salt and freshly ground black pepper, to taste
tooth picks or butcher's twine
Sauce:
1 (28 oz.) can crushed tomatoes, with juices
1/2 cup dry red wine
1/4 cup tomato paste
1 bay leaf
1/2 teaspoon dried oregano
1/2 teaspoon dried basil
kosher salt and freshly ground pepper, to taste
Directions
Set out a large piece of plastic wrap and place thinly sliced beef on top. Cover with a second piece of plastic wrap and use a meat mallet (or another heavy object) to pound out and tenderize meat.
Season both sides of meat slices with salt and pepper, and sprinkle cheese and minced garlic on the top side of meat.
Spread salami, overlapping it slightly, out over the meat.
In a medium bowl, mash together the chopped egg and remaining cheese. Divide mixture equally among the meat slices and spread it out, leaving a 1/2-inch border.
Spread chopped parsley out on top of egg.
Carefully wrap your meat rolls and secure with toothpicks (if small) or twine (if rolls are bigger).
Heat olive oil in a large pan or skillet over medium-high heat. Once hot, add bracioles and brown on all sides.
Remove bracioles from heat, cover and set aside.
Deglaze cooking pan with red wine and scrape up any browned bits from the bottom of the pan.
Add tomatoes, tomato paste, bay leaf, oregano, basil, and salt and pepper. Add meat back to the pan and reduce heat to low.
Bring mixture up to a boil, then cover and reduce to a simmer. Continue to cook, on low, for 2-3 hours, turning meat occasionally.
Once sauce has reduced and thickened, taste and adjust seasoning, if necessary. When meat is fully cooked through, remove from heat and let rest 15-20 minutes.
Slice braciole, spoon sauce onto serving plates, top with meat and serve hot.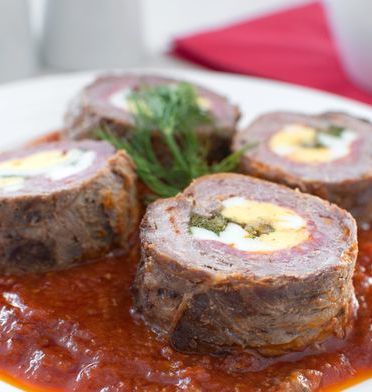 Recipe adapted from Recipes And Ramblings
SKM: below-content placeholder
Whizzco for 12T