Those instant noodles sitting in your cupboard get a well deserved makeover.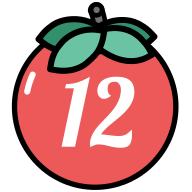 Victoria Brittain

When you share or print a 12 Tomatoes recipe,
you're making mealtime meaningful.
100%
of the Share to Care sponsor fees fund meals for families in need.
Learn More
CLICK ANY LINK BELOW TO JOIN OUR CAUSE!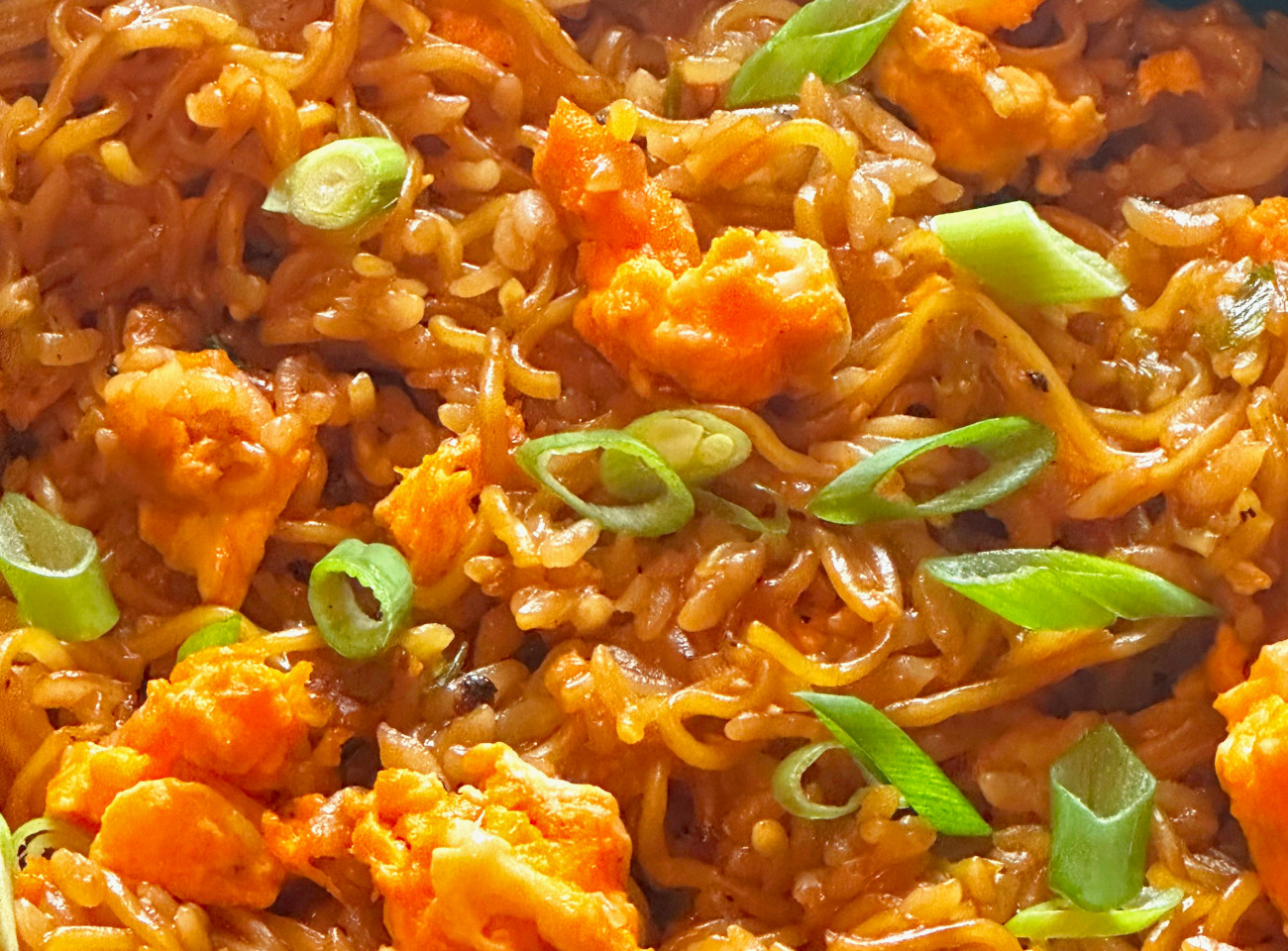 Quick, easy, and convenient — for many meals, that's the name of the game. But what about something that actually tastes good too? Well, here's the perfect place for Instant Ramen Fried Rice. Yes, you read that right, simple instant ingredients get a stir-fried upgrade that will really change the way you think about cup noodles forever.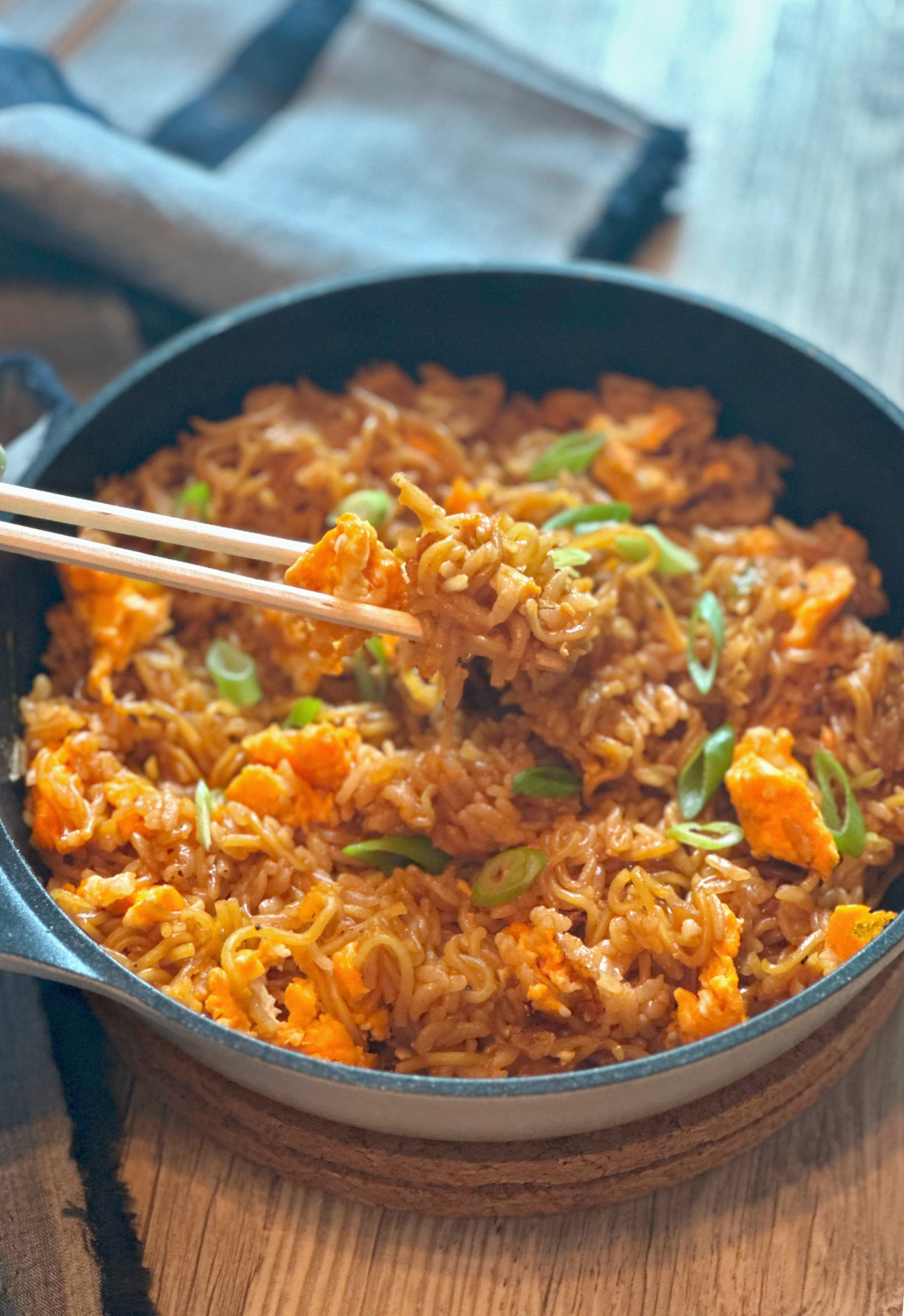 Instant cup of noodles are often associated with penny-pinching youth but they can also become a valid base for a good solid meal. While you may think this ramen noodle and fried rice combination is the brainchild of a viral internet video, there's actually some legitimate history to this dish.
Called sobameshi, it originated in Japan's western city of Kobe during the mid-20th century. With no microwave at that time, a customer went to a street vendor, asking the vendor to reheat his leftover noodles. As the story goes the street vendor did so, but also added in a few heaping scoops of rice to the leftovers. The hot griddle crisped both the rice and noodles for a satisfying carb-loaded combination. Tall tale or not, this fusion stuck and is still a carby treat for many.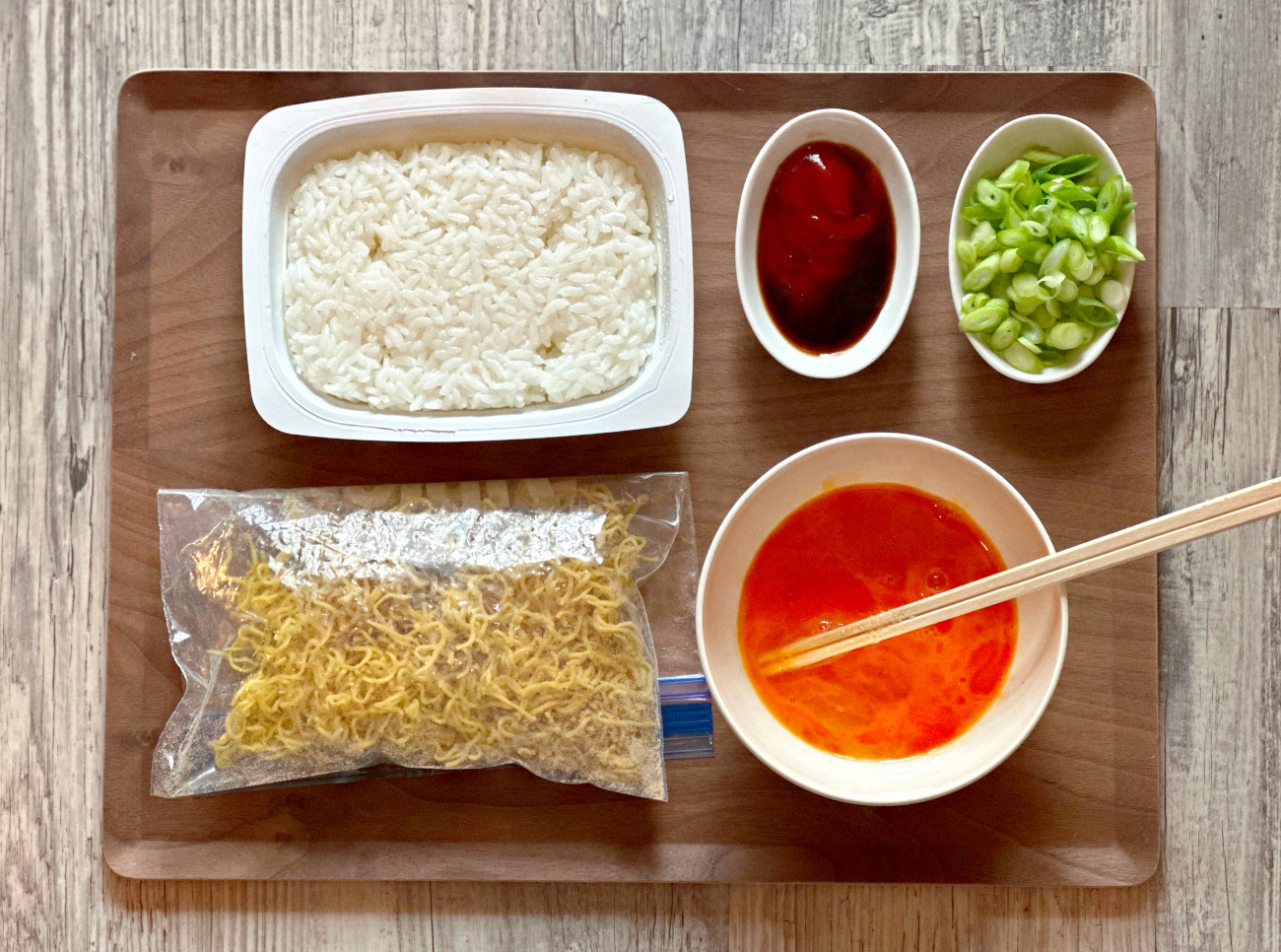 This version is a pantry go-to staple. Here, instant noodles get crushed, cooked, and crispy in a saute pan. There's also strong side characters of rice, eggs, and scallions. A few splashes of readily available condiments add a depth of flavor but none of these steps nor ingredients are unknown nor time-consuming to be off-putting, even to busy folks.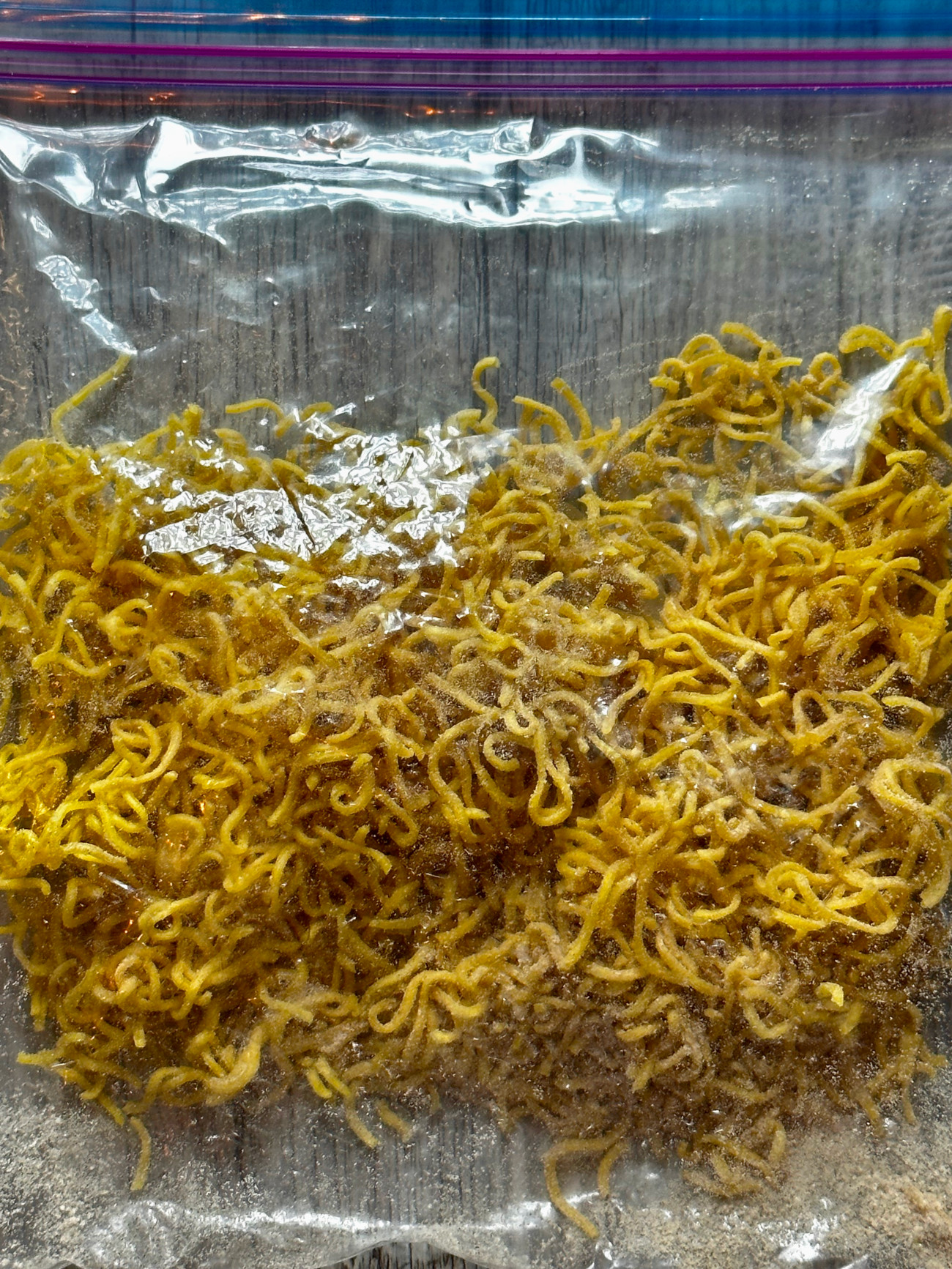 The hardest thing about this recipe is removing the noodles from the cup or packaging and smashing them into small pieces. Cup noodles are a little easier to break apart than square plastic-wrapped noodles. Since cup noodles already have the seasoning mixed with the noodles, this will be the base of flavoring for the fried rice. If you're using packaged noodles, remove the seasoning packet, crush the noodles, and then mix the seasoning back in.
I crushed my noodles in a sealed zip-top bag. You don't want to pulverize the noodles into a powder, you just want them small enough so they mix well with the other fried rice ingredients. The key to fried rice is having the ingredients blend together, having the ability to eat all of the dish's components in one, single bite.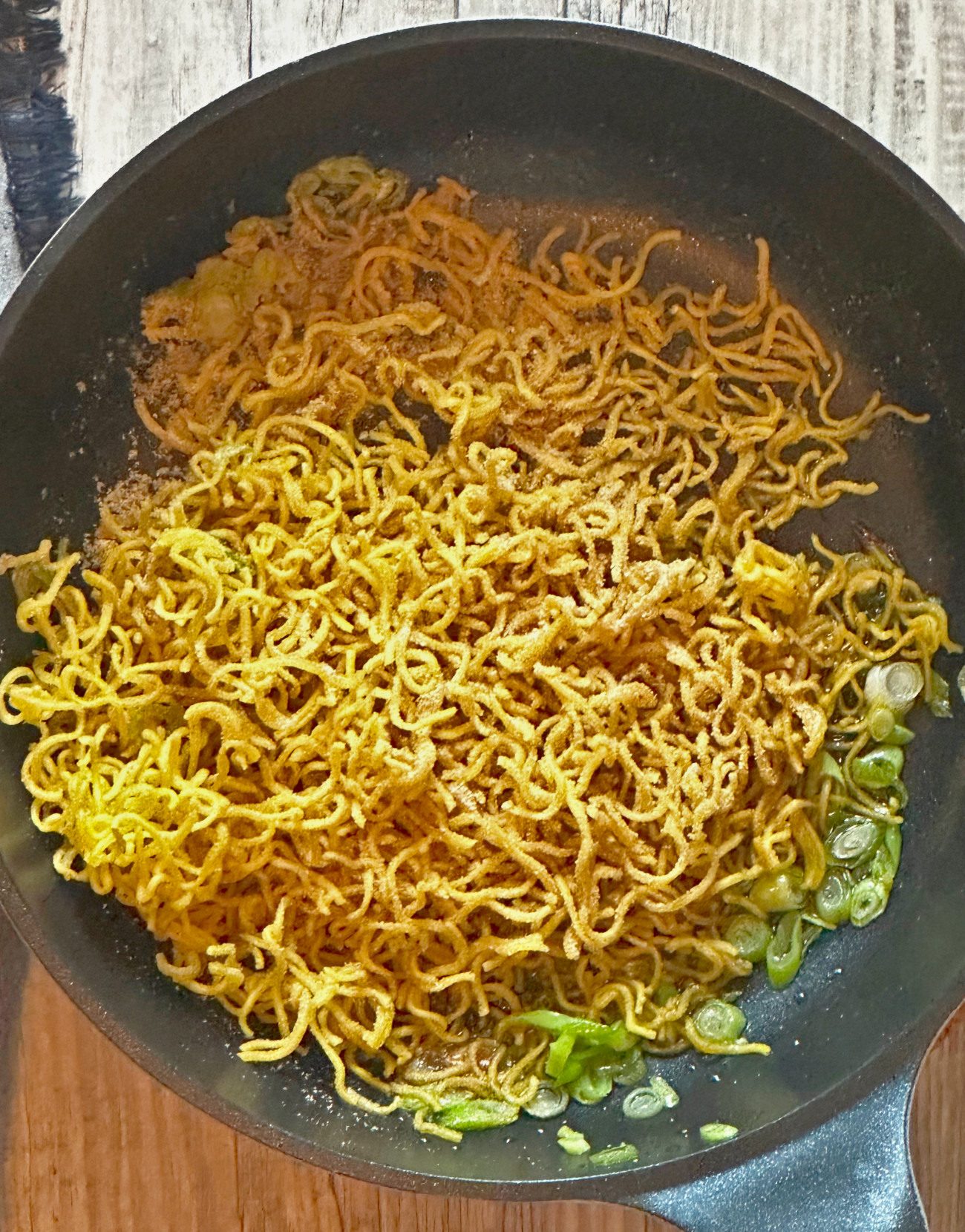 After that, you saute thinly sliced scallions in a pan. I used butter, but you can use other fats like olive oil or sesame oil. Once the scallions get fragrant, add the crushed noodles and a little bit of water. This process does double duty of softening both the noodles and the scallions.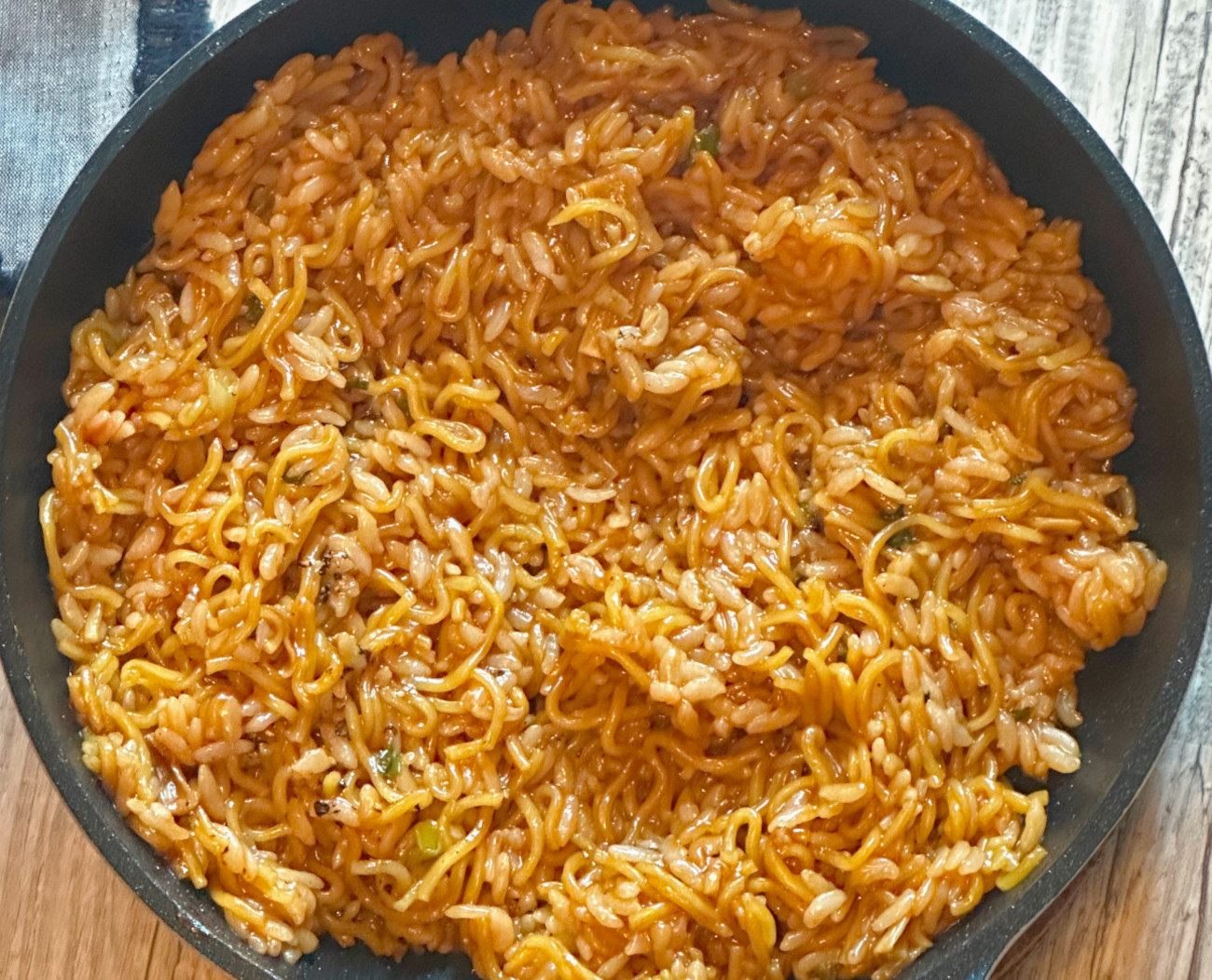 It only takes a few minutes to soften the noodles, so you want to be quick and immediately add the rice and condiment ingredients. I used a mix of ketchup (yes sounds weird, but it works) and a little bit of soy sauce. The combination of ketchup and soy sauce mimic other sauces like oyster or hoisin. You can easily use those condiments, but I never have those on hand and the thought of buying a sauce that I'll only use one tablespoon is just ridiculous to me!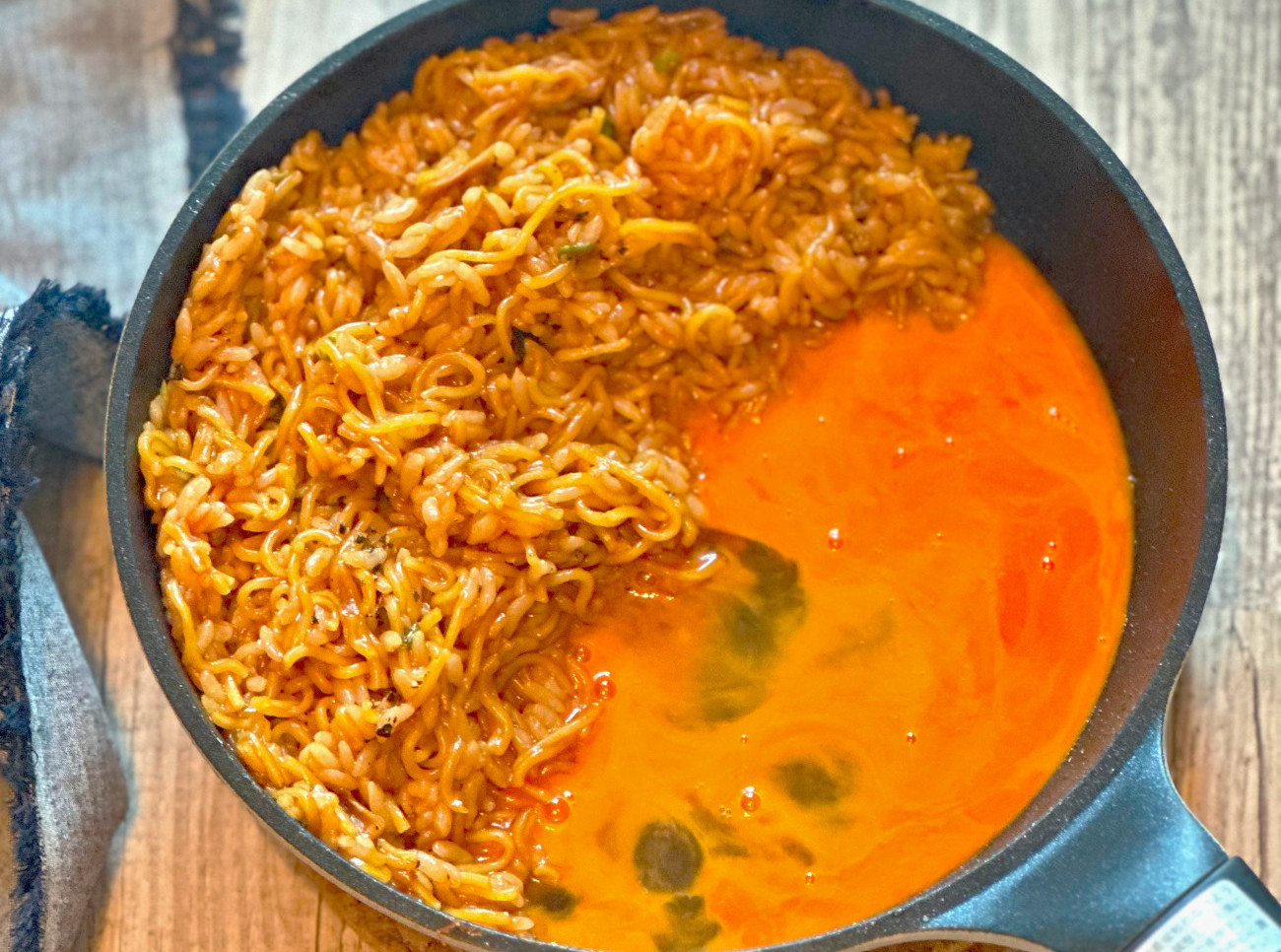 When the ingredients got nice and familiar with one another I went ahead and added the prepared eggs. When reading the recipe you probably thought it was weird to prep the eggs first and have them sit all lonesome, but there's a good reason for this — whisking the eggs with a bit of salt and letting them rest helps denature the proteins and gives a more pleasant scrambled egg.
Push the rice-ramen mixture to one side of the pan and pour the eggs into the pan. After a few seconds of cooking, I used my spatula to scramble the eggs.
Some people like having the eggs coating the fried rice ingredients, however, I love having distinct pieces of eggs scattered throughout the fried rice.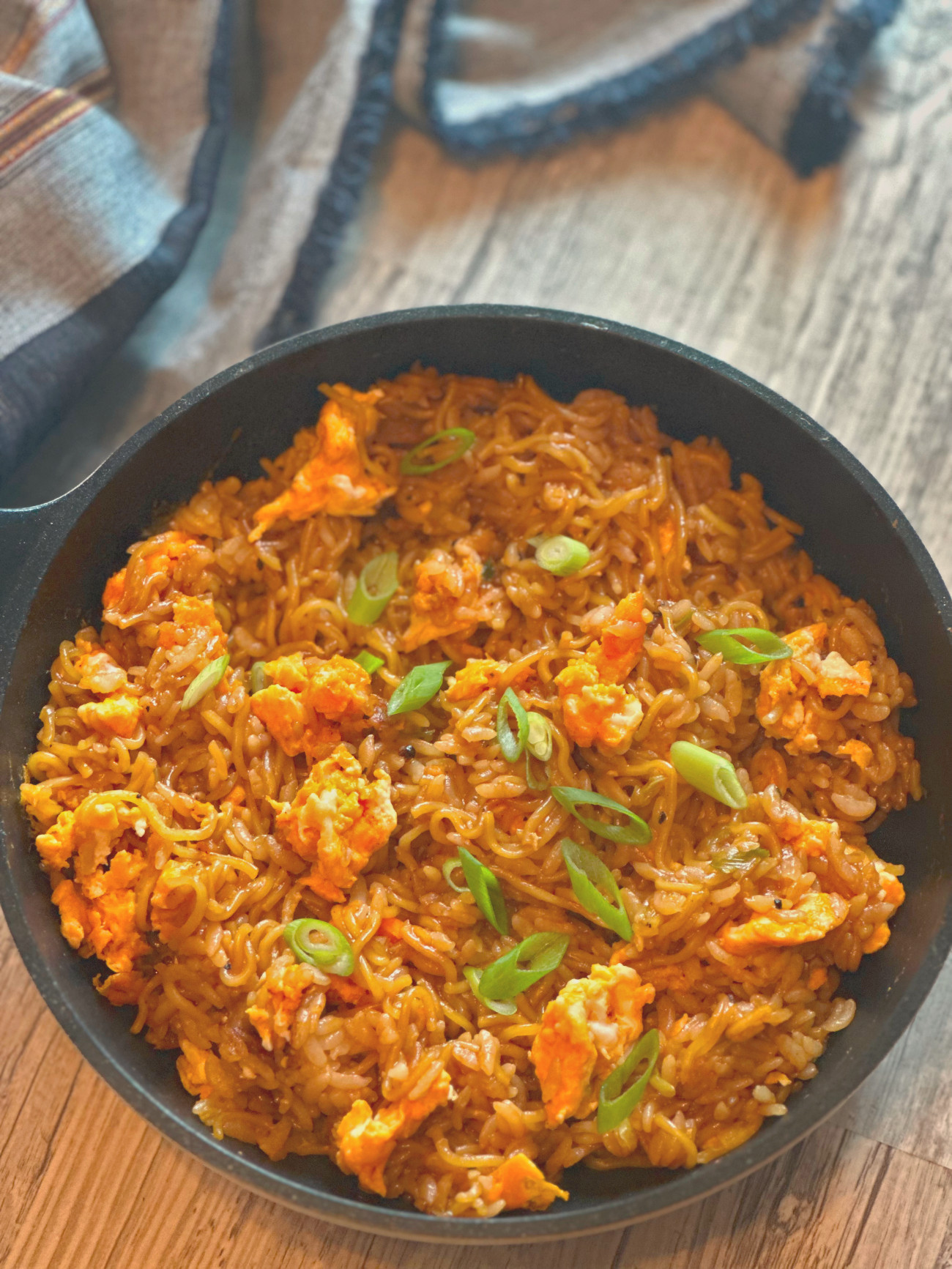 I reserved some of the thinly sliced scallions as garnish but honestly, this fried rice doesn't need a lot of fussy accouterments. This can be a quick lunch or served with some stir-fried beef or pork for a full meal. Once you have instant noodles this way there's no going back.
Instant Ramen Fried Rice
Serves 4
10m prep time
12m cook time

When you share or print a 12 Tomatoes recipe,
you're making mealtime meaningful.
100%
of the Share to Care sponsor fees fund meals for families in need.
Learn More
CLICK ANY LINK BELOW TO JOIN OUR CAUSE!
Ingredients
2 large eggs, room temperature
1 2.5 cup of instant cup ramen, pork, chicken, or beef flavors are fine
2 tablespoons butter
1 scallion, thinly sliced and divided
¼ cup water
1 cup short grain instant rice, cooked
1 tablespoon ketchup
2 teaspoons soy sauce
Kosher salt and freshly cracked black pepper to taste
Preparation
In a small bowl, whisk two eggs. Add a pinch of salt, set aside.
If you are using a square packet of instant ramen, set the flavor packet aside, if the flavor is mixed with the noodles, don't worry.
Place the noodles in a plastic storage bag and pound to break up into small tiny pieces. Set aside.
In a nonstick skillet, melt butter. Add half of the scallions, sautéing on medium heat until softened, about 2 minutes.
Add crushed up noodles and water, stirring until noodles are softened about 3 minutes. Once softened add rice, ketchup, soy sauce, salt, and pepper. Mix the ingredients until everything is well combined, push the mixture to one side of the pan and add in the whisked eggs.
Stir like you're making scrambled eggs. Once eggs start to solidify, mix in the ramen-rice mixture.
Season again with salt and pepper if needed. Serve hot and enjoy!
SKM: below-content placeholder
Whizzco for 12T