Make ahead soup that saves you time without falling short on good taste!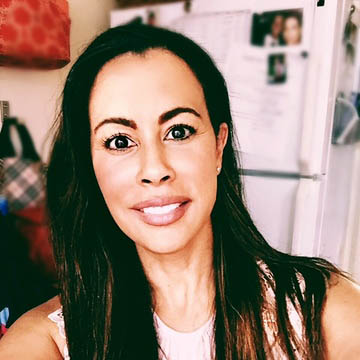 Melissa Maxwell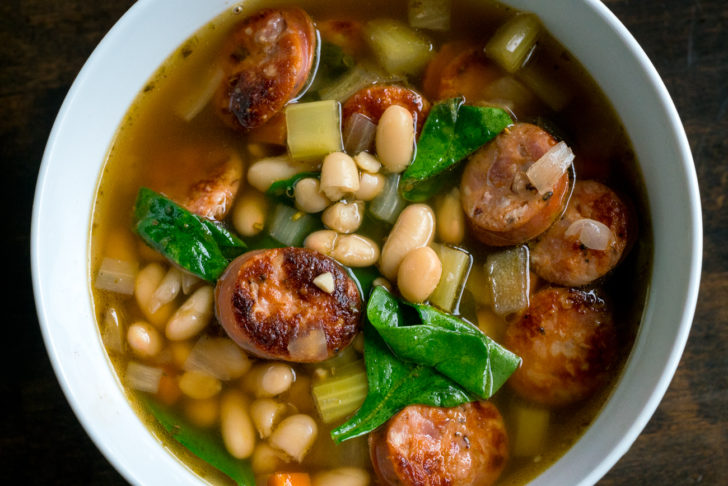 It's not always easy to come up with a recipe that makes your stomach happy and that also checks some healthy boxes at the same time. Everyone is so busy and hungry after a long day that it's easy to reach for something less nutritious if it's easier to make, or fold and opt to eat out, spending more money than they would have if they'd just put something simple together at home. With a little help from your Instant Pot you can do just that with this hearty soup that's both quick and easy to make ahead, so a good dinner will be waiting for you rather than the other way around.
Instant Pots are so useful and have so many functions, something we decided to take full advantage of by browning the sausage to a nice crisp after cutting it into coin-size pieces. All those brown bits of flavor were worth the easy, extra step and boy, did that sausage taste good! Apart from the sausage, cannellini beans and fresh spinach are what really make this such a nourishing meal, adding more protein and nutrients, but you'll want to make sure to add the spinach at the very end so that it stays fresh and keeps its bright, green color.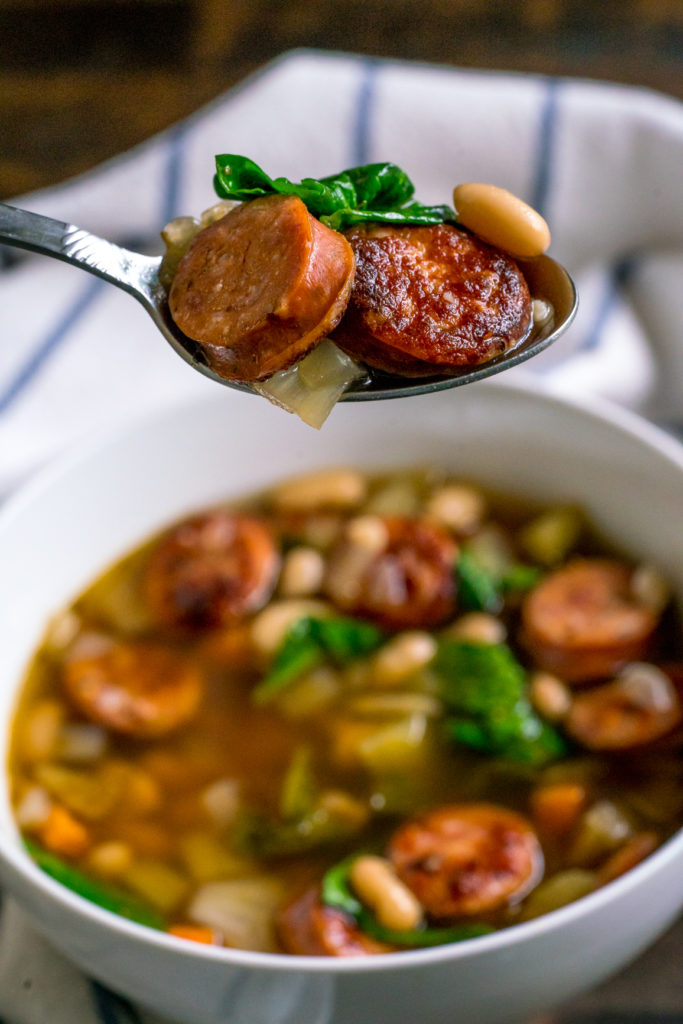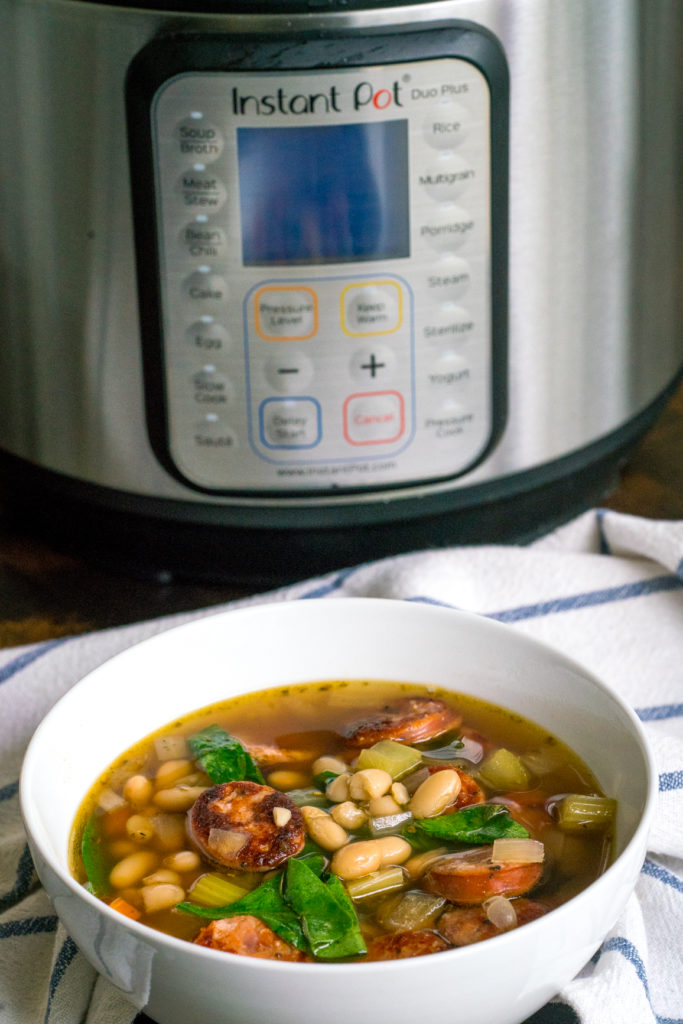 The rest of the ingredients are almost too easy to believe – there was so little chopping to do that we actually had time to sit down and relax – talk about wonderful! Can you imagine, simply reheating this delicious meal after a hectic day and maybe serving it with a crusty loaf of bread and butter to your family and friends? Everyone loves a comforting, hot meal and this soup serves it up up in spades, giving you time to take a deep breath and enjoy!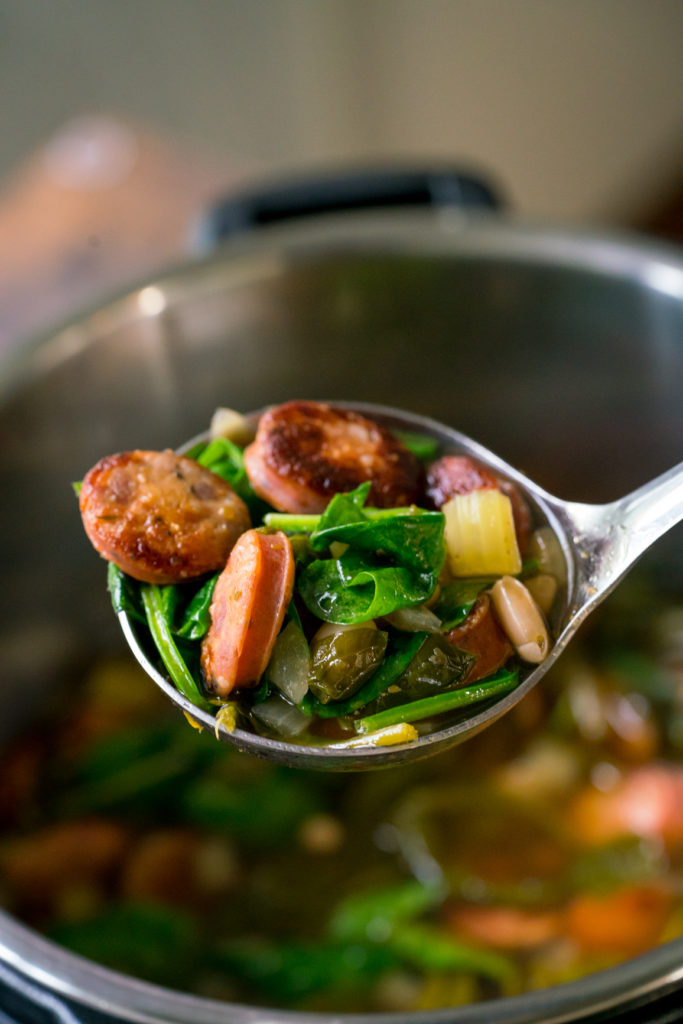 Sausage Spinach Soup
Serves 6
15 minute active; 2+ hours inactive
Ingredients
1 (32 oz.) package low-sodium chicken broth
1 (12.8 oz.) package smoked andouille sausage, sliced
2 (15 oz.) cans white cannellini beans, rinsed and drained
1 yellow onion, diced
2 carrots, diced
2 stalks celery, diced
4 cloves garlic, minced
2 bay leaves
3 cups spinach
2 tablespoons extra-virgin olive oil
2 teaspoons Italian seasoning
kosher salt and freshly ground pepper, to taste
Preparation
Heat olive oil in Instant Pot and sautè sliced sausage, cooking until browned.
Add beans, onion, carrots, celery, garlic and bay leaves on top of sausage.
Pour in chicken broth, then season with Italian seasoning, salt and pepper.
Cover Instant Pot and pressure cook for 30-40 minutes, or slow cook on high for 3-4 hours, until soup is warmed through.
During the last 10 minutes of cooking, add spinach, then cover and stir together until wilted. Ladle into serving bowls and serve hot.
Recipe adapted from Damn Delicious
SKM: below-content placeholder
Whizzco for 12T