A taste of Old Hollywood!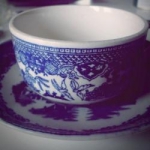 Rose Heichelbech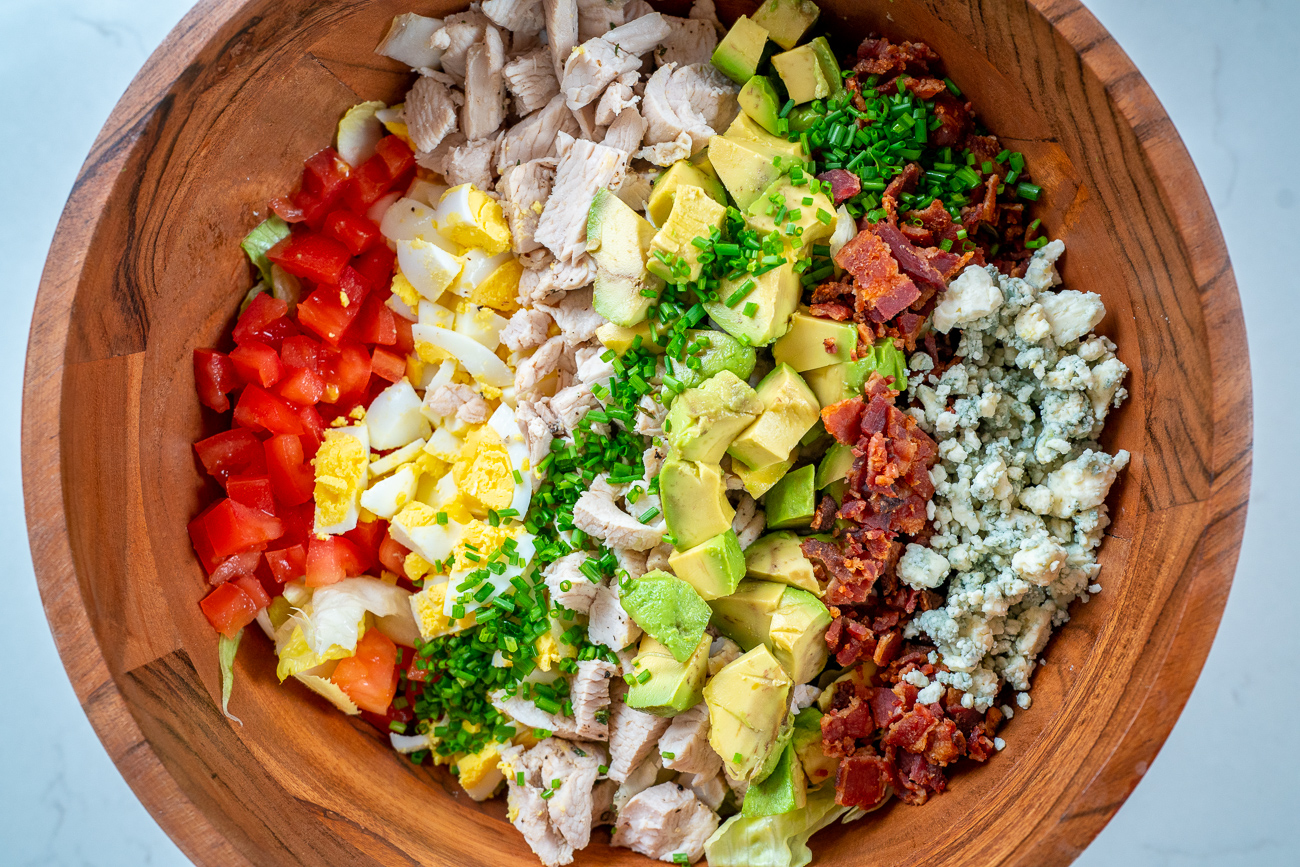 If you've ever had a divine Cobb salad then you no doubt have never forgotten how tasty and hearty it was. And, if you've ever had the Cobb salad from the Hollywood Brown Derby restaurant then you might just be salivating at the mention of a Cobb salad right about now. The original restaurants were favored by Hollywood stars and executives, but that last location was demolished in the 1980s. However, the use of their names and recipes was licensed to Walt Disney for his theme parks. Ever since then you can find their tasty dishes at Disney and MGM attractions, including the famous salad that was invented at the Hollywood Brown Derby in 1938.
So what makes this salad special? Lots of things. For starters this salad has a lot of ingredients. This is the way to create a truly pleasing salad that doesn't taste boring. Instead we've got a mix of textures and flavors that come together for a dish that's unlike anything else.
There's bleu cheese, bacon, hard-boiled eggs, chives, avocado, and turkey in addition to the other ingredients. This dish is heavy on the protein which makes it an ideal main dish. You certainly won't be hungry after eating a hearty salad like this one.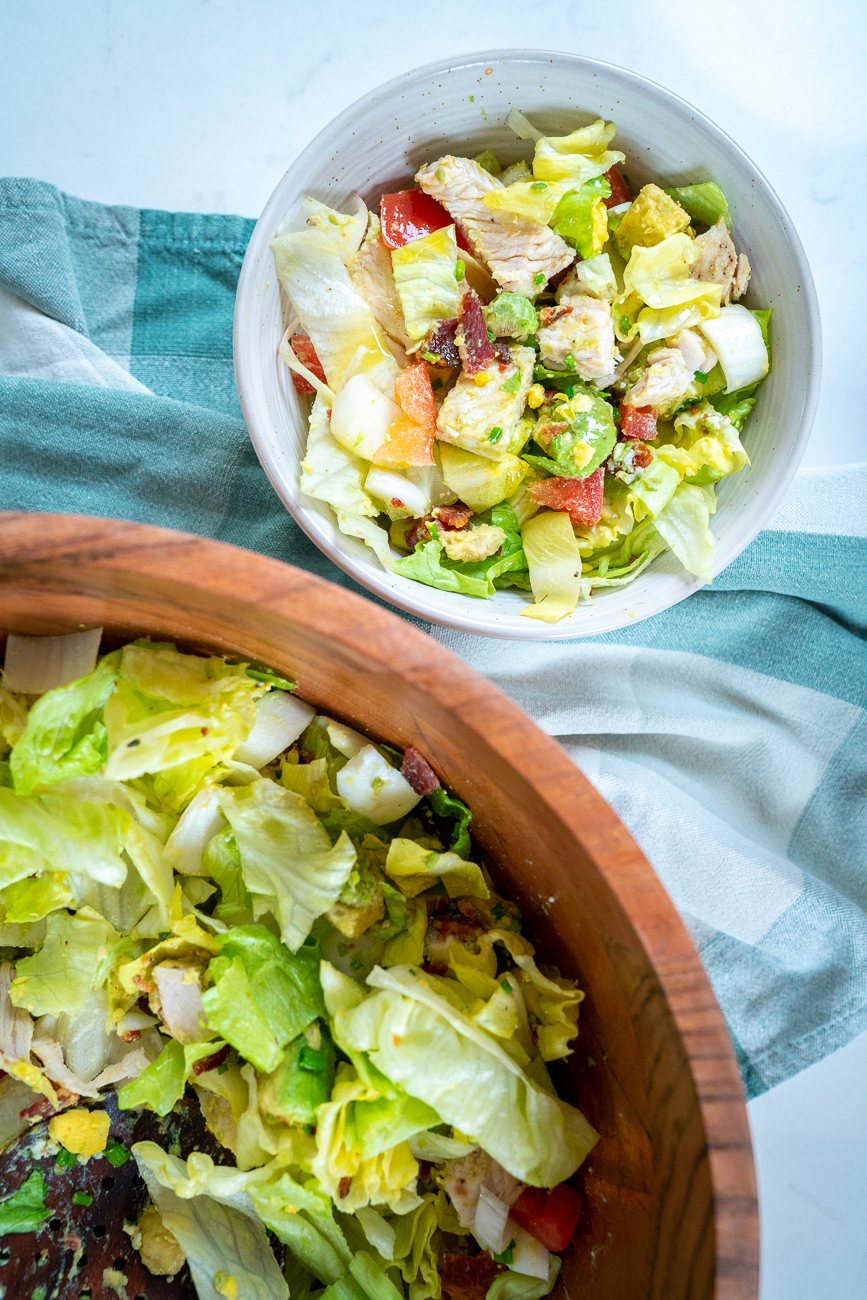 To make this turkey breast very tender and juicy you brown it first in the skillet, then let it finish cooking in a bath of hot broth. This method ensures that the meat doesn't dry out and is great for cooking chicken breasts, too.
The original recipe calls for a mix of watercress, endives, and iceberg lettuce. If you can't find the first 2 greens you can use whichever salad greens you enjoy instead to simplify things.
The final step is to make a tasty homemade dressing that's flavored with mustard, Worcestershire sauce, and garlic. The dressing is what completes the salad so if you have to skip anything don't skip the dressing!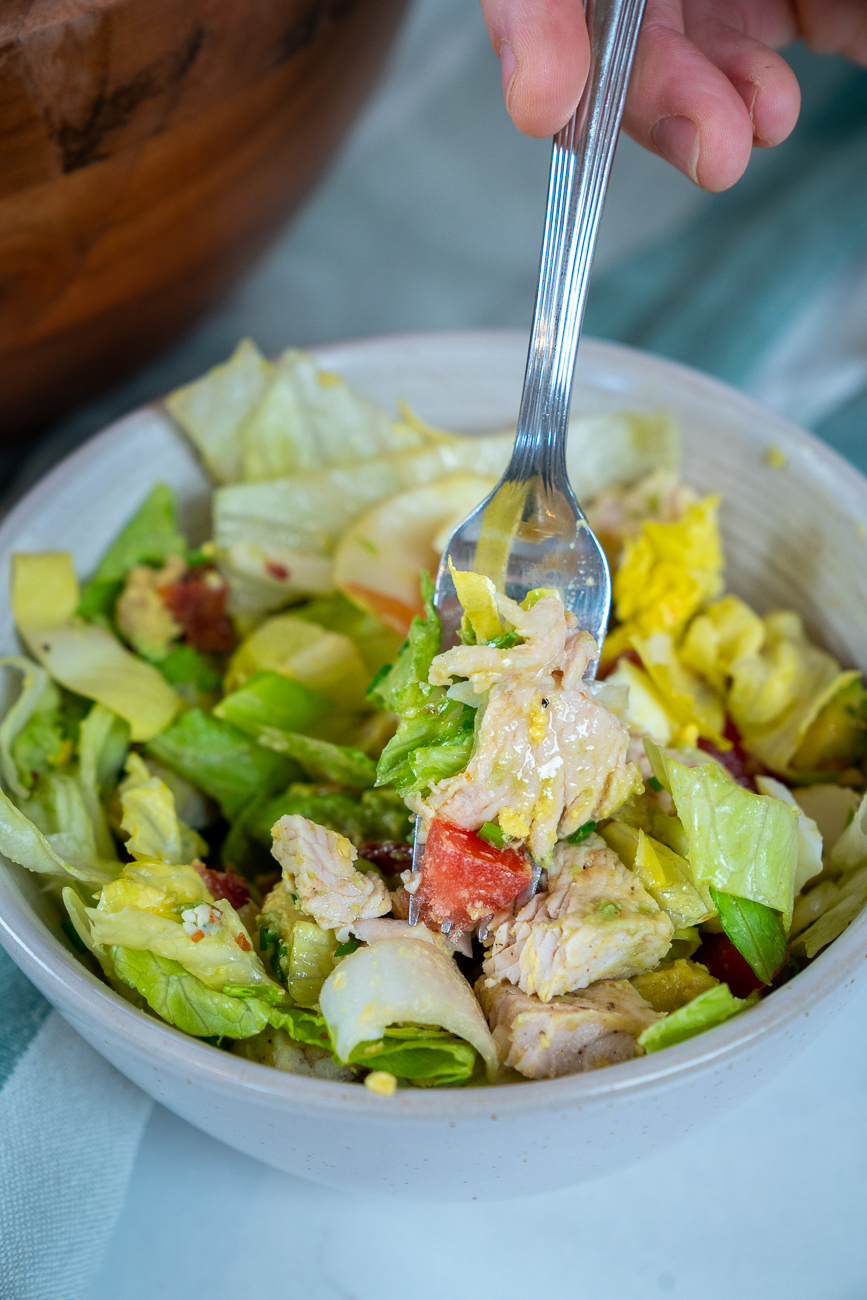 If you love a substantial salad then this Hollywood Brown Derby Cobb salad isn't one to miss!
Hollywood Brown Derby Cobb Salad
Serves 4
2m prep time
10m cook time
731 calories
For the dressing:
3 tablespoons water
2 tablespoons red wine vinegar
juice of 1 lemon
1 teaspoon Worcestershire sauce
1/2 teaspoon salt or to taste
1/8 teaspoon black pepper
1/2 teaspoon minced or crushed garlic
1/4 teaspoon brown sugar
1/8 teaspoon dry mustard powder
3/4 cup olive oil
For the salad:
12 oz turkey breast steaks
2 cups chicken broth
1/2 onion, diced
3 sprigs fresh thyme
salt and pepper to taste
3 cups chopped iceberg lettuce (about ½ a head or slightly less)
2 cups chopped curly endive (AKA chicory)
3/4 cup chopped watercress
2 medium ripe tomatoes, seeds removed and finely chopped
1 avocado, peeled, pitted, and diced
2 oz crumbled blue cheese
6 strips cooked bacon, crumbled
3 hard-boiled eggs, peeled chopped
2 tablespoons finely chopped fresh chives
For the dressing:
Combine water, vinegar, lemon juice, Worcestershire sauce, salt, pepper, garlic, sugar, and mustard. Slowly whisk in oil to emulsify.
For the salad:
Bring broth to low boil along with onion and thyme. Add turkey and allow to simmer for 8-10 minutes or until meat reaches an internal temperature of 170F˚. Remove from liquid.
Allow to rest for 4 minutes tented under foil. Slice into small pieces once rested then season with salt and pepper. Set aside.
In a large bowl combine lettuce, endive, and watercress. Add remaining salad ingredients on top of greens layer. Top with turkey. Whisk dressing again just before adding to salad.
Recipe adapted from Mission Food Adventure.
SKM: below-content placeholder
Whizzco for 12T