And it's actually really easy to make as well….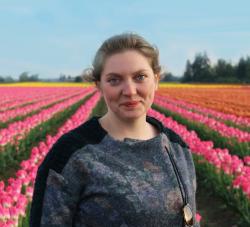 Decatur Macpherson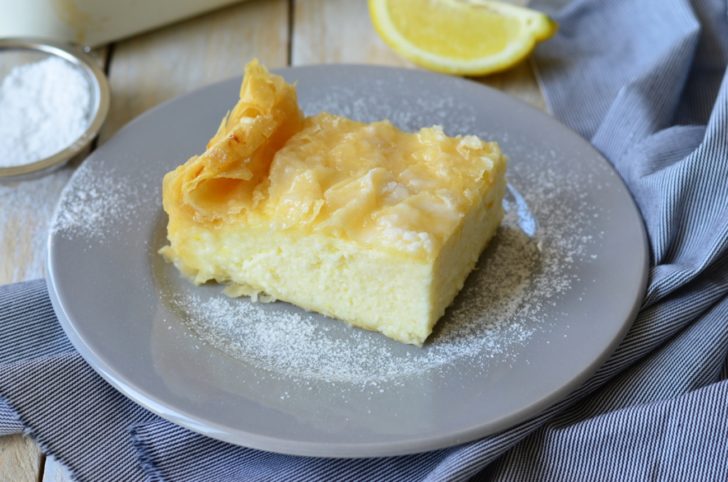 Whether you know it as galaktoboureko or Greek milk pie, this dessert is about as tasty as they come and we find we can't get enough of the thick and creamy filling when it's paired with the crispy, buttery phyllo. Slightly lesser known than the ubiquitous baklava, galaktoboureko is a creamy, citrusy custard that wrapped up in layers of phyllo and then drizzled with a citrus syrup, resulting in a dessert that is absolutely heavenly and perfect for just about any occasion.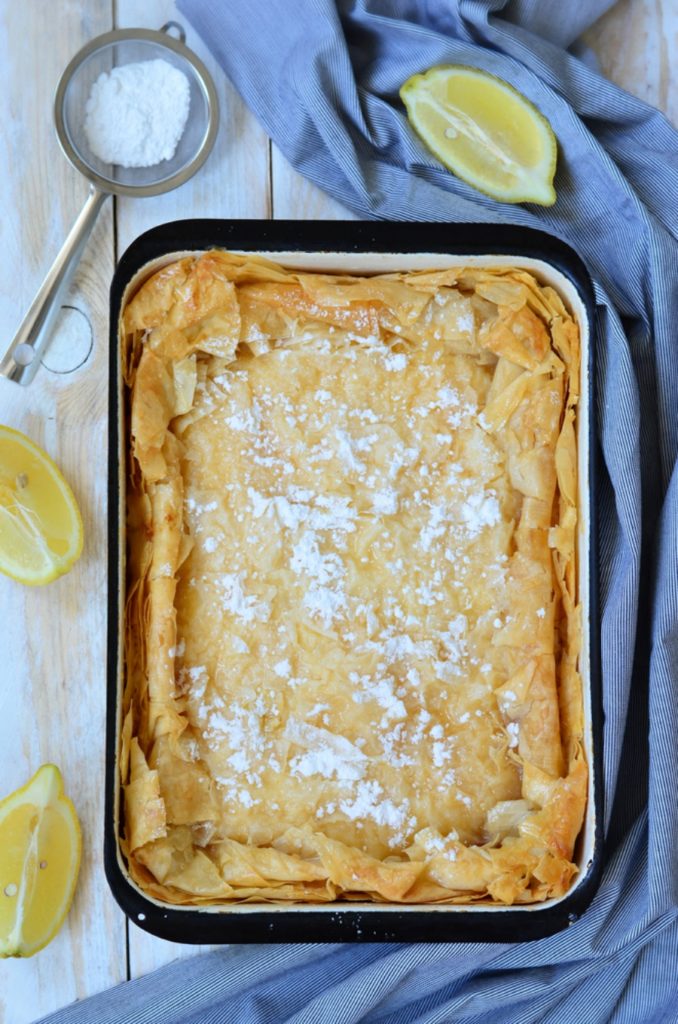 This dessert looks a lot more fancy to make than it really is, making it a great choice for anytime you want to impress. It tastes amazing every time, then add that to how easy it is to make and serve – thanks to our trusty 9×13 – and you've got yourself a trusty dessert that always delivers. Start by making your custard, which may seem a little scary at first, but don't worry, it's a breeze, then grab your store-bought phyllo dough and get layering!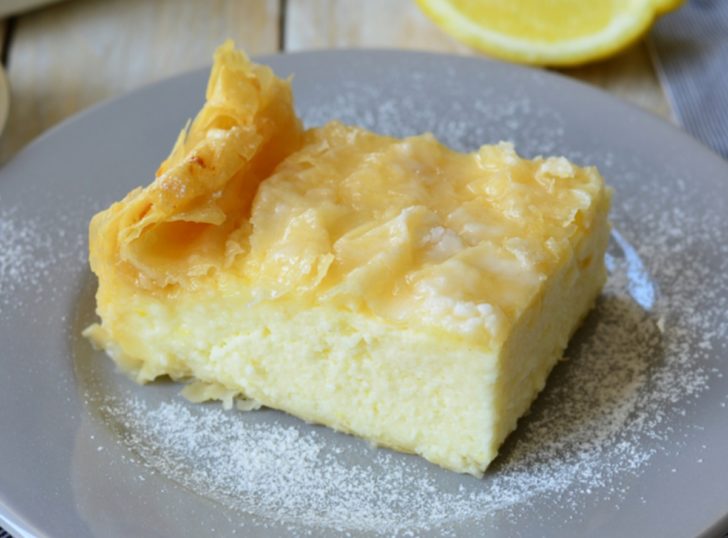 While one cup of butter may seem like a lot to brush in between your phyllo layers, don't skimp on it! That butter is going to give you great flavor and keep your phyllo crispy and delicious and golden brown. Trust us, you're going to love this dessert so much, it'll become a staple for you – you'll see!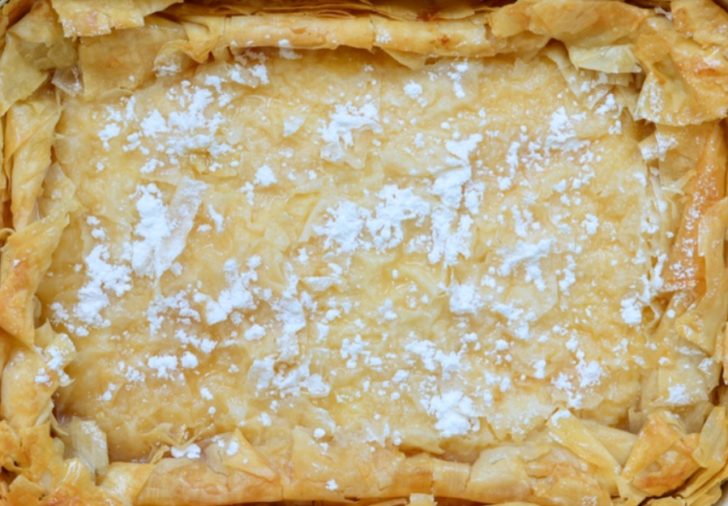 Greek Milk Pie
Serves 12-16
1 hour 20 minutes
Ingredients
Custard:
6 cups whole milk
1 cup fine semolina flour or all-purpose flour
3/4 cup sugar, divided
1 tablespoon unsalted butter
1 1/2 teaspoons vanilla extract
3 large eggs
1/4 teaspoon salt
1 lemon or orange, zested and juiced (about 1/4 cup; used in syrup)
1 (17.25 oz.) package refrigerated or frozen phyllo dough, thawed
1 cup (2 sticks) unsalted butter, melted
powdered sugar, as needed
Syrup:
1 1/2 cups sugar
1 cup water
reserved lemon juice, 1/4 cup
1/2 teaspoon vanilla extract
1/2 teaspoon ground cinnamon, optional
Preparation
Preheat oven to 375º F.
In a large saucepan over medium heat, whisk together milk, semolina, 1/2 cup sugar and 1 tablespoon butter.
Cook mixture, stirring continuously, until it thickens, 12-15 minutes, then stir in salt and vanilla extract.
Remove mixture from heat and set aside.
In a separate bowl, beat eggs until ribbony and mix in remaining 1/4 cup sugar. Beat egg mixture into slightly cooled pudding mixture until fully incorporated, then stir in lemon zest.
Open phyllo package and begin to prepare baking dish by brushing all over with butter. Place one layer of phyllo into the baking dish and generously brush with butter, then continue with half the remaining phyllo layers, brushing butter in between each layer.
Pour cooled custard into phyllo crust, then top with remaining phyllo, continuing to brush butter liberally between each layer.
Note: don't worry about overhanging edges; brush with butter, then roll any extra dough over and onto itself to create a border or rim.
Brush remaining butter over top layer of phyllo.
Place baking dish in oven and bake for 30-40 minutes, or until center, from what you can tell, is just set. Check on it to make sure it doesn't burn and tent with aluminum foil, if necessary.
In a separate saucepan over medium-high heat, whisk together sugar, lemon juice and water to create syrup.
Bring to a boil and cook for 4-5 minutes, then remove from heat and whisk in vanilla extract and cinnamon, if using.
Remove baking dish from oven and let cool for 15-20 minutes. Pour syrup over your custard pie, then let it sit for 1-2 hours, or until syrup has been fully absorbed. Optional: let sit overnight.
When ready to serve, dust with powdered sugar, then slice, serve and enjoy.
Recipe adapted from Brown Eyed Baker
SKM: below-content placeholder
Whizzco for 12T