Guinea pigs are adorable creatures who are often kept as pets. While most people immediately think of a cat or dog when contemplating a family pet, guinea pigs bring something a bit more unusual to the table (and can be a fine option for those who are allergic to cats and dogs).
Guinea pigs can be very loving and are totally lovable themselves. But, like many creatures, they can get lonely — even with an incredibly caring human owner. So it's important that they have another guinea pig around to keep them company.
While this is just a suggestion in most countries, it's the law in Switzerland.
Guinea pigs have rights, y'all.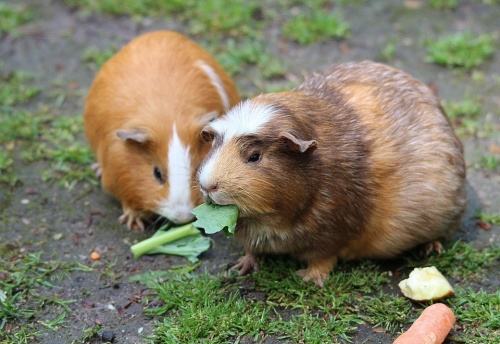 Switzerland's government seeks to ensure happiness for all the animals living within its borders, which is a truly admirable goal.
Maybe that's why guinea pigs have specific laws surrounding their care.
According to the law, if there is one guinea pig in your home, there must be another one as well.
Guinea pigs can get lonely. Having a fellow pig to spend time with greatly improves their quality of life. And we're all about keeping guinea pigs happy.
You might be wondering what happens when a guinea pig passes away. It's always sad to lose a pet, but if that brings your total number of guinea pigs down to one, that can land you in hot water with the government in Switzerland.
But, like many things, Switzerland has thought this through. They actually have services in the country where you can temporarily rent a guinea pig until you can get a new one, so that you don't break the law.
Like we said above, Switzerland cares about the well-being of all the living creatures in the country — so guinea pigs aren't the only animals with rules in place to keep loneliness at bay.
Goldfish have a similar rule: if you have one goldfish, you have to have at least one more fish in the tank. Parrots are also sociable creatures and need to be able to spend time with other birds.
Even cats have protections. While you can get by with having just one cat indoors, the feline must be able to see other cats outside if that's the case.
That one seems a little strange, but who are we to judge?
Switzerland definitely seems to care about their animals. Maybe they'll enact legislation to help out any human citizens who are lonely next.
This story originally appeared at Goodfullness.
SKM: below-content placeholder
Whizzco for 12T