Cancel that meat and potatoes craving in just 20 minutes.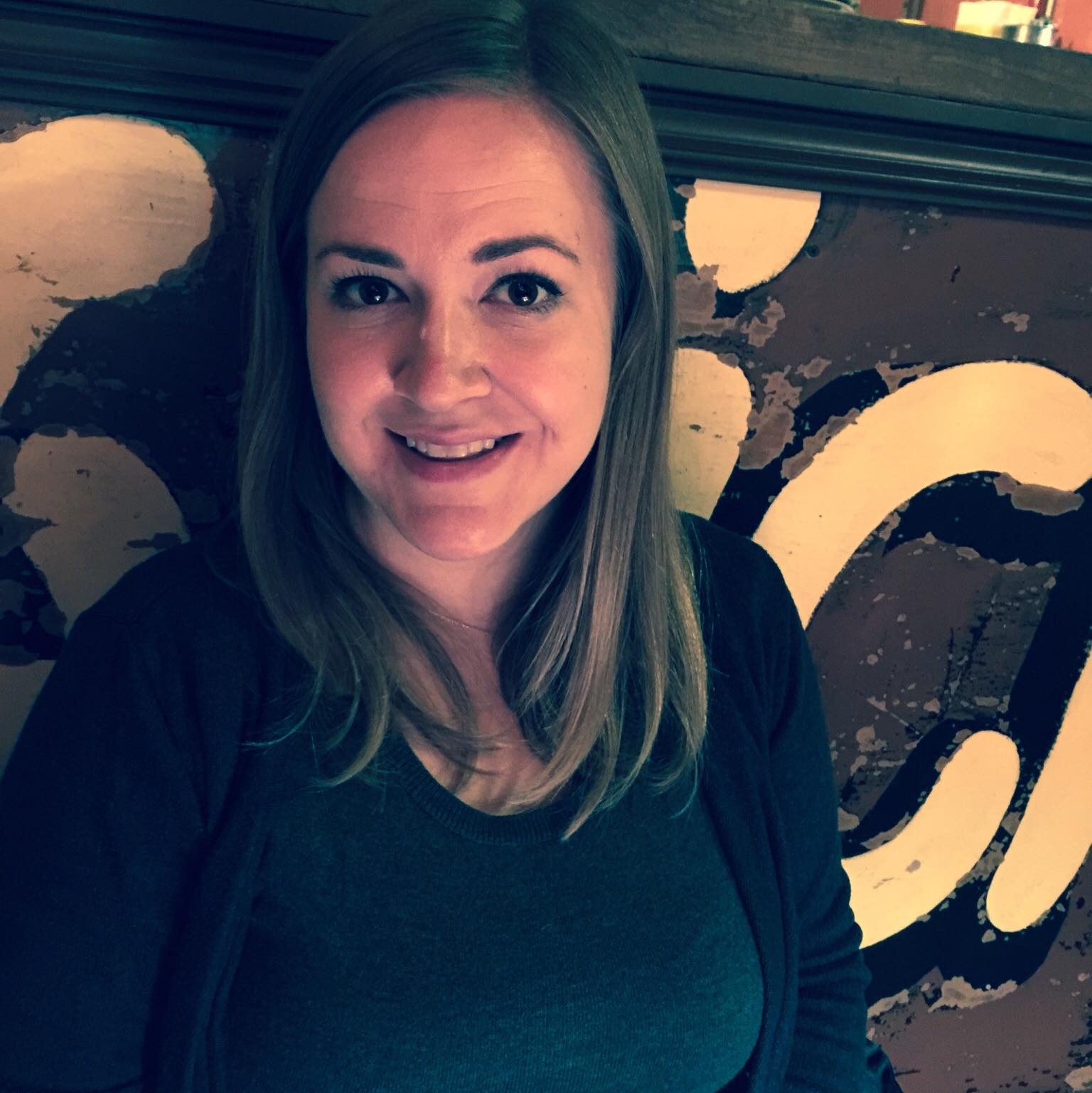 Kristy Norrell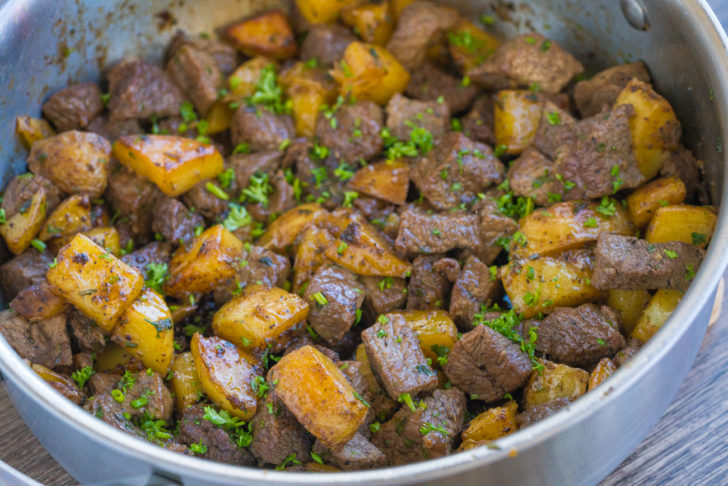 A meat and potatoes meal is a familiar craving, and it's an easy enough one to satisfy. It's not all that hard to grill up a steak and bake a potato, I'll admit, but these herby steak and potato bites have quickly become my favorite go-to meal when a meat and potatoes craving strikes. It's a quick twenty-minute skillet meal where the steak comes out tender and the potatoes lightly crisped and every bite is cloaked in herbalicious, garlicky, buttery flavor. Quick, delicious meat and potatoes in one pan… who can argue with that?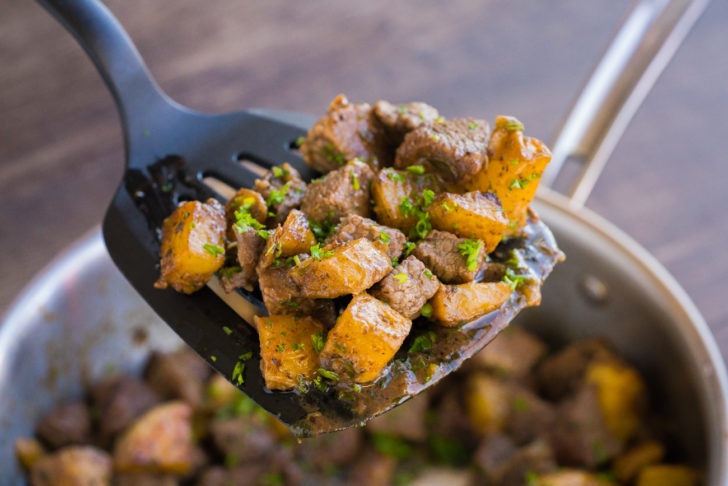 The potatoes can be cut into slices or wedges, just make sure they're not too thick or they'll take a while to cook all the way through. While you might be tempted to just leave the potatoes in the skillet when it's time to add the steak, you really want to resist that urge. The steak needs enough room to get a good sear going and crowding the pan will lower the temperature and you'll end up steaming the meat instead of browning it.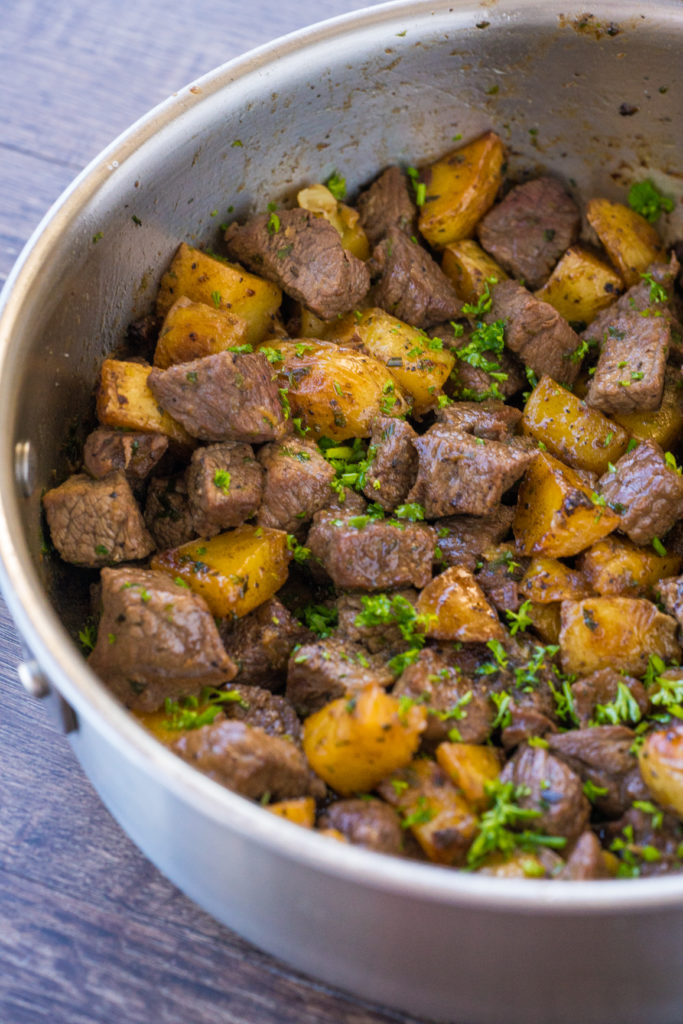 The nice thing about this method is that you can use a cut like top sirloin, which is more economical than a lot of other steak options, but you still end up with tender meat. Make sure you're searing the cubes of steak on a nice high heat, take care not to overcook them, and you'll have melt-in-your-mouth bites of steak and some nice tender potatoes to go along with them. All in one pan!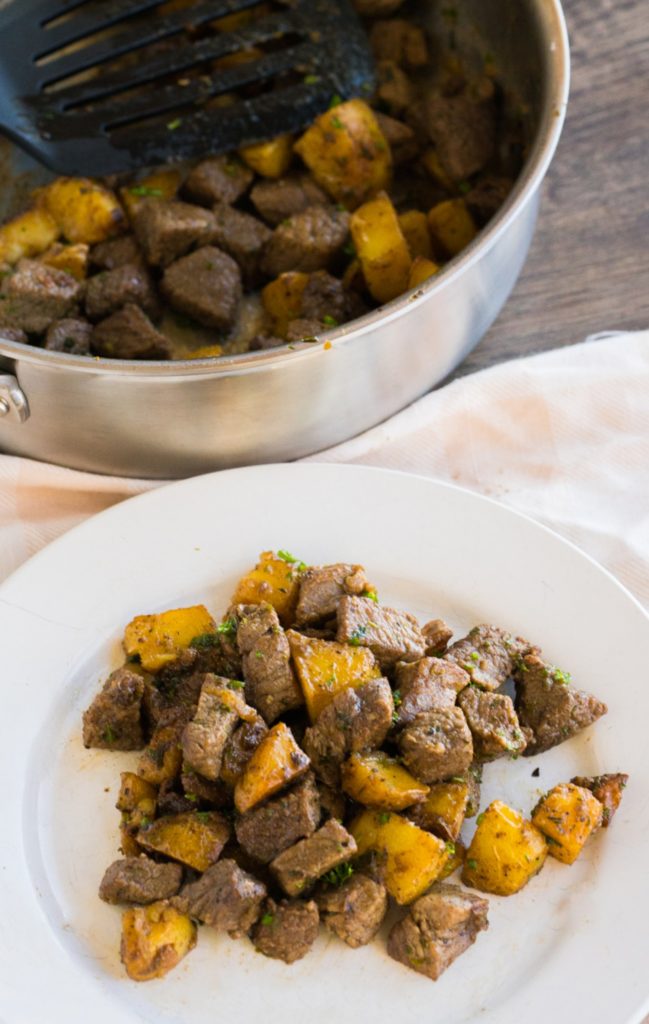 Herby Garlic Butter Steak Bites
Ingredients
1 tablespoon olive oil
2 tablespoons unsalted butter, divided
1 pound waxy potatoes, such as Yukon gold or baby red, sliced 1/2-inch thick
3-4 garlic cloves, minced
1 teaspoon fresh thyme
1 teaspoon fresh rosemary
1 teaspoon fresh parsley, chopped
2 teaspoons fresh chives, chopped
1 1/2 pounds sirloin steak, cut into 1-inch cubes
Kosher salt and freshly ground pepper, to taste
Preparation
Add the olive oil and 1 tablespoon of the butter to a large skillet over medium-high heat. Once hot, add the potatoes, garlic, thyme, and rosemary, season with salt and pepper, and cook for 3 minutes. Stir, and cook until potatoes are fork tender, about 3 minutes more. Remove to a plate and set aside.
Turn heat up to high and add remaining butter. Season steak bites liberally with salt and pepper, add to pan, and let sear for 1 minute. Stir and continue cooking steak until browned and cooked to desired doneness.
Add potatoes back to skillet, stir and top with parsley and chives.
Adapted from The Recipe Critic.
SKM: below-content placeholder
Whizzco for 12T