We love fun get-togethers with friends and family where we can all get amped up about some of our favorite interests. While we end up having an assortment of parties throughout the year, game days are probably some of the times we get most excited about .there's a certain energy in the air that's totally infectious and we love that everybody brings their specialty treats and snacks to party so we can all share and indulge.
These delicious chocolate cream cheese-frosted cupcakes are our annual contribution and everyone loves them so much, we just keep making them! We enjoy making them from scratch, but we're welcome to use a box mix if you've got a bunch of things going on and want to maximize your time. Once you've whipped these up, get some football-related toppers (we found these great football candles, so we were all set) and start cheering for your team!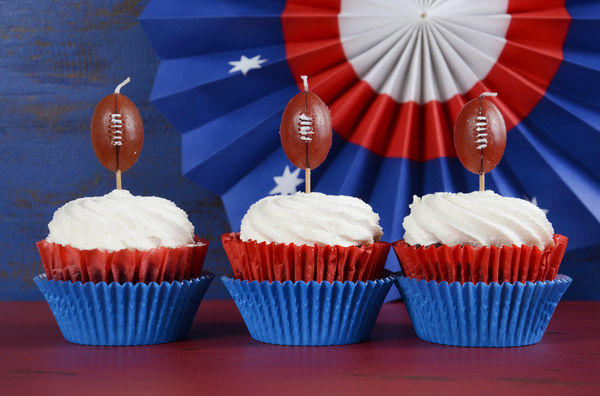 Patriotic Chocolate Football Cupcakes
Yields 12-14
Ingredients
Cupcakes:
3/4 cup cake flour
1/2 cup unsweetened cocoa powder
1/2 cup sugar
1/2 cup brown sugar, packed
1/2 cup buttermilk, room temperature
1/3 cup canola oil
1/4 cup (1/2 stick) unsalted butter, room temperature
2 large eggs, room temperature
1 1/2 teaspoons vanilla extract
1 teaspoon instant coffee granules
3/4 teaspoon baking powder
1/2 teaspoon baking soda
1/4 teaspoon salt
OR use 1 chocolate cake/cupcake box mix
Frosting:
2/3 cup heavy whipping cream
1/2 cups powdered sugar
1 (8 oz.) package cream cheese or Neufchatel, room temperature
1 teaspoon vanilla extract
12-14 red cupcake liners
12-14 blue cupcake liners
12-14 football-related toppers
Directions
Preheat oven to 350 F and line 1-2 cupcake tins with red liners.
In a medium bowl, whisk together the flour, cocoa powder, coffee granules, baking soda, baking powder and salt until combined.
In a large bowl or mixer, cream together the butter and sugars until light and fluffy. 3-5 minutes.
Gradually beat in the eggs, oil and vanilla and beat until just combined.
Alternate between adding the flour mixture and buttermilk, beginning and ending with the dry ingredients. Don't overmix.
Pour batter into cupcake molds, filling them 1/2-2/3 full.
Place in oven and bake for 17-19 minutes, or until toothpick inserted in center comes out clean.
Remove and let cool completely.
In a large bowl or mixer, beat room temperature cream cheese until completely smooth, then add in powdered sugar and vanilla extract.
Pour in heavy cream and beat mixture until stiff peaks form.

Note: if you are using a brand of heavy cream that doesn't form stiff peaks easily, whip it on its own, then add to the cream cheese mixture.

Transfer frosting to a piping bag and frost cupcakes. Serve immediately or store in an airtight container.
Before serving, top with football candles and pop each cupcake into a blue liner and enjoy!
Recipe adapted from Sally's Baking Addiction
SKM: below-content placeholder