If it's one thing I love, it's desserts. Chocolate, caramel, fruity, minty, cookies, cakes, pies… well, you get the picture. I love it all. What's even better is when I find a dessert that's super easy to make without a laundry list of ingredients. Don't get me wrong – I enjoy making more challenging dishes as well, but sometimes I just want a simple dessert! That's where this list comes into play. It's amazing the kinds of things you can make with just 4 ingredients. Don't believe me? Take a look!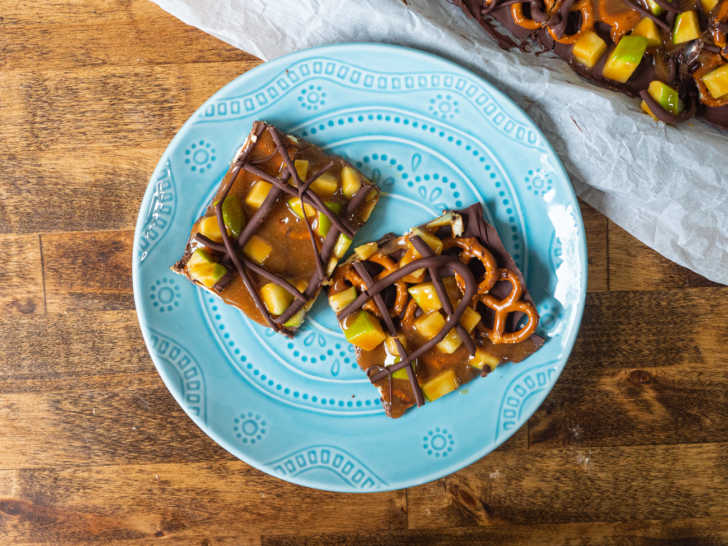 Looking for an easy, tasty, unique fall snack? I've got just the thing! This 4-Ingredient Caramel Apple Bark is just that – simple to make, deliciously decadent, and is sure to have everyone begging for more. With caramel, chocolate, apples, and pretzels, this little treat is sweet and salty with a burst of tart flavor from the apples. I love that it's a lighter snack, which means I can have five pieces in one sitting, right? Get the recipe here!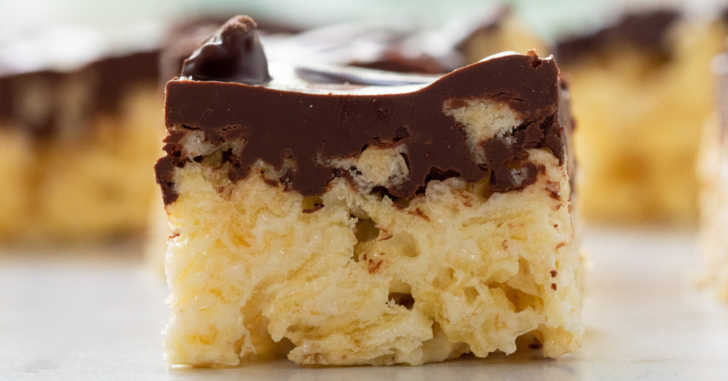 Everyone knows how good rice crispy treats are. Not only are they sweet and a bit savory, but they pack a satisfying crunch. Another benefit of rice crispy treats is that they are incredibly easy to make. However, sometimes they can get a bit boring and repetitive. So, we found a way to give these treats a unique twist, and I think you're going to like what we came up with.
These 4-Ingredient Potato Chip Bars have all the things we love about the original rice crispy treats, only the crunchy cereal is swapped with potato chips. Pour on a layer of melted chocolate chips, and you might not go back to regular rice crispy bars ever again! Get the recipe here!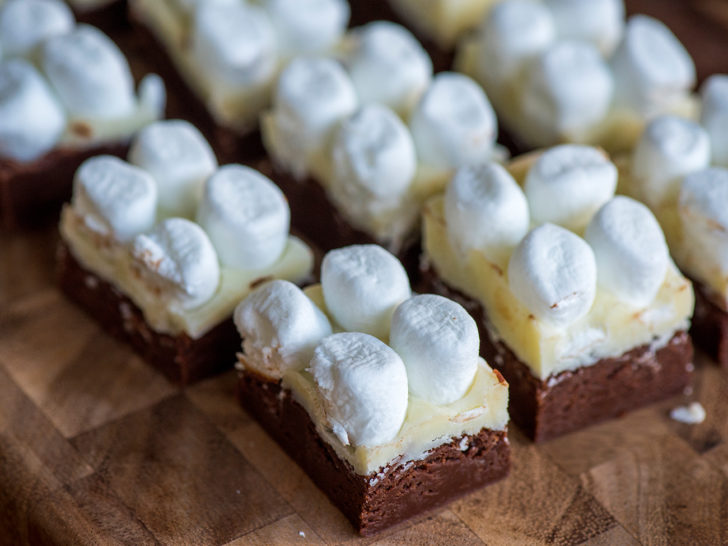 We give you: hot chocolate fudge. This stuff is so tasty, and it's got the rich creaminess that we love about the classic beverage – along with the marshmallows! If you can use a microwave, you can make this fudge. Prep time is under 10 minutes, so then all you have to do is wait until the fudge sets and you're in business! If you want a slight departure from the norm that's as simple to make as it is delicious, this is the recipe for you! Get the full recipe here!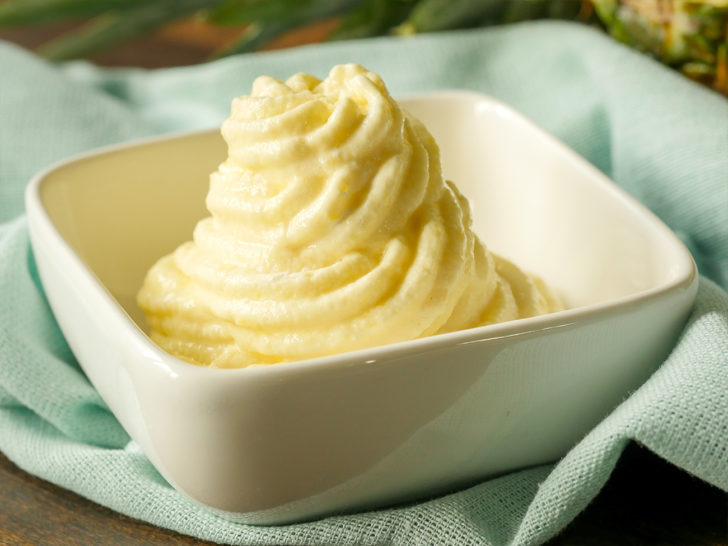 We love this dessert – although you could easily *whip* some up and enjoy it for breakfast – for both its creamy, tropical sweetness and for how easy it is to make; seriously, five minutes, four main ingredients and one blender…that's it! That means that whether it's the middle of winter and you're dreaming of warmer, better times, or it's the middle of summer and you desperately need a reprieve from the heat, this recipe will come to your rescue. Plus, you can make a big batch and then keep it in the freezer, that way you have more to look forward to whenever the mood strikes. Win-win-win! Get the recipe here!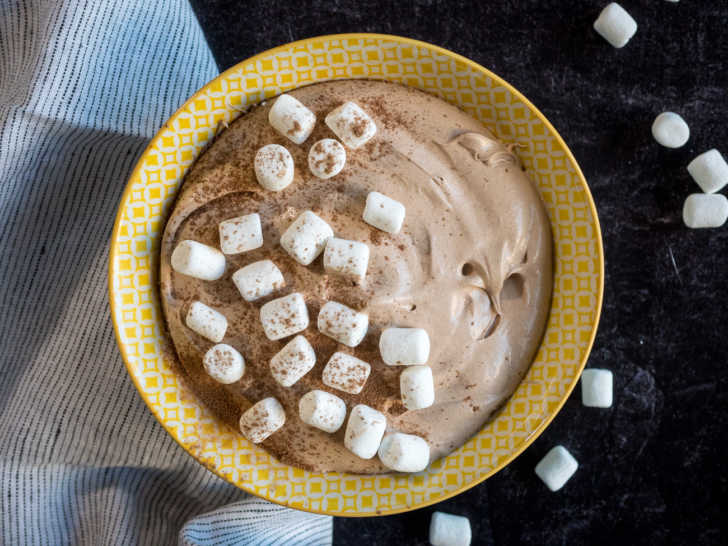 There's nothing like a cup of hot chocolate during those cold fall and winter days. Then again, I'm a fan of hot chocolate all year 'round, as well as hot chocolate-flavored things that aren't technically hot chocolate. Like this hot chocolate dip, for example. Sure, it doesn't warm your hands or have picturesque tendrils of steam wafting up, but this 4-Ingredient Hot Chocolate Dip is just as tasty and just as addictive! If you're looking for all the hot chocolate flavor you love, only in dippable, dessert form, then this is the recipe for you! Get the recipe here!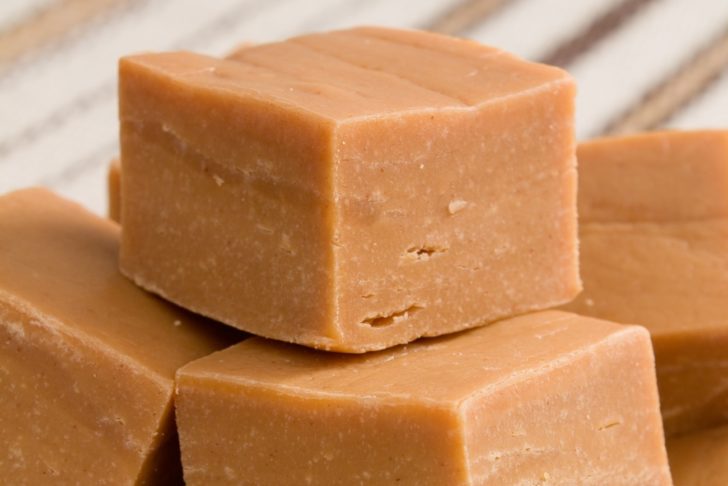 We couldn't have imagined a way to make peanut butter any better than it already is, but we've found one! This peanut butter fudge is super simple to prepare and way too easy to eat. Really, the hardest part of this recipe is waiting for everything to set in the refrigerator! When you're tired of cookies and cake, and dare we say – chocolate – look no further than a recipe that is so simple it's "nutty." Get the recipe here!
SKM: below-content placeholder
Whizzco for 12T