I recently found myself looking for a rich pasta dish without the tomato sauce. Pasta alla carbonara felt like the perfect choice, but there was a problem: So many recipes are so rich and heavy, it's hard to finish a whole bowl. I wanted to find a way to lighten the dish without sacrificing the flavor.
Many carbonara recipes call for loads of butter and cream, but I wanted to dial that back some. Instead of those, I decided to go ahead and use a little of the rendered fat left over from cooking the bacon. From there, I needed to find a way to make the sauce smooth, and like using the fat from the bacon to add richness, I looked to the spaghetti to add smoothness. By using only half the water to boil the spaghetti, I got a starchy liquid that made a great base for the sauce. Keep reading below for this fantastic recipe…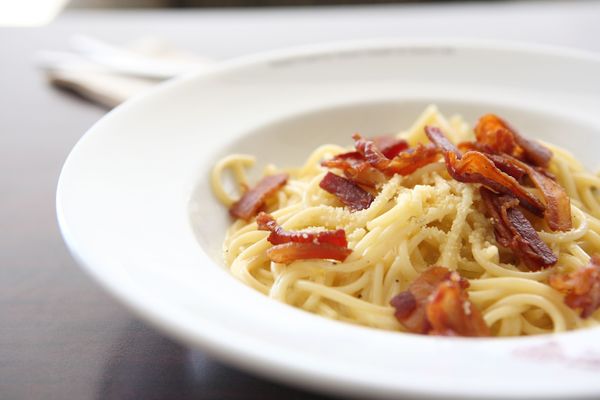 Pasta Carbonara
(makes 4-6 servings)
Ingredients
8 slices bacon cut into 1/2″ pieces
1/2 cup water
3 cloves garlic, minced
1 1/4 cups Pecorino Romano
3 large eggs plus 1 large yolk
1 teaspoon pepper
1 lb spaghetti
1 teaspoon salt
Grated Parmesan cheese and parsley for garnish (optional)
Directions
Bring the bacon and water to a simmer in a 10″ skillet over medium heat. Cook until the water evaporates and bacon begins to sizzle (about 8 minutes). Reduce heat to medium-low and cook until fat renders and bacon browns (5 to 8 minutes).
Add garlic and cook 30 seconds. Strain bacon through a fine-mesh strainer into a bowl. Set bacon and garlic aside. Measure out tablespoon of bacon fat and place in a medium bowl. Whisk together Pecorino, eggs and yolk, and pepper into the fat until well combined.
Meanwhile, bring 2 quarts (8 cups) of water to boil in a Dutch oven. Set a colander in a large bowl to prepare for draining. Add spaghetti and salt to the Dutch oven and cook, stirring frequently, until al dente. Drain the spaghetti into the colander, reserving the cooking water.
Pour 1 cup cooking water into a measuring cup and discard the remainder. Return the spaghetti to the now empty bowl.
Slowly whisk 1/2 cup of the reserved cooking water into the egg and cheese mixture. Once mixed, gradually pour the Pecorino mixture over spaghetti, tossing to coat. Add the bacon and garlic to the spaghetti and toss to combine.
Let the spaghetti rest, tossing frequently until the sauce has thickened slightly and coats the spaghetti (2-4 minutes), using the remaining reserved cooking water to adjust the consistency if needed. Garnish, then serve immediately.
Enjoy!
Recipe adapted from The Kitchn
SKM: below-content placeholder
Whizzco for 12T